Loxia curvirostra
Status: Rare regular breeder west and north, rare casual elsewhere. Common regular spring, summer, fall, and winter visitor west, uncommon elsewhere.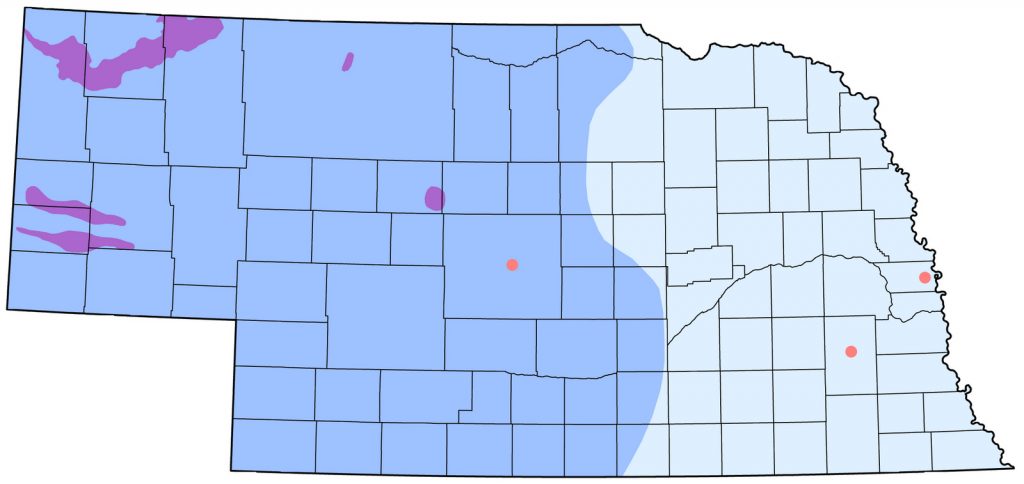 Documentation: Specimen: benti (= pusilla) UNSM ZM7187, winter 1886 Fairbury, Jefferson Co.
Call Type Recordings: Type 2 Ponderosa Pine Red Crossbill, 26 Aug 2015 Chadron SP, Dawes Co (LeFever 2015); Type 3 Western Hemlock Red Crossbill, 11 Nov 2012 Omaha, Douglas Co (Manning 2012); Type 4 Douglas Fir Red Crossbill, 5 Aug 2017 Scotts Bluff Co (Manning 2017); Type 10 Sitka Spruce Red Crossbill, 9 Jan 2021 Keith Co (Strand 2021).
Taxonomy: The taxonomy of Red Crossbill is notoriously complex, although very recently an excellent summary of current knowledge was published by Benkman and Young (2020). Studies by Groth (1993) and others (Benkman 1999, Benkman and Young 2020) have established 11 call types, at least some of which may represent incipient species (Benkman et al 2009, Irwin 2010, Young and Spahr 2017). Indeed, one call type, endemic to the Cassia Hills in southern Idaho, was recently raised to species status as Cassia Crossbill (L. sinesciuris; Chesser et al 2017), leaving 10 call types within Red Crossbill. Benkman and Young (2020) noted that despite assortative mating by call type, there were several factors confounding the achievement of species status by most if not all of the 10 remaining call types.
About six traditional subspecies (pusilla, benti, bendirei, minor, sitkensis, stricklandi) have been identified as occurring in Nebraska over the years, but uncertain taxonomy has cast doubt on the assignment to subspecies by earlier workers. This uncertainty makes assignment of putative subspecies to currently-recognized call types essentially meaningless. Indeed, as stated by Benkman and Young (2020), the greatly overlapping ranges of these putative subspecies rule out subspecific status by definition. Nevertheless, Benkman and Young (2020), assigned call types to these reported Nebraska subspecies: pusilla (includes benti) Type 2 Ponderosa Pine Red Crossbill, and minor Type 3 Western Hemlock Red Crossbill.
In additional to the benti specimen cited above, an adult male benti was collected 19 Jul 1957 (Ford 1959) on the Pine Ridge west of Crawford, Dawes Co.
In Nebraska, Types 2, 3, 4, and 10 are documented by sound recordings (see above). Wide-ranging Type 2 breeds in Nebraska and is the most common type expected statewide away from breeding areas. Type 3 erupts during certain winters; it was recorded in the Omaha area 25 Dec 2015 during an invasion year (eBird.org, accessed October 2017). Type 4 is an occasional wanderer onto the Great Plains; it was recorded in Scotts Bluff Co 5 Aug 2017, as well as at a few other locations across Nebraska in the 2017 crossbill invasion, when it occurred in good numbers. Several Type 4 were recorded in 2020, both in the Panhandle 29 Mar-23 May and in Douglas Co 5 Apr and 16 May (eBird.org), and again in 2021, recorded in Sowbelly Canyon, Sioux Co 6 Feb (eBird.org). The first recordings of Type 10 were from three locations in winter 2020-2021: singles were recorded at Lake McConaughy, Keith Co 9 Jan, Wildcat Hills NC, Scotts Bluff Co 10 Jan, and five at Forest Lawn Cemetery, Douglas Co 31 Jan (eBird.org).
Among types not documented for Nebraska but might occur are Type 5 (Lodgepole Pine Red Crossbill), Type 6 (Sierra Madre Red Crossbill), and Type 7 (Enigmatic Red Crossbill). Type 5 has been recorded several times in the eastern Colorado mountains, where it may be resident (Pieplow 2017), and was recorded at Hays, Kansas 23 Dec 2012, where Types 2 and 3 were recorded the same day (eBird.org, accessed October 2017). Young (2012) indicated Type 6 Sierra Madre Red Crossbill might occur in Nebraska; although there are old records assigned to subspecies stricklandi, putative Type 6 (Young 2012), Type 6 has not been known to occur in the state. Type 7 has been reported in Nebraska but without recordings; there are no previous Nebraska records of Type 7 and none are shown on eBird (accessed Feb 2019). Little is known about Type 7, as indicated by its name Enigmatic Red Crossbill, although it is currently thought to occur in the northeastern US, spreading westward across the northern Great Plains during eruptions.
Spring: Departure of birds that wintered away from the breeding range is usually complete by late May although there are summer reports in the southeast (see Summer). Johnsgard (1980) indicated that half the published spring reports are in the period 19 Mar-19 May, suggesting noticeable movement at that time.
In the east, there are about 14 records in May, but the only Jun records are of one in Knox Co 1 Jun 2021, two birds identified as Type 2 by calls at Indian Cave SP, Richardson Co 2 Jun 2013, and 14 Jun 1986 Wayne Co. There are six Jul reports 13-27 Jul (see Fall).
Summer: Neither Bruner et al (1904) nor Rapp et al (1958) listed the species as a breeder in Nebraska. Prior to the 1970s, breeding was apparently only sporadic, with one unconfirmed report, in 1961 near Chadron, Dawes Co (Wensien 1962). However, Rosche (1982) considered breeding "regular" on the Pine Ridge; it is a common breeder in the Black Hills of South Dakota (Tallman et al 2002). Red Crossbill (as of 2023) appears to be a regular breeder on the Pine Ridge, Wildcat Hills, Scotts Bluff and Banner Cos, Bighorn Escarpment in Morrill and northern Kimball Cos (Mollhoff 2016), and at NNF Bessey, Thomas Co, almost exclusively in ponderosa pine woodland. At NNF Bessey, Thomas Co, juveniles were noted in Aug (Bray 1994), and in 2023 some 120 in mixed age flocks of Type 2 crossbills 22 Jul suggested breeding "almost certainly occurred there" (Jacob Cooper, eBird.org). A group of seven, including a juvenile being fed by an adult, as well as four flyovers, was at NNF Bessey, Thomas Co 18 Jun 2014 (Type 2, recording).
Most reports of "breeding" are of begging young being fed by adults; there are numerous such reports in the period 6 Mar-21 Jul, most recently along Old Stage Hill Road, Scotts Bluff Co 4 Apr 2022, where adults were carrying nest material in Feb (Brenner, eBird.org). Whether such young birds were fledged in Nebraska or nearby Wyoming or South Dakota is conjectural, as juveniles are quite mobile; fledged young are fed by parents for up to 33 days (Adkisson 1999). An Adams Co report involved three birds, "one of which was obviously a young of the year" at Hastings 27 Jul 1966 (Williams 1966). It is unknown whether Nebraska breeders are resident. Vagaries of food supply force nomadism, so fidelity to sites is unlikely but variable; individuals have been recaptured at a banding site up to two years later (Coombs-Hahn 1993) and banding records document individual movements of up to 2,000 km (Adkisson 1996).
There are few records of nests with eggs, only one for the Pine Ridge: a report by Rosche of a nest with eggs near Crawford, Dawes Co 24 Mar 1974 (Williams 1974) and young in the nest 5 Apr (Rosche 1982). The only other records of nests with eggs are, oddly, outside the mapped Panhandle breeding range. A nest was being brooded by a female at Broken Bow, Custer Co 20 Mar 1920; this nesting was unsuccessful, as the female was found dead a few days later (Swenk 1921). A female on a nest, accompanied by a male, was in a box elder in Elmwood Park, Omaha, 28 Mar 1920; the nest was destroyed in a storm (Swenk 1921). A pair raised young in Lincoln, Lancaster Co Mar-Apr 1932; the male fed the young by regurgitation (Swenk 1932). These records suggest that eggs are laid in late March.
Numbers of Red Crossbills during the breeding season vary markedly and nesting presumably occurs only in years of moderate to high pine seed availability (Rosche 1982, Mollhoff 2016). Faulkner (2010) stated that, in Wyoming, breeding occurs mostly in late winter and early spring and in late summer and early autumn, a phenology noted also by Benkman and Young (2020). The latter authors noted that nesting in North America occurs Jul–Sep when seed crops are developing and maturing, and Jan–Apr where ample seed remains in the cones from the previous year's seed crop. Egg dates for the species in North America are from mid-Dec to early Sep (Adkisson 1999). There is, however, scant evidence for regular late summer breeding in Nebraska, although a female with a brood patch was banded at Wildcat Hills NC, Scotts Bluff Co 10 Sep 2009, an unexpected date for a breeding condition female in Nebraska, and an adult was feeding a fledgling at Chadron SP, Dawes Co 31 Aug 2019. Benkman and Young (2020) suggest that late summer nesting is not as common as in spring since time is needed to complete molt in a timely manner and chances for survival are reduced for young fledged later in fall.
Wandering flocks of presumed post-breeding Red Crossbills can occur anywhere in summer (see Fall, below). Such reports are of adults with juveniles at Steer Creek Campground, Cherry Co 14 Apr 2016, a pair of adults with 4-5 juveniles in the Keya Paha Co portion of the Niobrara Valley Preserve 18 Jun 1995, a female and four juveniles in Dawson Co 1 Jul 2012 (Silcock 2012), two adults and three juveniles in Kearney, Buffalo Co 11-25 Jul 2012 (Silcock 2012), adults feeding fledglings at a feeder in Valentine, Cherry Co 13 Jul 2020 and again adults feeding mobile young among 11 birds for two weeks there up until 2 Jul 2021. Five Red Crossbills were at Smith Falls SP, Cherry Co 7 Jun 2021, and one near Crookston, Cherry Co 4 Jun 2021.
Breeding Phenology:
Eggs: 20-28 Mar
Nestlings: 26 Feb (Mollhoff 2022)
Fledglings: 6 Mar-31 Aug
Nesting was reported as "in progress" as early as late Feb 1989 in Dawes Co (Grzybowski 1989).
Fall: Red Crossbill is nomadic rather than migratory (Parchman et al 2006). There is evidence of movement in Sep-Oct (Johnsgard 1980, eBird.org, accessed November 2017); in eruption years movement out of the Wyoming breeding range is "most pronounced" in Sep-Oct (Faulkner 2010), and peak numbers (323) were banded in Sep 2010 at Wildcat Hills NC.
A notable movement occurred in eastern Nebraska in late Oct and early Nov 2017 that included multiple call types; by mid-Nov, however, the species' abundance was greatly reduced. First detected away from ponderosa pines were two in Lancaster Co 13 Aug followed by 21 in the same county 21 Aug. Reports were statewide, with best counts occurring during the second half of Oct: 150 at Plattsmouth Cemetery, Cass Co 1 Nov, 120 at East Ash Canyon, Dawes Co 13 Oct, 120 at Wildcat Hills NC, Scotts Bluff Co 12 Oct, and 63 at Forest Lawn Cemetery, Omaha 25 Oct. Several observers reported call types; Nebraska resident birds are Type 2; there were several of this type verified by recordings, as well as good numbers of Type 4. Again in 2019 large numbers were reported, mostly Type 2, but several Type 4 were recorded at Forest Lawn Cemetery, Douglas Co 4-26 Oct and again there 5 Apr and 16 May (eBird.org).
As early as Apr or May, but more often in Jul, small flocks may appear eastward in Nebraska; some of these may be derived from breeding populations far removed from the state. The earliest reports are in occasional invasion years when Red Crossbills become conspicuous statewide by mid-summer. In 2012, such reports included 14 of mixed plumages in a Fairmont, Fillmore Co yard 8 Jul, one in Platte Co 19 Jul, 2-4 at a Stanton Co feeder 24-26 Jul, two birds eight miles north of Minden, Kearney Co 30 Jul, and one in Dodge Co 3 Aug. There are a number of similar reports 7 Jun-7 Sep statewide. A group of 70 at Steer Creek Campground, Cherry Co 5 Jun 2011 consisted of 75% juveniles; a singing young male not yet in definitive plumage was recorded, and shown to be Type 2 (Mark Robbins, eBird.org). A flock of 180 at Chadron Creek Ranch WMA, Dawes Co 25 May 2020 consisted of 90-95% juveniles and first cycle birds (Tony Leukering, Kathy Mihm Dunning, eBird.org).
Winter: As noted above, this species is nomadic in fall and winter; numbers are variable and unpredictable. CBC data indicate erratic but broad distribution across the state in late Dec, with higher numbers in the west. Numbers on CBCs are generally low; from 1971-72 through 2015-2016 birds per party-hour have been below 0.30, from 1942-1943 through 1969-1970 below 0.62, with highest on record 1.23 birds/party-hour 1960-61, when 205 were totaled statewide.
Images
Abbreviations
CBC: Christmas Bird Count
SP: State Park
UNSM: University of Nebraska State Museum
Acknowledgement
Photograph (top) of a Red Crossbill at Neale Woods, Douglas Co 28 Apr 2008 by Phil Swanson.
Literature Cited
Adkisson, C.S. 1996. Red Crossbill (Loxia curvirostra), version 1.0. In The Birds of North America (A. F. Poole and F. B. Gill, Editors). Cornell Lab of Ornithology, Ithaca, NY, USA. https://doi.org/10.2173/bna.256
Benkman, C.W. 1999. The Selection Mosaic and Diversifying Coevolution between Crossbills and Lodgepole Pine. American Naturalist 153: S75–S91.
Benkman, C.W., J.W. Smith, P.C. Keenan, T.L. Parchman, and L. Santisteban. 2009. A new species of red crossbill (Fringillidae: Loxia) from Idaho. Condor 111: 169-176.
Benkman, C.W. and M.A. Young. 2020. Red Crossbill (Loxia curvirostra), version 1.0. In Birds of the World (S. M. Billerman, B. K. Keeney, P. G. Rodewald, and T. S. Schulenberg, Editors). Cornell Lab of Ornithology, Ithaca, NY, USA. https://doi.org/10.2173/bow.redcro.01.
Bray, T.E., B.K. Padelford, and W.R. Silcock. 1986. The birds of Nebraska: A critically evaluated list. Published by the authors, Bellevue, Nebraska, USA.
Bruner, L., R.H. Wolcott, and M.H. Swenk. 1904. A preliminary review of the birds of Nebraska, with synopses. Klopp and Bartlett, Omaha, Nebraska, USA.
Chesser, R.T., K.J. Burns, C. Cicero, J.L. Dunn, A.W. Kratter, I.J. Lovette, P.C. Rasmussen, J. V. Remsen, Jr., J.D. Rising, D.F. Stotz, and K. Winker. 2017. Fifty-eighth supplement to the American Ornithological Society's Check-list of North American Birds. Auk 134: 751-773.
Coombs-Hahn, T.P. 1993. Integration of environmental cues to time reproduction in an opportunistic breeder, the Red Crossbill Loxia curvirostra. Ph.D. Dissertation, University of Washington, Seattle, Washington, USA.
Faulkner, D.W. 2010. Birds of Wyoming. Roberts and Company, Greenwood Village, Colorado, USA.
Ford, N.L. 1959. Notes on summer birds of western Nebraska. NBR 27: 6-12.
Groth, J.G. 1993. Evolutionary differentiation in morphology, vocalizations, and allozymes among nomadic sibling species in the North American Red Crossbill (Loxia curvirostra) complex. University of California Publications in Zoology 127:1-143.
Grzybowski, J.A. 1989. Southern Great Plains Region. American Birds 43: 330-332.
Irwin, K. 2010. A new and cryptic call type of the Red Crossbill. Western Birds 41: 10–25.
Johnsgard, P. A. 1980. A preliminary list of the birds of Nebraska and adjacent Great Plains states. Published by the author, University of Nebraska, Lincoln, USA.
LeFever, J. 2015. Checklist S24781851: Chadron SP–Banding Station Area, Dawes County, Nebraska, US. eBird.org, accessed 19 Jun 2018.
Manning, S. 2012. eBird Checklist – 11 Nov 2012 – Holy Sepulchre Cemetery – 6 species (+2 other taxa). eBird.org, accessed Mar 2021./p
Manning, S. 2017. Checklist S38583199: Wildcat Hills SRA, Scotts Bluff County, Nebraska, US. eBird.org, accessed 19 Jun 2018.
Mollhoff, W.J. 2016. The Second Nebraska Breeding Bird Atlas. Bull. Univ. Nebraska State Museum Vol 29. University of Nebraska State Museum, Lincoln, Nebraska, USA.
Mollhoff, W.J. 2022. Nest records of Nebraska birds. Nebraska Ornithologists' Union Occasional Paper Number 9.
Pieplow, N. 2017. Bird Sounds of Eastern North America. Houghton Mifflin Harcourt, Boston, Massachusetts, USA.
Pyle, P. 1997. Identification Guide to North American Birds. Part I, Columbidae to Ploceidae. Slate Creek Press, Bolinas, California, USA.
Rapp, W.F. Jr., J.L.C. Rapp, H.E. Baumgarten, and R.A. Moser. 1958. Revised checklist of Nebraska birds. Occasional Papers 5, Nebraska Ornithologists' Union, Crete, Nebraska, USA.
Rosche, R.C. 1982. Birds of northwestern Nebraska and southwestern South Dakota, an annotated checklist. Cottonwood Press, Crawford, Nebraska, USA.
Silcock, W.R. 2012. Summer Field Report, June-July 2012. NBR 80: 86-103.
Swenk, M.H. 1921. Nesting of the Red Crossbill in Nebraska. Wilson Bulletin. 33: 38-39.
Swenk, M.H. 1932. Letters of information 66: 10.
Wensien, R. 1962. Nesting report, 1961. NBR 30: 24-25.
Williams, F. 1966. Southern Great Plains Region. Audubon Field Notes 20: 581.
Williams, F. 1974. Southern Great Plains Region. American Birds 28: 656-660.
Young, M. 2012. North American Red Crossbill Types: Status and Flight Call Identification. eBird.org, accessed 19 Jun 2018.
Recommended Citation
Silcock, W.R., and J.G. Jorgensen. 2023. Red Crossbill (Loxia curvirostra). In Birds of Nebraska — Online. www.BirdsofNebraska.org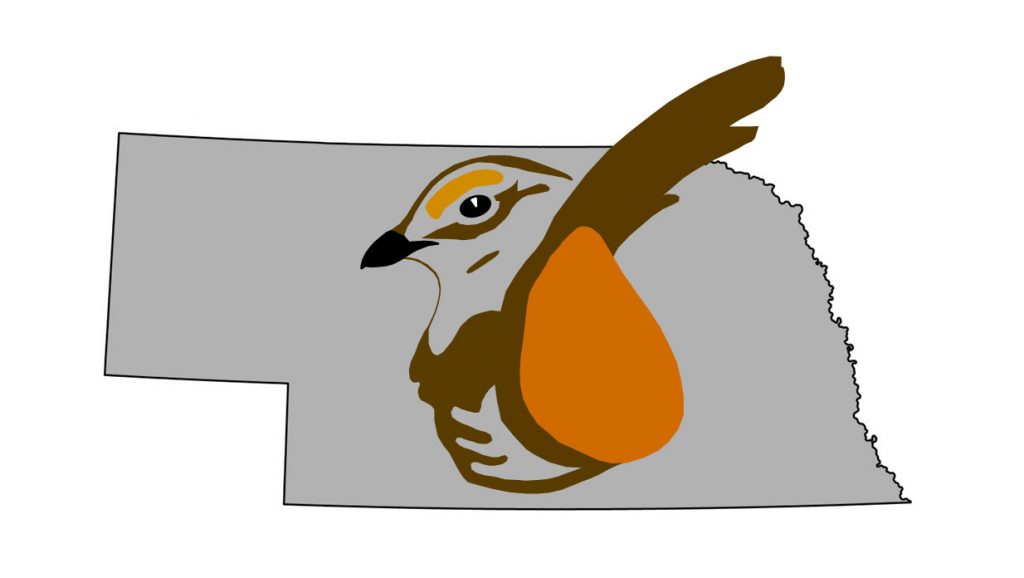 Birds of Nebraska – Online
Updated 21 Sep 2023