Melanerpes erythrocephalus
Status: Common regular spring and fall migrant east and central, fairly common west. Common regular breeder east and central, uncommon west. Uncommon regular winter visitor extreme southeast, rare casual elsewhere.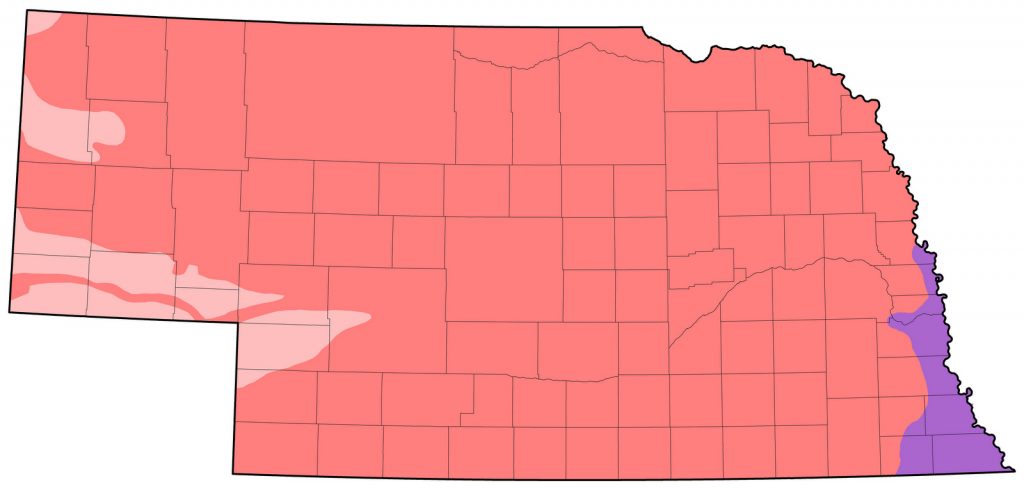 Documentation: Specimen: UNSM ZM6290, 5 Jun 1981 Gage Co.
Taxonomy: No subspecies are currently recognized (Pyle 1997).
Although no subspecies are currently recognized, eastern Nebraska birds were listed as M. e. erythrocephalus and those in the central and west M. e. caurinus by Rapp et al (1958) and AOU (1957). Western birds have a slight reddish or yellowish tinge to the underparts, but the difference is minor (Pyle 1997).
Spring: Apr 14, 14, 16 <<<>>> summer (west, north, northeast)
Earlier dates in the west, north, and northeast are 24 Mar 2022 Dixon Co, 27 Mar 2019 (7) Norden Bridge, Brown Co, 27 Mar 2020 Dixon Co, 27 Mar 2021 Wayne Co, 30 Mar 2019 Valentine, Cherry Co, 6 Apr 2019 Boone Co, 7 Apr 1954 Boyd Co, 9 Apr 2017 Howard Co, 10 Apr 1986 Dodge Co, 11 Apr 1989 Dawes Co.
Although available data show little if any difference in spring arrival dates across the state, there are fewer such dates westward. In the southeast, arrival dates are difficult to determine due to the presence of wintering birds; High counts suggest peak movement is occurs mid-May.
High counts: 142 in Sarpy Co 11 May 1996, 91 of which were at Fontenelle Forest.
Summer: This species' breeding distribution and abundance appears to have changed little since settlement. Bruner et al (1904) considered it "common throughout the whole state" and "increasing". Nests with eggs were found in Scotts Bluff Co 28 Jun 1916 (UNSM ZM8473; Mollhoff 2022), and 26 Jun 1916 (Mickel and Dawson 1916; Mollhoff 2022). BBS data show some of the highest relative abundances throughout the species entire breeding range are achieved in Nebraska (Sauer et al 2001). However, there is a noticeable decline in density from east to west. In the west, in addition to the usual summering habitat of mostly riparian and upland deciduous forest habitats as in the east and central, there are notable influxes into recently burned ponderosa pine areas. Rosche (1982) pointed out that large numbers occurred in the Dead Horse Creek drainage near Chadron SP, Dawes Co after the 1973 fire, and 10 were found in the Pants Butte burn area in Sioux Co 27 May 2009 after the 2006 Sowbelly Canyon fire. Tallman et al (2002) cited Peterson (1993) regarding various woodpeckers' occupation of pine forest after fires; Red-headed Woodpeckers, like the congeneric Lewis's Woodpeckers, generally accessed burn areas several years after the burn, and were usually found only in very large burns.
Red-headed Woodpecker is a species of conservation concern and has declined markedly in portions of its range, especially the Ohio River drainage (Rosenberg et al 2016). BBS data show a small annual decline of -1.31% (95% C.I. -2.06, -0.50) in Nebraska during the years 1966-2015 (Sauer et al 2017). Jorgensen (2012) noted the species had declined in the Rainwater Basin as farmsteads and hedgerows were removed and converted to row-crops. Mollhoff (2016) also noted that the species may have declined in some areas due to expansion of row-crops.
Breeding Phenology:
Courtship: 5 Jun
Eggs: 25 May-28 Jun
Nestlings: 5 Jun-24 Jul
Fledglings: 13 Jun-3 Oct
Brown-headed juveniles: 16 Jul-29 Oct
An "outlier" egg date 6 Aug was likely a second attempt (Mollhoff 2022).
Fall: summer <<<>>> Oct 9, 10, 11 (west, north, northeast)
Later dates (west, north, northeast) are 13 Oct 2017 Dawes Co, 16 Oct 1966 Custer Co, 16 Oct 2021 Boone Co, 18 Oct 2015 Greeley Co, 24 Oct 2014 Wayne Co, 24 Oct 2019 Dixon Co, 25 Oct 2018 Custer Co, 27 Oct 2008 Dakota Co, 27 Oct 2018 Howard Co, 28 Oct 2005 Scotts Bluff Co, 29 Oct 2018 Custer Co, and 31 Oct 1981 Thomas Co.
Movement in the west begins in Aug, and probably peaks in late Aug, although the 46 in Sowbelly Canyon, Sioux Co 27 Jul 2023 comprised "flocks moving through in the early morning", suggesting early fall departure of local breeders or early fall arrivals from farther north. There are good mid-Aug counts from Sowbelly Canyon (see High Counts). At Lake McConaughy, Keith Co 28 were counted 24 Aug 2007. Most depart the south and west by late Sep.
In the northeast, there are several records of lingering birds, mostly juveniles, including juveniles in Boyd and Knox Cos 14 Nov 2011 and a single in Boone Co 30 Nov 2018. Late was one in Clay Co 9 Nov 2021.
In the southeast, departure dates are difficult to determine due to the presence of wintering birds, although peak counts are in Sep.
High counts: 178 at Wehrspann Mitigation Pond area, Sarpy Co 9 Sep 2022, 100+ at Fontenelle Forest, Sarpy Co 4 Sep 2004, 66 in Sowbelly Canyon, Sioux Co 13 Aug 2021, 64 at East Ash Canyon, Dawes Co 25 Aug 2019, and 57 at Sowbelly Canyon, Sioux Co 18 Aug 2017.
Winter: Wintering occurs most years in the extreme southeast, with stragglers, usually immatures, north to Cedar and Dixon Cos and west to Lancaster Co, and is strongly linked to availability of acorns (Bent 1939, Parker 1982) and possibly fruits such as Russian olive, which is used by lingering individuals, usually immatures, in central Nebraska (Rosche 1994).
Elsewhere, CBC data indicate that by Dec, very few birds remain north and west of Lincoln and Omaha. The westernmost CBC reports are of single birds at Lake McConaughy 2 Jan 2010 and at North Platte, Lincoln Co 1990-91. High CBC counts are 160 at Omaha 15 Dec 2014 and 143 there 16 Dec 1995.
Away from the southeast, there are about 50 reports Nov through mid-Mar, only one of these in the Panhandle, in Scotts Bluff Co 19 Jan 1952. Reports from the north are few: 2 Dec 2013 Antelope Co, 11 Dec 2022 Boyd Co, 29 Dec 2018 Boone Co, 2 Jan 2009 adult in Boyd Co, 4 Jan 2014 Valentine, Cherry Co, 5 Jan 2019 (4) northeastern Cherry Co, 7 Jan 2019 Keya Paha Co, 5-10 Feb 2023 (1-2) Dannebrog, Howard Co, 12 Feb 2023 Nuckolls Co, 12-16 Feb 2023 (1-5) Orchard, Knox Co, 15 Feb 2016 immature Keya Paha Co, 12-16 Feb 2023 (1-5) Orchard, Knox Co, 20 Feb 2017 (2) Keya Paha Co, and 26 Feb 2023 (2) Valentine, Cherry Co.
A study by Parker (1982) of competition among bark-foragers in Fontenelle Forest, Sarpy Co showed that as the fall progressed, Red-headed Woodpeckers devoted increasingly more time to caching acorns on firmly defended wintering territories and used this stored food reserve during the insect-free winter.
In some years, particularly those with limited availability of acorns, most Red-headed Woodpeckers leave the state; in 2015-2016 none were found at Indian Cave SP 15 Feb where usually they winter in good numbers, only two were found on the Omaha CBC 22 Dec and one on the Lincoln CBC 19 Dec, and none anywhere in the state 27 Dec-12 Feb.
Winter 2022-2023 was an excellent showing for this species north and west of the expected Dec-Feb winter range. Although considered less than annual in Lancaster Co, as indicated by the first record for nine years on the Branched Oak-Seward CBC, there were four records around Lincoln, single records in Jefferson and Saline Cos, and at Oak Glen WMA, Seward Co, there were 1-5 during the period. Also less than annual in the northeast, there were four reports, of singles in Cedar, Dixon, Dakota, and Madison Cos.
Images
Abbreviations
BBS: Breeding Bird Survey
CBC: Christmas Bird Count
UNSM: University of Nebraska State Museum
Literature Cited
American Ornithologists' Union [AOU]. 1957. The AOU Check-list of North American birds, 5th ed. Port City Press, Baltimore, Maryland, USA.
Bent, A.C. 1939. Life histories of North American woodpeckers. Bulletin of the United States National Museum 174. Dover Publications Reprint 1964, New York, New York, USA.
Bruner, L., R.H. Wolcott, and M.H. Swenk. 1904. A preliminary review of the birds of Nebraska, with synopses. Klopp and Bartlett, Omaha, Nebraska, USA.
Jorgensen, J.G. 2012. Birds of the Rainwater Basin, Nebraska. Nebraska Game and Parks Commission, Lincoln, Nebraska, USA.
Mickel, C.E., and R.W. Dawson. 1916. Scotts Bluff County bird notes, 1916. NOU Archives.
Mollhoff, W.J. 2016. The Second Nebraska Breeding Bird Atlas. Bull. Univ. Nebraska State Museum Vol 29. University of Nebraska State Museum, Lincoln, Nebraska, USA.
Mollhoff, W.J. 2022. Nest records of Nebraska birds. Nebraska Ornithologists' Union Occasional Paper Number 9.
Parker, J. 1982. Niche competition among members of a bark foraging guild in eastern Nebraska. Master's thesis. University of Nebraska-Omaha, Omaha, Nebraska, USA.
Peterson, R.A. 1993. A birdwatcher's guide to the Black Hills. PC Publishing, Vermillion, South Dakota, USA.
Pyle, P. 1997. Identification Guide to North American Birds. Part I, Columbidae to Ploceidae. Slate Creek Press, Bolinas, California, USA.
Rapp, W.F. Jr., J.L.C. Rapp, H.E. Baumgarten, and R.A. Moser. 1958. Revised checklist of Nebraska birds. Occasional Papers 5, Nebraska Ornithologists' Union, Crete, Nebraska, USA.
Rosche, R.C. 1982. Birds of northwestern Nebraska and southwestern South Dakota, an annotated checklist. Cottonwood Press, Crawford, Nebraska, USA.
Rosche, R.C. 1994. Birds of the Lake McConaughy area and the North Platte River valley, Nebraska. Published by the author, Chadron, Nebraska, USA.
Rosenberg, K.V., J.A. Kennedy, R. Dettmers, R.P. Ford, D. Reynolds, J.D. Alexander, C.J. Beardmore, P.J. Blancher, R.E. Bogart, G.S. Butcher, A.F. Camfield, A.Couturier, D.W. Demarest, W.E. Easton, J.J. Giocomo, R.H. Keller, A.E. Mini, A.O. Panjabi, D.N. Pashley, T.D. Rich, J.M. Ruth, H.Stabins, J. Stanton, T. Will. 2016. Partners in Flight Landbird Conservation Plan: 2016 Revision for Canada and Continental United States. Partners in Flight Science Committee.
Sauer, J. R., J. E. Hines and J. Fallon. 2001. The North American Breeding Bird Survey, results and analyses 1966-2000. Version 2001.2. USGS Patuxent Wildlife Research Center, Laurel, Maryland, USA.
Sauer, J.R., D.K. Niven, J.E. Hines, D.J. Ziolkowski, Jr, K.L. Pardieck, J.E. Fallon, and W.A. Link. 2017. The North American Breeding Bird Survey, Results and Analysis 1966 – 2015 (Nebraska). Version 2.07. USGS Patuxent Wildlife Research Center, Laurel, Maryland, USA.
Tallman, D.A., Swanson, D.L., and J.S. Palmer. 2002. Birds of South Dakota. Midstates/Quality Quick Print, Aberdeen, South Dakota, USA.
Recommended Citation
Silcock, W.R., and J.G. Jorgensen. 2023. Red-headed Woodpecker (Melanerpes erythrocephalus). In Birds of Nebraska — Online. www.BirdsofNebraska.org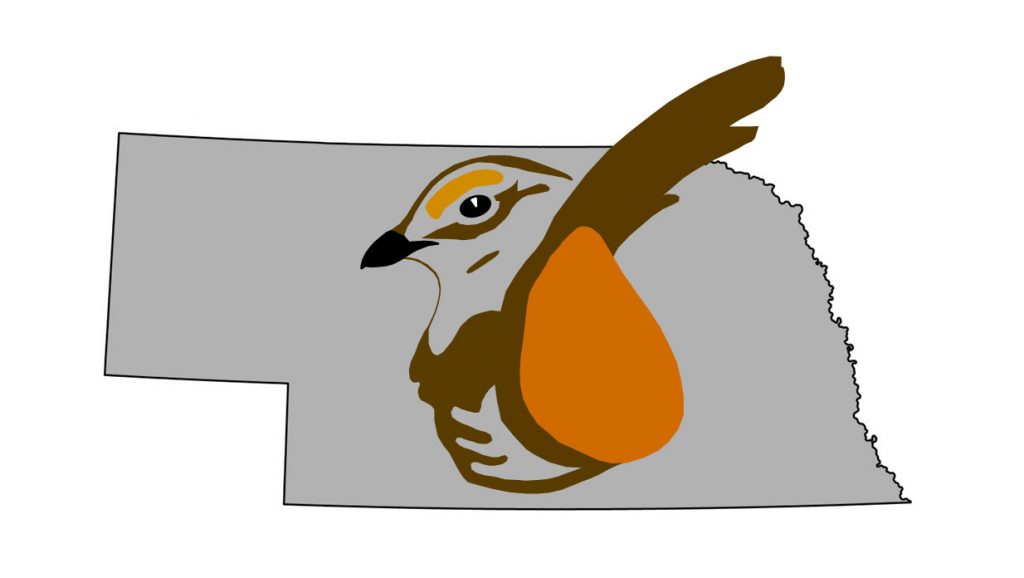 Birds of Nebraska – Online
Updated 14 Sep 2023