Buteo lineatus
Status:  Rare regular spring and fall migrant southeast, rare casual elsewhere. Locally rare regular breeder (resident?) southeast. Rare regular winter visitor southeast, rare casual elsewhere.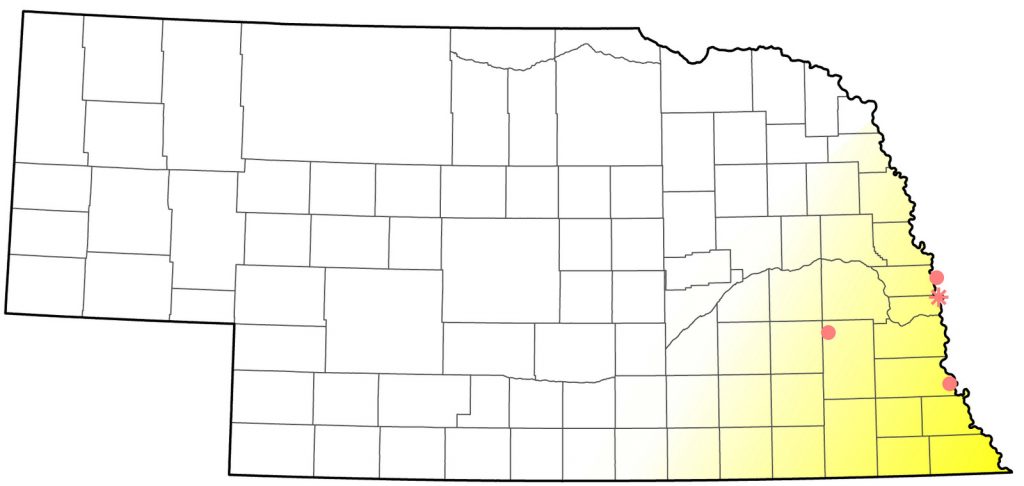 Documentation: Specimen: UNSM ZM12519, 15 Jan 1941 Fontenelle Forest, Sarpy Co.
Taxonomy:  Five subspecies are recognized (Gill and Donsker 2017): alleni of south-central Texas to North Carolina and northern Florida, extimus of south Florida and the Florida Keys, texanus from south Texas to southeast Mexico, elegans from southern Oregon to Baja California, and lineatus of eastern North America.  Nebraska breeders are presumed to be lineatus; the other subspecies are non-migratory (Dykstra et al 2020).
Resident: There is no information to confirm that breeding birds in Nebraska are resident, although Wheeler (2003) shows winter occurrence in the Missouri River Valley north to Sarpy Co, where only there is it shown by Wheeler to be a year-round resident. Dykstra et al (2020) show that the species is resident north in the Missouri River Valley to extreme southeast Nebraska, perhaps north to Richardson Co.
Spring: Feb 23,23,25 <<<>>> May 24, Jun 6,10
Birds that migrate, those at the northern edge of the breeding range from Minnesota eastward, move north beginning in late Feb (Dykstra et al 2008); the early Nebraska dates above are in late Feb and thus indicative of migrant timing.
There are 14 reports west of the expected migration range, several older and undocumented; these 14 reports are in the period 13 Mar-10 Jun, and extend west to the Panhandle. May and Jun reports are likely nonbreeding immatures.
Panhandle reports are 29 Mar 1995 Crescent Lake NWR, Garden Co, 11 May 1980 Garden Co, 13 May 1978 Garden Co, 24 May 1975 immature Dawes Co (Rosche 1982), and 10 Jun 1973 immature Sioux Co (Rosche 1982), and a westerly report 11 May 2012 Lincoln Co. There are these northerly reportS: 27 Apr 2006 adult near Creighton, Knox Co and 28 May 2019 Niobrara Valley Preserve, Brown Co.
Summer: Breeding records are limited to extreme southeastern Nebraska, in Lancaster, Otoe, Douglas, and Sarpy Cos (Ducey 1988).  Bruner et al (1904) described the species as "not uncommon" along the Missouri River bluffs and nesting during this time was reported, albeit without details, by Bruner (1901) from Omaha, Steven's Creek near Cheney (now part of Lincoln), and Nebraska City.  Carriker (1900) considered the species "quite rare" in Otoe County but did describe finding a nest in a wooded area along Camp Creek about 12 miles south of Nebraska City.  There were no other nesting records away from Fontenelle Forest, Sarpy Co (see below) with the exception of a nest observed near Carter Lake, Douglas Co, 13 Apr – 10 May (Cortelyou 1959).
The most consistent location for breeding activity has been Fontenelle Forest, where the species has nested somewhat regularly throughout the 20th century. Nesting there recommenced in 1989 after having last been reported in 1964 (Cortelyou 1965), with recent activity limited to a single pair, but has not been reported since 2000.  Of interest, however, were sightings of single birds 27 Mar-16 Apr 2009, and a pair was in the area of Fontenelle Forest in 2013, seen circling there 30 Jun, and nearby over Bellevue 14 Jul. A pair over Omaha 2 Aug 2015 may have been based at Fontenelle Forest. Nests at Fontenelle Forest have been located both on wooded upland slopes and the floodplain.  Breeding activity, including courtship, has been observed as early as late Jan and fledging on 6 and 15 Jun.
After several sightings of single birds in 2008 in the Pawnee Lake area of Lancaster Co, two birds were seen for the first time 9 Mar 2009 and breeding was confirmed with the discovery of a pair tending a nest 30 feet up in a green ash 30 Mar; two chicks were present 9 May and four birds were seen 25 Jun. However, the chicks may have been predated, as the adults apparently deserted the area after 26 Jun. Sightings of singles in the Branched Oak Lake, Lancaster Co area over the same period may have been these same birds. There have been no reports in the area since.
Additional reports suggestive of breeding are all from the east. A juvenile possibly accompanied by an adult was at Indian Cave SP, Richardson Co 29 Jul 2009; oddly, breeding has not been proven at this seemingly-suitable location. There were reports from Cass Co 8 Jun 1989, 6 Jun 1990, and 18 Aug 1991. Northernmost are reports are from Thurston and Dakota Cos: two were in Thurston Co 23 Feb 2013 and 11-13 Jun 2006 at Ashford Scout Camp, and 5 Aug 2015, and one was at Basswood Ridge WMA, Dakota Co 21 Jul 2020.  Breeding may occur at Rose Creek WMA, Jefferson Co; in 2016, one was recorded 3 Jun; very vocal birds were there 27 Jul 2016 and again 11 Jul 2017.
There are only two breeding season reports elsewhere. The two reports, 11 Jul 1973 Clay Co and 14 Jul 2007 Adams Co, are difficult to explain, but are likely non-breeding immatures or misidentifications.
Fall:  Aug 11,12,12 <<<>>> Oct 24,30, Nov 1
Dates above are away from southeast Nebraska. Early reports are 11 Aug 1990 Dodge Co, 12 Aug 1954 Loomis, Phelps Co (an albino specimen, HMM #28383), while last dates are 24 Oct 1937 Lincoln Co (Tout 1947), 24 Oct 1981 Garden Co, a juvenile at Lake North, Platte Co 29-30 Oct 2006, and 1 Nov 1970 Custer Co.
Reports in Aug away from known breeding locations may be recently-fledged juveniles or non-breeding immatures; adults move through later (Dykstra et al 2020). The Hitchcock Nature Center Hawk Watch, Pottawattamie Co, Iowa has recorded an average of four birds per fall, occurring mid-Aug through late Nov (http://hawkcount.org/siteinfo.php?rsite=172, accessed Aug 2017).
Northerly and westerly reports are 18 Aug and 14 Sep 2018 Dixon Co, 27 Aug 2011 Lincoln Co, 6 Oct 1898 Antelope Co (Cary 1900), 12 Oct 1934 Lincoln Co (Tout 1947), 24 Oct 1937 Lincoln Co (Tout 1947), and a single Panhandle report 24 Oct 1981 Garden Co.
Winter: Individuals of this species winter on occasion in southeast Nebraska; in recent years reports have increased, suggesting annual winter occurrence. It is likely that some of these winter records are of residents (see Resident). Reports away from the southeast have increased as well; in 2018-2019, an immature was in Harlan Co 14 Dec, and juveniles were in Cedar Co 24 Dec and Shelton, Buffalo Co 16 Jan (fide JGJ).
There are several reports away from southeast Nebraska prior to 2000 without details that we consider equivocal. This species can be difficult to identify if not well seen and its calls are accurately imitated by Blue Jays.

Abbreviations
HMM: Hastings Municipal Museum
SP: State Park
UNSM: University of Nebraska State Museum
WMA: Wildlife Management Area (State)
Literature Cited
Bruner, L. 1901.  Birds that nest in Nebraska.  Proceedings Nebraska Ornithologists' Union 2: 48-61.
Bruner, L., R.H. Wolcott, and M.H. Swenk. 1904. A preliminary review of the birds of Nebraska, with synopses. Klopp and Bartlett, Omaha, Nebraska, USA.
Carriker, M.A., Jr. 1900. Some notes on the nesting of the raptors of Otoe County. Proc. Nebraska Ornithologists' Union 1: 29-34.
Cary, M. 1900. Some bird notes From the Upper Elkhorn. Proceedings of Nebraska Ornithologists' Union 1: 21-29.
Cortelyou, R.G. 1959. Douglas County Notes. NBR 27: 31.
Cortelyou, R.G. 1965. Nesting Report, 1964. NBR 33: 9-13.
Ducey, J.E. 1988. Nebraska birds, breeding status and distribution. Simmons-Boardman Books, Omaha, Nebraska, USA.
Dykstra, C.R., J.L. Hays, and S.T. Crocoll. 2020. Red-shouldered Hawk (Buteo lineatus), version 1.0. In Birds of the World (A. F. Poole, Editor). Cornell Lab of Ornithology, Ithaca, NY, USA. https://doi.org/10.2173/bow.reshaw.01.
Gill, F., and D. Donsker (Eds). 2017. IOC World Bird List (v 7.3), accessed 30 January 2018.
Rosche, R.C. 1982. Birds of northwestern Nebraska and southwestern South Dakota, an annotated checklist. Cottonwood Press, Crawford, Nebraska, USA.
Wheeler, B.K. 2003. Raptors of Western North America. Princeton University Press, New Jersey, USA.
Recommended Citation
Silcock, W.R., and J.G. Jorgensen. 2020. Red-shouldered Hawk (Buteo lineatus). In Birds of Nebraska — Online. www.BirdsofNebraska.org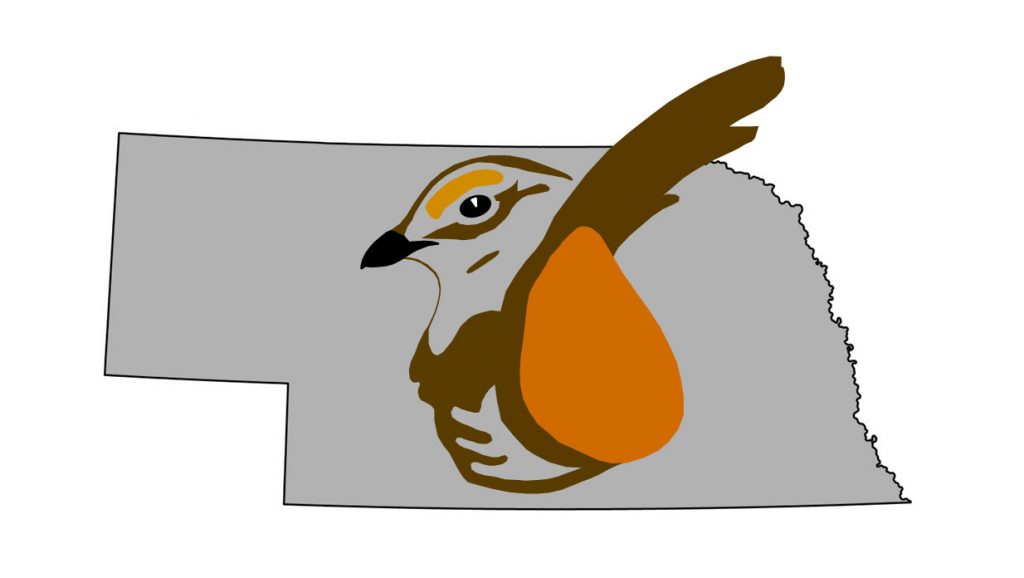 Birds of Nebraska – Online
Updated 20 August 2020