Agelaius phoeniceus phoeniceus, A. p. fortis, A. p. arctolegus
Status:  Abundant regular spring and fall migrant statewide. Common, locally abundant breeder statewide. Uncommon regular winter visitor south and east, rare elsewhere.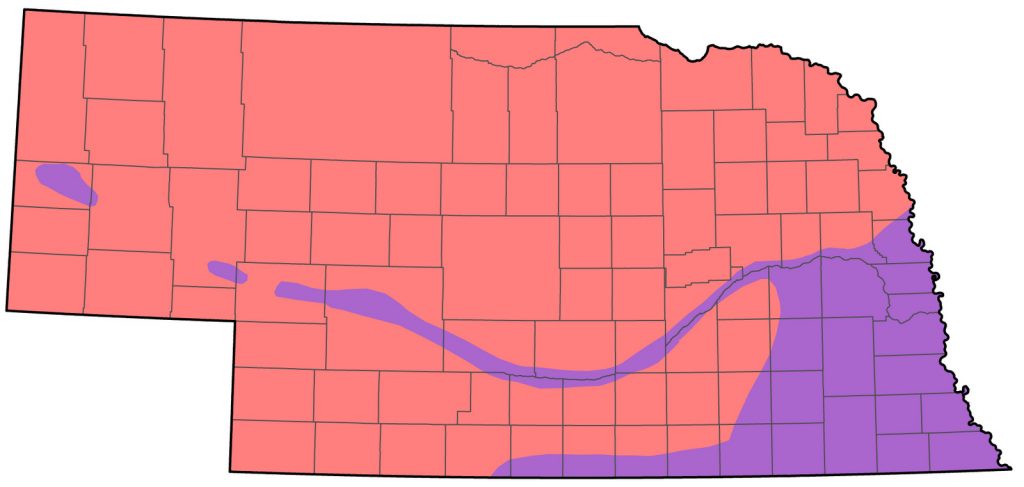 Documentation:  Specimens: phoeniceus, UNSM ZM6993, 11 May 1914 Lincoln, Lancaster Co; fortis, UNSM ZM 6987, 1 Jul 1916 Scotts Bluff Co; arctolegus, UNSM ZM6999, 28 Apr 1895 Lancaster Co.
Taxonomy: As many as 26 subspecies are recognized (Pyle 1997, Gill and Donsker 2017, Clements et al 2016, Jaramillo and Burke 1999). Those which may occur in Nebraska are zasterius, breeding from Idaho to western Montana to Utah and Texas, stereus, breeding from eastern Montana to North Dakota and central Colorado, wintering to Arizona and west Texas, fortis, breeding from South Dakota to northern Arizona east to western Kansas and north Texas, wintering to southern Arizona and Florida, arctolegus, breeding from Northwest Territories to southeast British Columbia and east to Ontario and Iowa, wintering from southeast Arizona and Ohio to Louisiana, and phoeniceus, breeding from Wisconsin to Prince Edward Island south to northeast Texas and Florida, wintering to south Texas and Florida.
Jaramillo and Burke (1999) suggested that Red-winged Blackbird was "grossly oversplit" at the subspecies level and lumped the five subspecies suggested above as possibly occurring in Nebraska in phoeniceus; differences between them were considered clinal. Thus, phoeniceus of Jaramillo and Burke (1999) would encompass the area from Alaska, southeast of the Rockies to central Texas, east to the Atlantic Coast (except Gulf Coastal areas), and north to the tree line.
While we concur in general with Jaramillo and Burke (1999) and Power (1970) to the extent that most breeding birds in central and eastern Nebraska are intergrades, we point out here that historically two subspecies have been documented in Nebraska within the breeding season: fortis and phoeniceus. According to AOU (1957), the Plains subspecies fortis breeds in western Nebraska, northern arctolegus breeds south to southern South Dakota and possibly extreme northern Nebraska, and southeastern phoeniceus breeds in southeast Nebraska and most of Kansas. The eastward extent of the breeding range of fortis is shown in Harris (1919), and by a specimen collected in Clay Co 8 May 1918 (UNSM ZM 6972); another Clay Co specimen, collected 18 May 1920 (UNSM ZM 6992), however, was identified as phoeniceus. Harris (1919) shows the breeding range of predatorius (=phoeniceus) to be limited to southeastern Nebraska.
Most summering birds probably do not overwinter in the state; Ohio data (Bent 1968) showed that breeding birds (phoeniceus) were replaced in winter by northern birds (arctolegus).  Nebraska banding data indicate that breeding birds from North and South Dakota (presumably arctolegus) pass through eastern Nebraska during migration, while birds breeding in or migrating through the Panhandle (presumably fortis) winter a short distance to the south in Colorado or on occasion in Nebraska.  The 28 Apr specimen cited above for arctolegus (UNSM ZM6999) was probably a late migrant; the only other UNSM specimen of arctolegus, collected in Lancaster Co 10 Oct 1889 (UNSM ZM6998), was more definitely a migrant. Banding data also indicate that some Nebraska migrants come from states to the northwest, including Wyoming and Montana.  These birds are probably fortis, although stereus and zasterius may also occur in the Panhandle.
The type specimen of fortis was collected at Omaha, Douglas Co (Bruner et al 1904); this form is a regular migrant as far east as western Iowa (DuMont 1934).
Spring:  Migration patterns of this species by age and sex class were discussed by Yasukawa and Searcy (2020) and Dolbeer (1978, 1982).
Males appear first in spring, arriving in late Feb and early Mar.  Early males were on territory in the Sandhills 8 Feb 1998, in Scotts Bluff Co 12 Feb 2016, and at North Platte, Lincoln Co 13 Feb 2014. There may be two weeks between arrival of territorial males and females.  A "general arrival" of females was noted in Cass and Sarpy Cos 29 Mar 2006, a flock of 80 females was near Talmage, Otoe Co 28 Apr 2013, a flock of 300 females in Burt Co 30 Apr 2021, a flock of 75 females was at Oliver Reservoir, Kimball Co 1 May 2004, and flock of about 1000 females was in the eastern Rainwater Basin as late as 4 May 1997. A flock of immature males was seen in southeast Nebraska 13 Mar 2005, when no females were noted in the area and adult males were on territory. In Holt Co in 1990 the first birds seen were 26 Feb, with flocks noted 11 Mar (Blake and Ducey 1991), and in the north-central, males were on territory by 4 Apr in 1982, but females were not seen until 14 Apr (Brogie and Mossman 1983).
High counts:  100,000 at Jack Sinn WMA, Lancaster Co 5 Apr 2014, 75,000 in Lincoln Co 15 Feb 2015, 38,000 in Scotts Bluff Co 6 Mar 1994, and 35,000 at Kiowa WMA, Scotts Bluff Co 8 Mar 1998.
Summer: This species is ubiquitous, perhaps with lowest densities in the Panhandle, as indicated by BBS data, although Mollhoff (2016) depicted even distribution statewide.  Largest numbers nest at the margins of permanent marshes statewide, usually over shallower water than Yellow-headed Blackbird where the two occur together.  However large numbers also have adapted to upland habitats, notably irrigated alfalfa fields in the west.  BBS trend analysis shows an annual change of 0.25 (95% C.I.; -0.83, 0.31) statewide 1966-2015 (Sauer et al 2017), indicating numbers have remained relatively stable during the period.
William Flack (personal communication) provided an interesting discussion regarding male involvement in chick-rearing; the trade-off for males appears to be increased numbers of young fledged with male involvement versus increased numbers of female mates without. Flack's observations indicated there might be clinal variation in male involvement across the state, but the sample size is too small to be conclusive.
Breeding phenology:
Nest-building: 26 Apr-29 Jun
Eggs: 3 May-8 Jul (Mollhoff 2022)
Nestlings: 17 May- 16 Jul
Fledglings: 27 May-24 Jul
Fall: Flocks form in Jul, composed of young birds and females, and these flocks are joined later by males. A flock of 50 females was near Lincoln, Lancaster Co 3 Nov, suggesting that it may be rather late in fall before mixed-gender flocks form. "Several thousand" were in Buffalo Co 19 Jul 1997 and 4000 at Funk WPA, Phelps Co 8 Aug 1998.
Red-winged Blackbirds are inconspicuous during Aug, when molting takes place in marsh vegetation.  Flocks reappear in Sep, and migration takes place in Oct and Nov (Bent 1968). By late Dec most have left the state, although an impressive 60,000 were at Kiowa WMA, Scotts Bluff Co 18 Dec 2022. Large roosts may still be present during the CBC period in the south and east: 500,000 were at North Platte in 1977, 255,806 were at Omaha in 1984, and 187,065 were there in 1987.  Flocks of this size have not been recorded in Jan.
High counts:  100,000 at Clear Creek Marshes, Garden Co 27 Oct 1996, 45,027 in Lincoln Co 27 Oct 2014, and 17,500 there 9 Nov 2015.
Winter: Relatively few overwinter, with much variability in numbers during and between winters. Flocks remain at favored locations into mid-winter if food and shelter is available (Rosche 1982, 1994), although overwintering flocks are relatively small, such as 2000 in Scotts Bluff Co 25 Jan 2007, 2200 at Branched Oak Lake, Lancaster Co during winter 2013-2014, and 1500 in Lancaster Co 1 Feb 2013. Large flocks rarely remain past mid-Jan, such as the 25,000 in the Brady-Maxwell area in Lincoln Co Dec 2015-Jan 2016. Large flocks of 12,500 in a sheltered creek bottom in Pawnee Co 8 Feb 1997 and 20,706 at Clear Creek Marshes 29 Jan 2000 may have been early migrants.
Northerly mid-winter (mid-late Jan) sightings are usually of single males, however, a female was in Dakota Co 11 Jan 2009 and a mixed-gender flock of 110 there 14 Jan 2020 were unexpected, as were two birds at Valentine NWR, Cherry Co 18 Jan 2020, two in Grant Co 26 Jan 2012, three females in Scotts Bluff Co 9 Jan 2011, and a female-only flock of 250 in Scotts Bluff Co 19 Jan 2013.
Images
Abbreviations
BBS: Breeding Bird Survey
CBC: Christmas Bird Count
UNSM: University of Nebraska State Museum
WMA: Wildlife Management Area (State)
WPA: Waterfowl Production Area (Federal)
Acknowledgement
This species account was improved through discussions with Jon King regarding taxonomy of this species.
Literature Cited
American Ornithologists' Union [AOU]. 1957. The AOU Check-list of North American birds, 5th ed.  Port City Press, Baltimore, Maryland, USA.
Bent, A.C. 1968. Life histories of North American Cardinals, Grosbeaks, Buntings, Towhees, Finches, Sparrows, and allies. Bulletin of the United States National Museum 237. Three Parts.  Dover Publications Reprint 1968, New York, New York, USA.
Blake, L., and J. E. Ducey. 1991. Birds of the eastern Sandhills in Holt County, Nebraska. NBR 59: 103-132.
Brogie, M.A., and M.J. Mossman. 1983. Spring and summer birds of the Niobrara Valley Preserve, Nebraska: An annotated checklist. NBR 51: 44-51.
Bruner, L., R.H. Wolcott, and M.H. Swenk. 1904. A preliminary review of the birds of Nebraska, with synopses. Klopp and Bartlett, Omaha, Nebraska, USA.
Clements, J. F., T. S. Schulenberg, M. J. Iliff, D. Roberson, T. A. Fredericks, B. L. Sullivan, and C. L. Wood. 2016. The eBird/Clements checklist of birds of the world: v2016, accessed 30 January 2018.
Dolbeer, R.A. 1978. Movement and migration patterns of Red-winged Blackbirds: a continental perspective. Bird Banding 49: 17-34.
Dolbeer, R.A. 1982. Migration patterns for age and sex classes of blackbirds and starlings. Journal of Field Ornithology 53: 28-46.
DuMont, P.A. 1934. A revised list of the birds of Iowa. University of Iowa Studies. Studies in Natural History 15 (5).
Gill, F., and D. Donsker (Eds). 2017. IOC World Bird List (v 7.3), accessed 30 January 2018.
Harris, H. 1919. Birds of the Kansas City Region. Transactions of the Academy of Science of St. Louis. 23, no. 8.
Jaramillo, A., and P. Burke. 1999. New World Blackbirds- The Icterids.  Princeton University Press, Princeton, New Jersey, USA.
Mollhoff, W.J. 2016. The Second Nebraska Breeding Bird Atlas. Bull. Univ. Nebraska State Museum Vol 29. University of Nebraska State Museum, Lincoln, Nebraska, USA.
Mollhoff, W.J. 2022. Nest records of Nebraska birds. Nebraska Ornithologists' Union Occasional Paper Number 9.
Power, D.M. 1970. Geographic Variation of Red-winged Blackbirds in Central North America. University of Kansas Publications, Museum of Natural History 19: 1-83.
Pyle, P. 1997. Identification Guide to North American Birds. Part I, Columbidae to Ploceidae. Slate Creek Press, Bolinas, California, USA.
Rosche, R.C. 1982. Birds of northwestern Nebraska and southwestern South Dakota, an annotated checklist. Cottonwood Press, Crawford, Nebraska, USA.
Rosche, R.C. 1994. Birds of the Lake McConaughy area and the North Platte River valley, Nebraska.  Published by the author, Chadron, Nebraska, USA.
Sauer, J.R., D.K. Niven, J.E. Hines, D.J. Ziolkowski, Jr, K.L. Pardieck, J.E. Fallon, and W.A. Link. 2017.  The North American Breeding Bird Survey, Results and Analysis 1966 – 2015 (Nebraska).  Version 2.07. USGS Patuxent Wildlife Research Center, Laurel, Maryland, USA.
Yasukawa, K. and W.A. Searcy. 2020. Red-winged Blackbird (Agelaius phoeniceus), version 1.0. In Birds of the World (P. G. Rodewald, Editor). Cornell Lab of Ornithology, Ithaca, NY, USA. https://doi.org/10.2173/bow.rewbla.01.
Recommended Citation
Silcock, W.R., and J.G. Jorgensen.  2022.  Red-winged Blackbird (Agelaius phoeniceus). In Birds of Nebraska — Online. www.BirdsofNebraska.org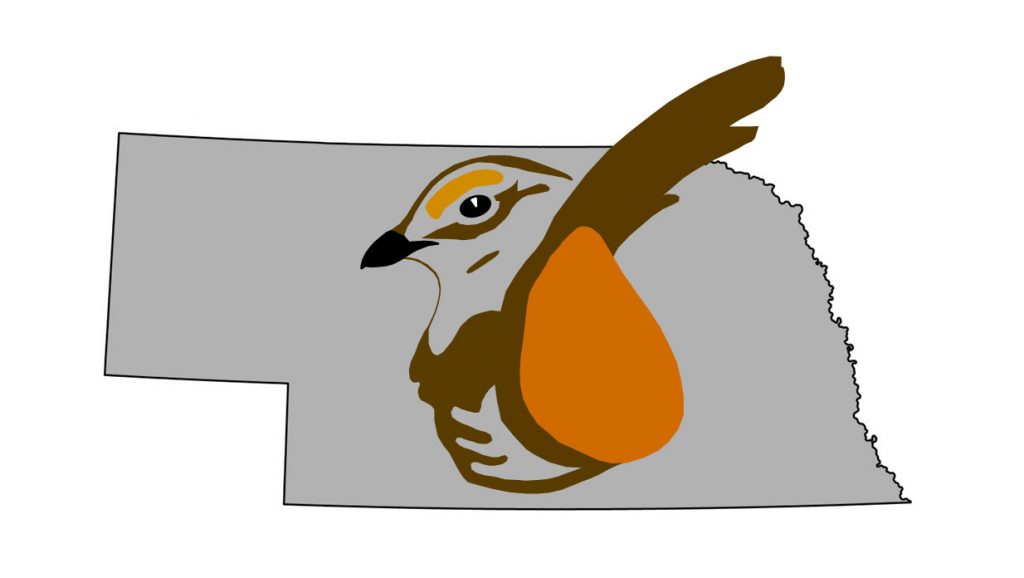 Birds of Nebraska – Online
Updated 1 Sep 2022