Larus delawarensis
Status: Abundant regular spring and fall migrant statewide. Fairly common regular summer visitor statewide. Uncommon regular winter visitor statewide.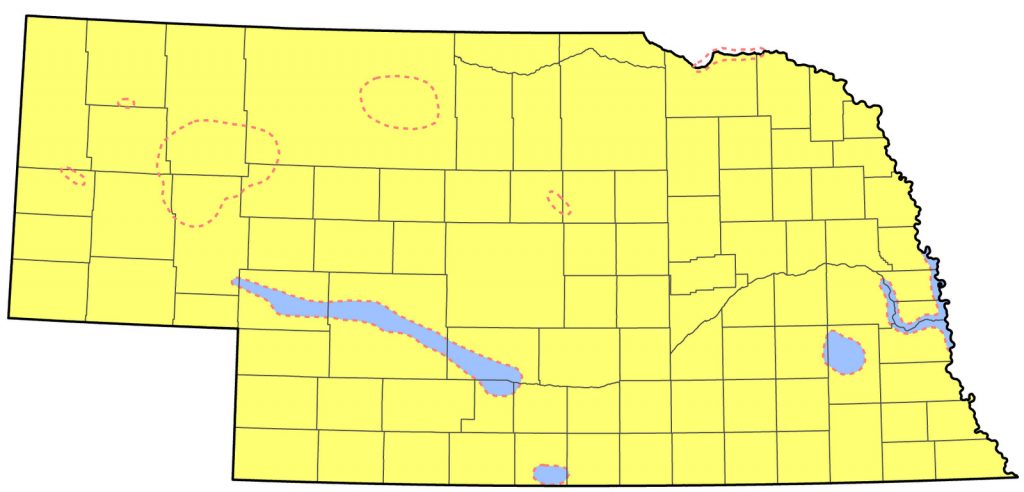 Documentation: Specimen: UNSM ZM6619, 22 Sep 1917 Lancaster Co.
Taxonomy: No subspecies are recognized.
Pollet et al (2020) indicated that there are two breeding populations, eastern and western, that can generally be distinguished mensurally; Nebraska birds show much variation in size, probably as the two populations mix in Nebraska during migrations and winter (see Comments).
Spring: Arrival of northward migrants is indicated by a notable increase in numbers of wintering birds by late Feb or early Mar, peaking in mid- to late Mar, although there is both north and south movement in early spring in response to water/ice conditions and weather. Small flocks, mostly of sub-adults, follow in Apr and May. A group of 35 at Hedgefield WMA, Lancaster Co 28 Apr 2013 was comprised of immatures.
High counts: 30,000 at Harlan Co Reservoir, Harlan Co 15 Mar 2001, 20,000 at Branched Oak Lake, Lancaster Co 24 Mar 2001, and 19,000 at Lake McConaughy, Keith Co 14 Mar 1994.
Summer: Small numbers of immature non-breeders can be found in summer at larger lakes and reservoirs throughout the state. The nearest regular breeding is in northeast South Dakota (Tallman et al 2002), although nesting has occurred in Wyoming (Faulkner 2010) and there is an old record for Colorado (Wickersham 2016). See Comments.
High counts: 700 at Lake McConaughy 9 Aug 1991 (Rosche 1994), 683 there 20 Jun 2004, 601 there 31 Jul 2021, 472 there 30 Jul 2000, and 470 at Lake Alice, Scotts Bluff Co 30 Jul 2019.
Fall: Migrants can be detected by late Jul, when the first adults generally appear; early records of fall adults are of a single adult in Clay Co 14 Jul 2012, four in the eastern Rainwater Basin 16 Jul 2000, 20 in Lancaster Co 20 Jul 2014, and five in Seward Co 24 Jul 2011. An early high count was the 768 at Lake McConaughy 6 Aug 2000.
Peak counts occur between late Sep and early Jan; timing and numbers are dependent on water/ice conditions and weather. Pollet et al (2020) indicated that individuals of the eastern population that winter along the west coast of the Gulf of Mexico (Louisiana, Texas) move south through the Mississippi Valley, and that birds from the western population also winter uncommonly in Texas and further south, passing through the Great Plains states.
High counts: 100,000 at Calamus Reservoir, Loup Co 29 Sep 2002, 10,000 at Lake McConaughy 23 Dec 2022, 8200 there 9 Dec 2020, 6000-8000 there 1 Dec 1974 (Rosche 1994), and 5000-8000 at Wehrspann Lake, Sarpy Co 5-6 Dec 2016.
Winter: Wintering numbers are dictated by the severity of the winter; generally, small numbers overwinter at larger reservoirs with open water. Smallest numbers are usually found during Jan, and numbers slowly begin to build at certain reservoirs, such as Lake McConaughy, in late Jan and Feb. In the northwest, it may depart entirely in winter, as Rosche (1982) cited extreme occurrence dates 3 Mar-27 Nov.
Comments: There is a single egg which may be of this species in the UNSM collection, obtained from Lake McConaughy in 1992 (Roger Knaggs pers. comm.). A technician working on Piping Plovers at the west end of Lake McConaughy found a nest with two eggs in dead cattails and an adult bird "coming and going" on 22 Jul 1992. The nest was washed out by high water and only one egg recovered and sent to UNSM. A photograph of the "nest", also at UNSM, apparently was taken after the original nest was washed out; Thomas Labedz (pers. comm.) doubted from this photo that there was a real nest and suspected that the egg may have been "dumped".
Mollhoff (2022) noted that there is no tangible evidence to support a statement by J. M. Bates that it bred in Cherry Co (Bruner 1896, 1901).
Pollet et al (2020) stated that "birds from western populations are larger in 16 of 18 (89%) mensural characters that differ significantly". Apparently, the eastern population re-established itself after being extirpated in the 19th century; by the early 1900s the species bred only in the inland prairie regions of the Unites States and Canada but has re-occupied its former range (Pollet et al 2020).
Images
Abbreviations
UNSM: University of Nebraska State Museum
WMA: Wildlife Management Area (State)
Literature Cited
Bruner, L. 1896. Some notes on Nebraska birds. Annual Report of the Nebraska State Horticultural Society.
Bruner, L. 1901. Birds that nest in Nebraska. Proc. NOU 2: 48- 61.
Faulkner, D.W. 2010. Birds of Wyoming. Roberts and Company, Greenwood Village, Colorado, USA.
Mollhoff, W.J. 2022. Nest records of Nebraska birds. Nebraska Ornithologists' Union Occasional Paper Number 9.
Pollet, I.L., D. Shutler, J.W. Chardine, and J.P. Ryder. 2020. Ring-billed Gull (Larus delawarensis), version 1.0. In Birds of the World (A. F. Poole, Editor). Cornell Lab of Ornithology, Ithaca, NY, USA. https://doi.org/10.2173/bow.ribgul.01.
Rosche, R.C. 1982. Birds of northwestern Nebraska and southwestern South Dakota, an annotated checklist. Cottonwood Press, Crawford, Nebraska, USA.
Rosche, R.C. 1994. Birds of the Lake McConaughy area and the North Platte River valley, Nebraska. Published by the author, Chadron, Nebraska, USA.
Tallman, D.A., Swanson, D.L., and J.S. Palmer. 2002. Birds of South Dakota. Midstates/Quality Quick Print, Aberdeen, South Dakota, USA.
Wickersham, L.E. Ed. 2016. The Second Colorado Breeding Bird Atlas. Colorado Bird Atlas Partnership, Colorado Parks and Wildlife, Denver, Colorado, USA.
Recommended Citation
Silcock, W.R., and J.G. Jorgensen. 2022. Ring-billed Gull (Larus delawarensis). In Birds of Nebraska — Online. www.BirdsofNebraska.org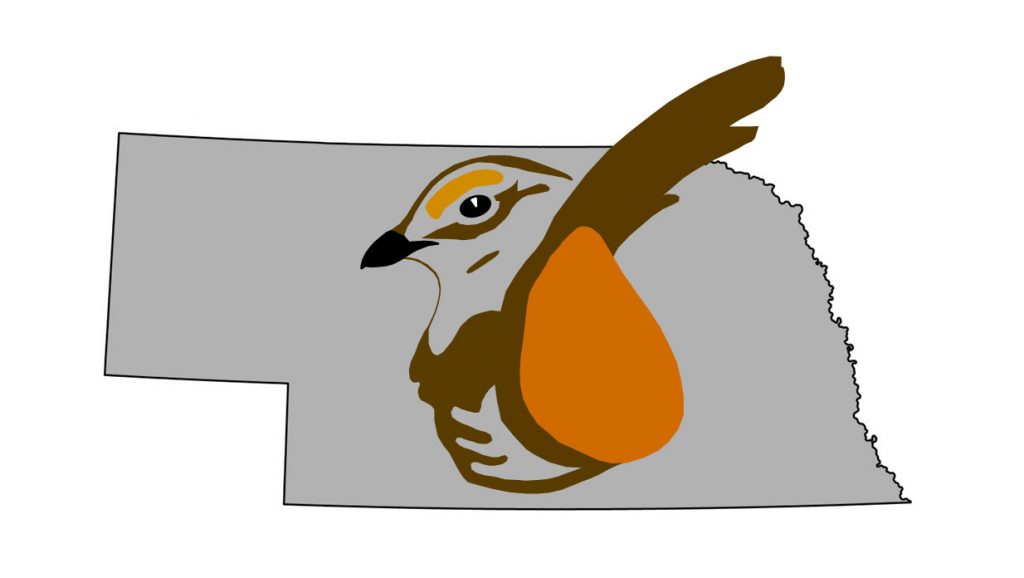 Birds of Nebraska – Online
Updated 26 Mar 2022