Streptopelia "risoria"
Status: No accepted records.
Taxonomy: The specific epithet risoria is not considered valid; according to AOU (1998), this "widely domesticated and locally introduced form is now deemed to be derived from the African S. roseogrisea [African Collared-Dove] rather than S. decaocto [Eurasian Collared-Dove]" (DeBenedictis 1994, Romagosa and McEneaney 1999).
Recently the ABA Checklist Committee removed this species from the ABA Checklist as there no longer appear to be any established populations in North America (DeBenedictis 1994). Similarly, eBird no longer recognizes or accepts reports of this "species".
Comments: There are several reports of free-flying birds, all probable escapes or released birds. It should be noted that the presumed wild ancestor of Ringed Turtle-Dove, African Collared-Dove (S. roseogrisea) may occur in Nebraska (see that species); there is a small population centered on Lake Waneka, Colorado (eBird.org, accessed November 2017). A photo of a very pale bird at Mullen, Hooker Co 8 Oct 2020 was likely of an escaped Ringed Turtle-Dove rather than an African Collared-Dove; the latter has entirely white undertail coverts, but the Mullen bird's were blackish.
There is no evidence of nesting of Ringed Turtle-Doves in the wild in Nebraska. Occasional releases may augment numbers of Eurasian Collared-Doves; a flock of Ringed Turtle-Doves was released at Mitchell, Scotts Bluff Co during winter 2003-2004 and the birds mixed with the existing wild Eurasian Collared-Doves for a total flock of about 60 birds. A small population in Papillion, Sarpy Co in 2010 appeared to be based on feral cage-raised birds; presumably from this population, one was photographed 8 Jan 2017 (Williams, https://ebird.org/view/checklist/S33536142). Such populations apparently do not survive without human assistance.
Additional reports are as follows. A single banded bird was noted at a feeder in a Plattsmouth, Cass Co yard 3-16 Mar 1968 (Schneider 1968). Another rather tame bird which also had a "private band" was noted in Bellevue, Sarpy Co 7 Aug 1974-early Jan 1975 (Cortelyou 1974, 1975). One was noted in Crete, Saline Co for about four months from 19 Aug 1978 (Gross 1978), and two "fairly tame" birds were there 14 Aug 2002. A free-flying bird was reported in Douglas-Sarpy Cos late Apr 1979 (Cortelyou 1979). A single bird was reported without details at Valley View tennis courts, Omaha, 22 Feb 1998 (Silcock and Jorgensen 1998).
Images
Abbreviations
ABA: American Birding Association
Literature Cited
American Ornithologists' Union [AOU]. 1998. The AOU Check-list of North American birds, 7th ed. Allen Press, Lawrence, Kansas, USA.
Cortelyou, R.G. 1974. Ringed Turtle Dove. NBR 42: 62-63.
Cortelyou, R.G. 1975. 1975 (Fiftieth) Spring Migration and Occurrence Report. NBR 43: 46-66.
Cortelyou, R.G. 1979. 1979 (Fifty-fourth) Spring Migration and Occurrence Report. NBR 47: 42-54.
DeBenedictis, P.A. 1994. ABA Checklist Report, 1992. Birding 26: 93-102.
Gross, M. 1978. Ringed Turtle Dove. NBR 46: 86.
Romagosa, C.M., and T. McEneaney. 1999. Eurasian Collared-Dove in North America and the Caribbean. North America Birds 53: 348-353.
Schneider, J. 1968. Ringed Turtle Dove. NBR 36: 76-77.
Silcock, W.R., and J.G. Jorgensen. 1998. Winter Field Report, Dec 1997 to Feb 1998. NBR 66: 6-18.
Recommended Citation
Silcock, W.R., and J.G. Jorgensen. 2022. Ringed Turtle-Dove (Streptopelia "risoria"). In Birds of Nebraska — Online. www.BirdsofNebraska.org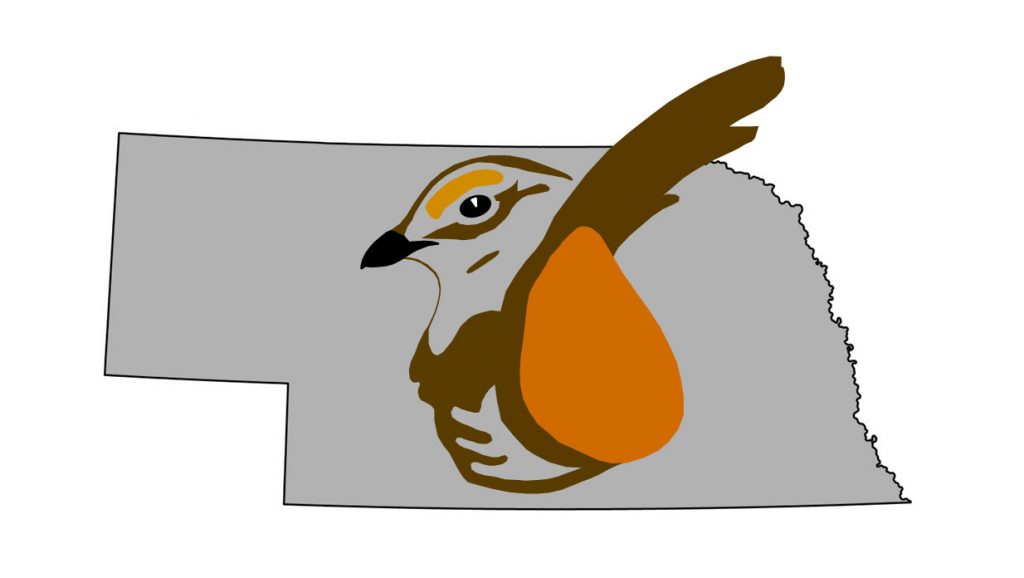 Birds of Nebraska – Online
Updated 15 Aug 2022