Oxyura jamaicensis
Status: Common, locally abundant, regular spring and fall migrant statewide. Locally uncommon regular breeder Sandhills, rare Rainwater Basin, rare casual elsewhere. Rare casual summer and winter visitor statewide.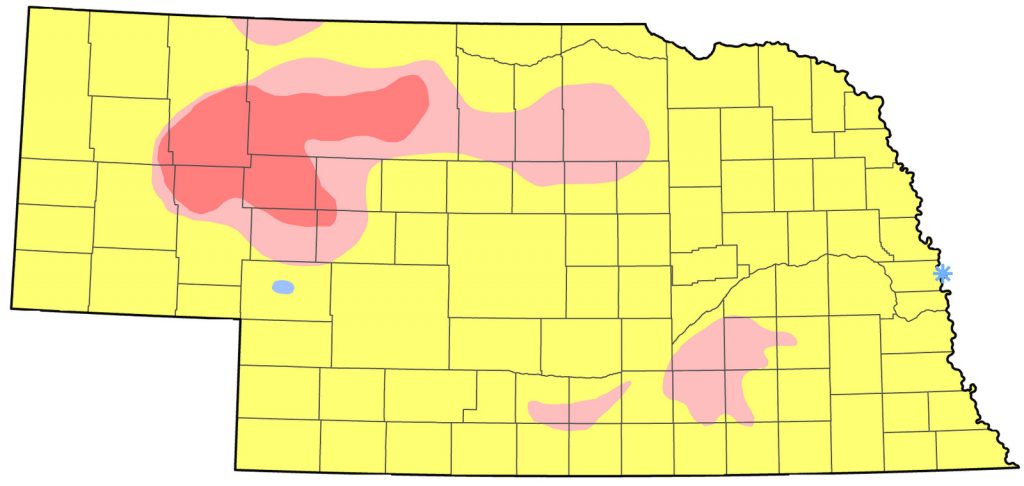 Documentation: Specimen: UNSM ZM12481, 26 Dec 1912 Lancaster Co.
Taxonomy: Two subspecies are recognized by some authorities: North American birds, O. j. rubida, and those of the West Indies, O. j. jamaicensis. Others, however, consider O. j. rubida weakly differentiated (Pyle 2008, Clements et al 2016, Brua 2020), which would result in a monotypic Ruddy Duck in North America. Recent authors (Carboneras and Kirwan 2017; Gill et al 2021) suggest merging the two, despite distinct breeding ranges and different migratory behavior (Brua 2020). We follow the merged status.
One with an all-white head was at Whitman, Grant Co 14 and 20 Mar 2018; this condition is not mentioned in major waterfowl references and is probably an example of bilateral partial leucism.
Changes Since 2000: Reports of Ruddy Ducks overwintering or lingering well into Jan have increased; overwintering was first noticed at Lake Ogallala, Keith Co in 1999-2000 and at Carter Lake, Omaha, Douglas Co in 2011-2012.
Spring: Feb 12, 13, 14 <<<>>> Jun 16, 17, 17
See Summer for later dates from locations where breeding was not noted. Peak numbers occur in mid-Apr.
High counts: "thousands" at North Platte SL, Lincoln Co 21-30 Apr 2005, 742 in Lancaster Co 22 Mar 2012, 555 at Lake Ogallala 14 Apr 2001, and 548 at Branched Oak Lake, Lancaster Co 2 Apr 2013.
Summer: The highest breeding densities are found in the western Sandhills (Mollhoff 2001). Breeding also occurs irregularly in the Rainwater Basin, often in response to periods when wetlands have relatively high water (Jorgensen 2012, 2016). There are about 25 documented instances of breeding in the Rainwater Basin, including four in 2019 (Jorgensen and Brenner 2019), as well as numerous summer reports without breeding evidence.
In the southeast, there are several breeding season reports from Lancaster and Douglas-Sarpy Cos including a male at Oak Lake, Lincoln, Lancaster Co 20 Jun 2015, a female at Pawnee Lake, Lancaster Co 21 Jul 2006, and a female in Douglas Co 29 Jul 2016. There is only one record of breeding, however; Cink (1975) reported a female with three young near Sprague, Lancaster Co 25 Jun 1972. Higher than normal water levels in the east in 2008 allowed up to seven, including five males, to summer in Sarpy Co. Similar abundant water in 2019 resulted in good numbers summering statewide; most were presumed immature non-breeders, as a high proportion of Ruddy Ducks do not breed until two years of age (Baldassarre 2014).
Elsewhere there are several summer reports (18 Jun-11 Sep) without evidence of breeding. Breeding males remain on the breeding grounds until late Jul or early Aug, where some molt; most do not disperse long distances for the pre-basic molt (Baldassarre 2014, Howell 2010). In Harlan Co, there are seven records 12 Jun-30 Jul including a flock of 17 probable non-breeders in basic plumage at Harlan Co Reservoir, Harlan Co 16 Jun 2000. Many non-breeders remain on the wintering grounds through the breeding season (Brua 2020).
The North Platte WTP, Lincoln Co is a favored site for apparent non-breeders: 14-20 were there 22 Jun-8 Jul 2006, 48-60 from 21 Jul-1 Sep 2000, and 96 in "all plumages" 23 Jun 2002.
Breeding phenology:
Eggs: 22 May- 27 Jul (Mollhoff 2022).
Dependent fledglings: 14-20 Jul.
Fall: Sep 12, 12, 13 <<<>>> Jan 6, 7, 8
Migrants are evident in scattered low numbers by early Sep and peak numbers occur from mid-Oct into early Nov. A few linger into late Dec, but this is not a cold-tolerant species. Unusually late high counts were the 55 at Wehrspann Lake, Sarpy Co 20 Dec 1998 and 29 at Lake McConaughy 30-31 Dec 2011.
High counts: 1645 in Lancaster Co 5 Nov 2014, 1500 at North Platte SL 28 Oct 1996, and 1492 at Lake Minatare 16 Oct 1999.
Winter: Overwintering is rare. Lake Ogallala is a regular location; best tally was the 11 there 1999-2000. In recent winters, Carter Lake, Omaha has hosted wintering Ruddy Ducks: from 2011-2012 through 2016-2017 up to seven birds were present 6 Jan-18 Feb.
Away from those locations, there are two records of overwintering: in Sioux Co, up to 17 wintered on University Lake 1995-96 and singles wintered at Holmes Lake, Lincoln, Lancaster Co 2015-2016 and 5 Jan-18 Feb 2018.
Additional mid-winter records are 9-18 Jan 2019 Lancaster Co, 15 in Howard-Hall Cos 15 Jan 1991, 16 Jan 2002 Lincoln Co, 2 Feb 1997 Stanton Co, 8-10 Feb 2020 Omaha, Douglas Co, and 12 Feb 2011 Washington Co. In winter 2020-2021 there were surprising reports Jan-Feb of about 15 birds at eight locations in the Missouri River Valley from Washington Co to Cass Co, including three near Waterloo, Douglas Co 11 Jan and 2-3 at DeSoto NWR, Washington Co 29 Jan-20 Feb.
Images
Abbreviations
SL: Sewage Lagoons
UNSM: University of Nebraska State Museum
Acknowledgement
Photograph (top) of a Ruddy Duck in the Central Nebraska Public Power and Irrigation Canal below Lake Ogallala, Keith Co, 24 Mar 2018 by Boni Edwards.
Literature Cited
Baldassarre, G. 2014. Ducks, geese, and swans of North America. Johns Hopkins University Press, Baltimore, Maryland, USA.
Brua, R.B. 2020. Ruddy Duck (Oxyura jamaicensis), version 1.0. In Birds of the World (P. G. Rodewald, Editor). Cornell Lab of Ornithology, Ithaca, NY, USA. https://doi.org/10.2173/bow.rudduc.01.
Carboneras, C., and G.M. Kirwan. 2017. Ruddy Duck (Oxyura jamaicensis). In: del Hoyo, J., Elliott, A., Sargatal, J., Christie, D.A. & de Juana, E. (eds.). Handbook of the Birds of the World Alive. Lynx Edicions, Barcelona.
Cink, C.L. 1975. Some waterfowl breeding records for Lancaster County. NBR 43: 40-41.
Clements, J. F., T. S. Schulenberg, M. J. Iliff, D. Roberson, T. A. Fredericks, B. L. Sullivan, and C. L. Wood. 2016. The eBird/Clements checklist of birds of the world: v2016, accessed 30 January 2018.
Cortelyou, R.G. 1972. 1972 (Forty-seventh) Spring Migration and Occurrence Report. NBR 40: 72-86.
Gill, F., D. Donsker, and P. Rasmussen (Eds). 2021. IOC World Bird List (v 11.2). Doi 10.14344/IOC.ML.11.2. http://www.worldbirdnames.org/.
Howell, S.N.G. 2010. Molt in North American Birds. Houghton Mifflin Harcourt, Boston, Massachusetts, USA.
Jorgensen, J.G. 2012. Birds of the Rainwater Basin, Nebraska. Nebraska Game and Parks Commission, Lincoln, Nebraska, USA.
Jorgensen, J.G. 2016. A summary of 2015 breeding bird surveys of selected Rainwater Basin wetlands. Nongame Bird Program of the Nebraska Game and Parks Commission, Lincoln, Nebraska, USA.
Jorgensen, J.G., and S.J. Brenner. 2019. Notable avian nesting records from the Rainwater Basin, Nebraska — 2019. Nongame Bird Program of the Nebraska Game and Parks Commission, Lincoln, Nebraska, USA
Mollhoff, W.J. 2001. The Nebraska Breeding Bird Atlas 1984-1989. Nebraska Ornithologists' Union Occasional Papers No. 7. Nebraska Game and Parks Commission, Lincoln, Nebraska, USA.
Mollhoff, W.J. 2022. Nest records of Nebraska birds. Nebraska Ornithologists' Union Occasional Paper Number 9.
Pyle, P. 2008. Identification Guide to North American Birds. Part II, Anatidae to Alcidae. Slate Creek Press, Bolinas, California, USA.
Recommended Citation
Silcock, W.R., and J.G. Jorgensen. 2022. Ruddy Duck (Oxyura jamaicensis). In Birds of Nebraska — Online. www.BirdsofNebraska.org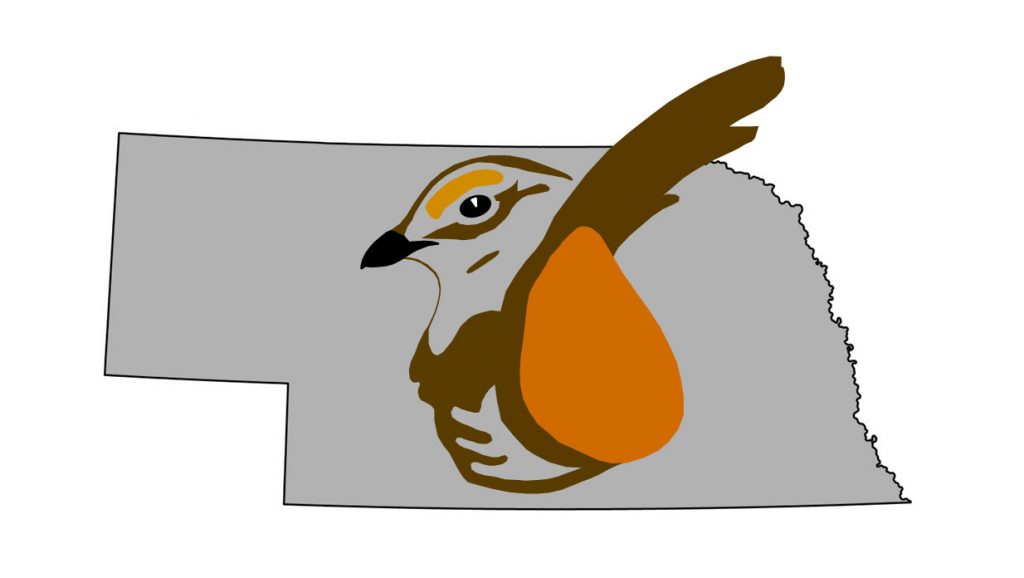 Birds of Nebraska – Online
Update 24 Mar 2022