Selasphorus rufus
Status: Uncommon regular fall migrant west and central, rare regular east. Accidental in spring.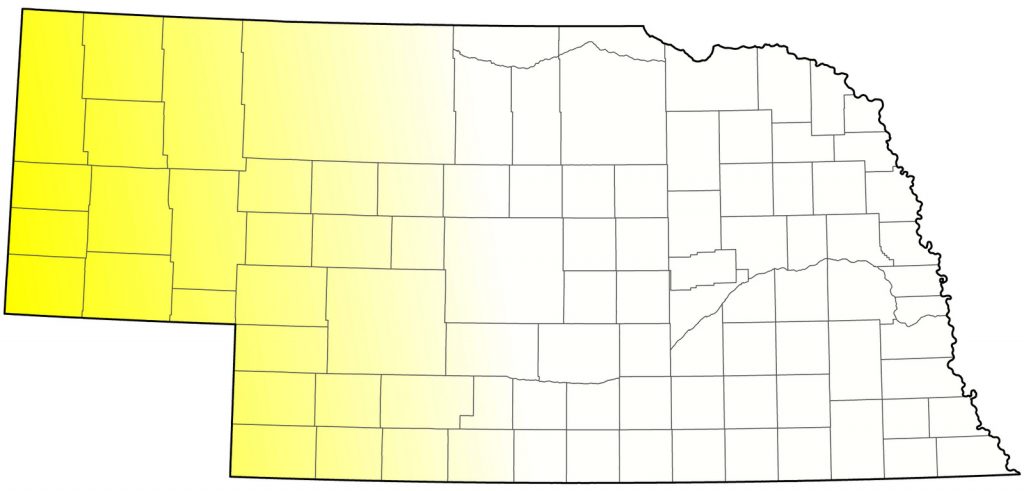 Documentation: Specimen: UNO B218, late Aug 1971 Scotts Bluff Co (Bray et al 1986).
Taxonomy: No subspecies are recognized.
See Comments below regarding Allen's Hummingbird (S. sasin), as yet unrecorded in Nebraska.
Spring: The only documented record is of one photographed at a feeder at Lake McConaughy, Keith Co 17 May 2013 (Silcock 2013). During the same spring, a possible Rufous Hummingbird was in a Scotts Bluff Co yard 30-31 May, but it was not conclusively identified (Silcock 2013).
Spring records of this species away from the Rocky Mountains are rare; the only record away from the mountains in states adjacent to Nebraska is of an apparent male in central Iowa 19 May 2020 (eBird.org).
Fall: Jul 10, 10, 11<<<>>> Sep 1, 2, 3
There are earlier dates, all of adult males, in Scotts Bluff Co, 23 Jun 2016 (Silcock 2016), 27 Jun 2019, and 29 Jun 2018.
Later dates within the expected range are 5 Sep 2012 Scotts Bluff Co, 5 Sep 2017 two Scotts Bluff Co, 9 Sep 2018 Dawes Co, 13 Sep 2022 Scotts Bluff Co, and 19 Sep 2019 Deuel Co.
Later dates away from the expected migration corridor are numerous and mostly in the east. These include the latest dates for the state, reminiscent of Broad-tailed Hummingbird.
The 19 records for the east are 3 Aug 2022 two Nance Co, 18 Aug 2022 Seward Co, 19 Aug 2021 Seward Co, 24-28 Aug 2022 Hall Co, 9 Sep 2020 Nance Co, 9 Sep 2020 Buffalo Co, 13 Sep 2010 Lancaster Co, 17 Sep 2022 Nance Co, a male at a Creighton, Knox Co feeder 27-28 Sep 2006, a female at the same feeder 20-24 Oct 2018, one at an Omaha, Douglas Co feeder 2 Oct 2002, an adult male photographed in Boone Co 22 Oct 2002 (Brogie 2003), one at the observer's feeder 13 Sep 2011 and remaining until 3 Nov, when it was captured, its identity confirmed as a Rufous, not an Allen's, and transferred to the Henry Doorly Zoo Insect Pavilion (Silcock 2011), an immature/female-plumaged bird at a Bellevue, Sarpy Co feeder 10-17 Nov 1985 (Douglas 1985, Mollhoff 1987), one at an Omaha feeder 18 Aug-18 Nov 2002 that was photographed 2 Oct (Brogie 2004), an immature 20-21 Nov 2013 and an adult 21-22 Nov 2013 at a Lincoln, Lancaster Co feeder- both birds were taken to Henry Doorly Zoo, the immature dying and now a specimen, UNSM ZM18857 (Silcock 2013), a single bird photographed at a Bellevue feeder 19 Aug-28 Nov 2006, and a single bird photographed at a feeder in Lushton, York Co, 3 Dec 2015.
High counts: 10-12 near Mitchell, Scotts Bluff Co 23 Jul 2022, 9+ in Kimball Co 9 Aug 2001, 9 at Smith feeders, Scotts Bluff Co 5 Aug 2022, 6+ at Bushnell, Kimball Co 26-31 Aug 2002, 6 in Scotts Bluff Co 27 Jul 2003, and 6 there 27 Jul 2018.
Comments: Identification of females and immatures of Allen's Hummingbird as well as the not uncommon hybrids with Rufous Hummingbird has been discussed by Clark and Mitchell (2020). Green-backed Rufous Hummingbirds occur, as do Allen's with minimal green feathering on their backs; some of these may be hybrids (Clark and Mitchell 2020). While the possibility of Allen's occurring in Nebraska cannot be eliminated, it is highly likely that the overwhelming majority of Rufous/Allen's Hummingbirds in Nebraska are indeed Rufous (Silcock and Jorgensen 1996). The only record of Allen's from states neighboring Nebraska is of an immature male banded, photographed, and identified from "selected rectrices" in Wyandotte Co, Kansas 25 Aug 1992 (Thompson et al 2011).
Images
Abbreviations
UNO: University of Nebraska- Omaha
UNSM: University of Nebraska State Museum
Literature Cited
Bray, T.E., B.K. Padelford, and W.R. Silcock. 1986. The birds of Nebraska: A critically evaluated list. Published by the authors, Bellevue, Nebraska, USA.
Brogie, M.A. 2003. 2002 (14th) Report of the NOU Records Committee. NBR 71: 136-142.
Brogie, M.A. 2004. 2003 (15th) Report of the NOU Records Committee. NBR 72: 59-65.
Clark, C.J., and D.E. Mitchell. 2020. Allen's Hummingbird (Selasphorus sasin), version 1.0. In Birds of the World (A. F. Poole, Editor). Cornell Lab of Ornithology, Ithaca, NY, USA. https://doi.org/10.2173/bow.allhum.01.
Douglas, A.V. 1985. Rufous Hummingbird. NBR 53: 80.
Mollhoff, W.J. 1987. First report of the NOU Records Committee. NBR 55: 79-85.
Silcock, W.R. 2011. Fall Field Report, August-November 2011. NBR 79: 118-135.
Silcock, W.R. 2013. Spring Field Report, Mar 2013 to May 2013. NBR 81: 50-79.
Silcock, W.R. 2013. Fall Field Report, August-November 2013. NBR 81: 134-160.
Silcock, W.R. 2016. Summer Field Report, June-July 2016. NBR 84: 110-131.
Silcock, W.R., and J.G. Jorgensen. 1996. Fall Field Report, August-November 1996. NBR 64: 106- 129.
Thompson, M.C., C.A. Ely, B. Gress, C. Otte, S.T. Patti, D. Seibel, and E.A. Young. 2011. Birds of Kansas. University Press of Kansas, Lawrence, Kansas, USA.
Recommended Citation
Silcock, W.R., and J.G. Jorgensen. 2022. Rufous Hummingbird (Selasphorus rufus). In Birds of Nebraska — Online. www.BirdsofNebraska.org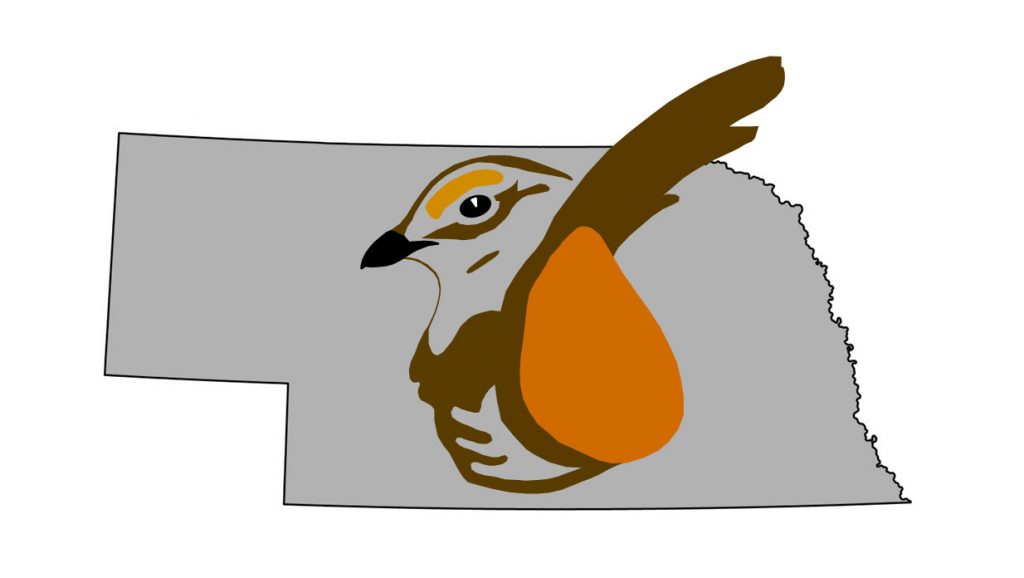 Birds of Nebraska – Online
Updated 16 Dec 2022