Xema sabini
Status: Uncommon regular fall migrant statewide. Accidental in spring.
Documentation: Specimen: UNSM ZM6624, early Sep 1899 Lincoln, Lancaster Co (Swenk 1902).
Taxonomy: There are no subspecies generally recognized (Gill et al 2021), although some authors recognize up to four (Howell and Dunn 2007; Pyle 2008).
Spring: There is one record:
28 Mar 2009, Branched Oak Lake, Lancaster Co (Silcock 2009).
See Comments.
Fall: Sep 11, 12, 12 <<<>>> Oct 22, 23, 23
Earlier dates are 15 Aug 2020 Scotts Bluff Co, 27 Aug 2006 at Lake Ogallala, Keith Co, 31 Aug 2021 Lake Minatare, Scotts Bluff Co, 2 Sep 1899 Gage Co (below), 2 Sep 2014 Lancaster Co, 5 Sep 2013 Scotts Bluff Co, 7 Sep 2018 Keith Co, and 8 Sep 2000 Lake McConaughy, Keith Co.
Later dates are 22-26 Oct 1995 Pawnee Lake, Lancaster Co (Brogie 1997), and a juvenile at Gavin's Point Dam, Cedar Co 26 Oct-6 Nov 1996 (Brogie 1998).
Adults are rarely reported, with only 10 reports in the period 5 Sep-8 Oct; four of these reports were in a single year, 5-29 Sep 2013.
An immature was picked up exhausted 2 Sep 1899 in Gage Co, kept as a pet, and released about two weeks later (Swenk 1902).
High counts: 9 at North Platte NWR, Scotts Bluff Co 21 Sep 1997, 8 at Lake McConaughy, Keith Co 15 Sep 2001, 6-8 at Swanson Reservoir, Hitchcock Co 2 Oct 2020, and 7 at Lake McConaughy 17 Sep 2006.
Unprecedented influxes occurred in 1997 and 1998, with about 35 birds reported in the period 6 Sep-15 Oct 1997 and 32 birds 12 Sep-20 Oct 1998.
Comments: There are very few spring records from Great Plains states, suggesting movement of only very small numbers in spring. The two documented records in additional to the single Nebraska record west of Great Lakes states are 6 Apr 1996 in Kansas and 8 Jul 1997 in Iowa (eBird.org, accessed Oct 2021).
Images
Abbreviations
NWR: National Wildlife Refuge
UNSM: University of Nebraska State Museum
Literature Cited
Andrews, R., and R. Righter. 1992. Colorado birds. Denver Museum of Natural History, Denver, Colorado, USA.
Brogie, M.A. 1997. 1996 (Eighth) Report of the NOU Records Committee. NBR 65: 115-126.
Brogie, M.A. 1999. 1998 (Tenth) Report of the NOU Records Committee. NBR 67: 141-152.
Gill, F., D. Donsker, and P. Rasmussen (Eds). 2021. IOC World Bird List (v 11.2). Doi 10.14344/IOC.ML.11.2. http://www.worldbirdnames.org/.
Howell, S.N.G., and J. Dunn. 2007. Gulls of the Americas. Houghton Mifflin Harcourt, New York, New York, USA.
Kent, T.H., and J.J. Dinsmore. 1996. Birds in Iowa. Publshed by the authors, Iowa City and Ames, Iowa, USA.
Pyle, P. 2008. Identification Guide to North American Birds. Part II, Anatidae to Alcidae. Slate Creek Press, Bolinas, California, USA.
Robbins, M.B. 2018. The Status and Distribution of Birds in Missouri. University of Kansas Biodiversity Institute, Lawrence, Kansas, USA.
Silcock, W.R. 2009. Spring Field report, March-May 2009. NBR 77: 46-68.
Swenk, M.H. 1902. Additional Notes on Gage County Birds. Proceedings of Nebraska Ornithologists' Union 3: 107.
Tallman, D.A., Swanson, D.L., and J.S. Palmer. 2002. Birds of South Dakota. Midstates/Quality Quick Print, Aberdeen, South Dakota, USA.
Thompson, M.C., C.A. Ely, B. Gress, C. Otte, S.T. Patti, D. Seibel, and E.A. Young. 2011. Birds of Kansas. University Press of Kansas, Lawrence, Kansas, USA.
Recommended Citation:
Silcock, W.R., and J.G. Jorgensen. 2022. Sabine's Gull (Xema sabini). In Birds of Nebraska — Online. www.BirdsofNebraska.org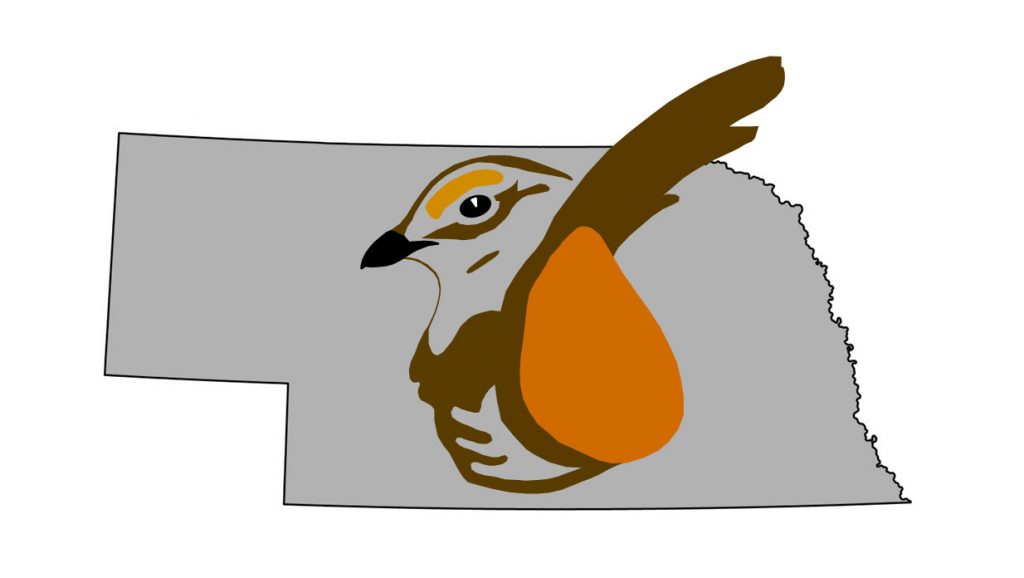 Birds of Nebraska – Online
Updated 18 Dec 2022