Oreoscoptes montanus
Status: Rare casual spring migrant and summer visitor west. Rare casual breeder west. Uncommon regular fall migrant west, rare casual central. Accidental in winter.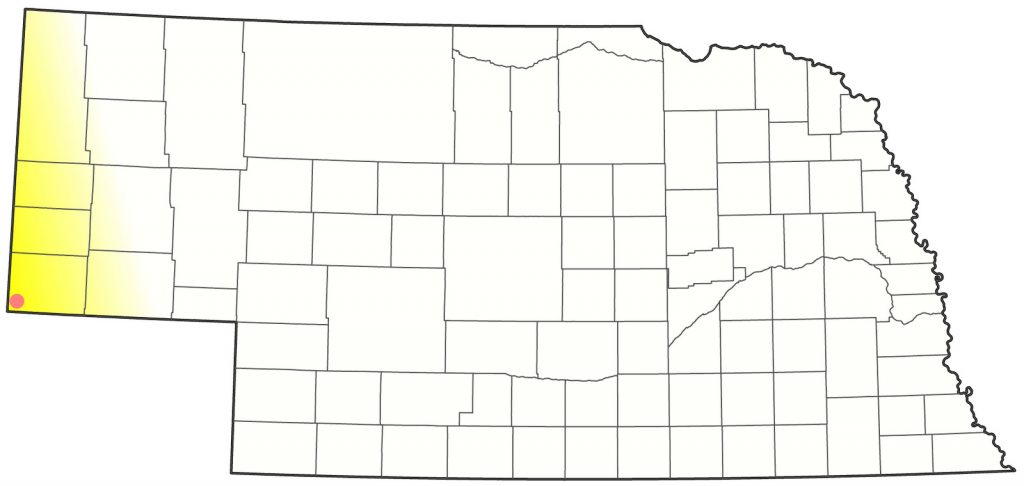 Documentation: UNSM ZM6640, 13 Jul 1901 Antelope Creek, Sioux Co.
Taxonomy: No subspecies are recognized.
Spring: The spring migration route for this species barely reaches the southwest Panhandle in Nebraska, and there are few reports. Reynolds et al (2020) stated that "silent individuals (migrants)" arrive a few days before potential breeders and nesting begins in mid-Apr. There are only 18 Nebraska spring records, in two distinct groups by date: an early group of nine 23 Mar-20 Apr and a later group of eight about a month later, 16 May-3 Jun, with an additional report 1 May that, by location, would be a migrant. The earlier group is likely to consist of migrants, but we consider the later group potential summering birds (see Summer).
The 10 reports of probable migrants are: 23 Mar 1967 Sioux Co, four on 28 Mar-4 Apr 1999 southern Kimball Co, three on 4 Apr 1999 west of Bushnell, Kimball Co, 6 Apr 1991 Sioux Co, 12 Apr 1980 Sioux Co, two on 17 Apr 1998 Kimball Co, 18 Apr 1987 Sioux Co (Williams 1987), 20 Apr 1997 Kimball Co, 20 Apr 1997 Banner Co, and 1 May 2008 Sioux Co.
Summer: Sage Thrasher is considered a sagebrush (Artemisia spp.) obligate, generally dependent on large patches and expanses of sagebrush steppe for successful breeding (Reynolds et al 2020). However, sumac and greasewood are utilized in addition to sagebrush in Nebraska (Wayne Mollhoff, pers. comm.) and Wyoming (Faulkner 2010). Sagebrush occurs in extreme western Nebraska; Rosche (1982) stated that most summer records in northwest Nebraska are from the Montrose-Orella-Sugarloaf Butte area of northern Sioux Co, where there are extensive areas of western sagebrush (Artemisia tridentata subsp.). Faulkner (2010) maps the summer range of Sage Thrasher no closer than 35 miles from the Nebraska border.
There is a single confirmed breeding record (Mollhoff 2016, 2022); one was carrying food in southwest Kimball Co 18 Jun 2009 and seen again there 2 Jul 2009. Likely having bred there was a pair of adults with a single fledgling 25 Jul 2006, and singles were present 25 Jun 2020 and 22 Jun 2021. Additional Kimball Co records are of two on 24 May 2014, 16 Jun 2019 near Pine Bluffs, Kimball Co, 11 Jul 1991 (Gubanyi 1996), and four on 18 Jul 1996 (Brogie 1997). Breeding likely occurred in Sioux Co in 2016, when an apparent family group of four was at Toadstool Geologic Park, Sioux Co 9 Jun 2016; single birds were there 23 May and 1 Jun. An adult and dependent juvenile in Scotts Bluff Co 8 Aug 2006 may have bred locally, although they may have been early fall migrants.
This species is extremely secretive during the nesting period and is probably overlooked by the few observers who visit or live in or near its potential breeding range in Nebraska. It also tends to be a late breeder, with South Dakota egg dates 3 Jun-28 Jul (Drilling et al 2018). There are several breeding season (May-Jul) reports from the limited areas of suitable breeding habitat, any or all of which probably are of breeding birds. Most are from the Oglala National Grasslands in northern Sioux and western Dawes Cos, but in recent years there have been increasing reports from Scotts Bluff, Kimball, and Banner Cos, including the lone documented breeding record mentioned above. Sioux and Dawes Co reports are: 16 May 1996, 23 May 2016, 26 May 2002, 26 May 1981, 3 Jun 2008, five miles south of Harrison 9 Jun 2012, 26 Jun 1972 Sugarloaf Road (Rosche 1972), 26 Jun 1972 Montrose (Rosche 1972), 11 Jul 1992 Dawes Co (Gubanyi 1996), 13 Jul 1901 Antelope Creek, Sioux Co, specimen cited above, which is labeled as a juvenile Northern Mockingbird but is a Sage Thrasher, and 18 Jul 1996 (Brogie 1997).
Reports from Scotts Bluff, Banner, and Kimball Cos follow. In Scotts Bluff Co, two on 13 Jun 2022 at Stegall and county Road X, 22 Jun 2015 southwest Scotts Bluff Co, one at Wildcat Hills SRA 25 Jul 2022, and two at Montz Point WMA 30 Jul 2022. In Banner Co, 30 Jun 2018 Hubbard's Gap.
In addition, there are reports 18 May 1933 Sheridan Co and 26 Jun 1999 Crescent Lake NWR, Garden Co.
High Counts: 9 at Interstate 80 Exit 1, Kimball Co 7 Sep 2015, 7 there 29 Jul 2000, and 7 in Cheyenne Co 10 Aug 2014.
Fall: Jul 24, 26, 27 <<<>>> Sep 18, 19, 19
Fall movement begins in mid-Jul, with some movement noticeable in early Jul in eastern Colorado (Steven Mlodinow, personal communication). Documented early fall records are 11 Jul 1992 Dawes Co (Gubanyi 1996), 11 Jul 1991 Kimball Co (considered a migrant by Stephen J. Dinsmore, personal communication; Gubanyi 1996), 13 Jul 1901, specimen cited above, which is labeled as a juvenile Northern Mockingbird but is a Sage Thrasher, 16 Jul 2019 Bushnell, Kimball Co, and 18 Jul 1996, four birds in Kimball Co (Brogie 1997). Probably migrating were family groups of a pair of adults and a single fledgling in Kimball Co 25 Jul 2006, and an adult and dependent juvenile in Scotts Bluff Co 8 Aug 2006.
Peak migration is in Aug, and most birds depart by mid-Sep.
Later dates are 29 Sep 2018 Kimball Co, 2 Oct 2020 Scotts Bluff Co, 2 Oct 2022 Kimball Co, and 7 Oct 2019 Kimball Co. There is a late easterly report 20 Nov 2012 of one photographed in Cherry Co, one of only two records east of the Panhandle, the other 30 Aug 2020 in Dundy Co.
Easternmost reports are of two near Ash Hollow SHP, Garden Co 7 Aug 1996 (Brown and Brown 2001), one at Smith Lake WMA, Sheridan Co during 15-31 Aug 2004, and one at Crescent Lake NWR, Garden Co 1 Sep 2007.
High counts: 19 at Stegall Road two miles north of CR X, Scotts Bluff Co 15 Aug 2020, 13 at Oliver Reservoir, Kimball Co 11 Aug 1996, and 10 there 22 Aug 2014.
Totals of 59 were reported in fall 2020, 26 in fall 1996, and 22 in fall 2014.
Winter: There are two reports of wintering individuals. A single bird was at Aurora, Hamilton Co from Oct 1960 through Feb 1961 (Swanson 1962), and another was at the Scotts Bluff NM, Scotts Bluff Co buildings 14 Dec 2001-27 Jan 2002 (Brogie 2003). While no details of identification were presented for the Aurora bird, Sage Thrashers are known to winter on occasion north and east of the usual range; there are two Dec records for central Iowa (Kent and Dinsmore 1996).
Images
Abbreviations
NM: National Monument
NWR: National Wildlife Refuge
SHP: State Historical Park
Literature Cited
Brogie, M.A. 1997. 1996 (Eighth) Report of the NOU Records Committee. NBR 65: 115-126.
Brogie, M.A. 2003. 2002 (14th) Report of the NOU Records Committee. NBR 71: 136-142.
Brown, C.R., and M.B. Brown. 2001. Birds of the Cedar Point Biological Station. Occasional Papers of the Cedar Point Biological Station, No. 1.
Drilling, N.E., E.D Stukel, R.A. Sparks, and B.J. Woiderski. 2018. The Second Atlas of Breeding Birds of South Dakota. SDGFP, Wildlife Division Report 2017-02. South Dakota Game, Fish, and Parks, Pierre.
Faulkner, D.W. 2010. Birds of Wyoming. Roberts and Company, Greenwood Village, Colorado, USA.
Gubanyi, J.G. 1996. 1992, 1993 (Fifth) Report of the NOU Records Committee. NBR 64: 30-35.
Kent, T.H., and J.J. Dinsmore. 1996. Birds in Iowa. Publshed by the authors, Iowa City and Ames, Iowa, USA.
Mollhoff, W.J. 2016. The Second Nebraska Breeding Bird Atlas. Bull. Univ. Nebraska State Museum Vol 29. University of Nebraska State Museum, Lincoln, Nebraska, USA.
Mollhoff, W.J. 2022. Nest records of Nebraska birds. Nebraska Ornithologists' Union Occasional Paper Number 9.
Reynolds, T.D., T.D. Rich, and D.A. Stephens. 2020. Sage Thrasher (Oreoscoptes montanus), version 1.0. In Birds of the World (A. F. Poole and F. B. Gill, Editors). Cornell Lab of Ornithology, Ithaca, NY, USA. https://doi.org/10.2173/bow.sagthr.01.
Rosche, R.C. 1972. Notes on the distribution of some summer birds in Nebraska. NBR 40: 70-72.
Rosche, R.C. 1982. Birds of northwestern Nebraska and southwestern South Dakota, an annotated checklist. Cottonwood Press, Crawford, Nebraska, USA.
Swanson, K.S. 1962. Birding areas near Aurora. NBR 30: 18-20.
Williams, F. 1987. Southern Great Plains Region. American Birds 41: 454-458.
Recommended Citation
Silcock, W.R., and J.G. Jorgensen. 2022. Sage Thrasher (Oreoscoptes montanus). In Birds of Nebraska — Online. www.BirdsofNebraska.org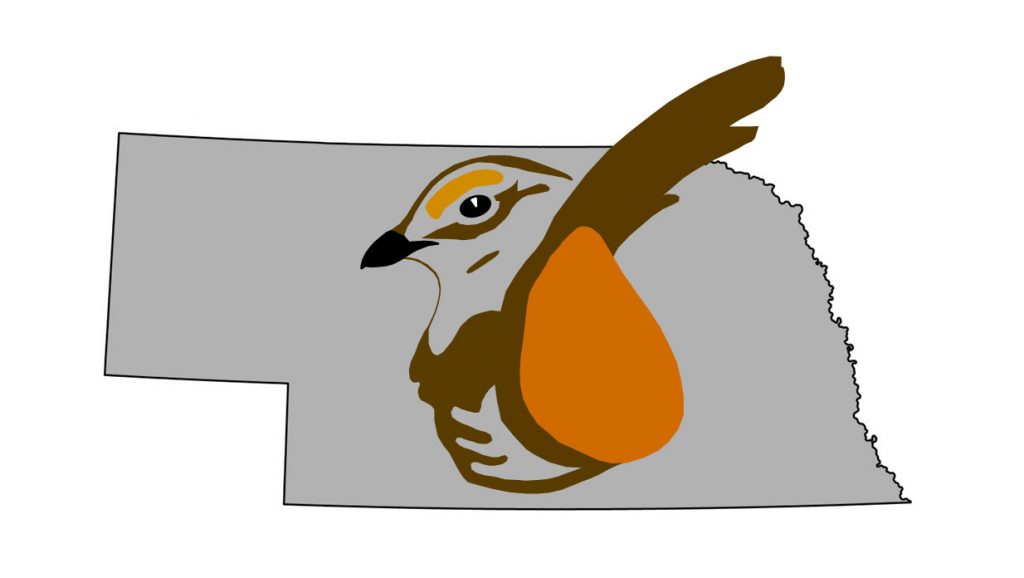 Birds of Nebraska – Online
Updated 26 Dec 2022