Artemisiospiza nevadensis
Status: Accidental in fall.
Documentation: Description: 6 Aug 1989 Sowbelly Canyon, Sioux Co (Stage and Stage 1990).
Taxonomy: No subspecies are recognized (Martin and Carlson 2020, Clements et al 2016, Gill and Donsker 2017); these authors synonymized the three subspecies previously recognized within the "Interior" members of Sage Sparrow (Pyle 1997) before its split to Bell's (A. belli) and Sagebrush Sparrows.
Fall: There is one record:
6 Aug 1989 one mile below Coffee Park, Sioux Co (Stage and Stage 1990, Grenon 1990).
This was an adult that flew from an area of sagebrush beside the road and was observed at about 50 feet distance on top of brush 10-13 feet high. Since this was an adult, the suggestion of its being an immature Black-throated Sparrow (Grzybowski 1990) seems unlikely.
A report of an adult at the gate of pasture 245 of the Oglala National Grassland, Sioux Co, was not accepted by the NOURC (no date given, Jorgensen 2003), and a "possible" was reported 15 May 2008 north of Crescent Lake NWR, Garden Co. A report of five on the Agate Fossil Beds NM Nature Trail, Sioux Co 9 Jun 1987 lacked identification details (https://ebird.org/view/checklist/S41782676). See Comments.
Comments: Adjacent to northern Sioux Co, the only two records for South Dakota are in May in the extreme southwest corner of the state (Tallman et al 2002), and there are "a few summer reports" in Goshen and Niobrara Cos, Wyoming, which border on northwest Nebraska (Faulkner 2010). These records add considerable geographic credibility to the Nebraska record. Sagebrush Sparrow occurs as a migrant, mostly in Apr, along the foothills on the eastern Colorado plains (Andrews and Righter 1992); there are three easterly reports in the Pawnee National Grasslands for May-Jun (eBird.org, accessed April 2018).
Abbreviations
NM: National Monument
NOURC: Nebraska Ornithologists' Union Records Committee
NWR: National Wildlife Refuge
Literature Cited
Andrews, R., and R. Righter. 1992. Colorado birds. Denver Museum of Natural History, Denver, Colorado, USA.
Clements, J. F., T. S. Schulenberg, M. J. Iliff, D. Roberson, T. A. Fredericks, B. L. Sullivan, and C. L. Wood. 2016. The eBird/Clements checklist of birds of the world: v2016, accessed 30 January 2018.
Faulkner, D.W. 2010. Birds of Wyoming. Roberts and Company, Greenwood Village, Colorado, USA.
Gill, F., and D. Donsker (Eds). 2017. IOC World Bird List (v 7.3), accessed 30 January 2018.
Grenon, A.G. 1990. 1990 (Third) Report of the NOU Records Committee. NBR 58: 90-97.
Grzybowski, J.A. 1990. Southern Great Plains Region. American Birds 44: 114-117.
Jorgensen, J.G. 2003. 2001 (13th) Report of the NOU Records Committee. NBR 71: 97-102.
Martin, J.W. and B.A. Carlson. 2020. Sagebrush Sparrow (Artemisiospiza nevadensis), version 1.0. In Birds of the World (A. F. Poole, Editor). Cornell Lab of Ornithology, Ithaca, NY, USA. https://doi.org/10.2173/bow.sagspa1.01.
Pyle, P. 1997. Identification Guide to North American Birds. Part I, Columbidae to Ploceidae. Slate Creek Press, Bolinas, California, USA.
Stage, D., and L. Stage. 1990. Sage Sparrow in Sioux County. NBR 58: 27-28.
Tallman, D.A., Swanson, D.L., and J.S. Palmer. 2002. Birds of South Dakota. Midstates/Quality Quick Print, Aberdeen, South Dakota, USA.
Recommended Citation
Silcock, W.R., and J.G. Jorgensen. 2020. Sagebrush Sparrow (Artemisiospiza nevadensis). In Birds of Nebraska — Online. www.BirdsofNebraska.org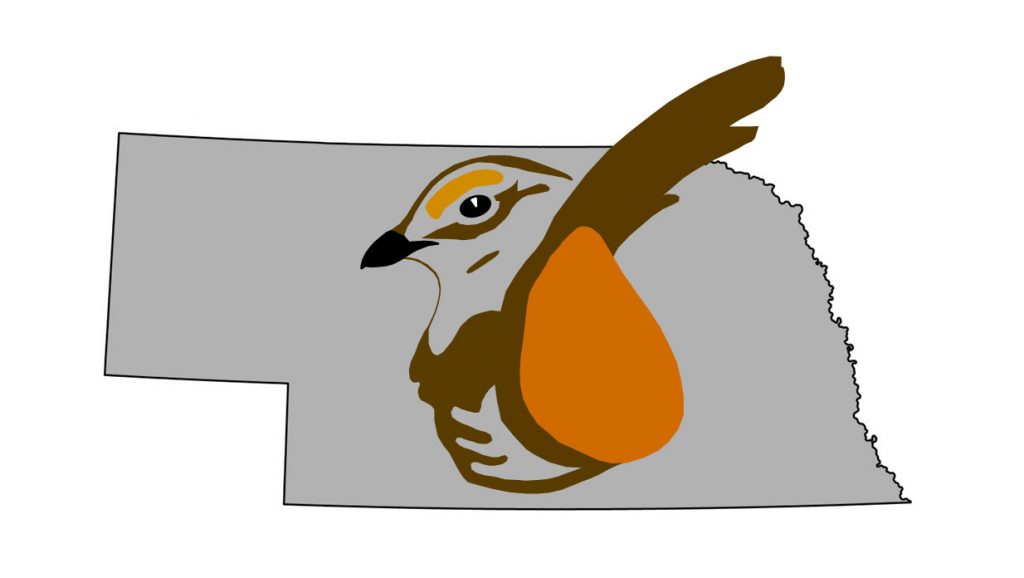 Birds of Nebraska – Online
Updated 31 Mar 2020