Sayornis saya saya
Status: Common regular spring migrant west, uncommon central, rare east. Fairly common regular breeder west and south, rare casual east. Common regular fall migrant west, uncommon central, rare casual east.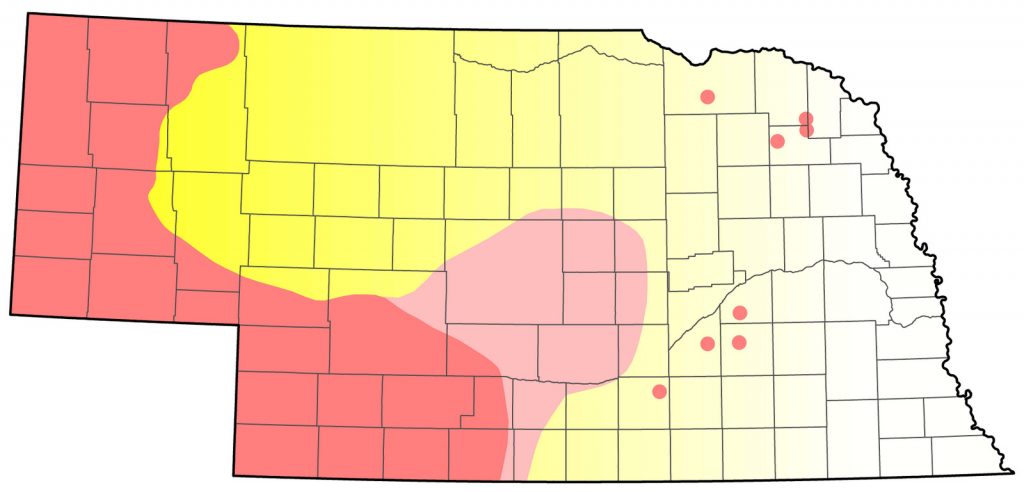 Documentation: Specimen: UNSM ZM6369, 20 May 1900 Sioux Co.
Taxonomy: Four subspecies were recognized by Pyle (1997), but Gill et al (2022) recognize two: saya (including yukonensis and pallida) of Alaska, western Canada, western USA, to southern Mexico, and quiescens of Baja California, Mexico. Schukman and Wolf (2020), however, recognized pallida as separate from saya.
Nebraska birds are saya (Rapp et al 1958).
Spring: Mar 23, 23, 24 <<<>>> summer (east of Panhandle); Apr 3, 4, 4 <<<>>> summer (Panhandle).
Earlier dates are 17 Mar 2018 Harlan Co, and 20 Mar 2017 Hall Co.
Migrants occur east of the breeding range on occasion, rarely in the southeast; there are about 24 reports for the southeast 23 Mar-1 Jun.
High counts: 18 in western Banner Co 4 May 1997 and 11 in southern Kimball Co 8 May 1998.
Summer: Say's Phoebe breeds commonly throughout the drier areas in the Panhandle and southwest, with lower numbers in the south and only sporadic breeding in the east. It is absent from the Sandhills and most of the east. McClure (1946) found that in central Nebraska in the early 1940s, there were 4.6 Say's Phoebes per Eastern Phoebe, but during periods of population decline it has been limited essentially to the Panhandle. There is some evidence that easterly nesting is sensitive to wet and dry 20-year climate cycles (Kent and Dinsmore 1996, Schukman and Wolf 2020), with easterly nesting in drier periods. It was "on the increase" in the Adams Co area in the 1920s (Jorgensen 2012) and common in central Nebraska in the early 1940s (McClure 1946); there were many summer records in the 1960s, even as far east as Cuming Co (Ducey 1988, Short 1961), and again in the 1980s and 2000s (see below).
Distribution in the northeast has fluctuated considerably historically, extending as far east as Cedar, Polk, and Cuming Cos and south to Adams and Hamilton Cos.  Easternmost nesting records are from Dixon and Polk Cos. Mollhoff (2016) showed confirmed breeding during the period 2006-2011 in Cedar and Wayne Cos. At least one bird summered in southwest Dixon Co 1997-99, with sightings of single birds 28 Aug 2002, 9 Jul 2004, and 25 Aug 2011. In 2021, single birds were seen 6 Apr and 27 Jul at the same Dixon Co site; breeding may have occurred there.
Jorgensen (2012) summarized its occurrence in the Rainwater Basin, citing numerous records from the 1920s through the 1980s. In 2019, an adult and a nest with young was found near Kissinger Basin WMA, Clay Co on 11 July; the adult was again observed on 24 July (Jorgensen and Brenner 2019). In Polk Co, Say's Phoebes were present each year in the period 1984-89, including confirmed breeding in 1985 (Mollhoff 2001, Williams 1985), and there were reports from Hamilton Co in 1985 (Bennett 1986) and York Co in 1986 (Bennett 1987).
Currently, breeding is regular in the Platte River Valley east only as far as Phelps Co, where an immature which may have hatched locally was seen 26 Jun 1994, a single was there 6 Jul 1996 (Grzybowski 1996) and a territorial pair, along with possibly three additional birds, were sighted in southwest Phelps Co Apr-May 2003. Singles were reported at Sumner, Dawson Co 9 Jun 2013, Phelps Co 13 Jun 2008, and Buffalo Co 12 and 16 Jul 2023. Further east, a pair appeared to be nesting on a bridge in Howard Co 8 Jul 2016, a nest with eggs was at Fullerton, Nance Co 9 May 1955 (Wright and Wright; Mollhoff 2022), and a nest with eggs was at Alexandria, Thayer Co 4 Jun 1955 (Newell; Mollhoff 2022).
Breeding season reports from the north-central are lacking; northernmost is of a nesting pair at the edge of the breeding range in Broken Bow, Custer Co 4 Jul 2008. One was near Comstock, Custer Co 3 Jun 2023. The only known nesting attempt in Garden Co was unsuccessful at Crescent Lake NWR in 1980 (Williams 1980). Scattered recent breeding season reports from the eastern Sandhills and eastern Niobrara River Valley are of singles in Hooker Co 8 Jun 2010, Antelope Co 6 and 12 Jun 2010 and 28 Jul 2009, two sightings in 1982 in Brown and Cherry Cos (Brogie and Mossman 1983), Brown Co 3 and 27 Jun 2018 and 19 Jun 2020, Niobrara SP, Knox Co 12 Jun 2011, Rock Co 19 Jun 2012, Cedar Co 27 Jun 2020, and Knox Co 18 Jul 2020.
Despite fluctuating numbers and range, BBS trend analysis shows the species has increased annually by 1.23% (95% C.I.; -0.74, 3.13) during the period 1966-2019 (Sauer et al 2020).
Breeding Phenology:
Nest Building: 20 Apr-5 May
Eggs: 10 May-24 Jul (commonly double-brooded; Mollhoff 2022)
Nestlings: 6 Jun-16 Jul
Fledglings: 21 Jun-4 Jul
A pair in Kimball Co had a second clutch of two eggs 29 Jun with five fledglings from the first clutch nearby, and a nest with 3-4 young in Hitchcock Co 16 Jul was probably a second clutch (Mollhoff 2008).
Fall: summer <<<>>> Oct 1, 2, 2
Later dates are 4 Oct 2004 Hayes Co, 4 Oct 2006 Sherman Co, 6 Oct 2019 Lancaster Co, 9 Oct 2013 Cherry Co, 11 Oct 2020 Garden Co, and 17 Oct 2020 Thomas Co.
There are extraordinary late dates 14 Dec 2021 near Mitchell, Scotts Bluff Co, 27 Dec 2013 Keith Co (Stephen J. Dinsmore, personal communication), and at Smiley Canyon, Sioux Co 3 Jan 2022.
Departure is usually completed by late Sep; peak movement is late Aug-early Sep.
Say's Phoebe is rare in fall away from the Panhandle and the central, with most of the few records from known breeding locations. In the east there are 16 fall reports in the period 2 Sep-9 Oct, but reports in the central are numerous (eBird.org, accessed Nov 2023).
High counts: 10 in Kimball Co 27 Aug 2006, 8 in Scotts Bluff Co 1 Sep 2001, 7 on State Line Road, Sioux Co 4 Sep 2017, 7 on State Line Road, Kimball Co 29 Aug 2020, and 7 near Exit 1 on I-80, Kimball Co 4 Sep 2021.
Images
Abbreviations
BBS: Breeding Bird Survey
NWR: National Wildlife Refuge
SP: State Park
UNSM: University of Nebraska State Museum
WMA: Wildlife Management Area (State)
Literature Cited
Bennett, E.V. 1986. 1985 Nebraska nesting survey. NBR 54: 31-35.
Bennett, E.V. 1987. 1986 Nebraska nesting survey. NBR 55: 31-35.
Brogie, M.A., and M.J. Mossman. 1983. Spring and summer birds of the Niobrara Valley Preserve, Nebraska: an annotated checklist. NBR 51: 44-51.
Ducey, J.E. 1988. Nebraska birds, breeding status and distribution. Simmons-Boardman Books, Omaha, Nebraska, USA.
Gill, F., D. Donsker, and P. Rasmussen (Eds). 2022. IOC World Bird List (v 12.2). Doi 10.14344/IOC.ML.12.2.  http://www.worldbirdnames.org/.
Grzybowski, J.A. 1996. Southern Great Plains Region. Field Notes 50: 296-300.
Jorgensen, J.G. 2012. Birds of the Rainwater Basin, Nebraska. Nebraska Game and Parks Commission, Lincoln, Nebraska, USA.
Jorgensen, J.G., and S.J. Brenner. 2019. Notable avian nesting records from the Rainwater Basin, Nebraska — 2019. Nongame Bird Program of the Nebraska Game and Parks Commission, Lincoln, Nebraska, USA.
Kent, T.H., and J.J. Dinsmore. 1996. Birds in Iowa. Iowa City and Ames, IA: Kent and Dinsmore.
McClure, H.E. 1946. Phoebes in central Nebraska. Auk 63: 211-215.
Mollhoff, W.J. 2001. The Nebraska Breeding Bird Atlas 1984-1989. Nebraska Ornithologists' Union Occasional Papers No. 7. Nebraska Game and Parks Commission, Lincoln, Nebraska, USA.
Mollhoff, W.J. 2008. The 2007 Nebraska nest report. NBR 76: 155-165.
Mollhoff, W.J. 2016. The Second Nebraska Breeding Bird Atlas. Bull. Univ. Nebraska State Museum Vol 29. University of Nebraska State Museum, Lincoln, Nebraska, USA.
Mollhoff, W.J. 2022. Nest records of Nebraska birds. Nebraska Ornithologists' Union Occasional Paper Number 9.
Pyle, P. 1997. Identification Guide to North American Birds. Part I, Columbidae to Ploceidae. Slate Creek Press, Bolinas, California, USA.
Rapp, W.F. Jr., J.L.C. Rapp, H.E. Baumgarten, and R.A. Moser. 1958. Revised checklist of Nebraska birds. Occasional Papers 5, Nebraska Ornithologists' Union, Crete, Nebraska, USA.
Sauer, J.R., W.A. Link, and J.E. Hines. 2020. The North American Breeding Bird Survey, Analysis Results 1966 – 2019: U.S. Geological Survey data release, https://doi.org/10.5066/P96A7675.
Schukman, J.M. and B.O. Wolf. 2020. Say's Phoebe (Sayornis saya), version 1.0. In Birds of the World (P. G. Rodewald, Editor). Cornell Lab of Ornithology, Ithaca, NY, USA. https://doi.org/10.2173/bow.saypho.01.
Short, L.L., Jr. 1961. Notes on bird distribution in the central Plains. NBR 29: 2-22.
Williams, F. 1980. Southern Great Plains Region. American Birds 34: 286-288.
Williams, F. 1985. Southern Great Plains Region. American Birds 39: 319-322.
Recommended Citation
Silcock, W.R., and J.G. Jorgensen. 2023. Say's Phoebe (Sayornis saya). In Birds of Nebraska — Online. www.BirdsofNebraska.org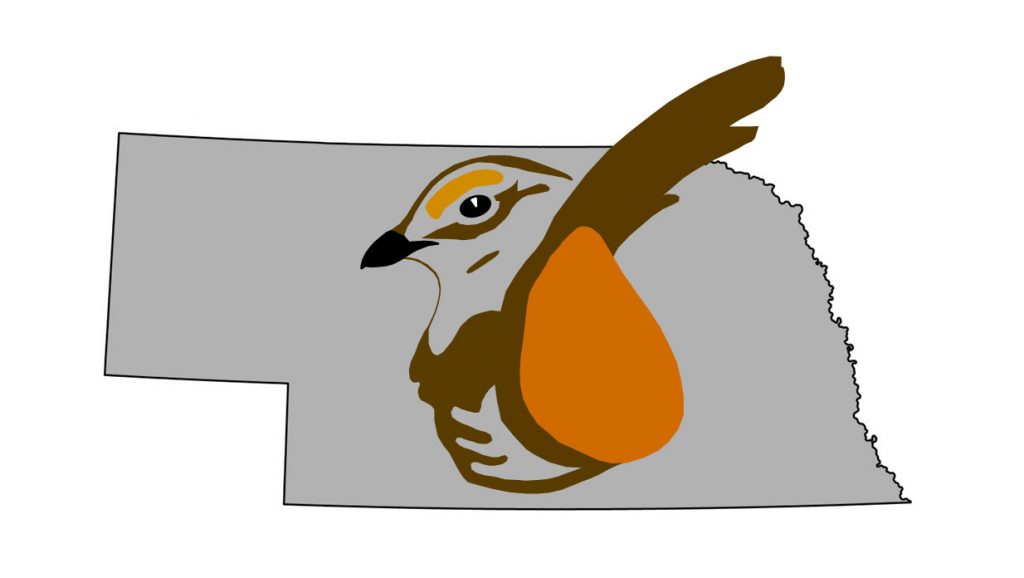 Birds of Nebraska – Online
Updated 16 Nov 2023