Tyrannus forficatus
Status: Rare regular breeder south of Platte River Valley, rare casual elsewhere. Rare casual spring, summer, and fall visitor statewide.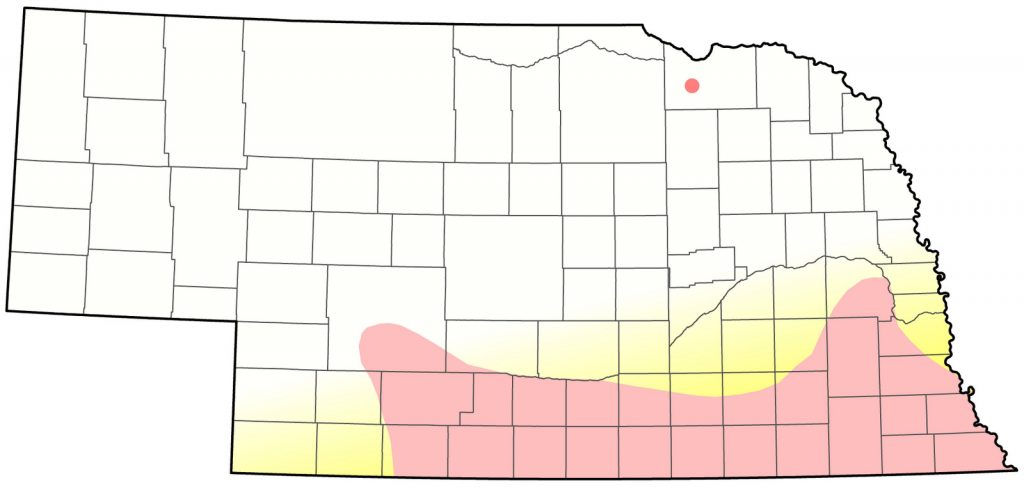 Documentation: Specimen: KU 34091, 9 Jul 1957 Thomas Co.
Taxonomy: No subspecies are recognized (Pyle 1997).
Putative hybridization with Western Kingbird is discussed in the Western Kingbird x Scissor-tailed Flycatcher species account.
Changes Since 2000: Although there have been reports of this species in Nebraska for many years, including scattered reports of nesting, breeding has become annual only since 2002. The species can now be considered an expected breeder in southern Nebraska. There is also an increased number of spring overshoot reports, suggesting that breeding reports will continue to increase.
Spring: May 2, 3, 3 <<<>>> summer
Earlier dates are 21 Apr 2014 Lancaster Co, 21 Apr 2019 Clay Co, 21 Apr 2022 Webster Co, 25 Apr 2016 Thayer Co, and 28 Apr 2020 Pawnee Co.
There are northerly reports 9 May 2014 Knox Co, 13 May 1982 Brown Co (Brogie and Mossman 1983) and 30 May 1970 Rock Co (Menzel 1970). Most of these, or all until recently when breeding became regular in Nebraska, are spring overshoots; the species breeds commonly in the Kansas Flint Hills (Thompson et al 2011).
Summer: Since 2000 the only probable nesting report outside of the southern Nebraska breeding range was in Knox Co in 2009, when a pair with a "mobile" juvenile was present.
Prior to 1945, reports of breeding were limited to two incidences of hybridization with Western Kingbird, in Logan and Lancaster Cos (see Taxonomy), a pair with at least two young near Hastings, Adams Co 7-8 Aug 1943 (Brooking 1943) and a nest with nestlings in Logan Co 9 Jul 1944 (Glandon 1945). Early sightings were from Adams Co 28 Apr 1928 and 2 Jul 1939 (Turner 1944).
The incidence of nesting in Nebraska, at the northern edge of the breeding range, may be influenced by dry and wet precipitation cycles; the first 60 years of nesting records occurred in two periods, 1958-65 and 1989-91. Reports for the earlier period were of a pair in Gage Co observed 28 Jul-19 Aug 1958 which fledged young about 2 Aug (Sturmer 1959), a nest with young found in York Co (not Platte Co as cited by Ducey 1988) 16 Aug 1959 (Armstrong 1960), and a nest with eggshells below it found in Clay Co with birds observed in the area 1-26 Jun 1964 (Evans and Wolfe 1965). After a thirty-year gap with no known nesting, more recent breeding reports are of a pair which nested on a 15 m (50 ft) tall ballpark light standard in Cass Co in 1989 but abandoned the attempt 20 Jul (Cortelyou 1989), and adults seen with young in Cass Co 13-25 Aug 1991 (Morris 1992). An adult male associating with a shorter-tailed bird in Lancaster Co 16 Aug 1990 (Korpi 1991) may have bred in Nebraska. An instance of possible double-brooding was described by Mollhoff (2018).
Beginning in 2002, nesting has been reported every year, comprising 27 occurrences, possibly influenced more by warming climate than precipitation cycles. These occurrences, as well as additional reports without evidence of nesting, suggest that this species is expected to breed anywhere south of the Platte River and east of the Panhandle, especially in counties north of the Kansas Flint Hills such as Gage, Jefferson, and Pawnee. An apparent family group of 2-3 near Fremont, Dodge Co 13-24 Aug 2021 may not have summered there.
Breeding Phenology:
Nest-building: 2-6 Jun
Eggs: 8 Jun- 7 Jul (Mollhoff 2022)
Nestlings: 9 Jul- 16 Aug
Fledglings: 11 Jul-25 Aug
Fall: summer <<<>>> Aug 16, 17, 19
Later dates are 24 Aug 1991 Cass Co, 24 Aug 2021 three Dodge Co, 13 Sep 2005 Antelope Co, 18 Sep 2005 Thomas Co, 20 Sep 2005 Cherry Co, 28 Sep 1965 Scotts Bluff Co (Cortelyou 1966), "first week in Oct" 1991 Fort Niobrara NWR, Cherry Co (Ricky Olson, personal communication), 2 Oct 1965 Lincoln Co (Cortelyou 1966), 12 Oct 2018 on Dawson-Buffalo Cos border, and a later date of one photographed 14 Oct 1981 in Garden Co (Silcock et al 1986).
Images
Abbreviations
KU: University of Kansas Natural History Museum
NWR: National Wildlife Refuge
Literature Cited
Armstrong, J.R. 1960. Letters to the editor. NBR 38: 56.
Brogie, M.A., and M.J. Mossman. 1983. Spring and summer birds of the Niobrara Valley Preserve. NBR 51: 44-51.
Brooking, A.M. 1943. Occurrence of the Scissor-tailed Flycatcher in Adams County. NBR 11: 48.
Cortelyou, R.G. 1966. 1965 (Eighth) Fall Record Report. NBR 34: 50-58.
Cortelyou, R.G. 1989. Scissor-tailed Flycatcher nest in Cass County. NBR 57: 81-82.
Ducey, J.E. 1988. Nebraska birds, breeding status and distribution. Simmons-Boardman Books, Omaha, Nebraska, USA.
Evans, R.D., and C.W. Wolfe. 1965. Scissor-tailed Flycatcher nesting in Clay County. NBR 33: 14.
Glandon, E.W. 1945. Nesting of the Scissor-tailed Flycatcher in Logan County. NBR 13: 50-51.
Turner, H. 1944. (Editor F. W. Haecker's postscript to) Notes on the Scissor-tailed Flycatcher and Hawk Migration in Adams County. NBR 12: 42.
Korpi, R.T. 1991. Fall 1990 Occurrence Report. NBR 59: 8-28.
Menzel, K.E. 1970. Scissor-tailed Flycatcher. NBR 38: 91.
Mollhoff, W.M. 2018. Possible double-brooding in Scissor-tailed Flycatcher (Tyrannus forficatus). Nebraska Bird Review 86: 128-130.
Mollhoff, W.J. 2022. Nest records of Nebraska birds. Nebraska Ornithologists' Union Occasional Paper Number 9.
Morris, R. 1992. Fall 1991 Occurrence Report. NBR 60: 3-35.
Pyle, P. 1997. Identification Guide to North American Birds. Part I, Columbidae to Ploceidae. Slate Creek Press, Bolinas, California, USA.
Silcock, W.R., T.E. Bray, and B.K. Padelford. 1986. Records needed. NBR 54: 40-41.
Sturmer, M. 1959. Nesting of a Scissor-tailed Flycatcher in Gage County. NBR 27: 19-20.
Thompson, M.C., C.A. Ely, B. Gress, C. Otte, S.T. Patti, D. Seibel, and E.A. Young. 2011. Birds of Kansas. University Press of Kansas, Lawrence, Kansas, USA.
Recommended Citation
Silcock, W.R., and J.G. Jorgensen. 2022. Scissor-tailed Flycatcher (Tyrannus forficatus). In Birds of Nebraska — Online. www.BirdsofNebraska.org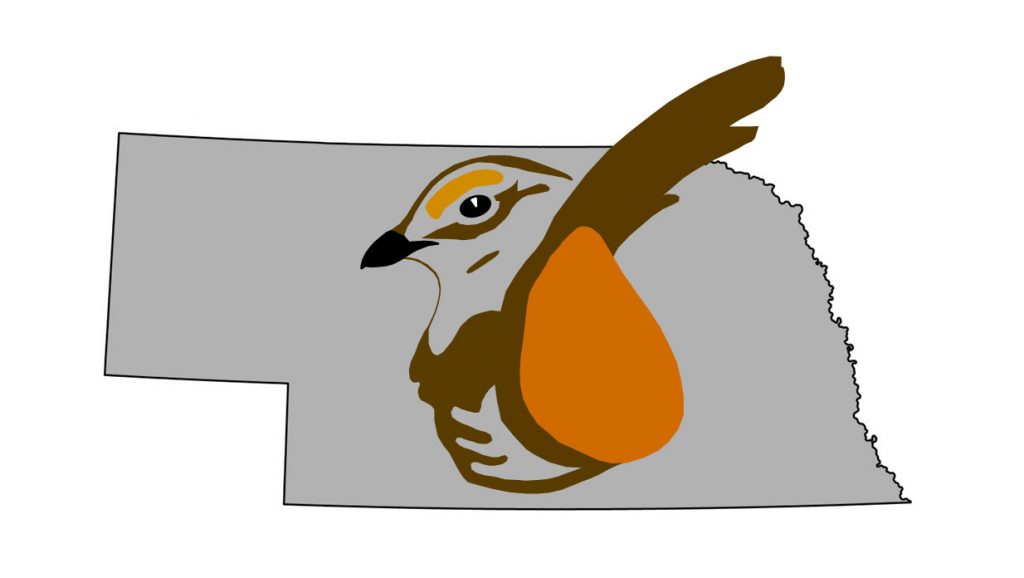 Birds of Nebraska – Online
Updated 25 Jun 2022