Icterus parisorum
Status: Rare casual summer visitor central.
Documentation: Description: 20-24 Jun 1975 Hall Co (Stoppkotte 1975; Brogie 1998).
Taxonomy: No subspecies are recognized (Pyle 1997).
Summer: There are seven reports, two, both adult males, acceptably documented:
20-24 Jun 1975 Hall Co (cited above)
29 Jun 2004 Buffalo Co (Brogie 2005).
The five additional unaccepted reports are: 10 May 2006 Saline Co, 31 May 1951 Adams Co, 17 and 25 Jun 1983 Chase Co (Pennington 1983; Brogie 1998), 18 Jun 1978 McPherson Co, and 2 Jul 1997 Hall Co (Brogie 1998), all of which fit the pattern of casual summer occurrence and possibly correct. The 1975-1983 reports were in a period following a significant population expansion in western Colorado (Andrews and Righter 1992) and southwestern Wyoming (Scott 1993).
The Nebraska reports are somewhat later than those from eastern Colorado, Kansas, and Minnesota. The seven eastern Colorado records are all in Apr-May (CBRC 2018), the single Kansas record was of a female collected in Morton Co 16 Apr 1977 (Thompson et al 2011), and the Minnesota record was of an immature male in Duluth from 23 May through mid-Jun 1974 (Janssen 1987). However, one wintered at a Wisconsin feeder Jan-Feb 1996 (Jaramillo and Burke 1999) and a male was in Ontario 9 Nov 1975 (Jaramillo and Burke 1999).
Comments: Following the report of a Scott's Oriole in 2006 (see above), several observers noted sightings of yellow Baltimore Orioles, including photos. It appears that orange pigments are diet-derived (Thomas et al 2014), and some orioles reaching our area may have experienced a deficiency of food items that produce yellow coloration.
Abbreviation:
CBRC: Colorado Bird Records Committee
Literature Cited
Andrews, R., and R. Righter. 1992. Colorado birds. Denver Museum of Natural History, Denver, Colorado, USA.
Brogie, M.A. 1998. 1997 (Ninth) Report of the NOU Records Committee. NBR 66: 147-159.
Brogie, M.A. 2005. 2004 (16th) Report of the NOU Records Committee. NBR 73: 78-84.
Colorado Bird Records Committee [CBRC]. 2018. Scott's Oriole records. Colorado Bird Records Committee database, accessed 22 Jun 2018.
Janssen, R.B. 1987. Birds in Minnesota. University of Minnesota Press, Minneapolis, Minnesota, USA.
Jaramillo, A., and P. Burke. 1999. New World Blackbirds- The Icterids. Princeton University Press, Princeton, New Jersey, USA.
Pennington, L.I. 1983. Scott's Oriole. NBR 51: 84.
Pyle, P. 1997. Identification Guide to North American Birds. Part I, Columbidae to Ploceidae. Slate Creek Press, Bolinas, California, USA.
Scott, O.K. 1993. A birder's guide to Wyoming. American Birding Association, Colorado Springs, Colorado, USA.
Stoppkotte, G.W. 1975. Scott's Oriole reported. NBR 43: 64-66.
Thomas, D.B., K.J. McGraw, H.F. James, and O. Madden. 2014. Non-destructive descriptions of carotenoids in feathers using Raman spectroscopy. Analytical Methods 6: 1301-1308.
Thompson, M.C., C.A. Ely, B. Gress, C. Otte, S.T. Patti, D. Seibel, and E.A. Young. 2011. Birds of Kansas. University Press of Kansas, Lawrence, Kansas, USA.
Recommended Citation
Silcock, W.R., and J.G. Jorgensen. 2021. Scott's Oriole (Icterus parisorum). In Birds of Nebraska — Online. www.BirdsofNebraska.org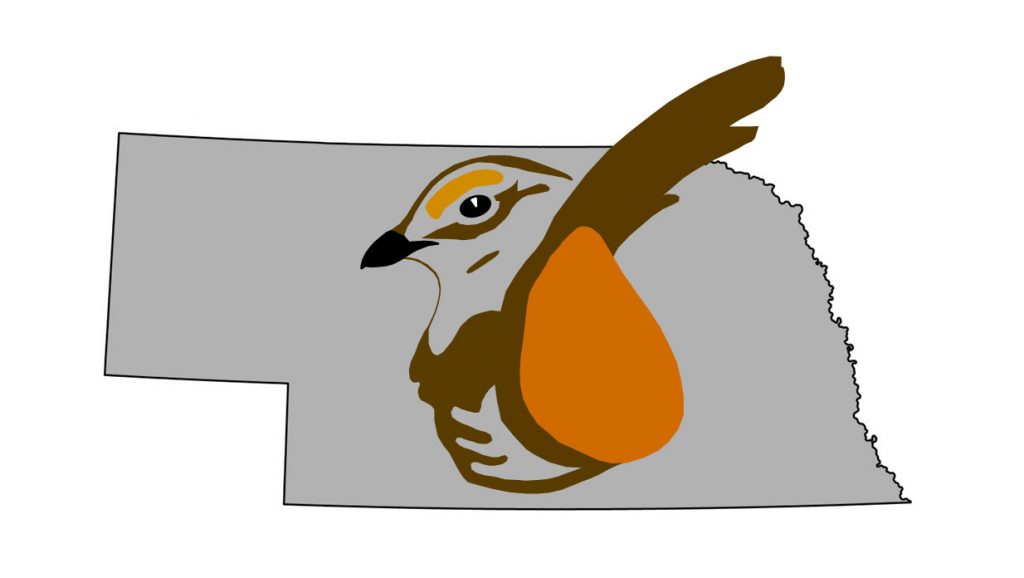 Birds of Nebraska – Online
Updated 7 Mar 2021