Porzana carolina
Status: Fairly common regular spring and fall migrant statewide. Fairly common, locally common, regular breeder statewide, rare south of Platte River Valleys.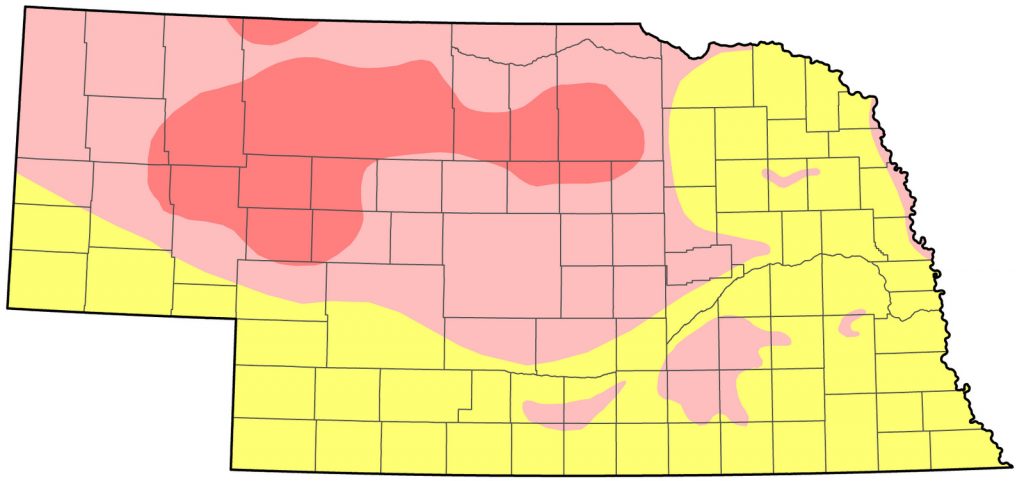 Documentation: Specimen: UNSM ZM6106, 17 Sep 1902 Lancaster Co.
Taxonomy: No subspecies are recognized.
Spring: Apr 5, 5, 7 <<<>>> summer
Most arrive in mid- to late Apr and peak movement is in the first two weeks of May. Earlier dates are of singles in Hall Co 22 Mar 2019, Seward Co 29 Mar 2019, and Lincoln, Lancaster Co 30 Mar 2020. One photographed at Holmes Lake, Lincoln 7 Apr 2017 had been "present about a week".
High counts: 51 at North Lake Basin WMA, Seward Co 15 May 2005, 24 at Lincoln Saline Wetlands Nature Park, Lancaster Co 3 May 2019, and 15 a few miles south of Merritt Reservoir, Cherry Co 16 May 2015.
Summer: Breeding is generally confined to major wetland complexes; the highest breeding densities traditionally have been believed to occur in the Sandhills (Sharpe et al 2001). Breeding numbers at Crescent Lake NWR, Garden Co were estimated at 2500 in early Jun 1978 (Williams 1979) and about 1000 in early Jun 1979 (Fred Zeillemaker, personal communication). However, Dinan et al (2018), whose study area included Crescent Lake NWR, detected a total of only 48 Soras in the Sandhills during call-broadcast surveys in 2016-2017, indicating it is uncommon in this region. During the same study, 114 Soras were detected in the Rainwater Basin leading to an overall estimate of 813 (95% C.I.; 556, 1,188) in that region. Lower numbers were found in surveys in 2021, yielding 22 at eight sites 2 Jul.
Results from Dinan et al (2018) update Jorgensen (2012), who considered Sora to be a "rare summer visitor, casual summer resident" in the Rainwater Basin. Although other authors (for example Johnsgard 1979), have included the Rainwater Basin as part of the breeding range, prior to the study by Dinan et al (2018) there had been no actual nests reported. The only nest that has been found, that at Kissinger Basin WMA, Clay Co 17 May 2017, was during the aforementioned study (Dinan et al 2018). Prior to this study, there were only about eight Rainwater Basin summer reports in the period 24 Jun-5 Jul. Reports after these dates, when the species can become quite common, are more numerous but presumably include migrants (see Fall). In 1982, Morris (1983) reported from Polk Co "we had unusually large numbers of Soras spend the summer this year…I'm sure they were nesting in the roadside ditches". Nesting was reported as "probable" at the Benedict BBA Block and "possible" at the McCool Junction Block, both in York Co (Mollhoff 2001).
Breeding numbers elsewhere in the east appear to have declined, except perhaps in the northeast in Knox and Dakota Cos; one in Antelope Co 7 Jul 2021 may have been an early fall migrant. A juvenile was photographed in central Knox Co 26 Aug 2018. Bruner et al (1904) considered Sora a common breeder in the east, but the only recent records from Missouri River counties suggestive of breeding are from Dakota Co: 6 Jun 1983, 3 Jun 1986, Jun-Jul 1987, and 12 Jun 1993, as well as a report of several juveniles there 26 Sep 2002, although these were probably more likely migrants. Breeding has occurred on occasion in Lancaster Co, with reports in 1973 and 1981 (Bennett 1974, 1982) and the finding of an abandoned egg at Jack Sinn WMA, Lancaster Co 9 Jun 2007. One was at Lincoln Saline Wetlands Nature Park, Lancaster Co 29 Jun 2016. Only one Sora was detected in the eastern saline wetlands of northern Lancaster and southern Saunders Cos (Dinan et al 2018). There are additional nesting season reports in the Missouri River Valley from Cass Co 18 Jun 1999 and Douglas-Sarpy Cos Jun-Jul 1968.
While there are at least five nesting season reports for Jun from Scotts Bluff Co, there is only one from the southern Panhandle or the southwest, one at Oliver Reservoir, Kimball Co 28 Jun 2021. A recent report was of a nest that fledged three young near Cairo, Hall Co; it was studied 31 Jul-24 Aug 2008 (Lemburg 2012).
Breeding Phenology:
Eggs: 29 May-31 Jul
Dependent Young: 5-26 Aug
Fall: summer <<<>>> Oct 20, 20, 20
Migrants and dispersing birds may be on the move by mid-late Jul (Johnson and Dinsmore 1985); examples are three at Memphis Lake SRA, Saunders Co 11 Jul 2021, nine in non-breeding habitat, a flooded field, in Box Butte Co 12 Jul 2015, four at an eastern Rainwater Basin wetland 12 Jul 2003 that had been dry three weeks prior, and one in Douglas Co 17 Jul 2016. Soras were "common, ubiquitous" in the Rainwater Basin 19 Jul 2015, although at least some of these may have bred there, given the high water levels at the time.
Peak movement is mid-Aug and early Sep, after which reports decline markedly. There was a post-breeding estimate of 5000 at Crescent Lake NWR in 1977 that "boggles the mind" (Williams 1978), and in 1978 about 4000 were estimated to be present in early Sep, but nearly all had departed by 14 Sep (Williams 1979).
There are later reports 27 Oct 2018 Sarpy Co, 29 Oct 2017 Lancaster Co, 2 Nov 2010 Custer Co, 2 Nov 2020 Dakota Co, 14 Nov 2003 Lincoln Co, 15 Nov 2013 Scotts Bluff Co, 18 Nov 1972 Adams Co, 22 Nov (year not given) Keith Co area (Rosche 1994), and 26 Nov 1976 Sioux Co.
High counts: 42 in the eastern Rainwater Basin 25 Aug 2007, 17 there in Aug 1999, and 16 near Cairo, Hall Co 19 Jul 2003.
Images
Abbreviations
BBA: Breeding Bird Atlas
NWR: National Wildlife Refuge
UNSM: University of Nebraska State Museum
WMA: Wildlife Management Area (State)
Literature Cited
Bennett, E.V. 1974. 1973 Nebraska nesting survey. NBR 42: 3-10.
Bennett, E.V. 1982. 1981 Nebraska nesting survey. NBR 50: 38-42.
Bruner, L., R.H. Wolcott, and M.H. Swenk. 1904. A preliminary review of the birds of Nebraska, with synopses. Klopp and Bartlett, Omaha, Nebraska, USA.
Dinan, L.R., M. Bomberger Brown and J.G. Jorgensen. 2018. 2016-2017 Secretive marshbird abundance, distribution and habitat use in Nebraska. Joint report of the Nongame Bird Program of the Nebraska Game and Parks Commission and Tern and Plover Conservation Partnership. Lincoln, Nebraska, USA.
Johnson, R. R. and J. J. Dinsmore. 1985. Brood-rearing and postbreeding habitat use by Virginia Rails and Soras. Wilson Bulletin 97: 551-554.
Lemburg, W.W. 2012. Report of a nesting Sora (Porzana carolina). NBR 80: 40-42.
Mollhoff, W.J. 2001. The Nebraska Breeding Bird Atlas 1984-1989. Nebraska Ornithologists' Union Occasional Papers No. 7. Nebraska Game and Parks Commission, Lincoln, Nebraska, USA.
Morris, L. 1983. Cattle vs. waterfowl. NBR 51: 22-23.
Rosche, R.C. 1994. Birds of the Lake McConaughy area and the North Platte River valley, Nebraska. Published by the author, Chadron, Nebraska, USA.
Williams, F. 1979. Southern Great Plains Region. American Birds 33: 876-877.
Recommended Citation
Silcock, W.R., and J.G. Jorgensen. 2021. Sora (Porzana carolina). In Birds of Nebraska — Online. www.BirdsofNebraska.org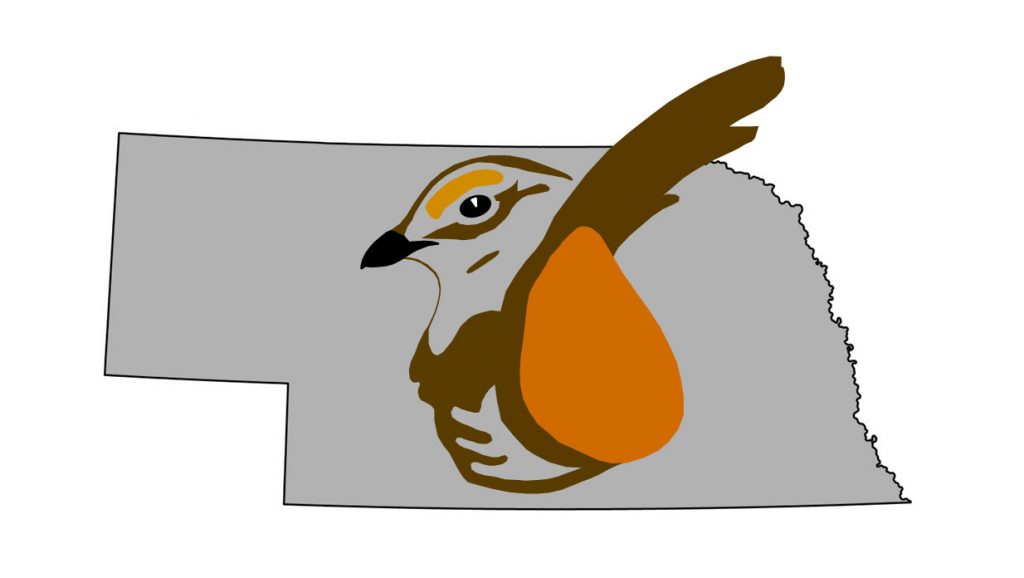 Birds of Nebraska – Online
Updated 2 Sep 2021