Anthus spragueii
Status: Uncommon regular spring and fall migrant central and east, rare casual west.
Documentation: Specimen: USNM 79180, 30 Sep 1880 Papillion, Sarpy Co.
There is a specimen, BMNH 1885.1.5.3, in the British Museum of Natural History that was donated by USNM; it was also collected at Papillion, Sarpy Co, but the collection date is not given in Bowdler Sharpe's Catalogue of the museum's bird collection, Volume 10, published in 1885.
Taxonomy: No subspecies are recognized.
Spring: Apr 19, 20, 20<<<>>> May 18, 21, 23
Earlier dates are 10 Apr 2018 Webster Co, 13 Apr 2016 Cherry Co, 15 Apr 2009 Garden Co, and 15 Apr 2004 Lancaster Co.
A later date is 8-10 Jun 1985 Bohemia Prairie WMA, Knox Co.
Migration occurs mainly in Apr, ending mid-May. Turner (1978) found that this species "usually appears around Apr 20" in Kearney Co. Most reports are from the central, especially Adams and Webster Cos; it is most numerous in central Kansas also (Thompson et al 2011).
There are two documented spring Panhandle records: 15 Apr 2009 (6) Crescent Lake NWR, Garden Co, and 27 Apr 2010 (2) Crescent Lake NWR.
High counts: 25 at Spring Creek Prairie, Lancaster Co 7 May 2009, and 15-20 in Clay Co 23 Apr 2007.
Fall: Sep 12, 13, 13 <<<>>> Oct 23, 24, 25
Earlier dates are 5 Sep 1999 Funk WPA (Jorgensen 2001), and 7-9 Sep 1990 Thomas Co (Bray 1994).
Migration takes place in late Sep and Oct.
There are these few Panhandle reports: 1 Oct 1920 Sioux Co specimen, UNSM ZM6731 (Dawson 1921, Rosche 1982), 2 Oct 1961 Scotts Bluff Co, 4 Oct 2009 southeast Garden Co, and 7-12 Oct 1970 Scotts Bluff Co.
High counts: 56 at Spring Creek Prairie, Lancaster Co, 12 Oct 2003, 13 there 7 Oct 2007, 12 in Phelps Co 24 Sep 2011, 12 at Spring Creek Prairie 12 Oct 2011, and 12 there 16 Oct 2019.
Comments: Spraque's Pipit is difficult to detect during migration and the species has likely been under-reported, probably due to the low number of observers in central Nebraska and their limited familiarity with the species. In recent years, observers slowly and collectively learned it can be reliably found at certain sites such as Spring Creek Prairie, Lancaster Co and Prairie Dog WPA, Phelps County. However, additional searching of suitable habitat is likely to yield additional sites that are regularly used. Scott Seltman has much experience with this species in western Kansas. He states: "The pipits like high points on the ridges and hilltops. They like short dense grass, about 6-8" tall. Timing is everything. Here the migration peak is between 9/25 and 10/25 every year. These birds usually come down with early cool fronts and will hang around until all the insects are dead or it happens to snow. They REALLY hate cold weather so after a super hard frost or even the smallest amount of snow, it's usually pointless to even look for them."
Spraque's Pipit was considered for listing under the Endangered Species Act in 2009, but the U.S. Fish and Wildlife Service (2016) concluded that listing was not warranted.
Images
Abbreviations
USNM: United States National Museum
WMA: Wildlife Management Area (State)
WPA: Waterfowl Production Area (Federal)
Literature Cited
Bray, T.E. 1994. Habitat utilization by birds in a man-made forest in the Nebraska Sandhills. Master's thesis, University of Nebraska-Omaha, Omaha, Nebraska, USA.
Dawson, R.W. 1921. Fall migration in northwestern Nebraska in 1920. Wilson Bulletin 33: 35-37.
Jorgensen, J.G. 2001. 1999 (Eleventh) Report of the NOU Records Committee. NBR 69: 85-91.
Rosche, R.C. 1994. Birds of the Lake McConaughy area and the North Platte River valley, Nebraska. Published by the author, Chadron, Nebraska, USA.
Thompson, M.C., C.A. Ely, B. Gress, C. Otte, S.T. Patti, D. Seibel, and E.A. Young. 2011. Birds of Kansas. University Press of Kansas, Lawrence, Kansas, USA.
Turner, H. 1978. Minden notes. NBR 46: 19.
U.S. Fish and Wildlife Service. 2016. Endangered and Threatened Wildlife and Plants; 12-Month Findings on Petitions to List Island Marble Butterfly, San Bernardino Flying Squirrel, Spotless Crake, and Sprague's Pipit as Endangered or Threatened Species. Federal Register Vol. 81, No. 65, pages 19527-19542.
Williams, F. 1973. Southern Great Plains Region. American Birds 27: 633-637.
Recommended Citation
Silcock, W.R., and J.G. Jorgensen. 2021. Sprague's Pipit (Anthus spragueii). In Birds of Nebraska — Online. www.BirdsofNebraska.org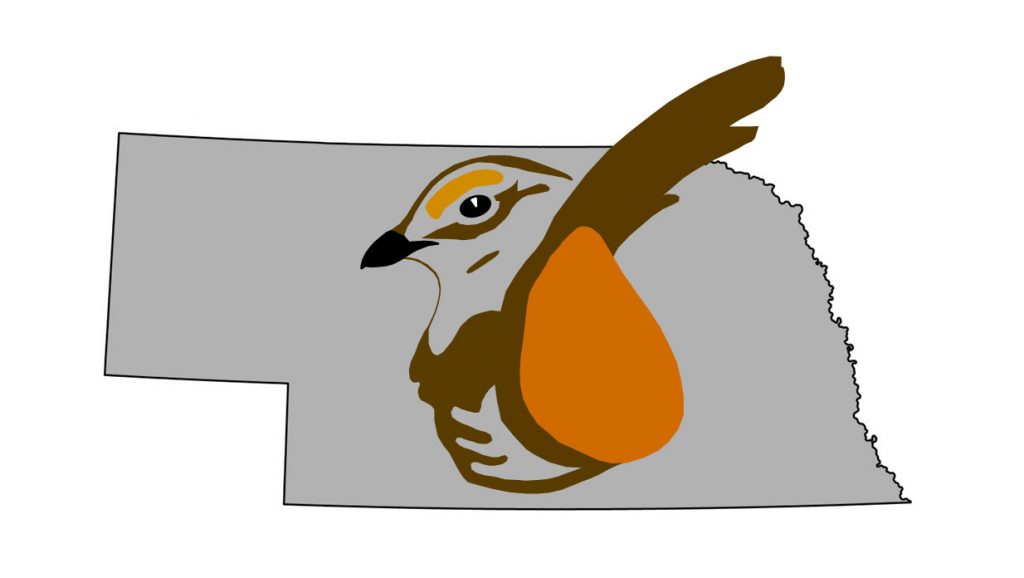 Birds of Nebraska – Online
Updated 25 Dec 2021