Elanoides forficatus
Status: Rare casual summer visitor. Formerly regular breeder but extirpated around 1910.
Documentation: Specimen: Fullerton, Nance Co, 1880, Illinois State Museum #ISM-602715; located by Wayne Mollhoff (personal communication).
Taxonomy: There are two subspecies, forficatus of the southeastern United States and northeastern Mexico, and yetapa, from Mexico to northern Argentina (Gill et al 2022).
Nebraska birds are presumed forficatus.
Summer: There are two modern records.
26 May 2013 below Fort Falls, Cherry Co (Brogie 2014).
25 Jul 2016 Kearney, Buffalo Co (photo; Brogie 2017).
There is a mounted specimen originally from the Townsley collection in the Draper Museum of Natural History in Cody, Wyoming. This specimen (DRA.304.17) was collected in Hamilton Co, Nebraska in 1884 (Bonnie Smith, personal communication). A specimen at UNSM (ZM14116), the male of a pair purportedly nesting near Greenwood, Cass Co 8 Aug 1896 (Eiche 1901) appears to be the last tangible Nebraska record prior to extirpation of the species, although Bruner et al (1904) considered it "a regular visitor in the eastern third of the state, not uncommon" and William Townsley was said to have shot one as it flew over his house in Harvard, Clay Co about 1910 (Swenk, Notes Before 1925). A pair was said by Aughey to have nested at least four consecutive years in a cottonwood tree at Badger Creek, Dixon Co (Taylor and Van Vleet 1888, Mollhoff 2022). A pair was reported nesting 18 miles north of Omaha, Douglas Co (Trostler 1896). A pair collected 8 Aug 1896 near Greenwood, Cass Co was in the Eiche collection (Eiche 1901). Swallow-tailed Kite's occurrence in Nebraska was noted by Baird et al (1874).
Comments: Robertson (in Palmer 1988) documented the extensive extirpation of this species in the last century, its range being reduced by some 80 percent by the 1940s. No clear factors that led to this loss can be demonstrated, although likely were agricultural development, logging of bottomland forests, and shooting (Meyer 2020). Robertson (in Palmer 1988) suggested a resurgence in numbers was developing in the existing population by the late 1980s and predicted a range expansion. However, reports since and especially nesting reports, have not supported a noticeable increase outside of the established southern breeding range (Meyer 2020).
According to eBird (accessed Oct 2023), there are numerous records throughout the eastern US north of the expected breeding range, but few farther north and west on the Great Plains. Farthest northwest of 10 Great Plains records, all since 1983 north of Oklahoma, five are in Colorado May and Jul-Aug, and one each for Northwestern Kansas in Jun, Wyoming in Apr, South Dakota in Sep, North Dakota in Aug, and Winnipeg in May (eBird.org, accessed Oct 2023).
Abbreviations
UNSM: University of Nebraska State Museum
Images
Literature Cited
Baird, S.F., T.M. Brewer, and R. Ridgway 1874. A History of North American Birds, Land Birds, Volume 2. Little, Brown, and Company, Boston, MA, USA.
Brogie, M.A. 2014. 2013 (25th) Report of the NOU Records Committee. NBR 82: 131-146.
Brogie, M.A. 2017. 2016 (28th) Report of the NOU Records Committee. NBR 85: 128-142.
Bruner, L., R.H. Wolcott, and M.H. Swenk. 1904. A preliminary review of the birds of Nebraska, with synopses. Klopp and Bartlett, Omaha, Nebraska, USA.
Eiche, A. 1901. Breeding of the Snowy Heron and Swallow-tailed Kite. Proceedings of Nebraska Ornithologists' Union 2: 96.
Gill, F., D. Donsker, and P. Rasmussen (Eds). 2022. IOC World Bird List (v 12.2). Doi 10.14344/IOC.ML.12.2.  http://www.worldbirdnames.org/.
Meyer, K.D. 2020. Swallow-tailed Kite (Elanoides forficatus), version 1.0. In Birds of the World (A. F. Poole and F. B. Gill, Editors). Cornell Lab of Ornithology, Ithaca, NY, USA. https://doi.org/10.2173/bow.swtkit.01.
Mollhoff, W.J. 2022. Nest records of Nebraska birds. Nebraska Ornithologists' Union Occasional Paper Number 9.
Palmer, R.S., ed. 1988. Handbook of North American birds. Vol. 4. Diurnal Raptors (Part 1). Yale University Press, New Haven, Connecticut, USA.
Swenk, M.H. Notes before 1925. Bird notes from A.M. Brooking of Hastings, C.A. Black of Kearney, and B.J. Olson of Kearney, based chiefly on their collections, up to January 1, 1925. Typed manuscript in the Nebraska Ornithologists' Union Archives, University of Nebraska State Museum, Lincoln, Nebraska, USA.
Taylor, W.E., and A.H. Van Vleet. 1888. Notes on Nebraska birds. Ornithologist and Oologist. 13: 49-51.
Trostler, I.S. 1896. Notes by I. S. Trostler for Bruner's Birds of Nebraska. NOU Archives.
Recommended Citation
Silcock, W.R., and J.G. Jorgensen. 2023. Swallow-tailed Kite (Elanoides forficatus). In Birds of Nebraska — Online. www.BirdsofNebraska.org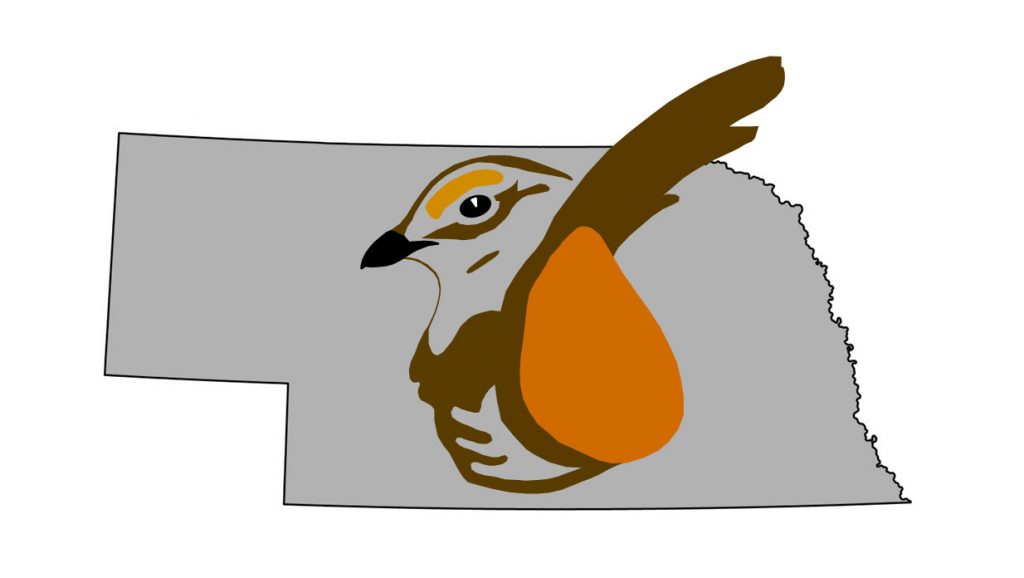 Birds of Nebraska – Online
Updated 24 Oct 2023