By Ross Silcock | silcock@rosssilcock.com | 11 December 2018
This article describes research into the fate of the iconic Townsley Collection of mounted bird specimens. The research was prompted by the presence in the Hastings Municipal Museum (HMM), Hastings, Nebraska, of an unlabeled mount of a Carolina Parakeet. This iconic species has been extinct since the 1930s (see https://birds.outdoornebraska.gov/carolina-parakeet/) and was last reported in Nebraska around 1875 (Ducey 1988, 2000). The only known specimens of Carolina Parakeet collected in Nebraska are a group of 12 taken in 1856 on "Bald Island," now known as McKissock Island, Nemaha Co. The 12 specimens were deposited in the Smithsonian Institute (Unites States National Museum), but only one remains there and the current whereabouts are known for only five others. Of course, the locations of the remaining six, if indeed still extant, are of great interest but there is essentially no information about them.
A.M. Brooking, Director of the HMM, wrote an article in 1933 about the Townsley Collection (Brooking 1933) that provides fascinating insights into William Townsley and his remarkable collection. According to Brooking, "Undoubtedly one of the first collections of mounted birds made in Nebraska was that of Mr. William Townsley, who settled on the Little Blue River in Hamilton County in 1871. Mr. Townsley was born in Yorkshire, England, on May 1, 1841. He came to America with his parents when he was seven years old. They settled in Westmoreland County, Pennsylvania, where they resided until after the Civil War". The date 1871 is significant in that Carolina Parakeets may still have been present in Nebraska until around 1875. Brooking continues: "When Mr. Townsley came to Nebraska in 1871, he homesteaded in Hamilton County, ten miles north of the present town of Harvard, Clay County. … There he … found time to secure and prepare so many birds that when I first became acquainted with him, six years before his death in 1920, he had two large rooms completely filled with mounted bird specimens." The collection, prepared between 1876 and 1899 (Bonnie Lawrence-Smith, personal communication), included most of the common North American birds, as well as several from overseas, which Townsley obtained through exchanges (Brooking 1933). Townsley was an excellent taxidermist, and his collection contained mounts of several species of significance, notably two Eskimo Curlews and a Wood Stork, which Brooking obtained by exchange for the HMM; while the curlews are still at HMM, the Wood Stork can no longer be located (Bray et al 1986).
Brooking (1933) also described what happened to the collection after Townsley's death 16 September 1920. Townsley had four children, James E., Hattie B. (Salmon), William P., and Ruanna E. (Annie Osborn). At the time of William Townsley's death in 1920, James and William were living at Powell, Wyoming, Hattie in Stockham, Nebraska, and Annie in Eldorado, Nebraska. Brooking (1933) described the method of division of the bird collection as a drawing of straws to determine an order of choosing, followed by each of the family rotating choices of specimens. Thus, the collection was divided into four equal parts.
Of most interest was the provenance of the HMM Carolina Parakeet. The HMM accession records state that it was donated to HMM by Annie Osborn, along with the rest of her quarter of the Townsley Collection. Unfortunately, however, the specimen, as with all of the Townsley mounts in the HMM (except for the two Eskimo Curlews), was unlabeled and so its date and location of collection are unknown. Nevertheless, since Townsley arrived in Nebraska in 1871 at a time when Carolina Parakeets were still to be found in Nebraska, and began his collection of mounts in 1876, the possibility remains that Townsley collected the bird himself or obtained it from another Nebraska collector who took the bird in the state. It is also possible that the Townsley Carolina Parakeet is one of the missing six from the group of 12 collected in Nemaha County in 1856.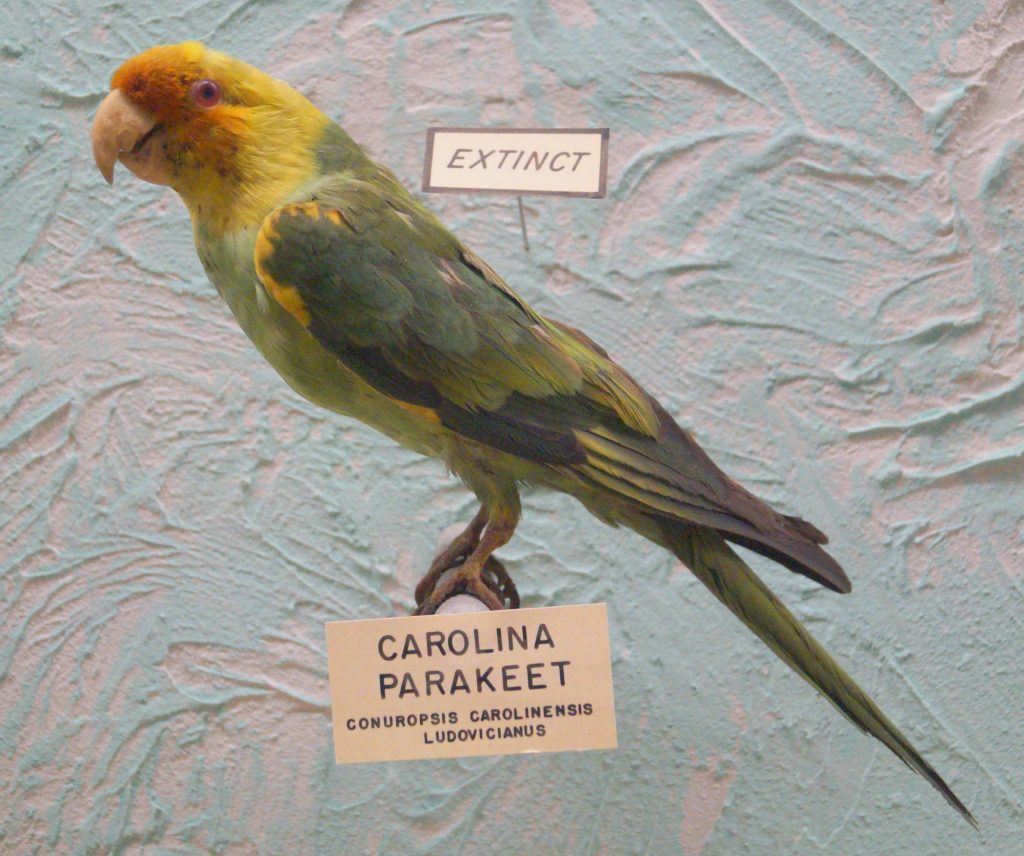 The disposition of the remaining three quarters of the Townsley Collection is of interest as well.
The details of the whereabouts of the two quarters of the collection that passed to the two sons has been outstandingly researched by Bonnie Lawrence- Smith, Curatorial Assistant at the Draper Natural History Museum at the Buffalo Bill Center of the West in Cody, Wyoming. As noted above, William Townsley's two sons, James and William, were living at nearby Powell, Wyoming at the time of William's death. Records provided by Bonnie Lawrence-Smith show that the mounts owned by the two sons were purchased from Mrs J. E. Townsley for $250 in 1954 by the Buffalo Bill Memorial Association. Prior to 1954 the mounts had been on display in Powell. In 1969 the mounts were loaned to the Cody Public Schools and were displayed at the Cody Junior High School until 1994, when they were returned to the Buffalo Bill Historic Center as the Junior High School was remodeled. Finally, in 2002, 127 mounts were transferred to the newly-opened Draper Natural History Museum, where they currently reside (Bonnie Lawrence-Smith, personal communication).
The final quarter of the Townsley Collection passed to Townsley's elder daughter Hattie Salmon, who was living in Stockham, Nebraska at the time. In an attempt to locate William Townsley's Last Will and Testament in hopes that a full inventory of the Townsley Collection prior to breakup might be included, the Hall County Clerk, Marla Conley, suggested I contact the Stuhr Museum of the Prairie Pioneer in Grand Island. Megan Sharp, Associate Research Curator at the Stuhr Museum, informed me that William Townsley's Last Will and Testament was located at the Plainsman Museum in Aurora, Nebraska. I visited the Plainsman Museum in October 2018 and was ably assisted by Kristina Larson, Executive Director, who showed me the Last Will and Testament, but unfortunately no inventory of the Townsley Collection was included. Nevertheless, a fine photograph taken outdoors of William Townsley surrounded by a large number of his mounts was pointed out by Ms. Larson (Photo, top, used with permission and provided by the Plainsman Museum). The Hattie (Townsley) Salmon quarter of the Townsley Collection was donated to the Plainsman Museum by Hattie's daughter Mrs. Edwin Nuss and most of the 143 mounts are on display there.
Acknowledgments
Special thanks to the following individuals and institutions that provided assistance and shared information used in this blog post:
Marla Conley, Hall County Clerk, Grand Island, Nebraska
Teresa Kreutzer-Hodson, Curator of Collections, Hastings Municipal Museum, Hastings, Nebraska
Kristina Larson, Executive Director, Plainsman Museum, Aurora, Nebraska
Bonnie Lawrence- Smith, Curatorial Assistant, Draper Natural History Museum, Cody, Wyoming
Christopher Milensky, Collections Manager, Division of Birds, Smithsonian Institution, Washington DC
Megan Sharp, Associate Research Curator, Stuhr Museum of the Prairie Pioneer, Grand Island, Nebraska
Literature Cited
Bray, T.E., B.K. Padelford, and W.R. Silcock. 1986. The birds of Nebraska: A critically evaluated list. Published by the authors, Bellevue, Nebraska, USA.
Brooking, A.M. 1933. An early Nebraska bird collection. NBR 1: 133-134.
Ducey, J.E. 1988. Nebraska birds, breeding status and distribution. Simmons-Boardman Books, Omaha, Nebraska, USA.
Ducey, J.E. 2000. Birds of the Untamed West. The History of Birdlife in Nebraska, 1750 to 1875. Making History Press, Omaha, Nebraska, USA.