Tachycineta bicolor
Status: Common regular spring and fall migrant east and central, uncommon west. Fairly common regular breeder statewide except southwest and southern Panhandle, where uncommon.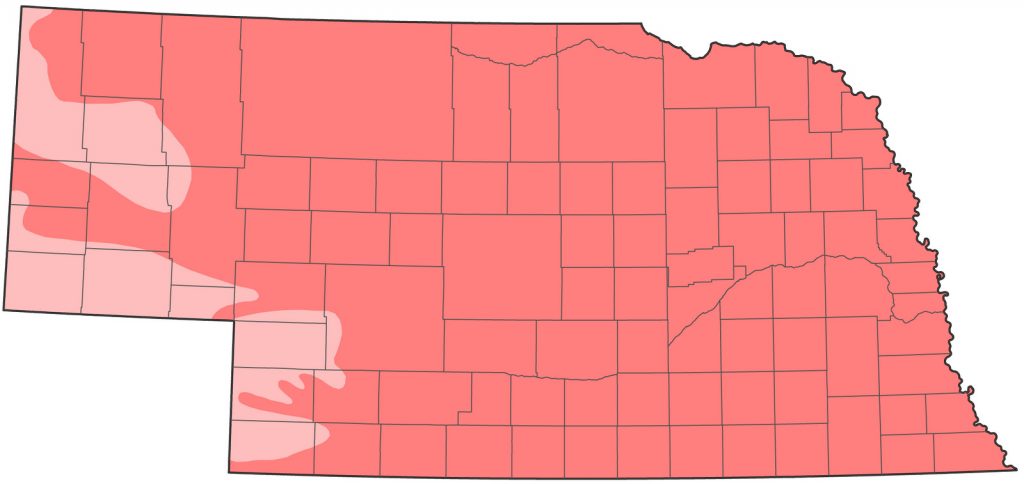 Documentation: Specimen: UNSM ZM6452, 2 Jul 1902 Carns, Keya Paha Co.
Taxonomy: No subspecies are currently recognized (Pyle 1997).
Spring: Mar 9, 10, 11 <<<>>> summer
An earlier date is 4 Mar 1988 Lancaster Co.
Arrival is generally in late Mar, although there are two Feb records, 14 Feb 2002 Hall Co, and 13 Feb 2008 Lancaster Co; there is evidence that "abnormally early spring arrivals occurred during abnormally warm springs" (Winkler et al 2020). Jan-Feb 2008, however, were colder than normal (Nebraska State Climatologist Data).
Peak numbers occur during Apr-May, but timing is variable, likely related to temperature (Winkler et al 2020) and breeding status. This species has a "large populations of both male and female floaters", especially one-year-old females that do not breed (Stutchbury and Robertson 1985).
Tree Swallow is a regular migrant statewide but is more common in the east. It also is more common in spring than in fall. Rosche and Johnsgard (1984) listed Tree Swallow as only a spring migrant in Keith Co, as did Lingle and Hay (1982) for their study area in Hall Co.
High counts: 2000 at Lake Wanahoo, Saunders Co 28 Apr 2017, 1500 at Branched Oak Lake, Lancaster Co 27 Apr 2017, and 1400 at Gavin's Point Dam, Cedar Co 7 Apr 2021, 800 at Gavin's Point Dam, Knox Co 28 Apr 2021, 530 in Lancaster Co 12 May 2002, and 515 at Capitol Beach Lake, Lancaster Co 29 Apr 2017.
Summer: Tree Swallow currently nests statewide; the BBS Summer Distribution Map 2007-2013 shows somewhat higher numbers in the north. BBS trend analysis shows that Tree Swallow has increased statewide annually by 13.41% (95% C.I.; 10.17, 16.99) 1966-2013. Mollhoff (2016) also showed a notable increase of reports between the first and second BBAs. Lying near the southern edge of the species' breeding range, much of the southern and western parts of the state have been occupied by breeding birds only in recent decades as a result of reservoir construction providing plentiful dead tree stubs (Grzybowski 1989) and by the provision of nest boxes intended for bluebirds but which are readily utilized by Tree Swallows (Winkler et al 2020). There is, however, only sparse information regarding specific dates of establishment for these parts of the state.
In the southwest, where Tree Swallows are least numerous, nest boxes at Medicine Creek Reservoir, Frontier Co were being defended 26 May 2001; the earliest Republican River drainage report is in 1992, also in Frontier Co. Up to 12 were at Harlan Co Reservoir, Harlan Co 6-21 Jun 1998, and breeding was documented at Alma, Harlan Co where adults were feeding young 25 Jun 1999 and 16 Jun 2000. Adults were using nest boxes near Harlan Co Reservoir dam 6 Jun 2003. There is a nesting record for Chase Co in 2005.
Tree Swallows have bred commonly for many years in the Missouri River Valley (Bruner et al 1904), but westward in the southeast, expansion is relatively recent into the drainages of the Big Blue and Little Blue Rivers. Earliest reports there are in the 1960s, with summer reports from Clay Co in 1975, Gage Co in 1957 and 1964, and Saline Co in 1956.
Nesting in the Platte River Valley has occurred west to Hall Co for many years (Short 1961; Johnsgard 1980), although it was not known to nest in Lincoln Co at least until 1947 (Tout 1947). It was a "local summer resident" in Keith Co by the 1990s (Rosche 1994; Brown et al 1996). A series of nest boxes along I-80 around the Lincoln-Dawson Cos line had numerous occupants 21 May 1994.
Nesting in the north may not be as widespread as in Bruner's time (Bruner et al 1904), but it breeds in moderate numbers west at least to northern Cherry Co; Short (1961) had reported birds near Valentine in Jun 1955 and suggested that it "may breed there." There are several records of breeding in the general area of Valentine in the 1980s; Mossman and Brogie (1983) found a few birds inspecting cavities at locations in Cherry Co in 1982. There are reports for Keya Paha Co in 1960, Brown Co in 1971, and Rock Co in 1985.
Reports in the Loup River drainage include early breeding season reports from Logan Co in 1943, a single bird at NNF Halsey in 1955 (Short 1961), and a nesting pair using a bluebird box in southern Holt Co (Blake and Ducey 1991). Bray (1994), however, listed this species only as a migrant at NNF Halsey.
In the west, by the early 1980s Rosche (1982) noted only one nesting site in the northern Panhandle, in cottonwood and willow stubs at Whitney Lake, Dawes Co, where one or two pairs nested each year. There are Jun and Jul reports from Sioux, Dawes and Sheridan Cos as early as 1973, from Garden Co since 1978, and Scotts Bluff Co since 1979. These dates compare with the dates for establishment of nesting birds in northeastern Colorado, where nesting was first confirmed in 1963, and was regular at nine sites along the South Platte River by 1990 (Andrews and Righter 1992). A first nesting record for Garden Co was of two nests with eggs at Crescent Lake NWR 7 Jun 1981 (Mollhoff 2022). Rosche (1994) indicated that breeding in the west and north has recently become more widespread. A presumed first county nesting occurred in Cheyenne Co where a pair had eggs in a nest box 25 Jun 2008. Mollhoff (2016) showed a marked increase in the spatial distribution in the Panhandle between the first BBA, when reports were restricted to blocks in Garden (1), Sheridan (4) and Dawes (1) Cos, and the second BBA, when numerous reports were from all Panhandle counties except Sioux and Box Butte.
Breeding Phenology:
Nest-building: 7 Apr-6 Jun
Eggs: 6 May-29 Jun (Mollhoff 2022; re-nesting occurs)
Nestlings: 20 May- 9 Jul
Fledglings: 18 Jun-18 Jul
Fall: summer <<<>>> Oct 27, 29, 29
Later dates are 1 Nov 2022 Lancaster Co, 4 Nov 1990 Douglas-Sarpy Cos, 5 Nov 2002 Lancaster Co, 8 Nov 1983 Douglas-Sarpy Cos, and 12 Nov 1983 Washington Co.
Flocks form by mid-Jul; 120 were at Branched Oak Lake 4 Jul 2001, 100 at Kiowa WMA, Scotts Bluff Co 9 Jul 2017, and 400 at Lake Wanahoo, Saunders Co 8 Jul 2018. Fall departure is mid- to late Oct. High Counts (below) indicate that migration peaks during mid-late Sep.
Fall migrants are less common westward, although recent fall counts reflect increasing numbers of migrants at westerly locations where few if any were previously reported, such as 285 at Crescent Lake NWR 9 Aug 1995, 750 there 8 Sep 2013, and 1000 there 6 Sep 2020. This species roosts in large flocks during migration, mostly in "reed or cane beds" (Winkler et al 2020); perhaps these large counts at wetland locations in western Nebraska fit this pattern. As far back as 1939 a flock of 200 was reported in Lincoln Co 25 Aug (Tout 1947), where breeding was not known at the time. It was not recorded in fall in Keith Co (Rosche and Johnsgard 1984) or Hall Co (Lingle and Hay 1982), although later studies by these authors (Lingle 1994; Rosche 1994) indicated increased occurrence.
High counts: 1225 at Branched Oak Lake 13 Sep 2016, 1153 there 28 Sep 2018, 1000 there 15 Sep 2011, and 1000 at Crescent Lake NWR, Garden Co 6 Sep 2020.
Images
Abbreviations
BBA: Breeding Bird Atlas
BBS: Breeding Bird Survey
NNF: Nebraska National Forest
NWR: National Wildlife Refuge
UNSM: University of Nebraska State Museum
Literature Cited
Andrews, R., and R. Righter. 1992. Colorado birds. Denver Museum of Natural History, Denver, Colorado, USA.
Blake, L., and J. E. Ducey. 1991. Birds of the eastern Sandhills in Holt County, Nebraska. NBR 59: 103-132.
Bray, T.E., B.K. Padelford, and W.R. Silcock. 1986. The birds of Nebraska: A critically evaluated list. Bellevue, Nebraska, USA.
Brown, C.R., M.B. Brown, P.A. Johnsgard, J. Kren, and W.C. Scharf. 1996. Birds of the Cedar Point Biological Station area, Keith and Garden Counties, Nebraska: Seasonal occurrence and breeding data. Transactions of the Nebraska Academy of Sciences 23: 91-108.
Bruner, L., R.H. Wolcott, and M.H. Swenk. 1904. A preliminary review of the birds of Nebraska, with synopses. Klopp and Bartlett, Omaha, Nebraska, USA.
Grzybowski, J.A. 1989. Southern Great Plains Region. American Birds 43: 1334-1336.
Johnsgard, P.A. 1980. A preliminary list of the birds of Nebraska and adjacent Great Plains states. Lincoln, Nebraska, USA.
Lingle, G.R. 1994. Birding Crane River: Nebraska's Platte. Harrier Publishing, Grand Island, Nebraska, USA.
Lingle, G.R., and M.A. Hay. 1982. A checklist of the birds of Mormon Island Crane Meadows. NBR 50: 27-36.
Mollhoff, W.J. 2016. The Second Nebraska Breeding Bird Atlas. Bull. Univ. Nebraska State Museum Vol. 29. Univ. Nebraska State Museum, Lincoln, Nebraska, USA.
Mollhoff, W.J. 2022. Nest records of Nebraska birds. Nebraska Ornithologists' Union Occasional Paper Number 9.
Mossman, M.J., and M.A. Brogie. 1983. Breeding status of selected bird species on the Niobrara Valley Preserve, Nebraska. NBR 51: 52-62.
Pyle, P. 1997. Identification Guide to North American Birds. Part I, Columbidae to Ploceidae. Slate Creek Press, Bolinas, California, USA.
Rosche, R.C. 1982. Birds of northwestern Nebraska and southwestern South Dakota, an annotated checklist. Cottonwood Press, Crawford, Nebraska, USA.
Rosche, R.C. 1994. Birds of the Lake McConaughy area and the North Platte River valley, Nebraska. Chadron, Nebraska, USA.
Rosche, R.C., and P.A. Johnsgard. 1984. Birds of Lake McConaughy and the North Platte River Valley, Oshkosh to Keystone. NBR 52: 26-35.
Short, L.L., Jr. 1961. Notes on bird distribution in the central Plains. NBR 29: 2-22.
Stutchbury, B.J., and R.J. Robertson. 1985. Floating populations of female Tree Swallows. Auk 102: 651-654.
Tout, W. 1947. Lincoln County birds. Published by the author, North Platte, Nebraska, USA.
Winkler, D.W., K.K. Hallinger, D.R. Ardia, R.J. Robertson, B.J. Stutchbury, and R.R. Cohen. 2020. Tree Swallow (Tachycineta bicolor), version 1.0. In Birds of the World (A. F. Poole, Editor). Cornell Lab of Ornithology, Ithaca, NY, USA. https://doi.org/10.2173/bow.treswa.01.
Recommended Citation
Silcock, W.R., and J.G. Jorgensen. 2022. Tree Swallow (Tachycineta bicolor). In Birds of Nebraska — Online. www.BirdsofNebraska.org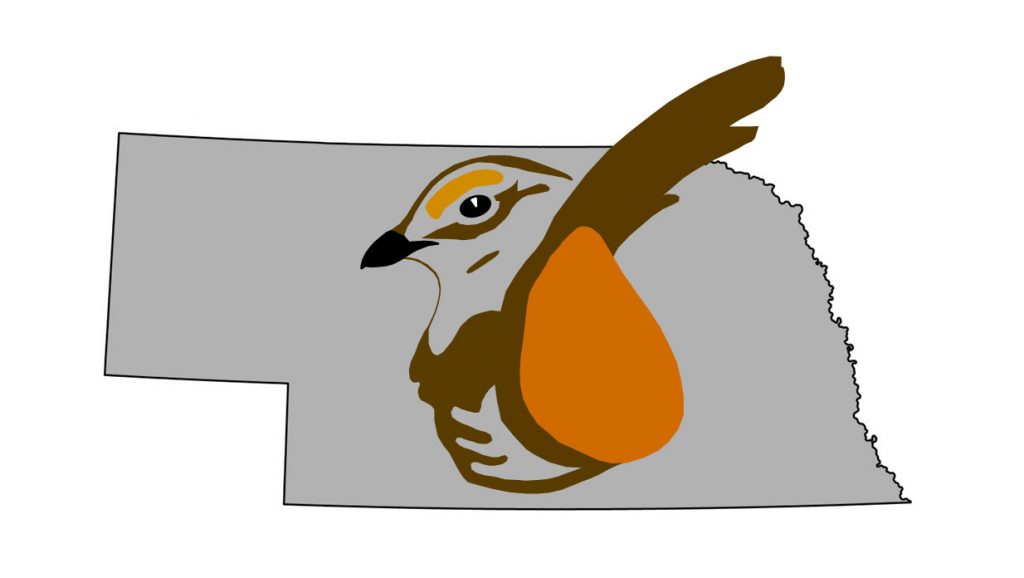 Birds of Nebraska – Online
Updated 25 Dec 2022