Baeolophus bicolor
Status: Fairly common regular resident southeast. Rare casual fall, winter and spring visitor elsewhere.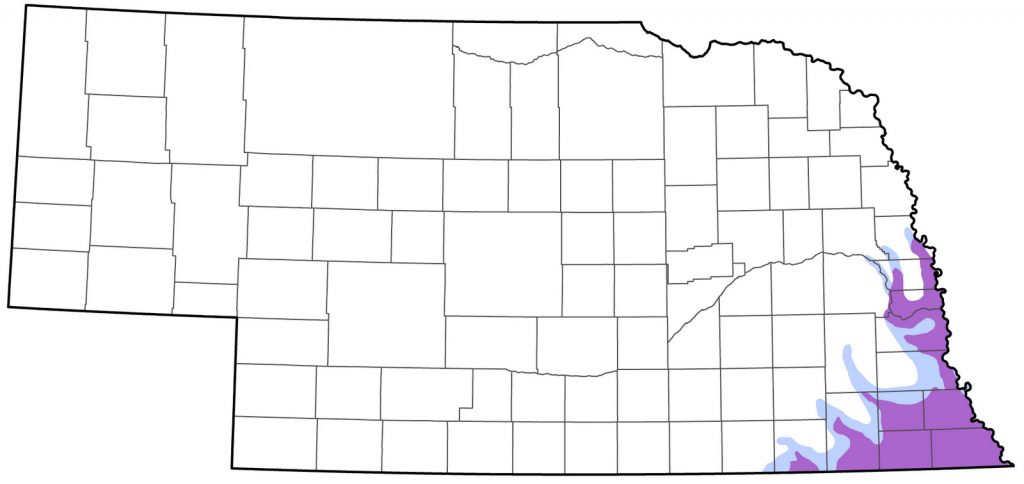 Documentation: Specimen: UNSM ZM6547, 30 Nov 1900 Lancaster Co.
Taxonomy: This species and Black-crested Titmouse (B. atricristatus) were recently split as full species (Banks et al 2002).
No subspecies are recognized (Pyle 1997).
Resident: Currently the breeding range is restricted to counties bordering the Missouri River north to Washington Co and west in rapidly decreasing numbers to Douglas, Lancaster, Gage, and Jefferson Cos (Mollhoff 2016), although confirmed breeding records are few, including only Washington, Douglas, Sarpy, Cass, and Gage (Mollhoff 2016, Ducey 1988). This species is resident, with little to no migratory movement, although there is some evidence that some birds in certain years disperse short distances in fall (Hall 1983, Ritchison et al 2020).
BBS trend analysis shows an annual decline of – 0.66 (95% C.I.; -3.72, 2.52) in Nebraska during the period 1966-2015 (Sauer et al 2017), which suggests numbers are relatively stable in the state. There were suggestions by veteran observers that numbers were "very low" in winter 2018-2019 in the Sarpy Co area (Rick Wright, Alan Grenon, personal communications) and again in fall 2019 (Loren and Babs Padelford, Alan Grenon); one at a Bellevue, Sarpy Co feeder 6 Jul 2020 was first there for more than a year (Allen Reyer). In Sarpy Co in fall 2020, Phil Swanson noted "I have lived at my house in Papillion for 40 years and yesterday afternoon I had my first ever Tufted Titmouse in the yard", and in Douglas Co in 2020 Kathleen Crawford-Rose noted "We have not had one in our yard for several years now".
CBC data reflect the restricted breeding range; there are reports west only to Gage and Lancaster Cos and north to Washington Co. The sharp decrease in numbers away from the Missouri Valley is illustrated by the contrast between the total of 816 birds counted on the Omaha CBC 1967-68 through 1991-92 and the 11 birds on the Lincoln CBC during the same period. Results for the period 1992-1993 through 2014-2015 are remarkably similar: 864 at Omaha and 15 at Lincoln.
In the Missouri River Valley, the species occurs regularly north to southern Washington Co where it occurs in oak woodlands southeast of Blair. It was first reported north of here in Washington County 4 Apr 1988 (Jorgensen 1988) and the northernmost reports for this county are of one at Herman 22 Nov 2015 and singles in Blair 13-14 Feb 2016 and 17 Jul 2022. There are only five recent reports further north: 7 May and 29 Sep 2003 at Ponca SP, Dixon Co, 17 May 2007 at Ashford Scout Camp, Thurston Co, and 1-4 at Ponca SP 10 Jun 2017.
In the Elkhorn River drainage, north of Douglas Co, there are two reports, both recent: 21 May 2006 at Oakland, Burt Co, and 13 Feb 2016 at West Point, Cuming Co. Bruner et al (1904) mentioned breeding in Cuming and Antelope Cos, but there is no recent evidence for this.
Distribution in the Platte River Valley is limited to Sarpy and Douglas Cos; the only Platte River Valley reports north and west of Washington Co are 2 May 2011 and 8 Sep 2009 at Hormel Park, Fremont, Dodge Co, 15 Aug 2007 at Ames, Dodge Co, 19 Feb 2017 Dodge Co, and 11 May 2008 Platte Co. The few spring reports from Hall and Adams Cos may be of birds moving up the Big Blue Valley. Titmouses are scarce even in Schramm SP, Sarpy Co; none were found in two visits Apr 2018 (Wayne Mollhoff, pers. comm.).
As suggested by CBC data cited above, occurrence in Lancaster Co is uncommon to rare. There are around 80 records for Lancaster Co, most from Pioneers Park and Wilderness Park in summer, and residential feeders in winter, but occurrence is inconsistent. One at Wilderness Park 26 May 2011 was the active observer's first in five years, one in a Lincoln yard 21 Apr 2013 was "at long last", four at Wilderness Park 21 Apr 2013 were the observer's first there in 14 years, and another there 9 May was the observer's only sighting for the spring period.
Nevertheless, the first record of breeding for Lancaster Co was of a family group with adults feeding young in a Lincoln yard 30-31 May 2021; singles had been present since winter, and there may have been a second family group in the area; 1-2 continued attending the feeder through 7 Nov (Jorgensen, eBird.org). Also in 2021, an apparent family group was at Densmore Park, Lincoln 2-21 Jul, with one there 9 Aug (Stearns, eBird.org). Also in 2021, additional summer reports were of singles at Wilderness Park 17 Jun and near Roca 15 Jun, and in 2022 one was in Lincoln 7-19 Jul.
In the Big Blue River drainage, most reports are from Homestead National Monument, Gage Co, where there are 50+ reports, dating back to 2 Feb 1962. One was in the Beatrice City Park 28 Aug 2016. North and west of this site, reports are few. In Saline Co, one observer has only four records in about 18 years: Jun 1990, 25 Dec 1992, 18 Oct 2000, and 8-19 Dec 2001. Also in Saline Co, one was along the Big Blue River 16 Feb 2013 and one observer reported one bird each year 14-17 Feb 2014-2017.
Reports in the Little Blue River drainage are concentrated in the Fairbury area, Jefferson Co and are recent: three on 2 Mar 2015 Flathead WMA, 11 Mar 2015 Flathead WMA, 24 Apr 2016 Rose Creek WMA, 17 Jul 2005 Rose Creek WMA, and 26 Jul 2022 Rock Creek Station SHP.
Currently it may not occur in the Republican River Valley; reports from there are few and the only recent reports are of a "possible" breeding site in Nuckolls Co (Mollhoff 2001), 1 Jan 2020 Nuckolls Co, 29 Mar 1986 Franklin Co, and 29 Mar 1986 Harlan Co. Tufted Titmouses have been reported west to Phillips Co, Kansas (Thompson et al 2011), which is directly south of Harlan Co in Nebraska, although it breeds regularly west only to Washington Co in Kansas, just south of Gage Co, Nebraska. There is a single confirmed breeding record for Mitchell Co, Kansas, and a "possible" record in northeast Jewell Co, Kansas (Busby and Zimmerman 2001), just south of Superior in the Republican River drainage.
There are no summer records in the eastern Rainwater Basin (Jorgensen 2012).
Breeding Phenology:
Nest Building: 19 Apr-19 Jun (Mollhoff 2022)
Fledglings: 12 Jun- 22 Aug (Mollhoff 2022)
Fall, Winter and Spring: : Reports away from the breeding range are few, and suggest some spring movement north and west in river valleys. Birds moving up the Big Blue Valley may be the source of reports in the eastern and central Platte River Valley: 12 Feb 1966 York Co, 11 Feb 1957 Hamilton Co, 14 Mar 2003 Buffalo Co, 11 Apr 1985 Adams Co, 13 Apr 1991 Hall Co, and 11 May 1991 Howard-Hall Cos.
Further north and west there are these reports: 25 May 2006 Valentine NWR, Cherry Co, and 23 May 1979 Dawes Co (Rosche 1982).
Images
Abbreviations
BBS: Breeding Bird Survey
CBC: Christmas Bird Count
SP: State Park
WMA: Wildlife Management Area (State)
Literature Cited
Banks, R.C., C. Cicero, J.L. Dunn, A.W. Kratter, P.C. Rasmussen, J.V. Remsen, Jr., J.A. Rising, and D.F. Stotz. 2002. Forty-third supplement to the American Ornithologists' Union check-list of North American birds. Auk 119: 897-906.
Bruner, L., R.H. Wolcott, and M.H. Swenk. 1904. A preliminary review of the birds of Nebraska, with synopses. Klopp and Bartlett, Omaha, Nebraska, USA.
Busby, W.H., and J.L. Zimmerman. 2001. Kansas Breeding Bird Atlas. University Press of Kansas, Lawrence, Kansas, USA.
Ducey, J.E. 1988. Nebraska birds, breeding status and distribution. Simmons-Boardman Books, Omaha, Nebraska, USA.
Hall, G.A. 1983. West Virginia birds, distribution and ecology. Carnegie Museum of Natural History Special Publication No. 7.. Carnegie Museum of Natural History, Pittsburgh, Pennsylvania, USA.
Jorgensen, J.G. 1988. The birds of Cauble Creek and the wetlands. Published by the author, Blair, Nebraska, USA.
Jorgensen, J.G. 2012. Birds of the Rainwater Basin, Nebraska. Nebraska Game and Parks Commission, Lincoln, Nebraska, USA.
Mollhoff, W.J. 2001. The Nebraska Breeding Bird Atlas 1984-1989. Nebraska Ornithologists' Union Occasional Papers No. 7. Nebraska Game and Parks Commission, Lincoln, Nebraska, USA.
Mollhoff, W.J. 2016. The Second Nebraska Breeding Bird Atlas. Bull. Univ. Nebraska State Museum Vol 29. University of Nebraska State Museum, Lincoln, Nebraska, USA.
Mollhoff, W.J. 2022. Nest records of Nebraska birds. Nebraska Ornithologists' Union Occasional Paper Number 9.
Pyle, P. 1997. Identification Guide to North American Birds. Part I, Columbidae to Ploceidae. Slate Creek Press, Bolinas, California, USA.
Ritchison, G., T.C. Grubb Jr., and V.V. Pravosudov. 2020. Tufted Titmouse (Baeolophus bicolor), version 1.0. In Birds of the World (P. G. Rodewald, Editor). Cornell Lab of Ornithology, Ithaca, NY, USA. https://doi.org/10.2173/bow.tuftit.01.
Rosche, R.C. 1982. Birds of northwestern Nebraska and southwestern South Dakota, an annotated checklist. Cottonwood Press, Crawford, Nebraska, USA.
Sauer, J.R., D.K. Niven, J.E. Hines, D.J. Ziolkowski, Jr, K.L. Pardieck, J.E. Fallon, and W.A. Link. 2017. The North American Breeding Bird Survey, Results and Analysis 1966 – 2015 (Nebraska). Version 2.07. USGS Patuxent Wildlife Research Center, Laurel, Maryland, USA.
Recommended Citation
Silcock, W.R., and J.G. Jorgensen. 2022. Tufted Titmouse (Baeolophus bicolor). In Birds of Nebraska — Online. www.BirdsofNebraska.org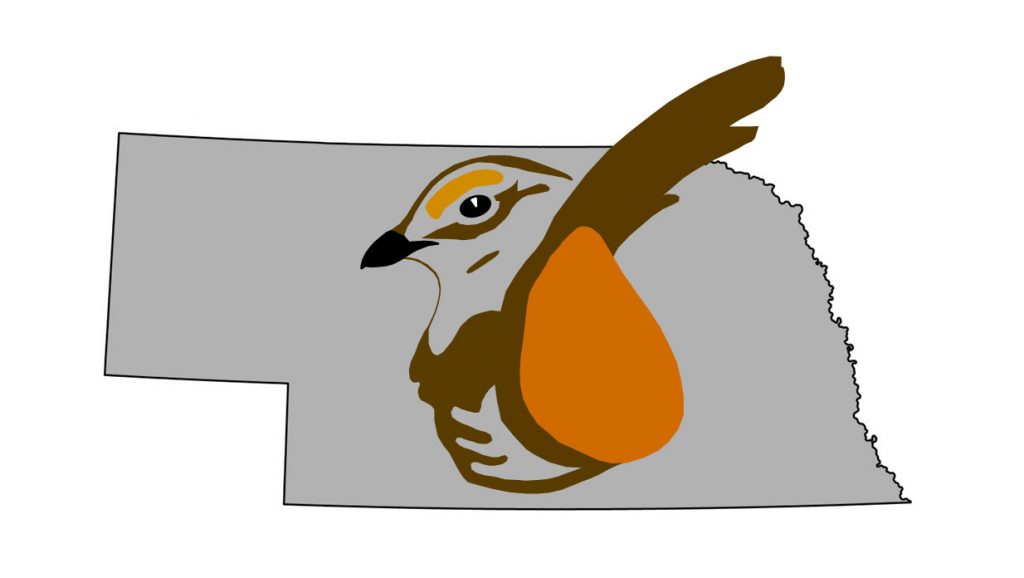 Birds of Nebraska – Online
Updated 22 Aug 2022