Ixoreus naevius
Status:  Rare casual winter visitor statewide.
Documentation:  Specimen: UNSM ZM6661, 18 Dec 1935 North Platte, Lincoln Co.
Taxonomy:  Four subspecies are recognized: naevius, breeding from Yakutat Bay, southeast Alaska, south on the western slope of the Coast and Cascade Mountains (including coastal islands) to northern California and wintering from southwest British Columbia south to central California; casual to inland California, meruloides, breeding in taiga and wet coniferous forests from northern Alaska northwest and western Mackenzie, south through mountains of interior British Columbia to northwest Montana, northern Idaho, eastern Washington, and northeastern Oregon. Winters from southern British Columbia and northern Idaho and western Great Basin to central western and southern California and Baja California, carlottae, breeding on Queen Charlotte Island, and wintering in coastal British Columbia and central California, and godfreii, breeding from southern interior British Columbia to eastern Washington and western Montana, winter range unknown (George 2020).
The specimen cited above was identified as the subspecies meruloides (Tout 1935), breeding in the southern part of the species' range. Although the breeding range of godfreii seems likely to produce wintering birds in Nebraska, this subspecies was not described until 1991 (Phillips 1991).
Winter:  Oct 16, 18, 19 <<<>>> Mar 26, 30, 31
Earlier dates are 10 Sep-2 Oct 2005 Wind Springs Ranch, Sioux Co (Brogie 2006), 20 Sep 1987 Sioux Co, 23 Sep 1980 Scotts Bluff Co, 24 Sep 2008 Otoe Co, and 1 Oct 1976 Sioux Co.
Later dates are 24 Mar-5 Apr 2016 Wilsonville, Furnas Co, 10 Apr 1949 Douglas Co, 15 Apr 2021 Lancaster Co, 21-28 Apr 2008 Omaha (Brogie 2009a), 1 May 1991 Douglas-Sarpy Cos, 6 May 1983 Douglas Co, 9 May 2001 Alliance, Box Butte Co, 17 May 2009 Kearney, Buffalo Co (Brogie 2009b), 20 May 1991 Lincoln Co, and 7 Jun 1985 McPherson Co (Mollhoff 1987).
Prior to 1972 there were only three records, including a flock of three that appeared Dec 1935 at North Platte, Lincoln Co, remaining until Jan 1936, when a dead individual was found (Tout 1935); one of these birds is the specimen cited above. There were only these further reports until 2001: 10 Jan-Mar 1993 Omaha, Douglas Co, winter 1994-95 Omaha, and "prior to" 16 Oct-20 Oct 1999 Norfolk, Madison Co.
However, since 2001 there have been 31 reports in the period 10 Sep-28 Apr, many well-documented (Brogie 2006, 2008, 2009a, 2009b, 2011, 2013, 2014, 2017, 2019, 2020), although the species remains less than annual in occurrence in the state.
A possible route for Varied Thrush to reach Nebraska is suggested by the finding that most sightings occur along a 200-km-wide southeasterly corridor In Minnesota and Wisconsin corresponding with the southern extent of coniferous forest in both states (George 2020).
Abbreviations
UNSM: University of Nebraska State Museum
Acknowledgement
Photograph (top) of a Varied Thrush at Omaha, Douglas Co 5 Jan 2010 by Phil Swanson.
Literature Cited
Brogie, M.A. 2006. 2005 (17th) Report of the NOU Records Committee. NBR 74: 69-74.
Brogie, M.A. 2008. 2007 (19th) Report of the NOU Records Committee. NBR 76: 111-119.
Brogie, M.A. 2009a. 2008 (20th) Report of the NOU Records Committee. NBR 77: 80-90.
Brogie, M.A. 2009b. 2009 (21st) Report of the NOU Records Committee. NBR 77: 160-168.
Brogie, M.A. 2011. 2010 (22nd) Report of the NOU Records Committee. NBR 79: 99-111.
Brogie, M.A. 2013. 2012 (24th) Report of the NOU Records Committee. NBR: 81: 120-130.
Brogie, M.A. 2014. 2013 (25th) Report of the NOU Records Committee. NBR 82: 131-146.
Brogie, M.A. 2019. 2018 (30th) Report of the NOU Records Committee. NBR 87: 96-109.
Brogie, M.A. 2020. 2019 (31st) Report of the NOU Records Committee. NBR 88: 124-134.
George, T.L. 2020. Varied Thrush (Ixoreus naevius), version 1.0. In Birds of the World (A. F. Poole and F. B. Gill, Editors). Cornell Lab of Ornithology, Ithaca, NY, USA. https://doi.org/10.2173/bow.varthr.01.
Mollhoff, W.J. 1987. First report of the NOU Records Committee. NBR 55: 79-85.
Phillips, A.R. 1991. The known birds of North and Middle America. Part 2. Published by the author, Denver, Colorado, USA.
Tout, W. 1935. The spread of the Wood Thrush to North Platte, Lincoln County. NBR 3: 28-29.
Recommended Citation
Silcock, W.R., and J.G. Jorgensen.  2021.  Varied Thrush (Ixoreus naevius). In Birds of Nebraska — Online. www.BirdsofNebraska.org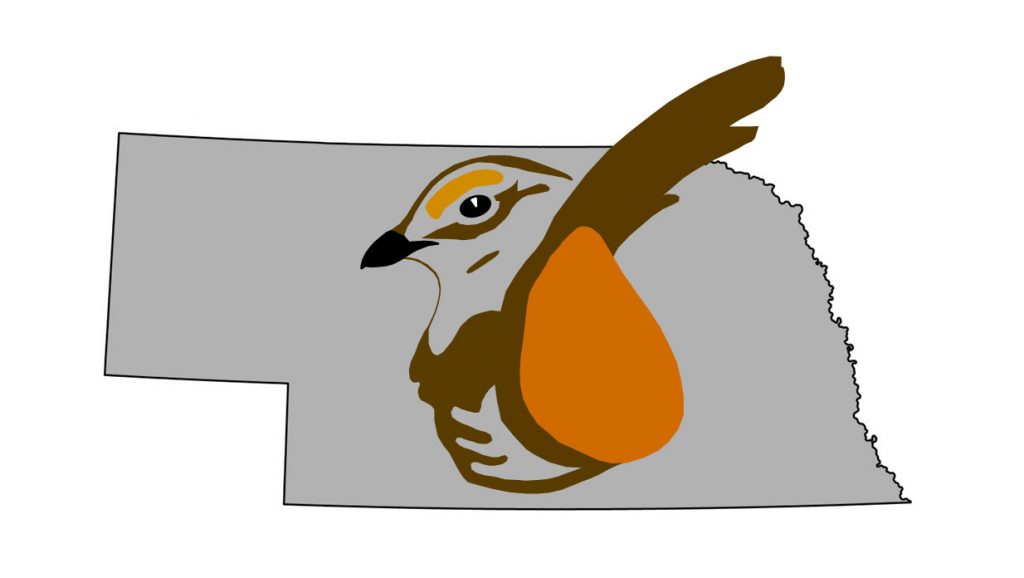 Birds of Nebraska – Online
Updated 10 Jun 2021