Pyrocephalus rubinus
Status:  Rare casual spring and fall visitor central and east.
Documentation:  Photograph: 16 May 1995 Lancaster Co.
Taxonomy:  Thirteen subspecies are recognized, 11 from Mexico to South America, the others flammeus of southern California and southern Nevada to southwest Texas, and mexicanus of southwest Texas and northern Mexico (Pyle 1997).     Pyle (1997) stated that flammeus is a vagrant to Nebraska; Ellison et al (2009) noted that mexicanus has occurred as far north and east as Ontario.
Spring: There are six reports, four documented and the others likely correct; all are listed here.
31 Mar-4 Apr 2017, female photographed Rowe Sanctuary, Buffalo Co (Jorgensen 2018, Brogie 2018)
11 Apr 2018, female photographed Buffalo Lake, Buffalo Co (William Flack, eBird.org; Brogie 2019)
29 Apr 2011, male photographed near Keystone, Keith Co (Marquene Koontz, fide Charles Brown)
16 May 1995, one photographed (Gubanyi 1996) in Lancaster Co
27 May 1976, Lincoln Co (Williams 1976)
29 Jun 1980, a pair seen by veteran out-of-state birders at the Valentine Fish Hatchery, Cherry Co (Loren and Babs Padelford, pers. comm.).
Fall: There are four reports, including one accepted by NOURC; all are in late fall, 25 Oct-11 Dec, and all probably correct.
25 Oct and 9 Nov 2017, probably same bird, River Road, Phelps Co, photographed (Furman, eBird.org; Brogie 2018)
4 Nov 1960, headless remains found at North Platte and identified as this species (Viehmeyer 1961)
21 Nov 1954, a newspaper clipping adequately described an adult male which was found near Carter Lake in Douglas Co (Grenon 1991, Rapp et al 1958)
11 Dec 1954, an immature male that had been present on the grounds of the University of Nebraska Agricultural Experiment Station near North Platte since Oct was collected (Rapp et al 1958, Bray et al 1986). The specimen was mounted and deposited at the Hastings Municipal Museum, where it was observed by Burton Nelson, but the specimen cannot now be located (Bray et al 1986).
Comments: Vermilion Flycatcher has a tendency for wandering northward on the western Great Plains, usually early in spring and late in fall, but there are several mid-summer records. There are 45 records for Colorado (CBRC 2018) and 17 for Kansas, where it nested in 2006 in Morton Co (Thompson et al 2011). There are four records for Wyoming, three of which may have been the same individual (Faulkner 2010), three for South Dakota (Tallman et al 2002), and seven for Iowa (IOU 2018).
Abbreviations
CBRC: Colorado Bird Records Committee
IOU:  Iowa Ornithologists' Union
NOURC: Nebraska Ornithologists' Union Records Committee
Acknowledgement
Photograph (top) of a Vermilion Flycatcher at Buffalo County Lake,  Buffalo Co 11 Apr 2018 by William Flack.
Literature Cited
Bray, T.E., B.K. Padelford, and W.R. Silcock. 1986. The birds of Nebraska: A critically evaluated list. Published by the authors, Bellevue, Nebraska, USA.
Brogie, M.A. 2018. 2017 (29th) Report of the NOU Records Committee. NBR 86: 131-142.
Brogie, M.A. 2019. 2018 (30th) Report of the NOU Records Committee. NBR 87: 96-109.
Colorado Bird Records Committee [CBRC]. 2018.  Vermillion Flycatcher records.  Colorado Bird Records Committee database, accessed 18 February 2018.
Ellison, K., B.O. Wolf, and S.L. Jones. 2009. Vermilion Flycatcher (Pyrocephalus rubinus), version 2.0. In The Birds of North America (A. F. Poole, Editor). Cornell Lab of Ornithology, Ithaca, New York, USA. https://doi.org/10.2173/bna.484
Grenon, A.G. 1991. 1991 (Fourth) Report of the NOU Records Committee. NBR 59: 150-155.
Gubanyi, J.G. 1996. 1995 (Seventh) Report of the NOU Records Committee. NBR 64: 132-138.
Iowa Ornithologists' Union [IOU]. 2018.  Vermillion Flycatcher records.  Iowa Records Committee reports of Iowa rare bird records, accessed 30 April 2018.
Jorgensen, J.G. 2018. Addition and Correction to Best Birds of 2017. The Burrowing Owl, April 2018, Nebraska Ornithologists' Union,
Pyle, P. 1997. Identification Guide to North American Birds. Part I, Columbidae to Ploceidae. Slate Creek Press, Bolinas, California, USA.
Rapp, W.F. Jr., J.L.C. Rapp, H.E. Baumgarten, and R.A. Moser. 1958. Revised checklist of Nebraska birds. Occasional Papers 5, Nebraska Ornithologists' Union, Crete, Nebraska, USA.
Tallman, D.A., Swanson, D.L., and J.S. Palmer. 2002. Birds of South Dakota. Midstates/Quality Quick Print, Aberdeen, South Dakota, USA.
Thompson, M.C., C.A. Ely, B. Gress, C. Otte, S.T. Patti, D. Seibel, and E.A. Young. 2011. Birds of Kansas.  University Press of Kansas, Lawrence, Kansas, USA.
Viehmeyer, G. 1961. Excerpts from letters. NBR 29: 23.
Williams, F. 1976. Southern Great Plains Region. American Birds 30: 858-862.
Recommended Citation
Silcock, W.R., and J.G. Jorgensen. 2020.  Vermilion Flycatcher (Pyrocephalus rubinus). In Birds of Nebraska — Online. www.BirdsofNebraska.org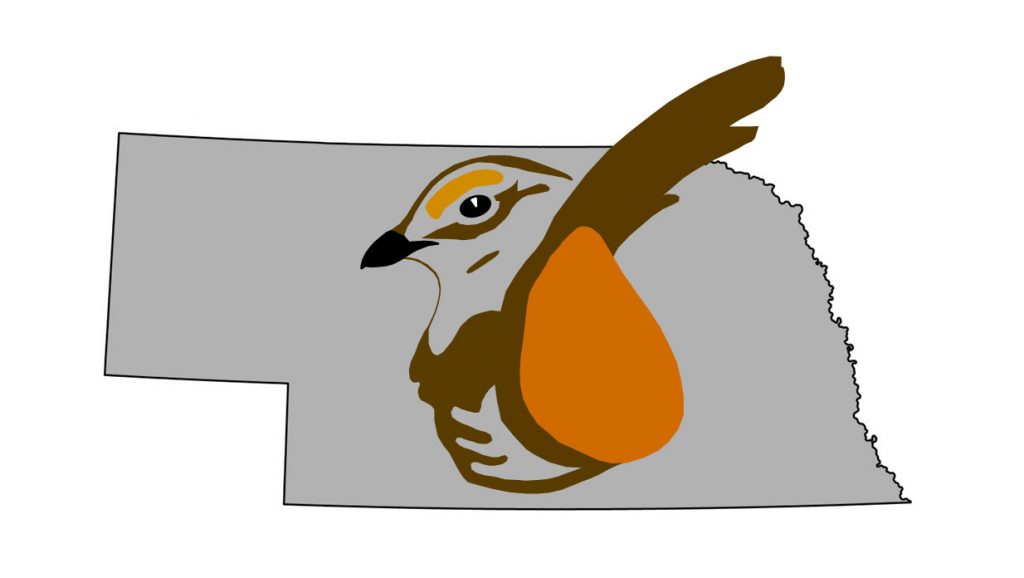 Birds of Nebraska – Online
Updated 17 June 2020