Pooecetes gramineus gramineus, P. g. confinis
Status: Common, locally abundant, regular spring and fall migrant statewide. Fairly common regular breeder north and east, uncommon elsewhere. Rare casual winter visitor.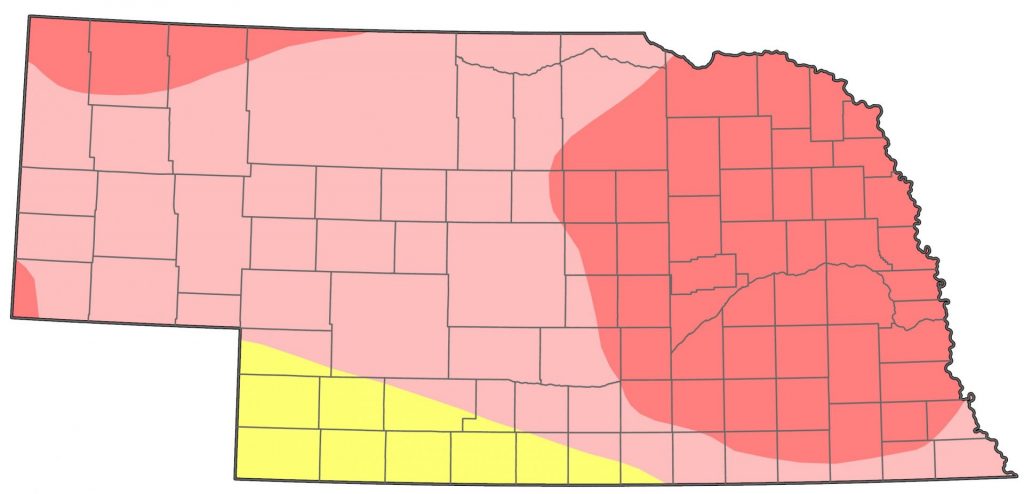 Documentation: Specimens: gramineus, UNSM ZM7340, 12 Apr 1890 Lincoln, Lancaster Co; confinis, UNSM ZM7336, 30 May 1901 Warbonnet Canyon, Sioux Co.
Taxonomy: Four subspecies are recognized (Pyle 1997, Jones and Cornely 2020): altus (sometimes synonymized with confinis), breeding from southern Utah to northern Arizona, gramineus, breeding from Minnesota east to Prince Edward Island and south to central Missouri and northwest North Carolina, wintering from southern portion of breeding range south, confinis, breeding from central British Columbia east to southern Manitoba and western Ontario south to central-east California and east to western Nebraska, wintering from southern edge of breeding range south, and affinis, breeding from Washington and Oregon south coastally to California, wintering southward to Baja California.
Although the above range outline states that confinis breeds east to western Nebraska, breeders in the north-central Nebraska Sandhills are probably confinis also (Wright 2019, Rapp et al 1958, AOU 1957). Subspecies gramineus breeds in eastern Nebraska; it was rare in the 1950s (Rapp et al 1958) but may be increasing due to its adaptation to nesting in corn and soybean row-crop agricultural fields.
Spring: Mar 23, 23, 24 <<<>>> summer
Earlier dates are 18 Mar 2020 Seward Co, and 20 Mar 2012 Custer Co.
Migration takes place mostly in Apr; it is difficult to determine departure of spring migrants due to presence of local breeders, but this probably occurs in early May based on timing of High Counts (below).
High counts: 450 over seven miles in Scotts Bluff Co 25 Apr 2022, 120 in Adams and Clay Cos 6 Apr 2010, 100 at Pawnee Lake, Lancaster Co 14 Apr 2018, and 75-100 in southern Sioux Co 24 Apr 2003.
This species can be abundant in the west during migration. After a snowstorm in western Nebraska 26 Apr 1994, a fallout of "thousands" was noted (Grzybowski 1994). In Scotts Bluff Co 25 Apr 2022, Steven Mlodinow counted (by 5s) 315 in a 5-mile stretch of roads, including 190 in view at one time, mostly perched in the sun on hay bales. Another 110-135 were at Lake Minatare, Scotts Bluff Co the same day.
Summer: Vesper Sparrows breed across the state but are most numerous in the northwest and in the northern Missouri River Valley (Sauer et al 2017, eBird.org, accessed April 2018); these areas may be occupied by different subspecies (see Taxonomy). Summering birds are least numerous south of the Platte River Valley counties and away from the east, as shown by Mollhoff (2016) and Jones and Cornely (2020). BBS trend analysis also show that the species has increased 2.25% (95% C.I.; 0.44, 4.29) annually in Nebraska 1966-2019 (Sauer et al 2020). This increase has occurred throughout most areas of the state.
Vesper Sparrows in eastern Nebraska (subspecies gramineus) have expanded their range to the south and west, as is clearly shown in Mollhoff (2016). It is believed that these eastern birds have adapted to "no-till" agricultural fields planted to soybeans but which retain the previous year's standing corn stubble. This specific agricultural practice provides structure and limits disturbance to nesting sites; eggs and young are not destroyed or killed by farming implements except for "the unlucky few hit by tractor or planter wheels" (Don Paseka, pers. comm.). Vesper Sparrow has expanded into the Rainwater Basin, as discussed below. Around 2000 it was unreported from Nemaha and Richardson Cos, but there are several recent breeding season reports there (Mollhoff 2016).
The highest BBS numbers in the state are on routes in western Cherry and eastern Sheridan Cos; relatively high numbers also breed in extreme northern Sioux Co (Rosche 1982). Reports are far fewer in the southern Panhandle (Scotts Bluff, Morrill, and Garden counties south); there are older reports from Crescent Lake NWR, Garden Co 25 Jun 1973 and 13 Jun 1987. However, reports are increasing in the southern Panhandle; Mollhoff (2016) showed 10 breeding season reports there, including confirmed breeding in southern Deuel and western Kimball Cos.
In the Niobrara River Valley, Brogie and Mossman (1983) considered the species rare in summer, although it was thought to be a probable nester in the Niobrara Valley Preserve. Recently, numbers have increased in the Niobrara River Valley (Mollhoff 2016, eBird.org, accessed October 2017), although there are only scattered reports west as far as the Valentine, Cherry Co area: 18 Jun 2015 near Merriman, 26 Jun 2015 Ravenscroft Ranch near NNF McKelvie, 12 Jul 2016 Merritt Reservoir, and two from Valentine NWR, 28 Jul 2010 and 21 Jun 2015.
There are scattered reports throughout the Loup River drainage. Bray (1994) considered Vesper Sparrow an "uncommon summer resident" at NNF Bessey, Thomas Co; more recently, Mollhoff (2016) showed breeding season records throughout the area, possibly more so northward.
Jorgensen (2012) noted that breeding has not been confirmed in the Rainwater Basin, but reports have increased markedly in recent years. There were few reports from this region in the early 2000s including 18 May 2001 Wilkins WPA, Fillmore Co, 3 Jun 2001 Clay Co (Jorgensen 2004), 24 Jun 2005 Clay Co, 22 Jul 2000 Fillmore Co (Jorgensen 2012), and several reports from western Seward County. Mollhoff (2016) showed confirmed breeding in southeast Polk County, an apparent first for the Rainwater Basin.   However, since about 2018, reports during in this region have become numerous (eBird.org), including multiple detections of birds at stops along the Belvidere and Hampton BBS routes (T.J. Walker, personal communication).
Currently, there are reports throughout the Platte and North Platte River Valleys west to Keith Co, although numbers are not high except in the east; the breeding range shown in Jones and Cornely (2002) has the species only as a migrant south of the Platte River Valley counties. This area, including the Republican River Valley, has few, but increasing, recent reports, even though it has apparently bred there on occasion for some years; Ludlow (1935) noted that a pair was nesting in Webster Co 6 Jun 1926. The few reports from this area and away from the east are 3 Jun 1989 Dundy Co, 3 Jun 2003 Chase Co, 15 Jun 2010 Frontier Co, 27 Jun 2007 Dundy Co, 29 Jun 2016 Franklin Co, 1 Jul 2013 Frontier Co, and four on 14 Jul 2016 Webster Co.
Breeding phenology:
Eggs: 15 May-18 Aug (Mollhoff 2022)
Nestlings: 22 May-11 Jul
Fledglings: 5 Jun-29 Jul
Fall: summer <<<>>> Nov 28, 28, 29
Later dates are of three specimens collected in Lancaster Co 4 Dec 1909 (UNSM ZM10744, ZM10750, ZM10751), and one photographed 15 Dec 2019 on the DeSoto NWR CBC (Cathy Prettyman, eBird.org).
Migration is mainly in Sep and Oct; a late northerly report was 24 Nov 1966 Custer Co.
High counts: 2117 in Kimball Co 23 Sep 2014, 542 in southwest Kimball Co 24 Sep 1998, and 462 there 26 Sep 1999.
Also, "thousands" in Lincoln and Custer Cos 27 Sep 2004, "hundreds" in Lincoln and Hayes Cos 4 Oct 2004, and "huge numbers" in Lincoln Co 9 Oct 2008.
Winter: There is one documented report of a wintering bird, one in a hay field near the observers' Dodge Co residence during late fall that remained in the yard through 24 Feb 2012 (photograph; Don and Jan Paseka, personal communication; Silcock 2012).
Mid-winter (mid-Dec through mid-Mar) reports are 7 Jan 1996 Dakota Co, 28 Jan 2016 Lancaster Co, 26 Feb 2003 Lincoln Co, and 6 Mar 2012 Saunders Co.
Reports of multiple birds (up to 28) on CBCs in the 1950s are apparent misidentifications as are many CBC reports in the 1970s through 1990s.
Images
Abbreviations
BBS: Breeding Bird Survey
CBC: Christmas Bird Count
NNF: Nebraska National Forest
UNSM: University of Nebraska State Museum
WPA: Waterfowl Production Area (Federal)
Literature Cited
American Ornithologists' Union [AOU]. 1957. The AOU Check-list of North American birds, 5th ed. Port City Press, Baltimore, Maryland, USA.
Bray, T.E., B.K. Padelford, and W.R. Silcock. 1986. The birds of Nebraska: A critically evaluated list. Published by the authors, Bellevue, Nebraska, USA.
Brogie, M.A. 1999. 1998 (Tenth) Report of the NOU Records Committee. NBR 67: 141-152.
Brogie, M.A., and M.J. Mossman. 1983. Spring and summer birds of the Niobrara Valley Preserve, Nebraska: An annotated checklist. NBR 51: 44-51.
Grzybowski, J.A. 1994. Southern Great Plains Region. American Birds 48: 313-315.
Jones, S.L. and J.E. Cornely. 2020. Vesper Sparrow (Pooecetes gramineus), version 1.0. In Birds of the World (A. F. Poole and F. B. Gill, Editors). Cornell Lab of Ornithology, Ithaca, NY, USA. https://doi.org/10.2173/bow.vesspa.01.
Jorgensen, J.G. 2012. Birds of the Rainwater Basin, Nebraska. Nebraska Game and Parks Commission, Lincoln, Nebraska, USA.
Ludlow, C.S. 1935. A quarter-century of bird migration records at Red Cloud, Nebraska. NBR 3: 3-25.
Mollhoff, W.J. 2016. The Second Nebraska Breeding Bird Atlas. Bull. Univ. Nebraska State Museum Vol 29. University of Nebraska State Museum, Lincoln, Nebraska, USA.
Mollhoff, W.J. 2022. Nest records of Nebraska birds. Nebraska Ornithologists' Union Occasional Paper Number 9.
Pyle, P. 1997. Identification Guide to North American Birds. Part I, Columbidae to Ploceidae. Slate Creek Press, Bolinas, California, USA.
Rapp, W.F. Jr., J.L.C. Rapp, H.E. Baumgarten, and R.A. Moser. 1958. Revised checklist of Nebraska birds. Occasional Papers 5, Nebraska Ornithologists' Union, Crete, Nebraska, USA.
Rosche, R.C. 1982. Birds of northwestern Nebraska and southwestern South Dakota, an annotated checklist. Cottonwood Press, Crawford, Nebraska, USA.
Rosche, R.C. 1994. Birds of the Lake McConaughy area and the North Platte River valley, Nebraska. Published by the author, Chadron, Nebraska, USA.
Sauer, J.R., W.A. Link and J.E. Hines. 2020. The North American Breeding Bird Sruvey – Analysis Results 1966-2019. U.S. Geological Survey data release, https://doi.org/10.5066/P96A7675, accessed 27 Jul 2023.
Silcock, W.R. 2012. Winter Field Report, December 2011 to February 2012. NBR 80: 3-17.
Wright, R. 2019. Sparrows of North America. Peterson Reference Guide. Houghton Mifflin Harcourt, Boston and New York.
Recommended Citation
Silcock, W.R., and J.G. Jorgensen. 2023. Vesper Sparrow (Pooecetes gramineus). In Birds of Nebraska — Online. www.BirdsofNebraska.org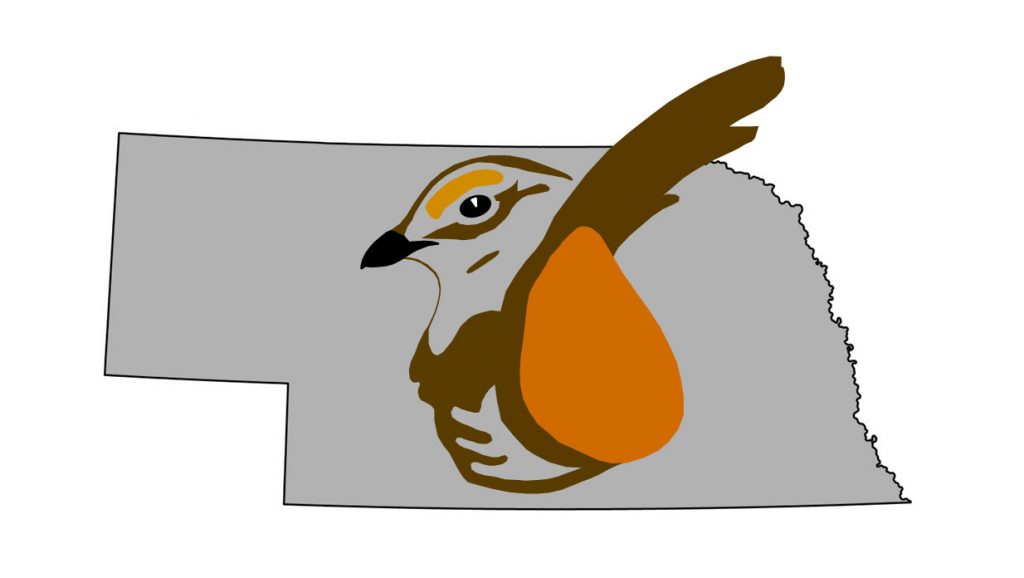 Birds of Nebraska – Online
Updated 21 Sep 2023, Map updated 28 Jul 2023