Tachycineta thalassina thalassina
Status: Uncommon regular spring and fall migrant west, rare casual central. Uncommon regular breeder west.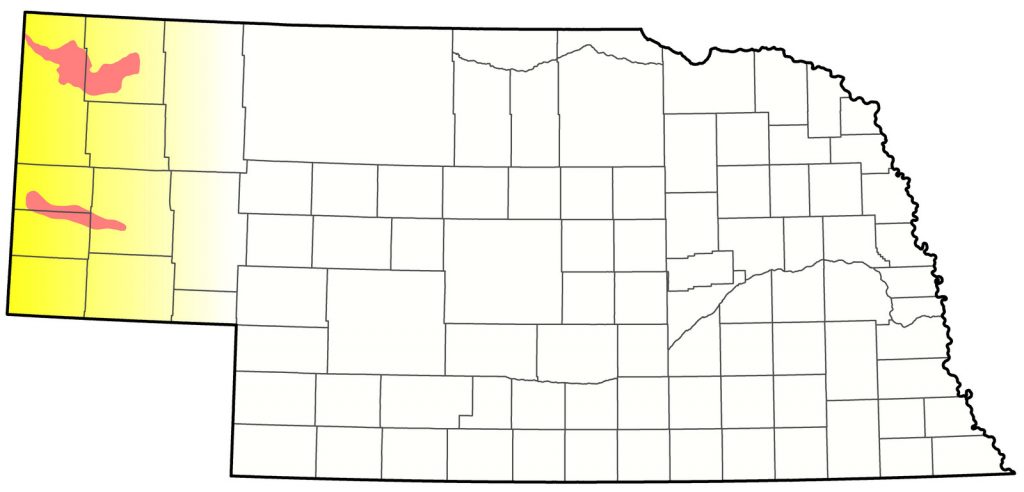 Documentation: UNSM ZM6449, 22 Jun 1901 Warbonnet Canyon, Sioux Co.
Taxonomy: Two subspecies are currently recognized (Pyle 1997, Brown et al 2020, Clements et al 2017): thalassina (including lepida) from Alaska and Canada south through western USA to central Baja California and southern Mexico, and brachyptera of northwest Mexico.
Nebraska birds are thalassina.
Spring: Apr 24, 26, 27 <<<>>> summer
Earlier dates are 14 Apr 2016 Scotts Bluff Co, and 15 Apr 2017 Scotts Bluff Co.
Arrival is in early May. Johnsgard (1980) indicated that peak migration is 5-19 May, and there are seven reports of 1-11 birds 18-31 May (eBird, accessed October 2017) from the Bighorn Escarpment in Morrill and Banner Cos, where breeding is unknown.
Migrants are rarely observed away from known breeding locations; there are these reports ranging northeast to Cherry Co: 29 Apr 1989 Keith Co (Johnsgard 1990), 5 May 2002 Lake McConaughy, Keith Co, 16 May 2002 Scotts Bluff Co, 10 on 17 May 2015 Valentine, Cherry Co, 19 May 2015 Fort Niobrara NWR, Cherry Co, 20 May 2022 Fort Niobrara NWR, 29 May 2022 Andrew Bridge Road, Cherry Co, 1 Jun 2016 Whiteclay, Sheridan Co, 1 Jun 2015 Smith Lake WMA, Sheridan Co, five there 10 Jun 2021, and 3 Jun 2013 Valentine. The only documented report further east is of one at Harlan Co Reservoir, Harlan Co 8 May 1997. Bruner et al (1904) noted that this species was "once taken during migration at West Point by Bruner," presumably the Cuming Co report cited by Johnsgard (1980). No specimen apparently exists however, and this report remains unsubstantiated.
High counts: 40 at Carter Johnson Reservoir, Dawes Co 19 May 2018, 39+ at Scottsbluff SL, Scotts Bluff Co 16 May 2002, and 35 at Carter Johnson Reservoir 26 May 2021.
Summer: Breeding is restricted to the Pine Ridge, mostly in Sioux Co, with diminishing records eastward into Dawes Co and only one recent record for Sheridan Co, and the Wildcat Hills and Scotts Bluff NM in Scotts Bluff Co. Nesting is not known in the Bighorn Escarpment in Banner and Morrill Cos; the only reports from there are of presumed spring migrants.
Rosche (1982) considered this species a "locally fairly common summer resident," most common in Sioux Co Pine Ridge canyons. The easternmost record of nesting was, until recently, that cited by Rosche (1982) of a pair using a woodpecker hole in Chadron SP, Dawes Co in 1981; since then, a nest with eggs was at West Ash Creek Canyon, Dawes Co 25 Jun 1999 (Mollhoff 2022), and another nest with eggs was there 22 Jun 2002 (Mollhoff 2022). Two were at Chadron Creek Ranch WMA, Dawes Co 29 Jul 2012. The first known breeding record for Sheridan Co was of a pair "nesting in a tiny crack in the cliff wall" 24 Jun 2020 in Strawberry Canyon, on private property about four miles east of the Dawes Co line (eBird.org).
It breeds in the Wildcat Hills in southern Scotts Bluff Co (Rapp et al 1958); two nests with five eggs in each were in nest boxes at Wildcat Hills NC in 2002.
One at Pine Bluffs, Kimball 17 Jun 2019 (eBird.org) was unexpected there; breeding is not indicated in that area by Faulkner (2010). Three were reported at Crescent Lake NWR 18 Jun 2020 without details, and may have been Tree Swallows.
Breeding Phenology:
Nest Building: 31 May
Eggs: 8- 28 Jun (Mollhoff 2022)
Nestlings: 30 Jun-24 Jul
High counts: 39 at Scotts Bluff NM 17 Jul 2013.
Fall: summer <<<>>> Aug 31, Sep 1, 2
Later dates are 5 Sep 1973 Sioux Co, 7 Sep 2009 (3) Chadron SP, 9 Sep 2018 (5) Banner Co, 13 Sep 2009 Sioux Co, 17 Sep 2016 Scotts Bluff Co, 19 Sep 2009 Scottsbluff, Scotts Bluff Co, 19 Sep 2009 Gering, Scotts Bluff Co, 20 Sep 2017 Scotts Bluff NM, Scotts Bluff Co, and 21 Sep 2016 Scotts Bluff Co.
There is some flocking prior to migration (Brown et al 2011), although there is only one Nebraska report of a flock larger than 30 birds, that of 80 in Dawes Co 20-21 Aug 2021. In southeast Garden Co, 18 were at Clear Creek WMA 17 Jul 2015, and 5-12 birds were south of Gering, Scotts Bluff Co 25-28 Jul 1994. An early undocumented report 8 Jul 1987 Keith Co may have been a fall transient (Rosche 1994), as may have been two at Oliver Reservoir, Kimball Co 4 Jul 2018.
Departure is in mid-Aug.
As in spring, there are few reports away from breeding areas, all in the period 17 Jul-29 Aug: 9 Aug 1995 Garden Co, 11 Aug 1974 Sheridan Co (Rosche 1982), 26 Aug 1979 Garden Co, 28 Aug 1993 Dawes Co, and 29 Aug 1986 Garden Co (Rosche 1994).
High counts: 80 at Cliffs Trailhead, Dawes Co 20-21 Aug 2021, 30 south of Gering 23 Aug 1998, 20 at Wildcat Hills NC 28 Jul 2017, and 15 south of Gering 2 Aug 1996.
Images
Abbreviations
NC: Nature Center
NM: National Monument
NWR: National Wildlife Refuge
SL: Sewage Lagoons
SP: State Park
UNSM: University of Nebraska State Museum
WMA: Wildlife Management Area (State)
Literature Cited
Brown, C., A. Knott, and E.J. Damrose. 2020. Violet-green Swallow (Tachycineta thalassina), version 1.0. In Birds of the World (A. F. Poole, Editor). Cornell Lab of Ornithology, Ithaca, NY, USA. https://doi.org/10.2173/bow.vigswa.01.
Bruner, L., R.H. Wolcott, and M.H. Swenk. 1904. A preliminary review of the birds of Nebraska, with synopses. Klopp and Bartlett, Omaha, Nebraska, USA.
Clements, J.F., T.S. Schulenberg, M.J. Iliff, D. Roberson, T.A. Fredericks, B.L. Sullivan, and C.L. Wood. 2016. The eBird/Clements checklist of birds of the world: v2016.
Faulkner, D. 2010. Birds of Wyoming. Roberts and Company, Greenwood Village, Colorado.
Johnsgard, P.A. 1980. A preliminary list of the birds of Nebraska and adjacent Great Plains states. Lincoln, Nebraska, USA.
Johnsgard, P.A. 1990. Additional observations of the birds of the Lake McConaughy region. NBR 58: 52-54.
Mollhoff, W.J. 2022. Nest records of Nebraska birds. Nebraska Ornithologists' Union Occasional Paper Number 9.
Pyle, P. 1997. Identification Guide to North American Birds. Part I, Columbidae to Ploceidae. Slate Creek Press, Bolinas, California, USA.
Rapp, W.F. Jr., J.L.C. Rapp, H.E. Baumgarten, and R.A. Moser. 1958. Revised checklist of Nebraska birds. Occasional Papers 5, Nebraska Ornithologists' Union. Crete, Nebraska, USA.
Rosche, R.C. 1982. Birds of northwestern Nebraska and southwestern South Dakota, an annotated checklist. Cottonwood Press, Crawford, Nebraska, USA.
Rosche, R.C. 1994. Birds of the Lake McConaughy area and the North Platte River valley, Nebraska. Chadron, Nebraska, USA.
Recommended Citation
Silcock, W.R., and J.G. Jorgensen. 2022. Violet-green Swallow (Tachycineta thalassina). In Birds of Nebraska — Online. www.BirdsofNebraska.org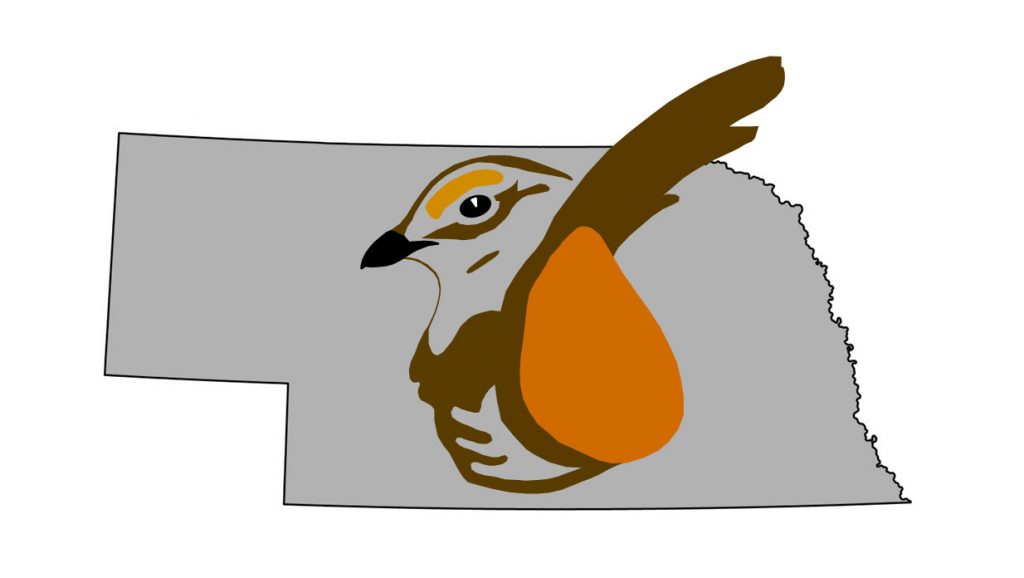 Birds of Nebraska – Online
Updated 25 Dec 2022