Vireo gilvus gilvus, V. g. brewsteri
Status:  Common regular breeder and spring and fall migrant statewide.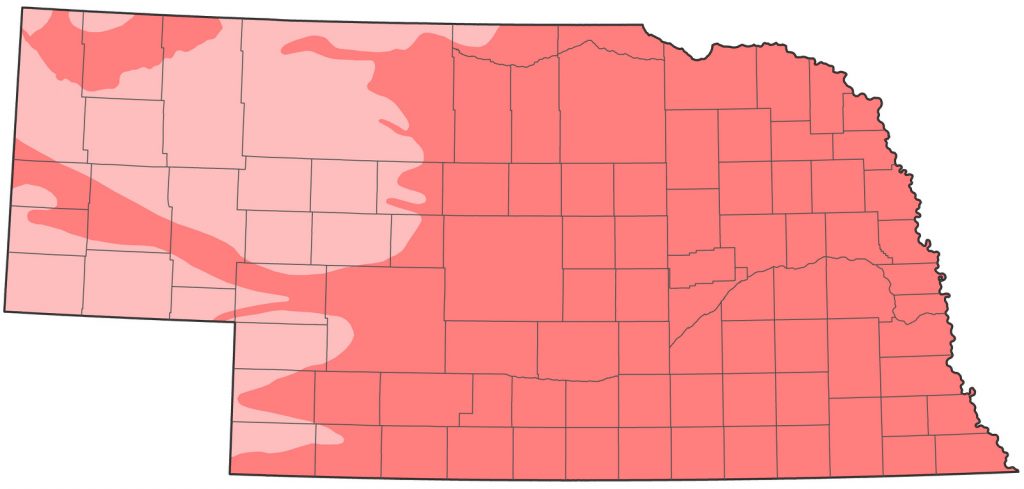 Documentation: Specimens: UNSM ZM6788, 23 May 1900 Monroe Canyon, Sioux Co (swainsonii [=brewsteri]; Bruner, handwritten annotation in his copy of Bruner 1896 in possession of WRS); UNSM ZM6789, 26 Apr 1901 Lancaster Co (gilvus).
Taxonomy:  There are five subspecies, three of which occur north of Mexico (Pyle 1997): swainsonii, from southeast Alaska to southern Northwest Territories south to California, brewsteri, from southern Idaho and western South Dakota south to Arizona and southwest Texas, and gilvus, from south-central Alberta south to Louisiana and east to Maine and North Carolina.
Two subspecies occur in Nebraska, brewsteri and gilvus. Differences between them are most apparent in fresh fall plumage (Pyle 1997). It has been suggested that the two may be separate species, differing "morphologically, vocally, and genetically" (Sibley and Monroe 1990).
Western brewsteri breeds in the Panhandle, including Sioux Co and "Crescent Lake" (Phillips 1991, Pyle 1997, AOU 1957), and eastern gilvus breeds in eastern and central Nebraska, west to the South Platte River Valley into Colorado (Leukering and Mlodinow 2017).  It might be expected that Warbling Vireos between the Panhandle and the east-central are intergrades, although it would be important and possibly revealing to delineate the ranges and characteristics of birds in the putative contact zone, especially by recordings of vocalizations.
Spring:  Apr 26,26,27 <<<>>> summer (west), Apr 14,16,18 <<<>>> summer (elsewhere)
There is an early date at Fontenelle Forest, Sarpy Co 9 Apr 2008.
Migration data indicate that arrival in the Panhandle is about 10 days later than elsewhere, perhaps in part due to differing schedules of the two subspecies discussed above.
The only Panhandle reports of "Eastern" Warbling Vireo V. gilvus gilvus are at Fort Robinson SHP, Dawes Co 20 May 2015 (Rick Wright, personal communication; vocalizing) and 18 Jun 2015, possibly the same individual (see Summer).
High counts:  100+ at Twin Lakes, Lancaster Co, 6 May 2000, 84 at Fontenelle Forest, Sarpy Co 12 May 2018, 42 in Furnas Co 29 May 2005, and 40 at Medicine Creek Reservoir, Frontier Co 27 May 2001.
Summer:  Data from BBS routes and eBird show that Warbling Vireos breed statewide, with somewhat lower densities in the Panhandle and the western Sandhills.  BBS trend analysis shows an average annual increase of 1.11% (95% C.I.; 0.03, 3.21) statewide 1966-2013.  Breeding season reports of birds identified as western brewsteri are limited to the Pine Ridge; birds identified as eastern gilvus document occurrence west to the Valentine area in Cherry Co in the north and Keith Co in the south, with few reports in the intervening Sandhills (eBird.org, accessed March 2018). Bray (1994) stated that the species was not known to breed at NNF Halsey, Thomas Co, where it was a migrant only, although there are more recent records indicating that it occurs there during the breeding season.  Eastern gilvus breeds from Keith Co along the South Platte River Valley well into the eastern plains of Colorado, where it occurs in riparian cottonwood/willow habitat (eBird.org; Leukering and Mlodinow 2017). Two gilvus were at Lake Ogallala, Keith Co 24 Jul 2016 and one was "told by song" near Ogallala, Keith Co 15 Jun 2017.
Breeding Phenology:
Nest building: 8 May
Eggs: 3-19 Jun
Fledglings: 12 Jul
Fall: summer <<<>>> Sep 14,15,16 (west), summer <<<>>> Oct 5,5,5 (elsewhere)
Departure in the Panhandle is completed by early Sep, elsewhere by early Oct, an approximate 20-day difference, as in spring; this suggests differing migration schedules of the two subspecies.
There are later reports from the Panhandle 21 Sep 2013 Banner Co, 25 Sep 2008 banded Scotts Bluff Co, 30 Sep 1994 Scotts Bluff Co, 2 Oct 2004 Scotts Bluff Co, and 8 Oct 1978 Garden Co. Elsewhere there are later reports 8 Oct 2015 Omaha, Douglas Co, 10 Oct 2015 Merrick Co, 13 Oct 1934 Webster Co (Ludlow 1935), 20 Oct 1977 Howard-Hall Cos, and one extremely late that was banded at Neale Woods NC, Douglas Co 17 Nov 2001 (Betty Grenon and Craig Hensley, personal communication). These later reports also reflect differential migration timing between the west and elsewhere.
A banding record of interest is of a Warbling Vireo banded 20 May 1979 at Norfolk, Mdison Co, Nebraska and recovered in Guatemala, where this species winters, 8 Oct 1982.
Documented reports of "Western" Warbling Vireo are few and limited to the Panhandle; a "Western" Warbling Vireo V. gilvus brewsteri, was photographed at Chadron SP's banding station 3 Sep 2014 (LeFever 2014). Five of seven birds netted at Oliver Reservoir, Kimball Co 31 Aug 2000 were clearly brewsteri, and two netted there 21 Aug 2001 were also brewsteri (Stephen J. Dinsmore, personal communication). Other reports are of two in Kimball Co 2 Sep 2018, one "brighter than eastern birds" 6 Sep 2015 Dawes Co, one in Kimball Co 7 Sep 2015, and one at Fort Robinson SHP, Dawes Co 15 Sep 2015.
High counts:  67 at Schuyler, Colfax Co 7 Sep 2014, 50 in Dakota Co 6 Sep 2014, and 17 at Ponca SP, Dixon Co 2 Sep 2018.
Abbreviations
BBS: Breeding Bird Survey
NC: Nature Center
NNF: Nebraska National Forest
SHP: State Historical Park
UNSM: University of Nebraska State Museum
Acknowledgement
Photograph (top) of a Warbling Vireo at Papillion, Sarpy Co 6 May 2014 by Phil Swanson.
Literature Cited
American Ornithologists' Union [AOU]. 1957. The AOU Check-list of North American birds, 5th ed.  Port City Press, Baltimore, Maryland, USA.
Bray, T.E. 1994. Habitat utilization by birds in a man-made forest in the Nebraska Sandhills. Master's thesis, University of Nebraska-Omaha, Omaha, Nebraska, USA.
LeFever, J.  2014.  Checklist S19659130:  Chadron SP–Banding Station Area, Dawes County, Nebraska, US.  eBird.org, accessed 4 Jun 2018.
Leukering, T., and S.G. Mlodinow. 2017. Selected Bird Subspecies of Interest in Colorado: Part 1.   Colorado Birds 51: 154-169.
Ludlow, C.S. 1935. A quarter-century of bird migration records at Red Cloud, Nebraska. NBR 3: 3-25.
Phillips, A.R. 1991. The known birds of North and Middle America. Part 2. Published by the author, Denver, Colorado, USA.
Pyle, P. 1997. Identification Guide to North American Birds. Part I, Columbidae to Ploceidae. Slate Creek Press, Bolinas, California, USA.
Sibley, C.G., and B.L. Monroe, Jr. 1990. Distribution and taxonomy of birds of the world. Yale University Press, New Haven, Connecticut, USA.
Recommended Citation
Silcock, W.R., and J.G. Jorgensen. 2018.  Warbling Vireo (Vireo gilvus), Version 1.0. In Birds of Nebraska — Online. www.BirdsofNebraska.org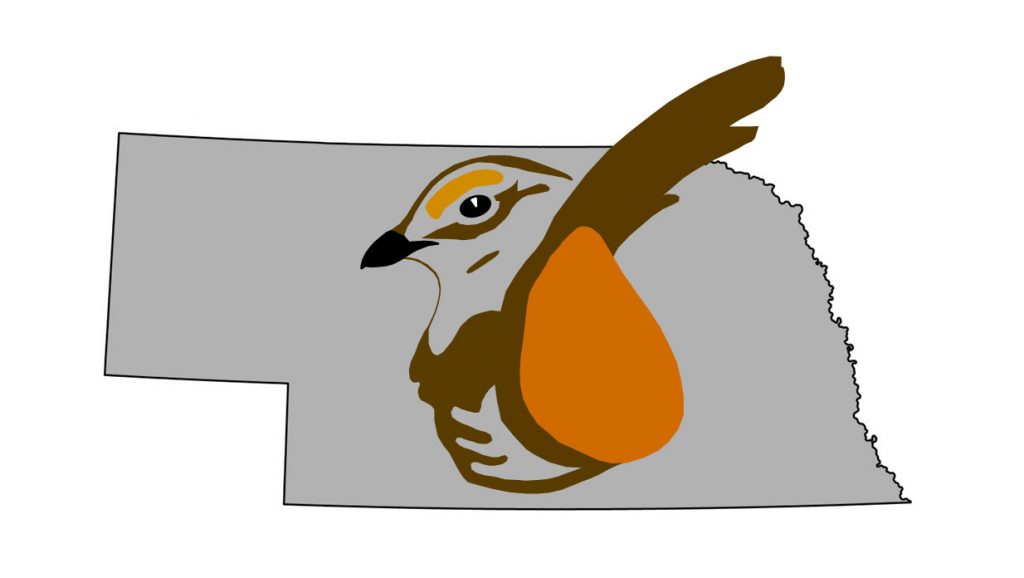 Birds of Nebraska – Online