Sialia mexicana
Status:  Accidental in spring. (Note- this record is yet to be reviewed by NOURC)
Documentation: photograph: 7 Apr 2023 along County Road 5, Kimball Co at 41.005 -104.011 (Burke, Pheneger; eBird.org).
Taxonomy:  Six subspecies are recognized (Gill et al 2022), three in Mexico and these north of Mexico: occidentalis, breeding from southern British Columbia to south-central Montana and south to southern California and Nevada, wintering to southern New Mexico, bairdii, breeding from central Utah to central Colorado and south to southern Arizona and southwest New Mexico, wintering to south Texas, and jacoti, resident in southeast New Mexico and southwest Texas.
The Nebraska record is presumed to be of bairdii.
Record: One of a group of three was photographed 7 Apr 2023 by Peter Burke and Luke Pheneger along County Road 5 in southwestern Kimball Co. The coordinates cited above indicate the birds were 0.25 mi north of Colorado and 2.2 mi east of Wyoming.
Comments: There are at least seven additional published Nebraska reports (Bray et al 1986), none acceptably documented.  There are three spring reports: 9 May 2002 (2) Scottsbluff, Scotts Bluff Co (Brogie 2003), 11 April 1964 Dawes Co (Gates 1964), and 19-20 May 1972 Cherry Co (Cortelyou 1972). There are five fall reports: one of a group in Webster Co 21-26 Aug 1963 was identified as this species by "the brown patch across the back of one of a group when in flight" (Turner 1964); Aughey watched one in Aug feeding along the Niobrara River about seven miles from its mouth in Knox Co (Bruner et al 1904); the same observer reported it as "abundant" in Otoe Co, an observation considered certainly incorrect (Sharpe 1993); and a description of two at Wildcat Hills NC, Scotts Bluff Co 25 Oct 2018 was not accepted by NOURC due to insufficient detail (Brogie 2019). There are two other fall reports, neither with details: 5 Oct 1959 Webster Co and 19 Oct 1968 Scotts Bluff Co.
A report of "hundreds" along the Platte River near Benedict, Polk Co in fall 1980 (Williams 1981) almost certainly refers to Eastern Bluebirds. A set of eggs collected by Carriker in Sioux Co (UNSM ZM9280) and ascribed to this species was presumed mislabeled (Ducey 1988); Mollhoff (2022) determined that the collector's original nest card was labeled arcticus, the name for Mountain Bluebird in use at the time the eggs were collected.
This is the "least migratory of the three bluebird species" (Dunn 1981, Guinan et al 2020); there are very few records on the Great Plains away from the Rocky Mountains. There are two records, Apr and Jun, for the Black Hills of Wyoming and three records of outliers in Laramie Co, Wyoming for Mar, Apr, and Oct. Overall there are few records for Wyoming (Faulkner 2010). On the northeastern Colorado plains, Andrews and Righter (1992) cited about 12 records in the periods Mar-Apr and Oct-Nov; eBird.org (accessed Apr 2023) shows five eastern Colorado records, in Apr (2), Sep, Oct, and Nov. Although there are four confirmed reports from Kansas 23 Mar and 5 Nov-16 Dec, Thompson et al (2011) considered this species "over-reported" in the state; eBird.org (accessed Nov 2023) has no records for Kansas. South Dakota has two records, in May and Jun (Tallman et al 2002).
Images
Abbreviations
NC: Nature Center
NOURC: Nebraska Ornithologists' Union Records Committee
UNSM: University of Nebraska State Museum
Literature Cited
Andrews, R., and R. Righter. 1992. Colorado birds.  Denver Museum of Natural History, Denver, Colorado, USA.
Bray, T.E., B.K. Padelford, and W.R. Silcock. 1986. The birds of Nebraska: A critically evaluated list. Published by the authors, Bellevue, Nebraska, USA.
Brogie, M.A. 2003. 2002 (14th) Report of the NOU Records Committee. NBR 71: 136-142.
Brogie, M.A. 2019. 2018 (30th) Report of the NOU Records Committee. NBR 87: 96-109.
Bruner, L., R.H. Wolcott, and M.H. Swenk. 1904. A preliminary review of the birds of Nebraska, with synopses. Klopp and Bartlett, Omaha, Nebraska, USA.
Cortelyou, R.G. 1972. The Seventy-first Spring Meeting. NBR 40: 27.
Ducey, J.E. 1988. Nebraska birds, breeding status and distribution. Simmons-Boardman Books, Omaha, Nebraska.
Dunn, J.L. 1981. The identification of female bluebirds. Birding 13: 4-11.
Faulkner, D.W. 2010. Birds of Wyoming. Roberts and Company, Greenwood Village, Colorado, USA.
Gates, D. 1964. Thirty-ninth Annual Cooperative Spring Migration and Occurrence report. NBR 32: 66-81.
Gill, F., D. Donsker, and P. Rasmussen (Eds). 2022. IOC World Bird List (v 12.2). Doi 10.14344/IOC.ML.12.2.  http://www.worldbirdnames.org/.
Guinan, J.A., P.A. Gowaty, and E.K. Eltzroth. 2020. Western Bluebird (Sialia mexicana), version 1.0. In Birds of the World (A. F. Poole, Editor). Cornell Lab of Ornithology, Ithaca, NY, USA. https://doi.org/10.2173/bow.wesblu.01.
Mollhoff, W.J. 2022. Nest records of Nebraska birds. Nebraska Ornithologists' Union Occasional Paper Number 9.
Sharpe, R.S. 1993. Samuel Aughey's list of Nebraska birds (1878): a critical evaluation. NBR 61: 3-10.
Tallman, D.A., Swanson, D.L., and J.S. Palmer. 2002. Birds of South Dakota. Midstates/Quality Quick Print, Aberdeen, South Dakota, USA.
Thompson, M.C., C.A. Ely, B. Gress, C. Otte, S.T. Patti, D. Seibel, and E.A. Young. 2011. Birds of Kansas.  University Press of Kansas, Lawrence, Kansas, USA.
Turner, H. 1964. 1963 Observations in Webster County. NBR 32: 60-61.
Williams, F. 1981. Southern Great Plains Region. American Birds 35: 198-201.
Recommended Citation
Silcock, W.R., and J.G. Jorgensen.  2023.  Western Bluebird (Sialia mexicana). In Birds of Nebraska — Online. www.BirdsofNebraska.org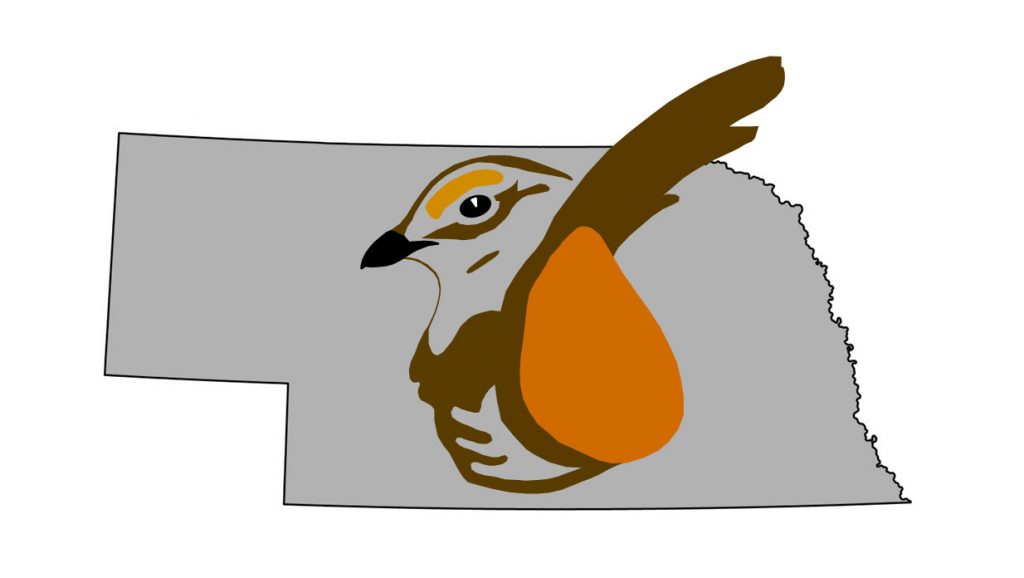 Birds of Nebraska – Online
Updated 28 Nov 2023