Tyrannus verticalis
Status: Common regular spring and fall migrant and breeder west and central, fairly common east.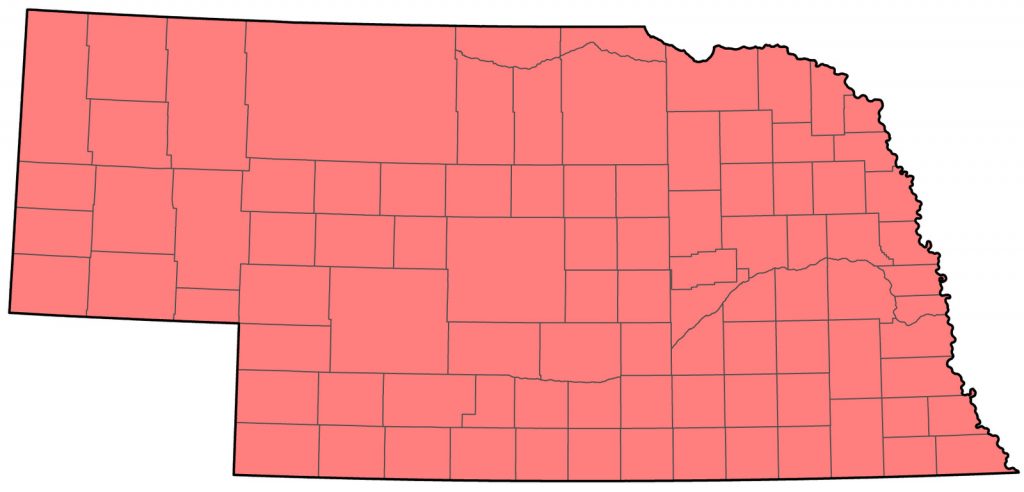 Documentation: Specimen: UNSM ZM13464, 10 May 1903 Lancaster Co.
Taxonomy: No subspecies are recognized (Pyle 1997).
Hybridization between this species and Eastern Kingbird may have occurred in two locations in Nebraska; see https://birds.outdoornebraska.gov/western-kingbird…lycatcher-hybrid/.
Spring: Apr 21, 22, 22 <<<>>> summer
Earlier dates are 9 Apr 2021 Cedar Co, 12 Apr 2010 Douglas Co, 13 Apr 2007 Douglas Co, and 14-22 Apr 2022 Madison Co.
Migrants occur statewide, with peak migration mid-late May.
This species has a strange affinity for the eastern edge of Eppley Airfield in Omaha; perhaps the Missouri River is somewhat of a barrier. No fewer than 60 were there 27 May 2010, up from the 21 there 1 May, and 28 were there 4 Jun 2019.
High counts: 311 in Keith Co 13 May 2004, 241 in Hall Co 13 May 2006, 84 at Lake Minatare, Scotts Bluff Co 20 May 2022, and 60 at Eppley Airfield, Omaha, Douglas Co 27 May 2010.
Summer: This species breeds statewide, although numbers are lower in the east; counts made across the state 15-17 May 2005 showed Western: Eastern Kingbird ratio east of the Panhandle (six counties) of 302:112 and in the Panhandle (four counties) 213:31 (Stephen J. Dinsmore, personal communication). BBS and eBird data reflect this decrease in density from west to east across the state.
Western Kingbird expanded its breeding range in the 20th Century eastward across Nebraska (Swenk and Dawson 1921; Squires 1928). Bruner et al (1904) stated that it occurred east to about the 100th meridian and to the mouth of the Niobrara River in the north, and further east was but a rare migrant. However, there is an early eastern record of a nest with eggs 13 Jun 1874 in Douglas Co (Carpenter; Mollhoff 2022). It now is not uncommon in eastern cities and towns, and sometimes it may be locally numerous; three pairs were found along 40th St in Omaha 29 Jul 2009. In Jefferson Co in the 1960s Western Kingbird was rare to absent, but in 2020 Eastern and Western occur in about equal numbers (Matt Hansen, pers. comm.).
Breeding Phenology:
Eggs: 4 May-16 Jul
Nest-building: 30 Jun
Incubation: 4 Jul
Nestlings: 11-18 Jul
Fledglings: 2 Jun-4 Aug
High counts: 150 in the Lake McConaughy, Keith Co area 22 Jun 2002 and 86 in Cherry Co 28 Jul 2009.
Fall: summer <<<>>>> Oct 1, 1, 2
Later dates are 4 Oct 1992 Brown Co, 4 Oct 2017 Douglas Co, 8 Oct 2005 Lancaster Co, 9 Oct 2009 Dodge Co, and 12 Oct 2002 Sherman Co (Brogie 2003).
Loose groups may organize by the end of Jul; 148 were counted in Keith Co 28 Jul 2001 and 50+ at a location in Scotts Bluff Co 27 Jul 2003, and, in the east, 20 in Lancaster Co 13 Jul 2007. Adults leave up to a month before juveniles and pause migration to molt in the southwest (Barry et al 2009, Gamble and Bergin 2020), a form of molt migration. Gamble and Bergin (2020) cited Phillips et al (1964), who detected two fall migration peaks in Arizona, mid-Jul and Sep to early Oct, that probably were a result of these adult/juvenile differences. Most have departed by mid-Sep, about a week earlier in the east, but it has occurred in Minnesota as late as early Nov.
Rosche (1994) stated that in the west "most yellow-breasted kingbirds seen after about 10 Sep tend to be Cassin's."
High counts: early peak: 148 in Keith Co 28 Jul 2001, and 44 at Eppley Airfield, Omaha 4 Aug 2015; later peak: 188 around Lake McConaughy 22 Aug 2000, and 70+ in Cherry Co 1 Sep 2007.
Images
Abbreviations
BBS: Breeding Bird Survey
UNSM: University of Nebraska State Museum
Literature Cited
Barry, J.H., L.K. Butler, S. Rohwer, and V.G. Rohwer. 2009. Documenting molt-migration in Western Kingbird (Tyrannus verticalis) using two measures of collecting effort. Auk 126: 260-267.
Brown, C.R., M.B. Brown, P.A. Johnsgard, J. Kren, and W.C. Scharf. 1996. Birds of the Cedar Point Biological Station area, Keith and Garden Counties, Nebraska: Seasonal occurrence and breeding data. Transactions of the Nebraska Academy of Sciences 23: 91-108.
Bruner, L., R.H. Wolcott, and M.H. Swenk. 1904. A preliminary review of the birds of Nebraska, with synopses. Klopp and Bartlett, Omaha, Nebraska, USA.
Cortelyou, R.G. 1968. 1967 (Tenth) Fall Occurrence Report. NBR 36: 58-67.
Gamble, L.R. and T.M. Bergin. 2020. Western Kingbird (Tyrannus verticalis), version 1.0. In Birds of the World (A. F. Poole, Editor). Cornell Lab of Ornithology, Ithaca, NY, USA. https://doi.org/10.2173/bow.weskin.01.
Glandon, E.W., and R. Glandon. 1935. Further additions to the list of Logan County birds. NBR 3: 29-31.
Mollhoff, W.J. 2022. Nest records of Nebraska birds. Nebraska Ornithologists' Union Occasional Paper Number 9.
Phillips, A.C., J.T. Marshall, Jr., and G.B. Monson. 1964. The Birds of Arizona. University of Arizona Press, Tucson, Arizona, USA.
Pyle, P. 1997. Identification Guide to North American Birds. Part I, Columbidae to Ploceidae. Slate Creek Press, Bolinas, California, USA.
Rosche, R.C. 1994. Birds of the Lake McConaughy area and the North Platte River valley, Nebraska. Published by the author, Chadron, Nebraska, USA.
Squires, W.A. 1928. The eastward advance of the Arkansas Kingbird. Bird-Lore 30: 330.
Swenk, M.H., and R.W. Dawson. 1921. Notes on the distribution and migration of Nebraska birds I. Tyrant Flycatchers (Tyrannidae). Wilson Bulletin 33: 132-141.
Recommended Citation
Silcock, W.R., and J.G. Jorgensen. 2022. Western Kingbird (Tyrannus verticalis). In Birds of Nebraska — Online. www.BirdsofNebraska.org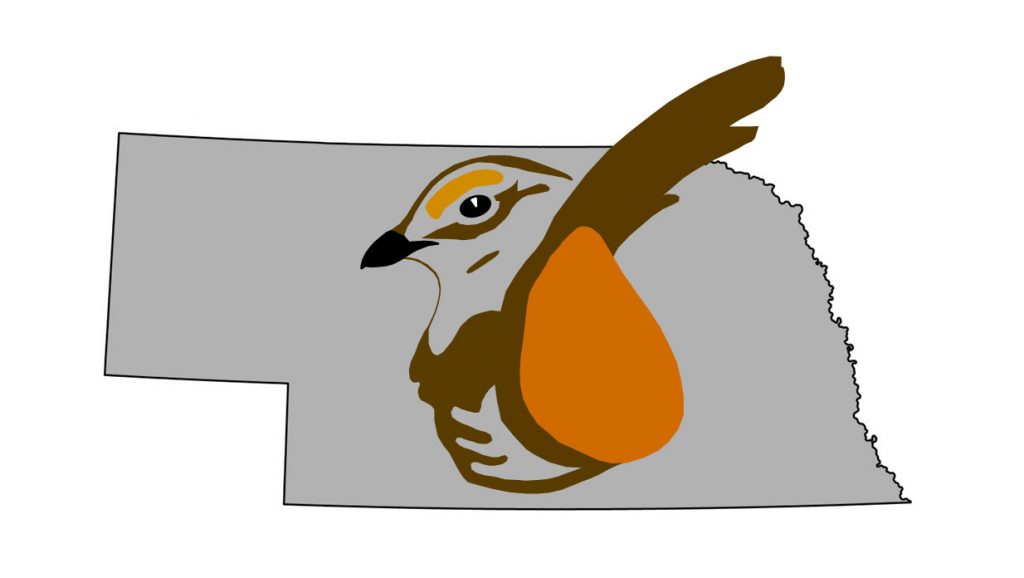 Birds of Nebraska – Online
Updated 21 Aug 2022