Numenius phaeopus rufiventris
Status: Rare regular spring migrant central and west, rare casual east. Rare casual fall migrant statewide.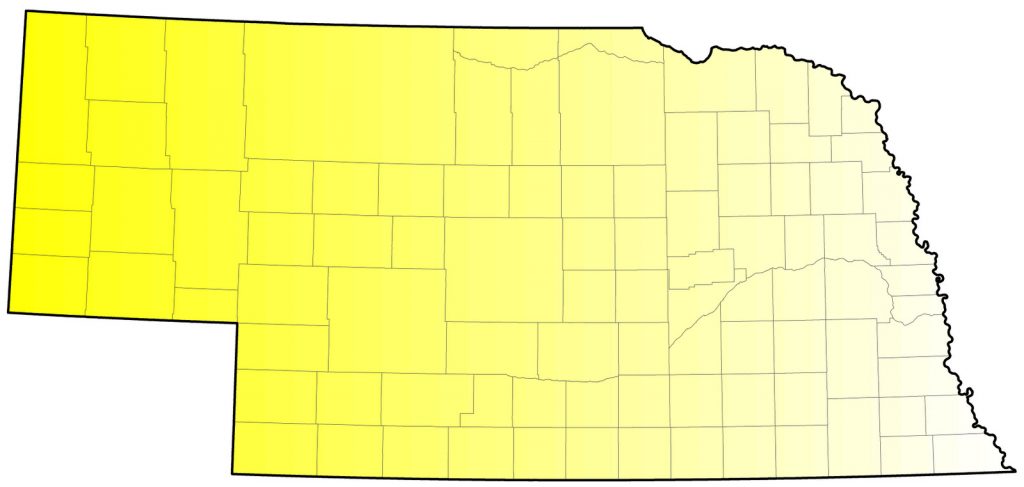 Documentation: Specimen: HMM 2498, 12 Oct 1901 Hall Co.
Taxonomy: Taxonomy of N. phaeopus is currently under debate. There is a proposal to split the American whimbrels as Hudsonian Whimbrel N. hudsonicus, from Eurasian Whimbrel N. phaeopus (Sangster et al 2011).
Some authors recognize two subspecies within Hudsonian Whimbrel, rufiventris of Alaska and northwest Canada, and hudsonicus of Hudson Bay and northeast Canada, but current authors generally merge these (Pyle 2008, Gill and Donsker 2017).
Based on tracking data (below), Nebraska birds are presumed rufiventris.
Spring: Apr 26, 26, 27 (Jorgensen 2012) <<<>>> May 23, 23, 25
Very few records are in Apr; peak migration is in a very short window 15-20 May with few records thereafter. At migration peak, large flocks can occur (see High Counts).
Satellite tracking has revealed the migratory routes of the small number of birds that are regularly observed in Nebraska; Whimbrels breeding at the MacKenzie Delta migrate eastwards in fall to join Hudson Bay breeders and then east and south over the Atlantic Ocean to northeast South America, while, in spring, Hudson Bay breeders return along the Atlantic Coast along with some MacKenzie Delta breeders, but most of the latter migrate north from the Gulf Coast through the Great Plains to the MacKenzie Delta (Wildlife Tracking 2017).
In the east away from the Rainwater Basin, there are these few records: one in Madison Co 20 Apr 2013, Lakes Babcock and North, Platte Co 30 Apr 2013, Antelope Co 1 May 2002 (Brogie 2003), two photographed in Douglas Co 15 May 2016, two photographed in Nemaha Co 15 May 2020, and three in Cass Co 25 May 2013. Jorgensen (2012) cited 18 records 27 Apr-24 May in the eastern Rainwater Basin.
High counts: 70 at Lake McConaughy, Keith Co 16 May 2005, 63 there 16 May 2004, and 62 at Bronco Lake, Box Butte Co 15 May 1948 (Wampole 1948).
Fall: As discussed above, most, if not all, Mackenzie Delta breeders travel eastward after breeding to the Atlantic Coast, and so fall records on the Great Plains are scarce. There are only five reports, one documented, the specimen cited above. There are no reports since 1984. The others are likely correct:
19 Jul 1979 Dawes Co (Rosche 1982)
25 Jul 1984 Buffalo Co (Lingle and Labedz 1984)
8 Oct 1898 Lancaster Co
12 Oct 1901 Hall Co (cited above).
17 Oct 1934 Douglas Co (Overing 1935).
The Jul reports are likely adults while the three reports for Oct are likely juveniles.
Images
Abbreviations
HMM: Hastings Municipal Museum
Literature Cited
Brogie, M.A. 2003. 2002 (14th) Report of the NOU Records Committee. NBR 71: 136-142.
Gill, F., and D. Donsker (Eds). 2017. IOC World Bird List (v 7.3), accessed 30 January 2018.
Jorgensen, J.G. 2012. Birds of the Rainwater Basin, Nebraska. Nebraska Game and Parks Commission, Lincoln, Nebraska, USA.
Overing, R. 1935. The Hudsonian Curlew near Omaha, Douglas County. NBR 3: 26.
Pyle, P. 2008. Identification Guide to North American Birds. Part II, Anatidae to Alcidae. Slate Creek Press, Bolinas, California, USA.
Rosche, R.C. 1982. Birds of northwestern Nebraska and southwestern South Dakota, an annotated checklist. Cottonwood Press, Crawford, Nebraska, USA.
Sangster, G., J. Collinson, P-A Crochet, A.G. Knox, D.T. Parkin, L. Svensson, and S.C. Votier. 2011. Taxonomic recommendations for British birds: seventh report. Ibis 153: 883-892.
Wampole, J.H. 1948. Hudsonian Curlews at Bronco Lake, Box Butte County. NBR 16: 54.
Wildlife Tracking. 2017. Whimbrel tracking in the Americas. http://www.wildlifetracking.org/?project_id=369, accessed 2 March 2018.
Recommended Citation
Silcock, W.R., and J.G. Jorgensen. 2021. Whimbrel (Numenius phaeopus). In Birds of Nebraska — Online. www.BirdsofNebraska.org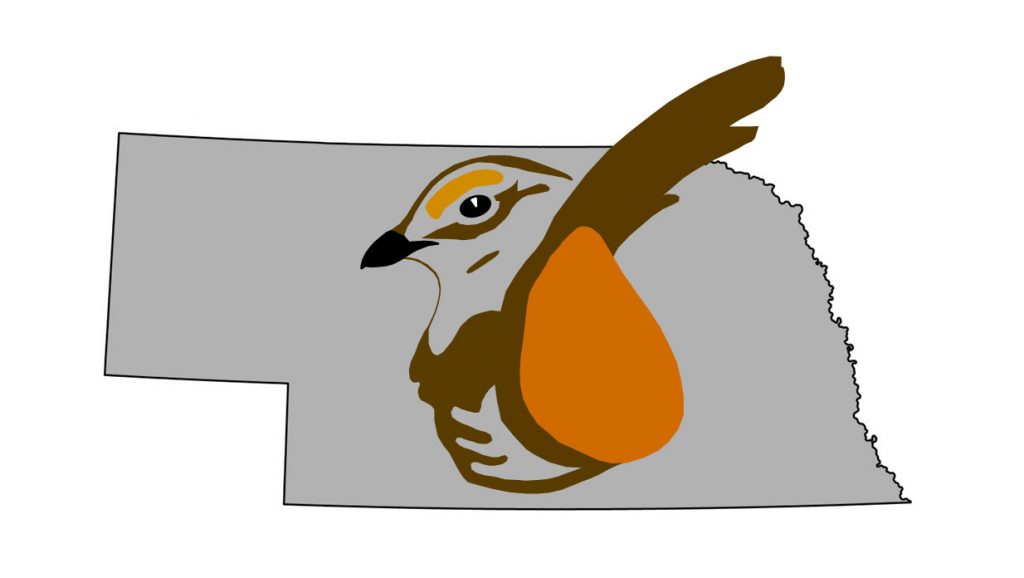 Birds of Nebraska – Online
Updated 1 Jun 2021