Zonotrichia albicollis
Status: Common regular spring migrant east and east-central, uncommon west-central, rare west. Common regular fall migrant east and east-central, uncommon west-central and west. Rare regular winter visitor southeast and east-central Platte River Valley, rare casual elsewhere.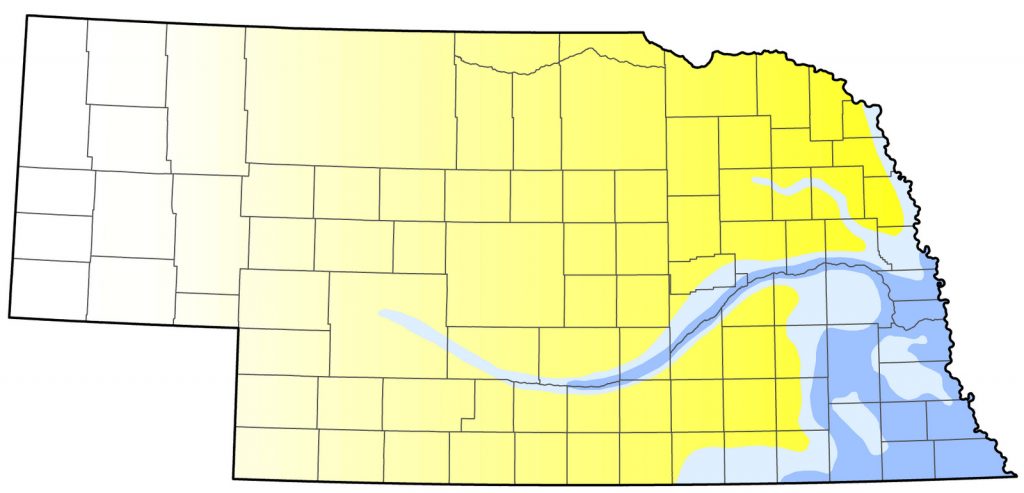 Documentation: Specimen: HMM 2015, 2 Jun 1915 Inland, Clay Co.
Taxonomy: No subspecies are recognized (Pyle 1997).
This species occurs as a tan-striped morph and the more familiar white-striped morph, as well as occasional intermediates; of interest is that the morphs exhibit negative assortative mating (individuals avoid mating with the same morph), a rare phenomenon which retains both morphs in the gene pool (Falls and Kopachena 2020; Woods 1999; Byers et al 1995; Rising 1996). The morphs are not population-specific and occur throughout the species' range (Byers et al 1995). First-winter birds all have tan crown stripes, but some retain these into adulthood (Bent 1968). A tan morph wintered in a Buffalo Co yard 1995-96 (Silcock 1996) and another was in the same yard 11 Oct 1998. All of the 13 reported in the Panhandle 20 Sep-16 Oct 1999 were tan morph birds, and one was banded at Chadron SP, Dawes Co 22 Sep 2014.
White-throated Sparrow hybridizes occasionally with other Zonotrichia species, White-crowned and Golden-crowned, as well as Dark-eyed Junco, although none are recorded for Nebraska. Nearest are one of a hybrid with White-throated Sparrow for Iowa (eBird.org, accessed Jul 2023). Hybrids of Dark-eyed Junco and White-throated Sparrow are numerous in the eastern US; nearest to Nebraska are two in Iowa, two in Minnesota, and one in Arkansas (eBird.org, accessed Jul 2023).
Spring: Apr 9, 10, 11 (away from winter range) <<<>>> May 25, 25, 26
Earlier dates away from the winter range are 21 Mar 2002 Garden Co, 24 Mar 2019 Rock Co, 30 Mar 2014 Dixon Co, and 5 Apr 2016 Rock Co. Reports Dec-early Mar are probably of wintering birds (see Winter).
Later dates are 28 May 2019 Brown Co, 2 Jun 1915 Inland, Clay Co (HMM 2015), 9 Jun 2015 Dodge Co, 22 Jun 2022 Madison Co (eBird.org), and 27 Jun 2023 Lancaster Co (Thomas Labedz, personal communication).
Migration, as determined from dates above away from the wintering area, is from mid-Apr through late May, peaking in early May.
White-throated Sparrow is uncommon as a migrant away from the east and rare in the Panhandle, especially in spring (Rosche 1982).
High counts: 250+ at N. P. Dodge Park, Omaha, 30 Apr 2003, 197 in Sarpy Co 11 May 1996, 65 in Sarpy Co 5 May 2005, and 60 at Holmes Lake, Lancaster Co 27 Apr 2019.
Fall: Sep 11, 12, 12 <<<>>> winter
Migrants arrive mid- to late Sep; sightings of probably the same bird were at a banding station at Chadron SP, Dawes Co 19 Sep-5 Oct 2015. Most are gone from the north and west by mid-Nov, although one was in Garden Co 21-23 Nov 1978 and another in Boyd Co 27 Nov 2018.
For Dec-early Mar records away from the breeding range, see Winter.
During the CBC period in late Dec and early Jan, most are found in the southeast, where high counts are 42 on the Lincoln CBC 17 Dec 1989 and 34 at the same location 16 Dec 1990. During the CBC period, reports are generally bounded by CBCs at Dixon, Loup, Kearney, and Harlan Cos, however singles were found on the Scottsbluff CBC 15 Dec 2001 and 20 Dec 2003, and three were at Lake McConaughy, Keith Co 2 Jan 2006.
High counts: 100 at Lake North, Platte Co 18 Oct 2006, 55 in southeast Washington Co 25 Oct 2014, and 50 in Dakota Co 11 Oct 2018.
Winter: White-throated Sparrow overwinters regularly, but only in small numbers, in the Missouri River Valley from Washington Co southward, west along the Platte River Valley to Buffalo Co and points south and east, and in the Elkhorn River Valley west to Antelope and Boone Cos.
Most wintering birds are found at feeders. The only record of overwintering of an individual away from the southeast is an "unprecedented" record of two wintering through 16 Apr 1994 at a Chadron, Dawes Co feeder (Grzybowski 1994).
Dec-early Mar reports away from the expected winter range are few: 10 Dec 2009 Morrill Co, 2 Jan 2000 Keith Co, 3 Jan 2022 near Crawford, Dawes Co, one photographed 4 Feb 2015 Lincoln Co, 6 Feb 1986 Scotts Bluff Co, 10 Feb 2017 Sherman Co, 10 Feb 2018 Sherman Co, 10 Feb 2023 Scotts Bluff Co, 16 Feb 2019 Scotts Bluff Co, and 3 Mar 2010 Dakota Co.
High counts: 61 at Fontenelle Forest, Sarpy Co 22 Jan 2017.
Images
Abbreviations
CBC: Christmas Bird Count
HMM: Hastings Municipal Museum
NWR: National Wildlife Refuge
SP: State Park
Literature Cited
Bent, A.C. 1968. Life histories of North American Cardinals, Grosbeaks, Buntings, Towhees, Finches, Sparrows, and allies. Bulletin of the United States National Museum 237. Three Parts. Dover Publications Reprint 1968, New York, New York, USA.
Byers, C., J. Curson, and U. Olsson. 1995. Sparrows and Buntings. A guide to the sparrows and buntings of North America and the World. Houghton Mifflin Company, Boston, Massachusetts, USA.
Falls, J.B. and J.G. Kopachena. 2020. White-throated Sparrow (Zonotrichia albicollis), version 1.0. In Birds of the World (A. F. Poole, Editor). Cornell Lab of Ornithology, Ithaca, NY, USA. https://doi.org/10.2173/bow.whtspa.01.
Grzybowski, J.A. 1994. Southern Great Plains Region. American Birds 48: 222-223.
Pyle, P. 1997. Identification Guide to North American Birds. Part I, Columbidae to Ploceidae. Slate Creek Press, Bolinas, California, USA.
Rising, J.D. 1996. A guide to the identification and natural history of the sparrows of the United States and Canada. Academic Press, New York, New York, USA.
Rosche, R.C. 1982. Birds of northwestern Nebraska and southwestern South Dakota, an annotated checklist. Cottonwood Press, Crawford, Nebraska, USA.
Silcock, W.R. 1996. Winter Field report, December-February 1995-1996. NBR 64: 5-17.
Woods, P.E. 1999. A familiar mystery: polymorphism and the White-throated Sparrow. Birding 31:263-266.
Recommended Citation
Silcock, W.R., and J.G. Jorgensen. 2023. White-throated Sparrow (Zonotrichia albicollis). In Birds of Nebraska — Online. www.BirdsofNebraska.org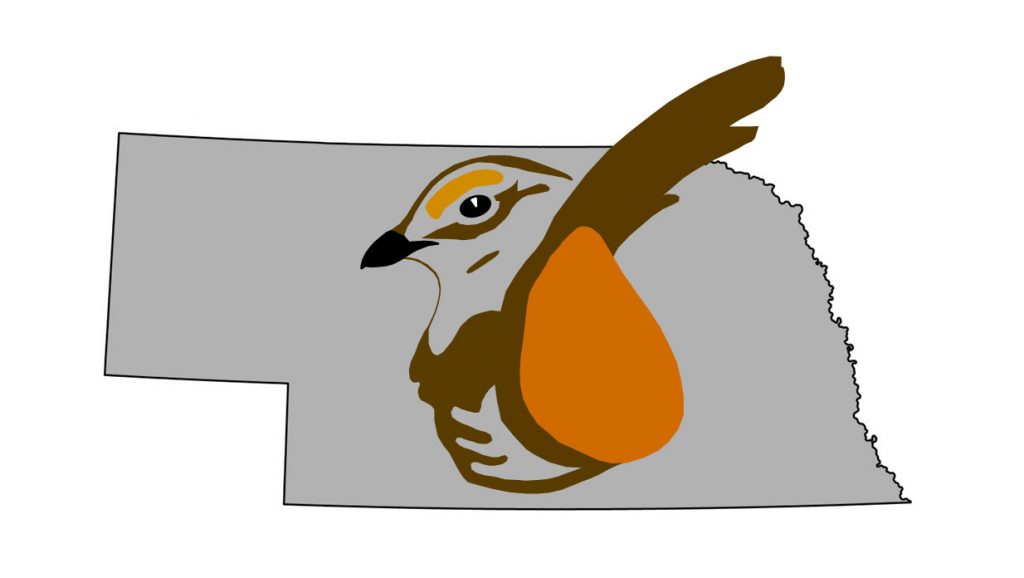 Birds of Nebraska – Online
Updated 21 Sep 2023