Aeronautes saxatilis saxatilis
Status: Fairly common regular spring and fall migrant west. Uncommon local regular breeder west.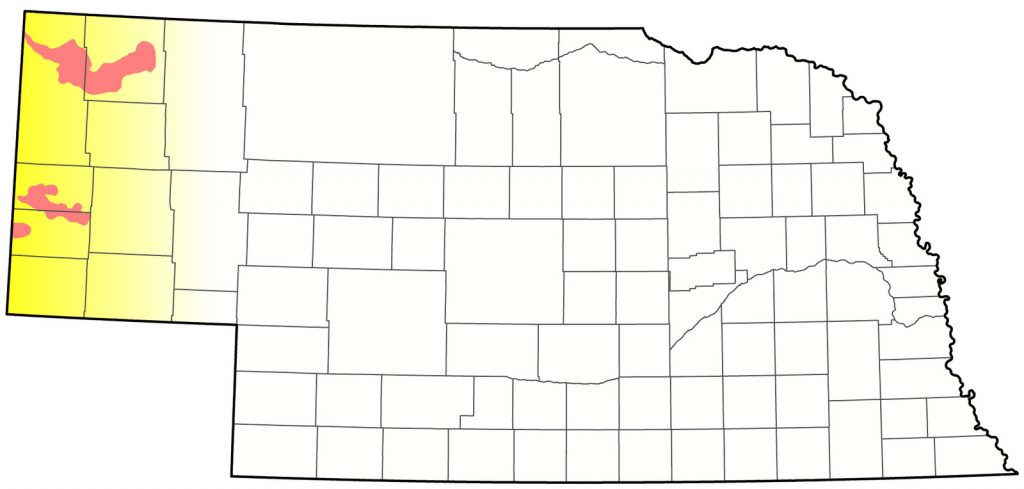 Documentation: Specimen: UNSM ZM12814, 1892 Squaw Canyon, Sioux Co.
Taxonomy: Two subspecies are recognized, one, nigrior, from southern Mexico to Honduras, and the other, saxatilis, from southwest Canada south to western Mexico, east to the western edge of the Great Plains.
Nebraska birds are saxatilis.
Spring: Apr 18, 19, 19 <<<>>> summer
Most arrive in late Apr, although there are earlier reports 10 Apr (Rosche 1982), and 13 Apr 2009 Scotts Bluff Co.
The only reports away from Sioux, Dawes, Banner, and Scotts Bluff Cos are sightings in Sheridan Co, at the east edge of the regular spring migration corridor, 6 May 2017, 6 May 2018, 14 May 1993, 16 May 2010, 21 May 2012, and 25 May 2019, and one in Bridgeport, Morrill Co 18 May 2021.
High counts: 30 at Scottsbluff NM, Scotts Bluff Co 12 May 1999, 20 there 17 May 1998, and 19 there 22 Apr 2000.
Summer: Currently this species occurs on the Pine Ridge, most commonly westward, but it has been observed in the breeding season as far east as Beaver Creek Valley, north of Hay Springs in northwestern Sheridan Co (Rosche 1982), where 1-3 were found 24 Jun 2020. Two were over Gordon, northeast Sheridan Co 6 Jun 2018. Mollhoff (2001) reported on a nest in West Ash Canyon, Dawes Co 12 Jun 1999 that was occupied again in 2000, but not 2001.
There is a good population at at Scotts Bluff NM, Scotts Bluff Co. It is also present in the Wildcat Hills from Scotts Bluff Co east to northeastern Banner Co at Wright's Gap, where one was reported 19 Jun 2010, and Hubbard's Gap, where up to three were present 30-31 Jul 2018. It has occurred at Jailhouse Rock, Morrill Co (NGPC files).

Breeding Phenology:
Eggs: 30 May-25 Jun (Mollhoff 2022)
Nestlings: 30 Jun- early Aug
Fledglings: 30 Jun- 24 Jul
High counts: 35-40 at Scotts Bluff NM 2 Jul 2002, 27 there 1 Jun and 29 Jul 2019, and 15 there 9 Jul 2017.
Fall: summer <<<>>> Sep 22, 22, 23
Most depart by mid-Sep, but two easterly reports below suggest movement may begin as early as late Jul. Later dates are 10 Oct 2017 Scotts Bluff Co, 15 Oct 2022 Scotts Bluff Co, and latest for the state is from a breeding location: seven at Scotts Bluff NM, Scotts Bluff Co 20 Oct 2022.
Migrants are rarely seen away from nesting locations; there are only three such records: one was seen at the west end of Lake McConaughy, Keith Co 29 Jul 2000, Rosche (1982) reported one at Whitney Lake, Dawes Co 3 Aug 1980, and one was picked up at a North Platte, Lincoln Co grain elevator 11 Oct 2005 and died 13 Oct. The latter are the easternmost and two of the three latest reports for the state.
High counts: 150 at Scotts Bluff NM 18 Aug 1995, 70 there 8 Aug 2006, and 60 there 2 Sep 2017.
Images
Abbreviations
NGPC: Nebraska Game and Parks Commission.
NM: National Monument
UNSM: University of Nebraska State Museum
WMA: Wildlife Management Area (State)
Literature Cited
Mollhoff, W.J. 2001. 1999-2000 Nebraska nesting report. NBR 69: 92-101.
Mollhoff, W.J. 2022. Nest records of Nebraska birds. Nebraska Ornithologists' Union Occasional Paper Number 9.
Rosche, R.C. 1982. Birds of northwestern Nebraska and southwestern South Dakota, an annotated checklist. Cottonwood Press, Crawford, Nebraska, USA.
Recommended Citation
Silcock, W.R., and J.G. Jorgensen. 2022. White-throated Swift (Aeronautes saxatilis). In Birds of Nebraska — Online. www.BirdsofNebraska.org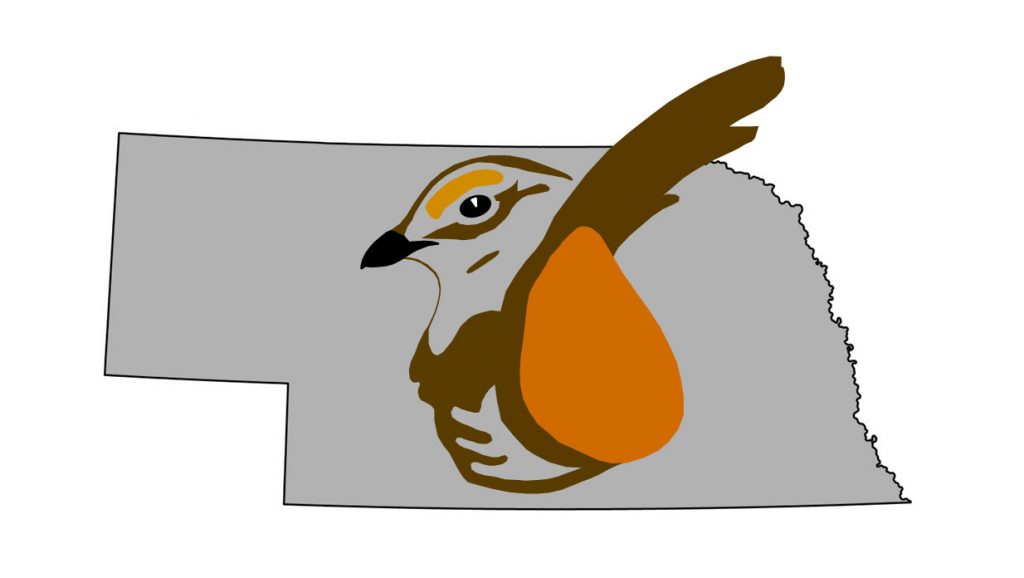 Birds of Nebraska – Online
Updated 16 Dec 2022