Loxia leucoptera leucoptera
Status: Uncommon casual winter visitor statewide. Rare casual summer visitor.
Documentation: Specimen: UNSM ZM7187, winter 1886 Fairbury, Jefferson Co.
Taxonomy: Two subspecies are recognized, bifasciata of Eurasia, and leucoptera breeding across Canada, northern USA and northern Rocky Mountains (Benkman 2020).
Nebraska birds are leucoptera.
Summer: The only documented records are of an adult male at Wildcat Hills NC, Scotts Bluff Co 15-23 Jun 2001 (Jorgensen 2003), one at Wildcat Hills NC 29 Jun 2005 (eBird.org), a female/immature at Creighton, Knox Co 5 Jul 2005 (Brogie 2006), and an immature at Harrison, Sioux Co 8 Aug 1996 (Silcock 1996). There are in addition three undocumented summer reports: 14 Jun (Johnsgard 1980), a report cited by Rosche (1982) of three seen seven miles south of Crawford, Dawes Co 29 Jun-4 Jul 1974, and 17-18 Aug 1981 "several" in Thomas Co (Williams 1982).
Summer reports from the Pine Ridge are of interest in that White-winged Crossbill may rarely breed in the Black Hills of South Dakota; although there are six summer records, breeding has not been confirmed (Tallman et al 2002). There are no nesting locations in eastern Wyoming (Faulkner 2010), but "when food is relatively scarce and declining, parents with fledglings leave the area and travel unknown but possibly long distances" (Benkman 2020).
Winter: Nov 4, 7, 8<<<>>> Apr 20, 25, May 1
About half of the reports are in Nov.
Earlier dates are 17 Sep 2019 at Wayne, Wayne Co (Ed Brogie photographs, eBird.org; Brogie 2020), 16 Oct 1970 Douglas Co, 22 Oct 1981 at York, York Co (Jorgensen 2012), 22 Oct 1984 Dawes Co, and 23 Oct 1919 Jefferson Co (specimen cited above).
Later dates are 4 May 2018 South Sioux City, Dakota Co (Brogie 2019), 5-19 May 1974 Scotts Bluff Co, 7 May 2000 Lincoln, Lancaster Co, five on 8 May 2020 in Gordon, Sheridan Co, one wintering in North Platte. Lincoln Co through 16 May 2021, one in Madison Co 19 May 2002, one at Norfolk, Madison Co 20 May 2021, and a single at a feeder the month of May 1989 in Madison Co (Grzybowski 1989).
Following the major winter irruption of 2001-2002, individuals persisted at winter feeder locations until 1 Jun in Omaha, Douglas Co and 20 Jun in Bassett, Rock Co, and at least three remained at the Old Lutheran Cemetery, Norfolk, Madison Co, through May. There was an irruption into the northeastern Great Plains in 2011-2012; three were at Norfolk 11 Feb, and a check of the white spruces in the Dakota City Cemetery, Dakota Co yielded 4-5 birds 1 Mar and as many as 20-25 on 4 Mar, an adult male was there 7 Mar (Brogie 2013) and the last sighting there was of two on 11 Mar. The only other report for 2011-2012 was of a young male at an Ogallala, Keith Co feeder 26 Mar (Brogie 2013). In the invasion of 2012-2013, there were reports of about 35 birds at eight locations west to Grand Island, Hall Co during the winter period, best count the 20+ at Holy Sepulchre Cemetery, Omaha 11-16 Nov (Brogie 2013), and last reported the six in Norfolk Lutheran Cemetery 6 Jan 2013. In winter 2020-2021 there were reports from several locations with a total of about 35 birds, best counts 12 in Norfolk, Madison Co 19 Dec and 12 in Douglas Co 28 Feb; furthest west was one at North Platte, Lincoln Co 9 Feb (eBird.org).
Most winter reports are from the east, although since 1981 this species has occurred infrequently, with most reports from the winters of 1984-85, 1989-90, 1995-96, 1997-98, 2001-2002, 2011-2012, 2012-2013, 2017-2018, 2019-2020, and 2020-2021. The only reports from winters other than these since 1981 are 7-8 Nov 1994 Scotts Bluff Co, 8 Nov 1986 Knox Co, 26 Dec 2021-2 Mar 2022 (1-2 at feeder) Douglas Co, 15 Jan 2016 Seward Co (Brogie 2017), 30 Jan 2005 at a Duncan, Platte Co feeder, 14 Feb 2006 Lincoln, 13 Mar 2008 at an Omaha feeder, and 11 Apr 2010 at Fort Niobrara NWR, Cherry Co.
High counts: 30 on the Norfolk CBC 16 Dec 1989, 20-25 at Dakota City Cemetery 4 Mar 2012, and 20+ at Holy Sepulchre Cemetery, Omaha 11-16 Nov 2012.
Images
Abbreviations
CBC: Christmas Bird Count
NWR: National Wildlife Refuge
UNSM: University of Nebraska State Museum
Literature Cited
Benkman, C.W. 2020. White-winged Crossbill (Loxia leucoptera), version 1.0. In Birds of the World (S. M. Billerman, Editor). Cornell Lab of Ornithology, Ithaca, NY, USA. https://doi.org/10.2173/bow.whwcro.01.
Brogie, M.A. 2006. 2005 (17th) Report of the NOU Records Committee. NBR 74: 69-74.
Brogie, M.A. 2017. 2016 (28th) Report of the NOU Records Committee. NBR 85: 128-142.
Brogie, M.A. 2018. 2017 (29th) Report of the NOU Records Committee. NBR 86: 131-142.
Brogie, M.A. 2019. 2018 (30th) Report of the NOU Records Committee. NBR 87: 96-109.
Brogie, M.A. 2020. 2019 (31st) Report of the NOU Records Committee. NBR 88: 124-134.
Faulkner, D.W. 2010. Birds of Wyoming. Roberts and Company, Greenwood Village, Colorado, USA.
Cortelyou, R.G. 1978. 1978 (Fifty-third) Spring migration and Occurrence Report. NBR 46: 66-85.
Grzybowski, J.A. 1989. Southern Great Plains Region. American Birds 43: 499-501.
Johnsgard, P. A. 1980. A preliminary list of the birds of Nebraska and adjacent Great Plains states. Published by the author, University of Nebraska, Lincoln, USA.
Jorgensen, J.G. 2003. 2001 (13th) Report of the NOU Records Committee. NBR 71: 97-102.
Jorgensen, J.G. 2012. Birds of the Rainwater Basin, Nebraska. Nebraska Game and Parks Commission, Lincoln, Nebraska, USA.
Rosche, R.C. 1982. Birds of northwestern Nebraska and southwestern South Dakota, an annotated checklist. Cottonwood Press, Crawford, Nebraska, USA.
Silcock, W.R. 1996. Fall Field Report, August-November 1996. NBR 64: 106-129.
Tallman, D.A., Swanson, D.L., and J.S. Palmer. 2002. Birds of South Dakota. Midstates/Quality Quick Print, Aberdeen, South Dakota, USA.
Williams, F. 1982. Southern Great Plains Region. American Birds 36: 192-194.
Recommended Citation
Silcock, W.R., and J.G. Jorgensen. 2022. White-winged Crossbill (Loxia leucoptera). In Birds of Nebraska — Online. www.BirdsofNebraska.org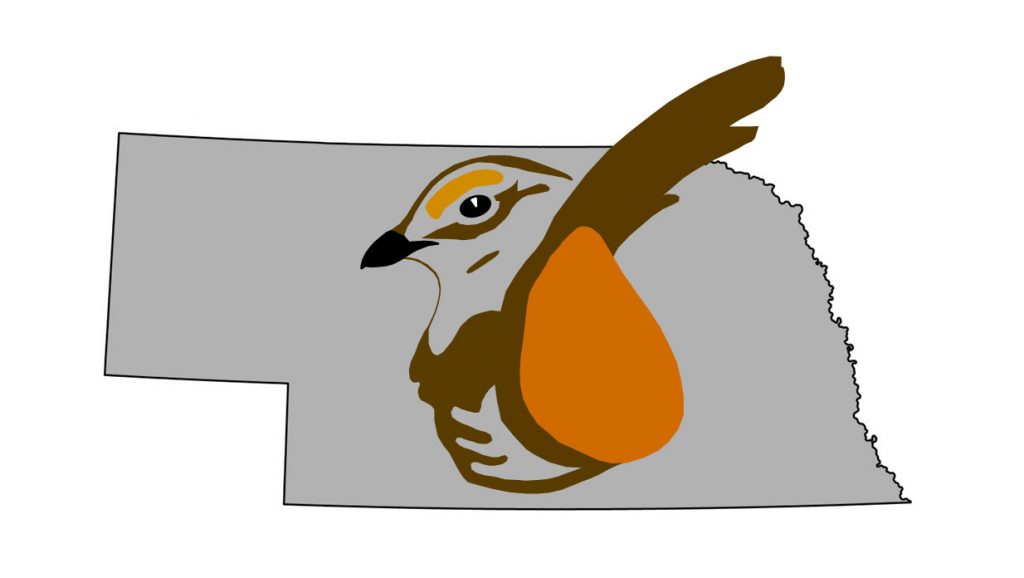 Birds of Nebraska – Online
Updated 28 Jun 2022