Sphyrapicus thyroideus
Status: Rare casual spring and fall visitor east and central.
Documentation: Specimen: UNSM ZM15986, 13 May 1988 Omaha, Douglas Co.
Taxonomy: No subspecies are recognized (Pyle 1997).
Spring: There are five reports, three documented:
24 Mar 1939, male at Hastings, Adams Co (Jones 1939)
5 May 1959, male near Grand Island, Hall Co (Gates 1959)
13 May 1988 male found dead at Creighton University, Omaha (cited above) (Wilson 1989; Grenon 1990).
Undocumented reports are of a "female" at Omaha 18 Feb 1945 (Haecker et al 1945, Haecker 1945), and a single bird visiting feeders in Omaha 4 Dec 1976 (Green 1977).
Fall: There is a single record.
13-24 Nov 2017 female North Platte, Lincoln Co (Brogie 2018).
Comments: This species is a summer resident in lower elevation ponderosa pine forests in the eastern Rocky Mountains of Colorado and Wyoming, arriving in Apr and leaving in Oct (Andrews and Righter 1992, Faulkner 2010). The 11 easterly records in Colorado, Wyoming, South Dakota, and Kansas do not exhibit a clear pattern, although most can be attributed to straying spring and fall migrants. The lack of reports from the Nebraska Panhandle, which is close to the nearest breeding birds in southeastern Wyoming, is puzzling, but may be due to the lower number of observers there.
Images
Abbreviations
UNSM: University of Nebraska State Museum
Literature Cited
Andrews, R., and R. Righter. 1992. Colorado birds. Denver Museum of Natural History, Denver, Colorado, USA.
Brogie, M.A. 2018. 2017 (29th) Report of the NOU Records Committee. NBR 86: 131-142.
Faulkner, D.W. 2010. Birds of Wyoming. Roberts and Company, Greenwood Village, Colorado, USA.
Gates, D. 1959. Thirty-fifth Annual Cooperative Spring Migration and Occurrence Report. NBR 27: 50-67.
Green, R.C. 1977. Notes from nature. A Bird's Eye View January 1977. Omaha Audubon Society, Omaha, Nebraska, USA.
Grenon, A.G. 1990. 1990 (Third) Report of the NOU Records Committee. NBR 58: 90-97.
Haecker, F.W., R.A. Moser, and J.B. Swenk. 1945. Checklist of the birds of Nebraska. NBR 13: 1-40.
Haecker, F.W. 1945. N.O.U. Cooperative Bird Migration and Occurrence List for the First Half of 1945. NBR 13: 58-64.
Jones, A.H. 1939. The Williamson's Sapsucker at Hastings, Adams County. NBR 7: 27-28.
Pyle, P. 1997. Identification Guide to North American Birds. Part I, Columbidae to Ploceidae. Slate Creek Press, Bolinas, California, USA.
Wilson, B.L. 1989. Williamson's Sapsucker in Omaha. NBR 57: 30.
Recommended Citation
Silcock, W.R., and J.G. Jorgensen. 2020. Williamson's Sapsucker (Sphyrapicus thyroideus). In Birds of Nebraska — Online. www.BirdsofNebraska.org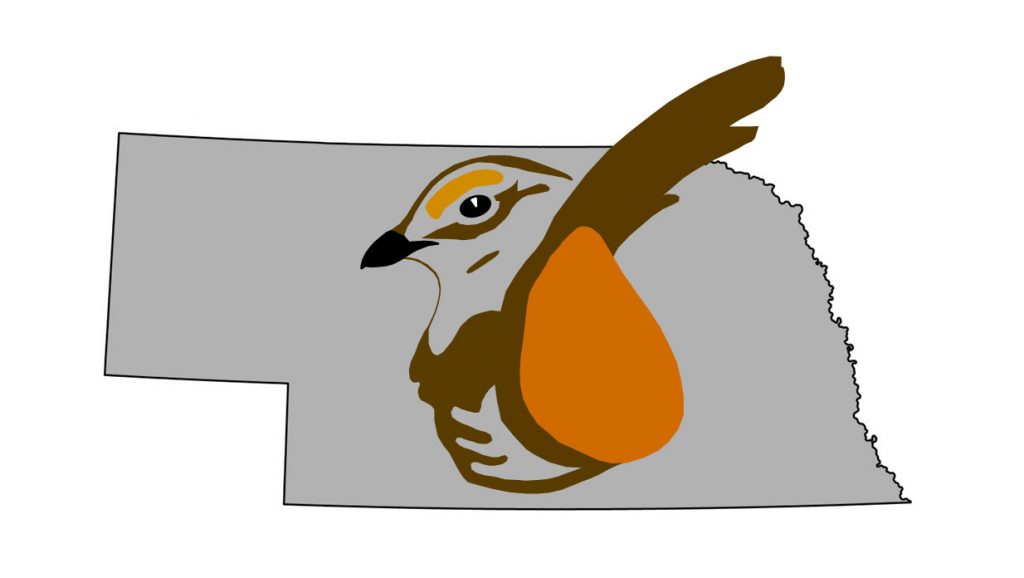 Birds of Nebraska – Online
Updated 28 Mar 2020