Troglodytes hiemalis hiemalis
Status: Uncommon regular spring and fall migrant east, rare central, rare casual west. Rare regular winter visitor southeast, rare casual elsewhere. Accidental in summer.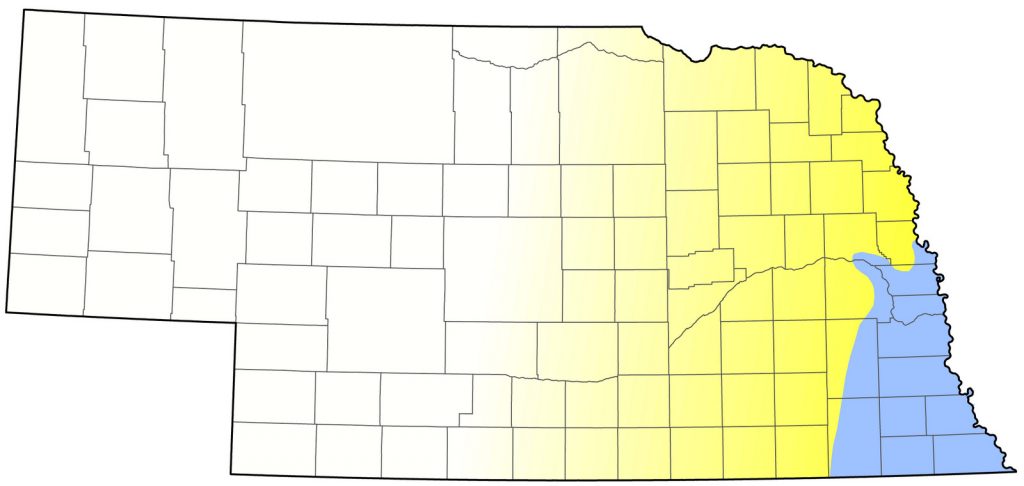 Documentation: UNSM ZM6573, 2 Dec 1901 Dunbar, Otoe Co.
Taxonomy: Recent genetic studies (Drovetski et al 2004, Toews and Irwin 2008) have resulted in splitting of former holarctic Winter Wren T. troglodytes into three species, two of which breed in North America (Chesser et al 2010). The newly-elevated species are Pacific Wren T. pacificus, Winter Wren T. hiemalis, and Eurasian Wren T. troglodytes.
The removal of the new species pacificus and trogolodytes and their 43 associated subspecies left only two subspecies within the newly-constituted North American Winter Wren: hiemalis, breeding in eastern Canada and the northeastern USA and wintering north to extreme southeast Nebraska and east and south within the eastern USA, and pullus of the Appalachian Mountains (Gill et al 2022).
According to AOU (1957), Rapp et al (1958), and Phillips (1986), subspecies T. h. hiemalis occurs in Nebraska as a migrant and winter resident.
Spring: winter <<<>>> May 12, 12, 15
Numbers peak in Apr and most depart by early May. There are later reports 24-25 May 2002 Omaha and 30 May 1965 Adams Co.
Winter Wrens are rare migrants in central Nebraska, although there are several winter reports (see Winter). The only Panhandle reports are 10 Mar 1998 Gering Cemetery, Scotts Bluff Co, 18 Mar 2018 near Chadron SP, Dawes Co, 5 Apr 2020 Stateline Island, Scotts Bluff Co, 21 Apr 2020 Ash Hollow SHP, Garden Co, 2 May 2001 at Wind Springs Ranch, Sioux Co, and 9 May 2010 in Scotts Bluff Co (see Winter). A dark-plumaged bird in Dundy Co 14 Mar 2015 was confirmed as a Winter Wren rather than Pacific Wren by video and vocalizations.
High counts: 9 at Fontenelle Forest, Sarpy Co 20 Apr 2018, 5 there 25 Apr 1999, and 5 there 16 Apr 2009.
Summer: A singing wren 23 May-13 Jun 2000 at Tyler Falls in the Fort Niobrara NWR, Cherry Co (Silcock 2000a, 2000b) was tape-recorded and determined to be a Winter Wren, not a Pacific Wren (Jorgensen 2003), but no evidence of breeding ensued (Mollhoff 2022). The nearest breeding areas for Winter Wren are in northeast Minnesota and Wisconsin.
Fall: Sep 12, 12, 12 (Williams 1974) <<<>>> winter (south and east), Sep 9, 12, 12 <<<>>> Jan 2, 2, 3 (north and west)
Migrants arrive in late Sep, with an apparent peak in numbers in Oct. There are earlier reports 2 Sep 2008 Scotts Bluff Co and 9 Sep 2014 Dawes Co; identification of the latter as this species was confirmed by call notes. Sep early dates in the east are undocumented and confusion with House Wren is a possibility, but reported dates cluster in mid-Sep.
West of far eastern counties reports are few. Jorgensen (2012) listed seven eastern Rainwater Basin reports, all in the period 16 Oct-29 Jan. Further west, prior to 2020, there  are few reports from the Panhandle and west-central, all but one since 2000: 2 Sep 2008 Scotts Bluff Co, 9 Sep 2014 Dawes Co, 10 Oct 2006 Lincoln Co, 12 Oct 2005 Lincoln Co, 23 Oct 2018 Dawes Co, 25 Oct 2000 Keith Co (hiemalis), 2 Nov 2010 Keith Co (hiemalis), 4 Nov 2003 Sioux Co, 17 Nov 2004 Cherry Co, 25 Nov 1989 Sioux Co, 1 Dec 2022 through 1 Jan and 2 Mar 2023 Lake Ogallala, Keith Co, three on 15-16 Dec 2002 Keith Co (hiemalis), and one recorded in Scotts Bluff Co 21 Nov 2018 (hiemalis).
In 2020, however, there was an apparent influx of birds in the west and west-central, perhaps reflecting increased excellent observer coverage there and continuing a trend of increasing westerly reports; the 11 reports almost doubled the prior number of 15, and were clustered in Scotts Bluff, Keith, and Dundy Cos. However, there were no westerly reports in 2021 and only three in 2022.
High counts: 6 at Neale Woods, Douglas Co 15 Oct 1999, 4 at Lake Ogallala, Keith Co 19 Nov 1999, and 4 at Krimlofsky Tract, Neale Woods, Washington Co 12 Oct 2020.
Winter: Regular wintering is restricted to sheltered areas in the southeast, often associated with warm water springs or other small water features that remain open; it is a marginal wintering species in Nebraska, probably due to its preference for an insectivorous diet (Bent 1948). There are scattered reports elsewhere, notably on the Pine Ridge, in Keith and Lincoln Cos, and along the central Niobrara River. Ducey (2007) reported a series of sightings on open streams between Nenzel, Cherry Co and northern Brown Co 4 Nov 2004-Feb 2005. Additional reports in the central Niobrara River Valley are six sightings 10 Jan-3 Feb 2006 at six locations (Ducey, personal communication) as well as sightings 30 Oct 2016 at Anderson Bridge WMA, 23 Dec 2016 at Smith Falls SP, and 28 Dec 2020 at Meadville Bridge. Rosche (1982) considered Winter Wren a "rare winter visitor" in the northwest, and suggested that few if any survive the winter, as he had no Mar records. The only Mar records away from the Missouri River Valley are 10 Mar 1998 Gering Cemetery, Scotts Bluff Co, 14 Mar 2015 Dundy Co (recorded; confirmed this species), 18 Mar 2018 near Chadron SP, Dawes Co (recorded; see Comments in Species Account for Pacific Wren), Boone Co 27 Mar 1986 (Williams 1986), and Brown Co Mar 1971 (see Spring). Even in the southeast there are few Feb and Mar reports, indicating that the species may not overwinter (or survive in the attempt) every year. Winter Wrens were found in 43 of 49 years (1966-2015) on Nebraska CBCs, with a high count of 10 in 2010-2011.
There are several northwesterly reports in early winter, 19 Nov-5 Jan, and a few through 24 Feb, latest of which are two on 19 and 26 Feb 2000 Ash Hollow SHP, Garden Co, and 24 Feb 1974 Sioux Co. It was reported present in "winter" 1986-87 in Sioux Co, with no details (Williams 1987).
It is possible that reports before 2010 from western Nebraska may be of the newly split Pacific Wren (Chesser et al 2010; see Taxonomy, above, and Pacific Wren account).

High counts: 5 in Omaha, Douglas Co 26 Jan 2004.
Images
Abbreviations
CBC: Christmas Bird Count
NWR: National Wildlife Refuge
SHP: State Historical Park
SP: State Park
UNSM: University of Nebraska State Museum
WMA: Wildlife Management Area (State)
Literature Cited
American Ornithologists' Union [AOU]. 1957. The AOU Check-list of North American birds, 5th ed. Port City Press, Baltimore, Maryland, USA.
Bent, A.C. 1948. Life histories of North American Nuthatches, Wrens, Thrashers, and their allies. Bulletin of the United States National Museum 195. Dover Publications Reprint 1964, New York, New York, USA.
Chesser, R.T., K.J. Burns, C. Cicero, J.L. Dunn, A.W. Kratter, I.J. Lovette, P.C. Rasmussen, J. V. Remsen, Jr., J.D. Rising, D.F. Stotz, and K. Winker. 2017. Fifty-eighth supplement to the American Ornithological Society's Check-list of North American Birds. Auk 134: 751-773.
Drovetski, S.V., R.M. Zink, S. Rohwer, I.V. Fadeev, E.V. Nesterov, I. Karagodin, E.A. Koblik, and Y.A. Red'kin. 2004. Complex biogeographic history of a Holarctic passerine. Proceedings of the Royal Society of London Series B-Biological Sciences 271: 545–551.
Ducey, J.E. 2007. Water Habitats a Refugium for Winter Birds Along the Central Niobrara River. Wildbirds Broadcasting blog, accessed 16 Jun 2018.
Gill, F., D. Donsker, and P. Rasmussen (Eds). 2022. IOC World Bird List (v 12.2). Doi 10.14344/IOC.ML.12.2.  http://www.worldbirdnames.org/.
Jorgensen, J.G. 2003. 2001 (13th) Report of the NOU Records Committee. NBR 71: 97-102.
Jorgensen, J.G. 2012. Birds of the Rainwater Basin, Nebraska. Nebraska Game and Parks Commission, Lincoln, Nebraska, USA.
Mollhoff, W.J. 2022. Nest records of Nebraska birds. Nebraska Ornithologists' Union Occasional Paper Number 9.
Phillips, A.R. 1986. The known birds of North and Middle America. Part 1. Published by the author, Denver, Colorado, USA.
Rapp, W.F. Jr., J.L.C. Rapp, H.E. Baumgarten, and R.A. Moser. 1958. Revised checklist of Nebraska birds. Occasional Papers 5, Nebraska Ornithologists' Union, Crete, Nebraska, USA.
Rosche, R.C. 1982. Birds of northwestern Nebraska and southwestern South Dakota, an annotated checklist. Cottonwood Press, Crawford, Nebraska, USA.
Silcock, W.R. 2000a. Spring Field Report, March to May 2000. NBR 68: 55-81.
Silcock, W.R. 2000b. Summer Field Report, June and July 2000. NBR 68: 106-126.
Toews, D.P.L., and D.E. Irwin. 2008. Cryptic speciation in a Holarctic passerine revealed by genetic and bioacoustic analyses. Molecular Ecology 17: 2691-2705.
Williams, F. 1974. Southern Great Plains Region. American Birds 28: 70-76.
Williams, F. 1986. Southern Great Plains Region. American Birds 40: 491-494.
Williams, F. 1987. Southern Great Plains Region. American Birds 41: 297-300.
Recommended Citation
Silcock, W.R., and J.G. Jorgensen. 2023. Winter Wren (Troglodytes hiemalis). In Birds of Nebraska — Online. www.BirdsofNebraska.org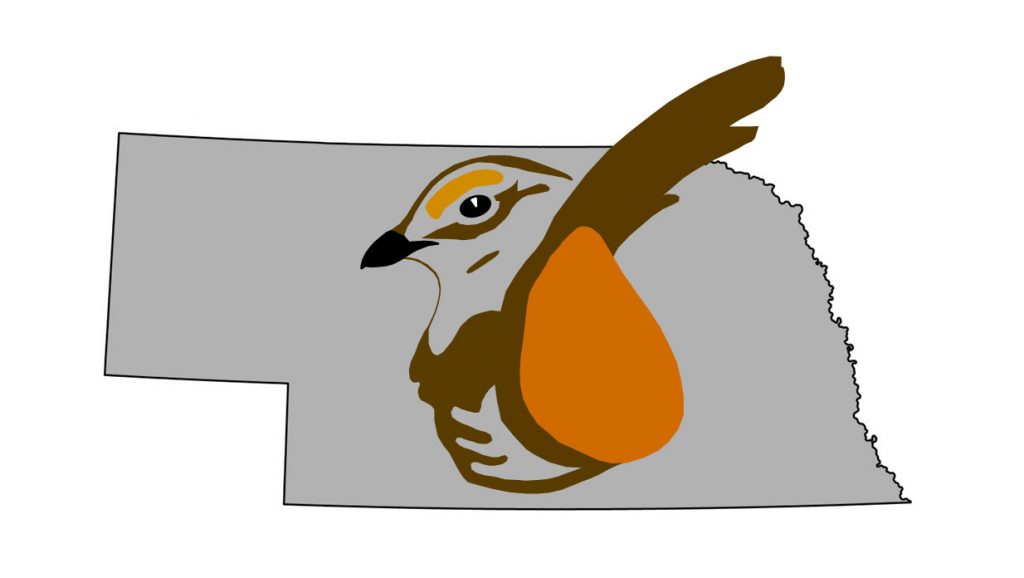 Birds of Nebraska – Online
Updated 25 Nov 2023