Aix sponsa
Status:  Common regular spring and fall migrant east, fairly common west. Common regular breeder east and central, uncommon west. Rare regular winter visitor south and east, rare casual west.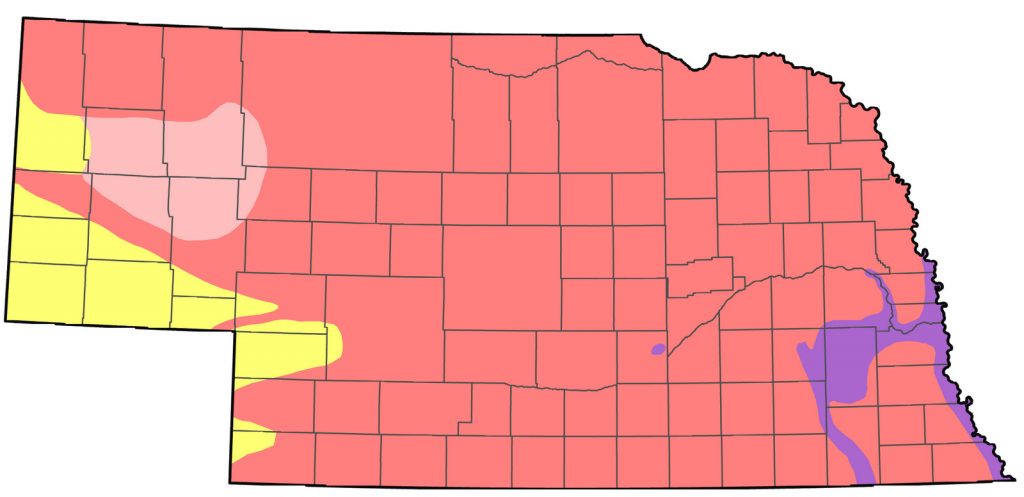 Documentation: Specimen: WSC 33, Oct 1971 Antelope Co.
Taxonomy: No subspecies are recognized.
Changes since 2000: The number of Wood Ducks breeding in Nebraska has increased markedly, primarily westward, continuing a trend that began in the 1970s; Rosche (1982) noted that Wood Duck had increased since 1976 in the Panhandle. At the same time, mid-winter records have become more numerous. The species was greatly reduced by the early 1900s, but is now estimated to number some 3,000,000 total individuals (Baldassarre 2014).   BBS trend analysis for Nebraska shows a 6.26% (95% C.I.; 3.32, 9.26) increase 1966-2015 and a 7.40% (95% C.I.; 0.64, 15.53) increase 2005-2015 (Sauer et al 2017).
Spring:  Feb 12, 12, 14 <<<>>> summer
Arrivals are concentrated in mid-Mar, coincident with the spring thaw; numbers peak mid-Mar through mid-Apr.
High counts: 100 at Fontenelle Forest, Sarpy Co 17 Mar 2013, 84 at Cunningham Lake, Douglas Co 24 Mar 1996, 67 at North Platte NWR, Scotts Bluff Co 16 Apr 1997, and 65 at Boyer Chute NWR, Washington Co 20 Mar 2017.
Summer:  Breeding densities are associated with the availability of wetlands and tree cavities for nest sites and thus numbers are highest in the east and south.  Lowest densities occur in relatively treeless areas of the western Sandhills, Panhandle and Southwest. Placement of artificial nest boxes, especially during the latter part of the 20th Century, along with maturation of riparian habitat in central and western Nebraska, has contributed to the increases in numbers and expansion in range.
Most Wood Ducks breed at one year of age, but late nesting in the prior year may delay maturity and result in a skipped breeding season; this scenario may account for large numbers of apparent non-breeders in Jun, such as the 153 at Verdel Landing, Knox Co 2 Jun 2019. Earliest broods appear in early May, and flight is not achieved in Nebraska broods until mid-Jul.
High counts: 194 at Jack Sinn Memorial WMA, Lancaster Co 15 Jul 2012, 153 at Verdel Landing, Knox 2 Jun 2019, 98 at North Platte NWR 17 Jul 1995, and 90 there 25 Jun 1997.
Breeding phenology:
Courting: 23 Mar
Incubation: 7 May
Broods: 4 May-21 Aug.
Fall:  summer <<<>>> Jan 4, 5, 6
Flocks form in Aug as juveniles mature, such as 60-65 at Box Butte Reservoir, Dawes Co 12-22 Aug 1994. Departure dates are clustered in Oct, although individuals linger into Dec and straggle into early Jan away from wintering areas.
High counts: 117 at North Platte NWR 30 Oct 1997, 109 there 10 Sep 1998, 107 at 234th St Wetlands, Douglas Co 15 Oct 2017, and 85 at Heron Haven, Douglas Co 6 Sep 2017.
Winter: Wood Ducks rarely overwinter, but individuals occasionally can be found with wintering ducks and geese on available open water at reservoirs and parks. There are few apparently regular winter sites, however. Pier Park in Grand Island has hosted as many as 46 as late as the 15 Dec 2012 Grand Island CBC, and 10-20 survived each of the winters 2012-2013, 2013-2014, and 2014-2015 but only one was reported there 2018-2019, on 8 Jan. There are recent mid-winter records from the southeast, including 2-3 from Jan-4 Feb Lincoln, Lancaster Co, 2-3 from 9 Jan-1 Feb 2012 Douglas Co, two at Pawnee Lake, Lancaster Co 9 Jan 2020, 3 Feb 2020, 5 Feb 2003, and 5 Feb 2005 Carter Lake, Douglas Co, and 10 wintered at Lakeside Park, Omaha 2016-2017. At the latter location 9 were present 7 Jan 2018 and 3 on 3 Feb 2019.
Away from the south and east, there are few reports mid-Jan through mid-Feb: 11 Jan-15 Feb 2003 Scotts Bluff Co, 18 Jan 2018 Lincoln Co, 21 Jan 2011 at Broken Bow, Custer Co, 2 Feb 1997 Harlan Co Reservoir, Harlan Co, and 3 Feb 1985 Boone Co.

Abbreviations
BBS: Breeding Bird Survey
CBC: Christmas Bird Count
NWR: National Wildlife Refuge
WMA: Waterfowl Management Area (State)
WSC: Wayne State College
Acknowledgement
Photograph (top) of a Wood Duck at Fontenelle Forest, Sarpy Co, 3 Apr 2009 by Phil Swanson.
Literature Cited
Baldassarre, G. 2014. Ducks, Geese, and Swans of North America. Johns Hopkins University Press, Baltimore.
Rosche, R.C. 1982. Birds of northwestern Nebraska and southwestern South Dakota, an annotated checklist. Cottonwood Press, Crawford, Nebraska, USA.
Sauer, J.R., D.K. Niven, J.E. Hines, D.J. Ziolkowski, Jr, K.L. Pardieck, J.E. Fallon, and W.A. Link. 2017.  The North American Breeding Bird Survey, Results and Analysis 1966 – 2015 (Nebraska). Version 2.07. USGS Patuxent Wildlife Research Center, Laurel, Maryland, USA.
Recommended Citation
Silcock, W.R., and J.G. Jorgensen.  2020.  Wood Duck (Aix sponsa). In Birds of Nebraska — Online. www.BirdsofNebraska.org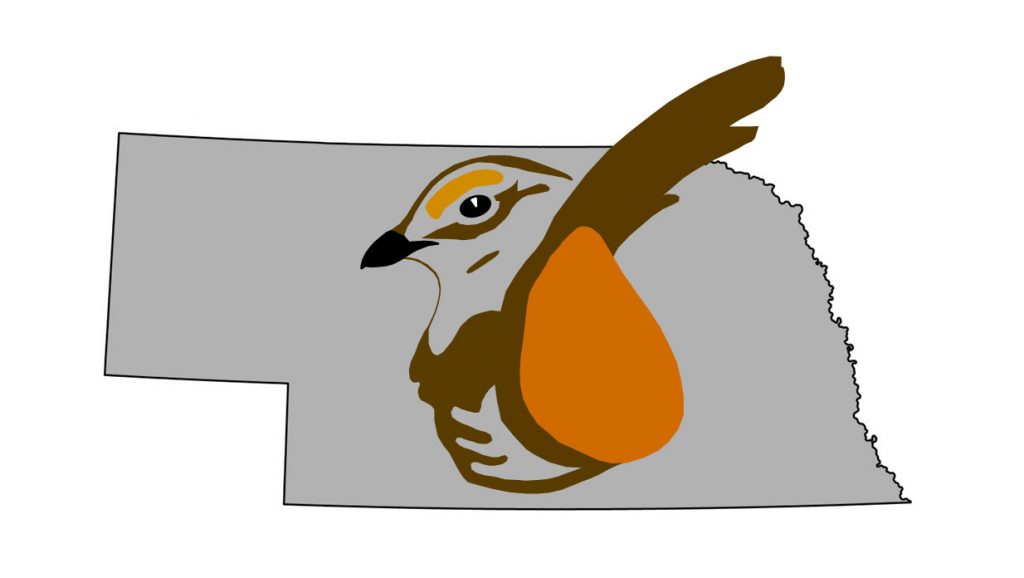 Birds of Nebraska – Online
Updated 2 Aug 2020