Helmithorus vermivorum
Status: Rare casual spring and summer overshoot visitor statewide. Accidental in fall.
Documentation: Specimen: BMNH 41749, 14-16 Oct 1957 Scotts Bluff Co (see Fall).
Taxonomy: No subspecies are recognized (Pyle 1997).
Spring: May 8, 8, 8 <<<>>> May 26, 26, 30
There are about 56 reports in all, mostly in the east, 16 Apr-4 Jul; among these, only the above dates are documented, but see Summer for Jun-Jul reports.
Earlier documented dates are 26-27 Apr 1984 Wayne Co, and 27 Apr-1 May 2022 Towl Park, Douglas Co.
There are these Panhandle and west-central records: 14 May 1997 banded Keith Co, 16 May 1979 Garden Co (Williams 1979), 16 May 2002 West Lawn Cemetery, Gering, Scotts Bluff Co, and 24 May 1959 Alliance City Park, Box Butte Co (Gates 1959). A report of one in Scottsbluff, Scotts Bluff Co 6 May 2002 was not accepted by NOURC (Brogie 2003).
The best spring totals are of four in each of 1995, 1996, and 1999, and three for 2018.
Summer: Breeding has not been confirmed in Nebraska, but may have occurred 100+ years ago. Bruner et al (1904), included a sighting by Aughey in the southeast in Jun 1875, Jun and Jul occurrences around Omaha, Douglas Co and several reports from the Lincoln, Lancaster Co area, notably "all summer in deep woods near Roca in 1903," where "breeding" was "almost certain." That this species was apparently more common in the Missouri River Valley around 1900 is supported by Robbins (2018): "Shirling … recorded 21 singing males at Swope Park, Kansas City, in Jun 1916, but it had "mostly vanished" as a breeder there by the late 1920s".
The only modern records for Jun-Jul are of one banded at Cedar Point Biological Station, Keith Co, 4 Jul 1992 (Brown et al 1996), one singing at Wind Springs Ranch, Sioux Co 8 Jun 2007, and one singing at Schramm SP, Sarpy Co 2 May-13 Jun 1994 (Grzybowski 1994, Silcock 1994a, 1994b).
This species occurs in deciduous woods, with a preference for deep ravines near streams or rivers (Robbins 2018). There is a disjunct breeding population in northwest Missouri (Vitz et al 2020) at Bluffwoods CA near St Joseph (Robbins 2018).
Fall: The only documented fall report, among a total of only five, is quite amazing. It comprised "several" feeding in a chokeberry thicket "about October 14, 15, and 16, 1957" in Scotts Bluff Co; one was found dead and presented to the Bell Museum of Natural History (cited above); it was a hatch year bird (Warner 1959, John Klicka, pers. comm.). Additional fall reports, none documented, are 27 Aug 1934 Webster Co (Ludlow 1935), 3-5 Sep 1977 Douglas-Sarpy Cos, 5 Oct 2000 Lancaster Co, and 8 Oct 1963 Cass Co.
Images
Abbreviations
BMNH: Bell Museum of Natural History
CA: Conservation Area
NOURC: Nebraska Ornithologists' Union Records Committee
SP: State Park
Literature Cited
Brogie, M.A. 2003. 2002 (14th) Report of the NOU Records Committee. NBR 71: 136-142.
Brown, C.R., M.B. Brown, P.A. Johnsgard, J. Kren, and W.C. Scharf. 1996. Birds of the Cedar Point Biological Station area, Keith and Garden Counties, Nebraska: Seasonal occurrence and breeding data. Transactions of the Nebraska Academy of Sciences 23: 91-108.
Bruner, L., R.H. Wolcott, and M.H. Swenk. 1904. A preliminary review of the birds of Nebraska, with synopses. Klopp and Bartlett, Omaha, Nebraska, USA.
Gates, D. 1959. Thirty-fifth Annual Cooperative Spring Migration and Occurrence Report. NBR 27: 50-67.
Grzybowski, J.A. 1994. Southern Great Plains Region. American Birds 48: 313-315.
Ludlow, C.S. 1935. A quarter-century of bird migration records at Red Cloud, Nebraska. NBR 3: 3-25.
Pyle, P. 1997. Identification Guide to North American Birds. Part I, Columbidae to Ploceidae. Slate Creek Press, Bolinas, California, USA.
Robbins, M.B. 2018. The Status and Distribution of Birds in Missouri. University of Kansas Biodiversity Institute, Lawrence, Kansas, USA.
Silcock, W.R. 1994a. Spring Field Report, March-May 1994. NBR 62: 66-88.
Silcock, W.R. 1994b. Summer Field report, June-July 1994. NBR 62: 102-116.
Vitz, A.C., L.A. Hanners, and S.R. Patton. 2020. Worm-eating Warbler (Helmitheros vermivorum), version 1.0. In Birds of the World (A. F. Poole, Editor). Cornell Lab of Ornithology, Ithaca, NY, USA. https://doi.org/10.2173/bow.woewar1.01.
Warner, D.W. 1959. A Worm-eating Warbler specimen from western Nebraska. NBR 27: 73.
Williams, F. 1979. Southern Great Plains Region. American Birds 33: 784-787.
Recommended Citation
Silcock, W.R., and J.G. Jorgensen. 2022. Worm-eating Warbler (Helmithorus vermivorum). In Birds of Nebraska — Online. www.BirdsofNebraska.org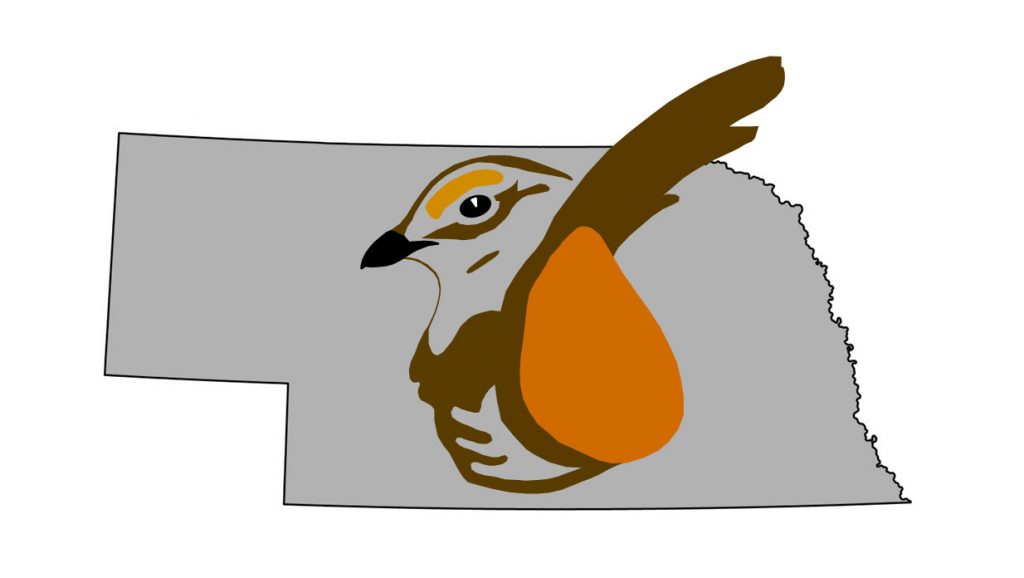 Birds of Nebraska – Online
Updated 29 Jun 2022