Sphyrapicus varius
Status: Uncommon regular spring migrant east and central, rare casual west. Fairly common fall migrant east, uncommon central, rare west. Rare regular winter visitor southeast, rare casual elsewhere.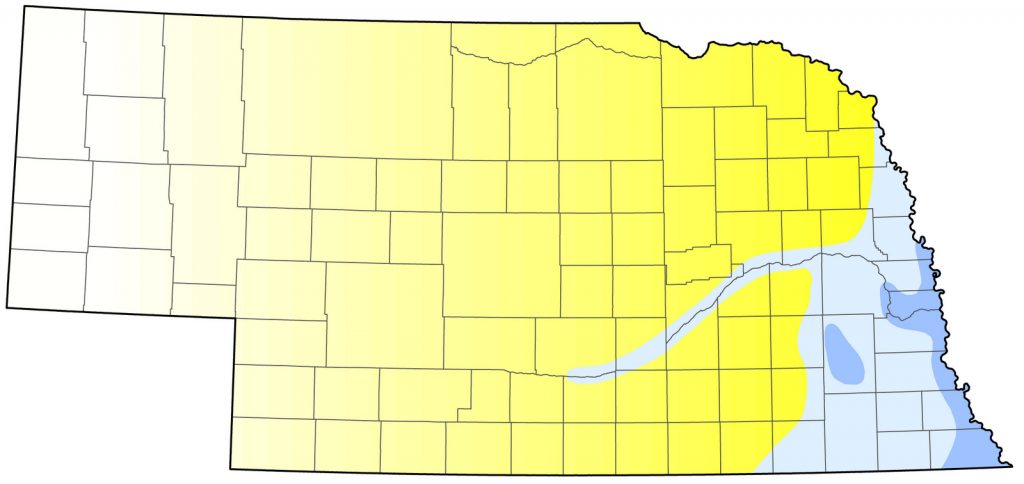 Documentation: Specimen: UNSM ZM6307, 9 Oct 1921 Lancaster Co.
Taxonomy: No subspecies are currently recognized.
Yellow-bellied, Red-naped (S. nuchalis), and Red-breasted (S. ruber) Sapsuckers are closely related, having diverged genetically from each other relatively recently. AOU (1957) treated them as subspecies of Yellow-bellied Sapsucker, but they have each been more recently considered full species (Walters et al 2020).
It should be noted that reports from western Nebraska in the 1980s, prior to the split to three species, included Red-naped as a subspecies of Yellow-bellied.
Hybridization with Red-naped Sapsucker is discussed at Hybrids – Birds of Nebraska – Online (outdoornebraska.gov).
Changes Since 2000: The number of reports during fall migration and winter and in western and central Nebraska has increased remarkably since 2000. There is a total of 30 reports for Dec-Feb in central Nebraska; 25 of these have occurred since 2000. Of a total of 96 sapsuckers counted on CBCs 1967-68 through 1992-93, only five (5%) were north and west of Kearney and DeSoto NWR, but in the six CBC years 2010-2015, 11 of 57 (19%) were north and west of those locations. An indication of how much the status has changed in the last 20 years is this statement from the 1995 Spring Seasonal Report in Nebraska Bird Review (Silcock 1995): "An uncommon migrant, mainly in the Missouri River Valley, … Another was rather westerly and rather late in Saline Co….".
Spring: winter <<<>>> Apr 28, 28, 29
Later dates are 1 May 2011 Sarpy Co, 4 May 2020, Knox Co, 5 May 2009 Richardson Co, 7 May 2010 Dodge Co, 13 May 2016 Sioux Co, 13 May 2021 Fontenelle Forest, Sarpy Co, 19 May 2006 York Co, 29 May 2022 Sarpy Co, 31 May 2016 Lancaster Co, and 31 May 2021 Fontenelle Forest.
Migration peaks in late Mar and early Apr. Arrival of migrants is difficult to discern, especially in the southeast, due to the presence of wintering birds, but the earliest migrants probably appear around 10-15 Mar. One was in Garfield Co 9 Mar 2016. Early spring dates in South Dakota are 19-28 Mar (Tallman et al 2002).
There is no evidence for summering or nesting in Nebraska, even though this species nests in extreme southeastern South Dakota (Tallman et al 2002) and recently in northwest Iowa (Kent and Dinsmore 1996). There are three nesting season reports, all in the Missouri River Valley, where breeding might be expected: 21 Jun 2020 Washington Co, 30 Jun 2001 Lancaster Co, and 1 Jul 1993 Sarpy Co.
Spring migrants are far less numerous westward than in fall. In the Panhandle, there are only about 14 spring reports, in the period 7 Mar-21 May.
Fall: Sep 21, 22, 22 <<<>>> winter
Earlier dates are 3 Sep 2019 Dakota Co, and 15 Sep 2012, a juvenile at Fontenelle Forest, Sarpy Co.
Migrants appear remarkably consistently at the end of Sep; of 36 eBird records for Sep (accessed Jan 2021), 33 are during 24-30 Sep, the exceptions cited above under "earlier dates". Although some older western reports probably are referable to Red-naped Sapsuckers, recent years have seen an increase in westerly sightings of Yellow-bellied Sapsuckers, and the likelihood is that in fall the majority of western sapsuckers currently (2021) are indeed Yellow-bellieds.
In the west this species is more frequently reported in fall than in spring, although it is still less than annual there. West and west-central records are 22 Sep 2015 Dawes Co, 13 Oct 2016 Dawes Co, 17 Oct 2015 Keith Co, 17 Nov 2012 Keith Co, 26 Oct 2020 Scotts Bluff Co, 26 Oct- 12 Dec 2020 juvenile Kimball Co, 10 Dec 2012 Hooker Co, and 20 Dec 2003 Keith Co.
Peak movement is in the first half of Oct, but by the time of the CBC period in mid-late Dec, most sapsuckers are in the southeast although records are widely scattered over the southeastern half of the state. CBC data suggest that westerly sightings have increased in recent years; of a total of 96 counted on CBCs 1967-68 through 1992-93, only five (5%) were north and west of Kearney, Buffalo Co and DeSoto NWR, Washington Co, but during 2010-2015, 11 of 57 (19%) were north and west of those locations. Highest CBC counts are eight at Tristate (at Arbor Lodge SHP) 1981-82, seven in Omaha 1979-80, and six at Branched Oak Lake-Seward 16 Dec 2012.
Reports were numerous in fall 2015, when at least 40 individuals were reported, notably 11 in a trip through Boone, Platte, and Nance Cos 3 Oct and seven in about five hours' birding in Fillmore, Thayer, and Jefferson Co the same day. Almost all of the reports were from the east, but singles were in Custer Co 16 Oct and 28 Nov, the latter an immature.
High counts: 11 in a sweep through Boone, Platte, and Nance Cos 3 Oct 2015, 4 at Fontenelle Forest, Sarpy Co 2 Oct 2018, 3 at Wyuka Cemetery, Lincoln, Lancaster Co 14 Oct 1996 and 3 at Branched Oak Lake, Lancaster Co 5 Nov 2012.
Winter: Wintering birds occur in the southeast in varying numbers. In the winters 2000-2001 through 2014-2015, CBC data show 21 in 2004-2005 as the high total for the state, and low a single bird in 2002-2003; the average for the 10 winters with numbers cited was 9.6. Most reports for Dec-Feb are in Dec, declining through Feb; in 2003-2004, 15 were counted, nine in Dec, four in Jan, and two in Feb.
As of winter 2020-2021, there were 50 records for Dec-Mar in the central, about half of these in Dec and the remainder evenly spread through Jan-Mar. No fewer than 45 of the 50 records have occurred since 2000.
There are only these Dec-Feb reports from the west and west-central: 1 Nov 2019-11 Jan 2020 Gering, Scotts Bluff Co, 10 Dec 2012 and 3 Jan 2016 Hooker Co, 26 Oct-12 Dec 2020 juvenile Kimball Co, 23 Dec 2019 Scotts Bluff Co, 10 Jan 1976 Scotts Bluff Co, 19 Jan-11 Mar 2019 juvenile Lincoln Co, and 18 Feb 2010 an immature male in Cheyenne Co.
Comments: Red-breasted Sapsucker (S. ruber) is a related species that occurs along the Pacific Coast of North America. A sapsucker with a "red head and breast" was observed near Odessa, Buffalo Co 29 Mar 2004 but could not be relocated. It seems most likely to have been a variant Yellow-bellied Sapsucker, although a male Red-breasted Sapsucker was photographed in Pottawattamie Co, Iowa, 6 Dec 2006 (http://iowabirdrecords.org/Reports/Accepted.aspx).
A bird in Hall Co 5 Mar 2007 was well-described, including no apparent hybrid characters, and identified as a Red-naped Sapsucker by an experienced observer. This is an early and easterly report for that species; it may also have been a variant Yellow-bellied Sapsucker or an intergrade of the two species.
A juvenile male collected at Chadron, Dawes Co 23 Sep 1919 (UNSM ZM6312), labeled as a Red-naped Sapsucker, is more likely a Yellow-bellied; see discussion in the Red-naped Sapsucker account.
Images
Abbreviations
CBC: Christmas Bird Count
NWR: National Wildlife Refuge
SHP: State Historical Park
UNSM: University of Nebraska State Museum
Literature Cited
American Ornithologists' Union [AOU]. 1957. The AOU Check-list of North American birds, 5th ed. Port City Press, Baltimore, Maryland, USA.
Kent, T.H., and J.J. Dinsmore. 1996. Birds in Iowa. Publshed by the authors, Iowa City and Ames, Iowa, USA.
Silcock, W.R. 1995. Spring Field Report, March-May 1995. NBR 63: 34-60.
Tallman, D.A., Swanson, D.L., and J.S. Palmer. 2002. Birds of South Dakota. Midstates/Quality Quick Print, Aberdeen, South Dakota, USA.
Walters, E.L., E.H. Miller, and P.E. Lowther. 2020. Yellow-bellied Sapsucker (Sphyrapicus varius), version 1.0. In Birds of the World (A. F. Poole and F. B. Gill, Editors). Cornell Lab of Ornithology, Ithaca, NY, USA. https://doi.org/10.2173/bow.yebsap.01.
Recommended Citation
Silcock, W.R., and J.G. Jorgensen. 2022. Yellow-bellied Sapsucker (Sphyrapicus varius). In Birds of Nebraska — Online. www.BirdsofNebraska.org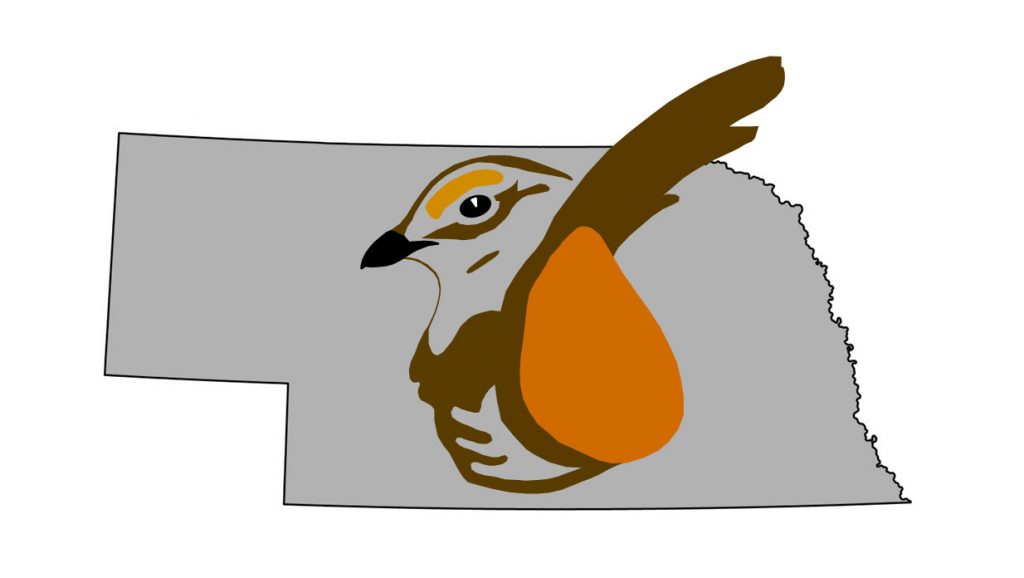 Birds of Nebraska – Online
Updated 23 Jun 2022