Coccyzus americanus
Status: Fairly common regular breeder and spring and fall migrant east and central, uncommon west.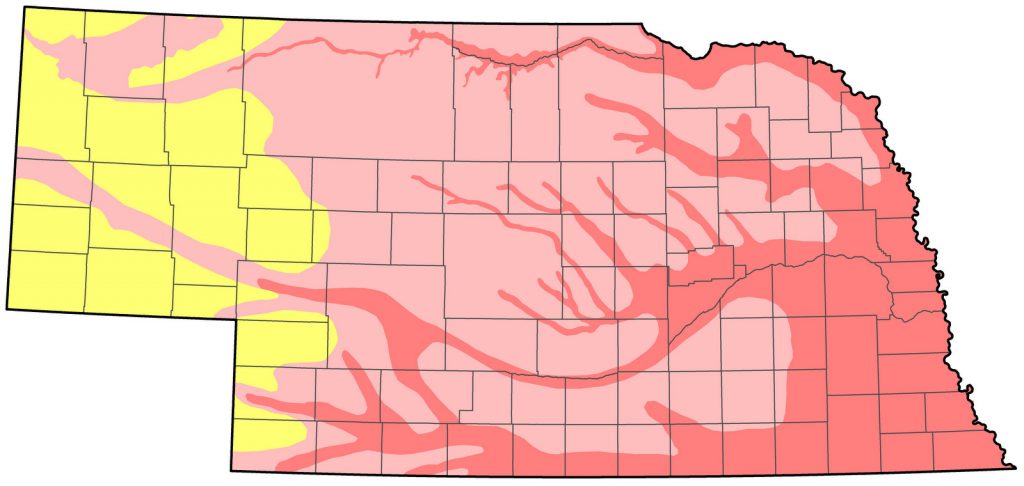 Documentation: Specimen: UNSM 6233, 27 May 1892 Jamaica, Lancaster Co.
Taxonomy: Two weakly-differentiated subspecies have been recognized (Pyle 1997), but currently this species is considered monotypic (Clements et al 2016, Gill and Donsker 2017). The previously-recognized eastern subspecies americanus was said to occur in Nebraska (Rapp et al 1958).
Spring: May 6, 6, 7 <<<>>> summer (east and central).  May 19, 20, 20 <<<>>> summer (west)
Migrants arrive earliest in the southeast, in mid-May, and latest in the northwest, about three weeks later. There are earlier reports from Gage Co 9 Apr 1951 (Fiala 1970) and Otoe Co 16 Apr 2006, and in the west 9 May (year not given, Rosche 1982), 12 May 1959 Scotts Bluff Co, 14 May 2005 Cheyenne Co, and 16 May 2009 Grant Co.
High counts: 26 at Indian Cave SP, Nemaha and Richardson Cos 22 May 2004, 24 there 2 Jun 2019, 16 there 23 May 1999, and 16 at Fontenelle Forest, Sarpy Co 10 May 2007.
Summer: Highest densities occur in the southeast (Sauer et al 2017) and the species become increasingly rare and restricted to stream corridors westward. The species was rather numerous at Indian Cave SP, Nemaha and Richardson Cos 2012-2014 when 95 were detected during breeding bird surveys, but only two were detected at Ponca SP, Dixon Co during the same period as part of the same study (Jorgensen et al 2014). In the Niobrara River Valley, Brogie and Mossman (1983) listed it as uncommon in the Niobrara Valley Preserve, and it was present in central Cherry Co at Anderson Bridge in summer 1982 (Ducey 1983). Jorgensen (2012) considered it rare, status poorly known, in the Rainwater Basin. Helen Hughson (personal communication) noted in 2006 that "in all the years we have been here [southern Sioux Co] I think maybe we have had four nestings of them with real fledglings"; one was there 4-7 Jul 2011. Rosche (1982) also considered it uncommon in the northwest.
The species is declining in Nebraska. Mollhoff (2016) noted a 7% decrease in the proportion of BBA blocks reporting this species between the first (1985-1989) and second (2006-2012) BBA projects and BBS trend analysis shows a -1.83 (95% C.I.; -3.13, -0.50) decline during the years 1966-2015 (Sauer et al 2015).
Breeding Phenology:
Nest-building: 2 Jun-3 Jul
Copulation: 18 Jun
Eggs: 21 May- 29 Aug (Mollhoff 2022)
Nestlings: 14 Jun-11 Jul
Fledglings: 19 Jul- 6 Aug
According to Hughes (2020), "the onset of breeding is apparently correlated with an abundant local food supply", and "Growth rapid, 17 d from start of incubation to fledgling—among shortest for any species of bird." Yellow-billed Cuckoo is one of very few bird species that may in certain circumstances parasitize other bird nests as well as construct their own (Hughes 2020). One was seen briefly begging food from an American Robin in Douglas Co 23 Jul 2020.
Fall: summer <<<>>> Oct 1, 1, 1
Departure is in Sep, with few later dates in Oct: 5 Oct 2010 Dodge Co, 8 Oct 1984 Nemaha Co, 9 Oct 2011 Dodge Co, 13 Oct 1985 Nemaha Co, 13 Oct 2018 Knox Co.
High counts: 8 in southeast Nebraska on 18 Aug 2001, 8 in Cass Co 14 Aug 2004, and 7 in eastern Otoe Co 2 Aug 2003.
Images
Abbreviations
BBA: Breeding Bird Atlas
BBS: Breeding Bird Survey
SP: State Park
UNSM: University of Nebraska State Museum
Literature Cited
Brogie, M.A., and M.J. Mossman. 1983. Spring and summer birds of the Niobrara Valley Preserve, Nebraska: An annotated checklist. NBR 51: 44-51.
Clements, J. F., T. S. Schulenberg, M. J. Iliff, D. Roberson, T. A. Fredericks, B. L. Sullivan, and C. L. Wood. 2016. The eBird/Clements checklist of birds of the world: v2016, accessed 30 January 2018.
Ducey, J.E. 1983. Some birds of Anderson Bridge Wildlife Management Area in Cherry County, Nebraska. NBR 51: 62-63.
Fiala, K.L. 1970. The birds of Gage County, Nebraska. NBR 38: 43-72.
Gill, F., and D. Donsker (Eds). 2017. IOC World Bird List (v 7.3), accessed 30 January 2018.
Hughes, J.M. 2020. Yellow-billed Cuckoo (Coccyzus americanus), version 1.0. In Birds of the World (P. G. Rodewald, Editor). Cornell Lab of Ornithology, Ithaca, NY, USA. https://doi.org/10.2173/bow.yebcuc.01.
Jorgensen, J.G. 2012. Birds of the Rainwater Basin, Nebraska. Nebraska Game and Parks Commission, Lincoln, Nebraska, USA.
Jorgensen, J.G., L.R. Dinan, M.A. Brogie, W.R. Silcock, J. Rink, C. Klaphake, and G. Steinauer. 2014. Breeding Bird Diversity, Abundance and Density at Indian Cave and Ponca State Parks, Nebraska, 2012-2014. Nebraska Game and Parks Commission, Lincoln, Nebraska, USA.
Mollhoff, W.J. 2016. The Second Nebraska Breeding Bird Atlas. Bull. Univ. Nebraska State Museum Vol 29. University of Nebraska State Museum, Lincoln, Nebraska, USA.
Mollhoff, W.J. 2022. Nest records of Nebraska birds. Nebraska Ornithologists' Union Occasional Paper Number 9.
Pyle, P. 1997. Identification Guide to North American Birds. Part I, Columbidae to Ploceidae. Slate Creek Press, Bolinas, California, USA.
Rapp, W.F. Jr., J.L.C. Rapp, H.E. Baumgarten, and R.A. Moser. 1958. Revised checklist of Nebraska birds. Occasional Papers 5, Nebraska Ornithologists' Union, Crete, Nebraska, USA.
Rosche, R.C. 1982. Birds of northwestern Nebraska and southwestern South Dakota, an annotated checklist. Cottonwood Press, Crawford, Nebraska, USA.
Sauer, J.R., D.K. Niven, J.E. Hines, D.J. Ziolkowski, Jr, K.L. Pardieck, J.E. Fallon, and W.A. Link. 2017. The North American Breeding Bird Survey, Results and Analysis 1966 – 2015 (Nebraska). Version 2.07. USGS Patuxent Wildlife Research Center, Laurel, Maryland, USA.
Recommended Citation
Silcock, W.R., and J.G. Jorgensen. 2022. Yellow-billed Cuckoo (Coccyzus americanus). In Birds of Nebraska — Online. www.BirdsofNebraska.org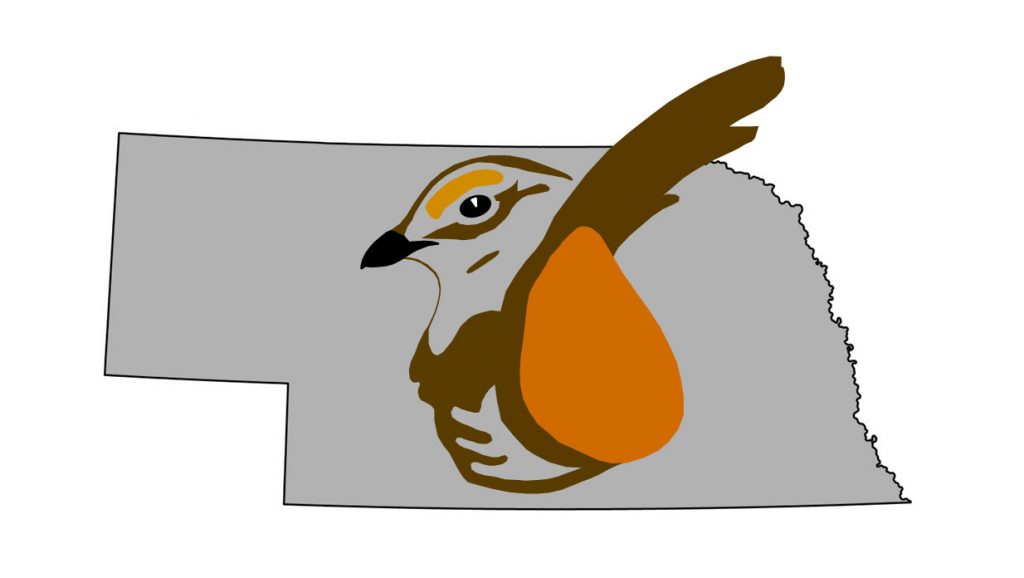 Birds of Nebraska – Online
Updated 19 Jun 2022