Nyctanassa violacea violacea
Status: Rare regular spring migrant southeast, rare casual elsewhere. Rare regular summer visitor southeast and southcentral, rare casual elsewhere. Rare casual breeder southeast. Rare casual fall visitor (after Aug) statewide.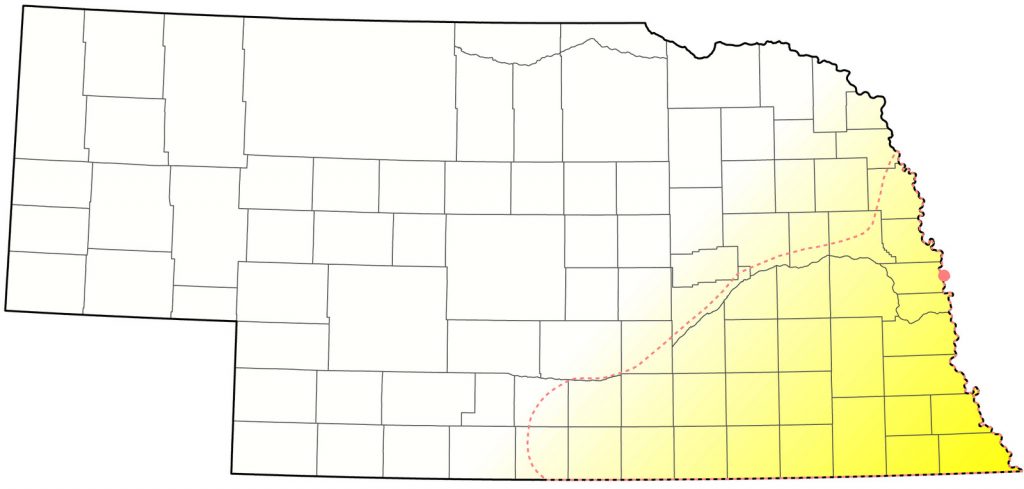 Documentation: Specimen: HMM 28539, 17 May 1956 Hastings, Adams Co.
Taxonomy: Five subspecies are recognized (Gill and Donsker 2017), one of which, violacea, occurs in North America; three others occur from Mexico to Brazil, including Socorro Island, and there is an endemic form on the Galapagos Islands.
Nebraska birds are violacea.
Spring: May 3, 4, 4 <<<>>> summer
Earlier dates are 7 Apr 2006 Sarpy Co, 15 Apr 1967 Gage Co, 21 Apr 2014 Saunders Co, and 30 Apr-7 May 2022 Lauritzen Gardens, Douglas Co.
Arrival dates are generally in the first third of May; spring records are probably of overshoot spring migrants, as Nebraska is north and west of the breeding range.
As might be expected, there are only two Panhandle reports: 7-25 May 1969 Dawes Co, and 20 May 1991 Scotts Bluff Co. Northerly reports are few also: a specimen, UNSM ZM17043, collected southwest of Ainsworth, Brown Co 14 Apr 1992 (Brogie 1997), one at Broken Bow SL, Custer Co 7 May 2014, an adult in Knox Co 27 May 1986, and an immature in Creighton, Knox Co 9 Jun 2004 (Brogie 2005).
Summer: The only confirmed record of breeding is of a nest in Fontenelle Forest, Sarpy Co 4 May 1963 which was later abandoned; birds had been in the area for three years prior (Sharpe 1964). During the 2012 "invasion" by this species (see below), an adult was seen feeding one of three young at Jack Sinn WMA, Lancaster Co 22 Jul (Klaphake; Mollhoff 2022). That these are the only confirmed records of breeding is surprising in that the species is a regular breeder as close as northwest Missouri and northeast Kansas (Mark Robbins, pers. comm.). A partial explanation might be that this species tends to be a solitary nester in rather inaccessible habitats.
These nearby non-Nebraska breeding birds may be the source of dispersing juveniles at dates early enough to be suggestive of local breeding. The two reports are of a "fairly young" bird at Fontenelle Forest 29 May 2006 where an adult had been seen previously, and a recently fledged juvenile found on 18 Jun 1980 in northern Lancaster Co that had down feathers on the body and incompletely emerged primaries (Ducey 1980). One near St Deroin, Indian Cave SP, Nemaha Co 14 Jun 2017 may have been breeding. A "fresh juvenile" was at Harvard Marsh WMA, Clay Co 1 Jul 2001 (Jorgensen; Silcock 2001).
There are numerous reports in the period mid-Jun through mid-Aug; most are northward dispersing juveniles in the Rainwater Basin and southeast. This species staged a mini-invasion in late Jul-early Aug 2012; Jack Sinn WMA, Saunders and Lancaster Cos hosted 1-4 from 16 Jul (two juveniles) through 29 Jul (three juveniles) and 17 Aug (1-2 juveniles) along with an adult 18-24 Jul. During this 2012 invasion, there were three northerly reports, only the 2nd-4th such reports: an immature in Antelope Co 23-26 Jul, a county first for the veteran observer, an immature in Dodge Co 25 Jul-4 Aug, and an adult and two juveniles in South Sioux City, Dakota Co 27 Jul-16 Aug. These northerly sightings appeared to be of birds undergoing normal late summer dispersal, but overflying dried up wetlands in their search for water. The only other previous northerly report is of a juvenile north of Crescent Lake NWR, Garden Co 27 Jun 2010. Another incursion involved 12 juveniles scattered around the southeast Aug-5 Oct 2022, along with a single adult in Lancaster Co 3 Sep-5 Oct.
Fall: summer <<<>>> Aug 15, 16, 17
Later dates are 20 Aug 2019 Clay Co, 22 Aug 1991 Scotts Bluff Co, 27 Aug 2017 Box Butte Co, 28 Aug-1 Sep Lancaster Co, 30 Aug 1984 Clay Co, 30 Aug 1996 Garden Co, 2 Sep 2022 (2) Seward Co, 9 Sep 2017 Seward Co, 16 Sep 2006 Keith Co, 20 Sep 2000 Box Butte Reservoir (Jorgensen 2002), 24 Sep 2011 Clay Co, 25 Sep 1971 Sarpy Co, 4 Oct 1991 Scotts Bluff Co, 5 Oct 2022 Lancaster Co, 10 Oct 1979 Douglas-Sarpy Cos (Williams 1980), and 11 Oct 1998 at Glenvil WPA, Clay Co (Jorgensen 2012).
There are few reports after Aug, indicating that there is no fall migration per se; rather, reports after Aug are lingering stragglers.
The few Panhandle reports are as follows: 30 Jul-5 Aug 1980 Box Butte Reservoir, Dawes Co (Rosche 1982), 22 Aug 1991 Scotts Bluff Co, 27 Aug 2017 Alliance, Box Butte Co, 30 Aug 1996 Crescent Lake NWR, 20 Sep 2000 Box Butte Reservoir (Jorgensen 2002), and 4 Oct 1991 Scotts Bluff Co.
High counts: 9 near Hastings, Adams Co 19 Aug 2005, 6 at Harvard WPA, Clay Co 20-21 Jul 2013, and 5 at Heron WPA, York Co 2 Aug 2003 (Jorgensen 2012).
Images
Abbreviations
HMM: Hastings Municipal Museum
SL: Sewage Lagoons
SP: State Park
UNSM: University of Nebraska State Museum
WMA: Wildlife Management Area (State)
WPA: Waterfowl Production Area (Federal)
Acknowledgement
Photograph (top) of a Yellow-crowned Night-Heron at Holmes Lake, Lancaster Co 24 Jul 2018 by Steve Kruse.
Literature cited
Brogie, M.A. 1997. 1996 (Eighth) Report of the NOU Records Committee. NBR 65: 115-126.
Brogie, M.A. 2005. 2004 (16th) Report of the NOU Records Committee. NBR 73: 78-84.
Ducey, J.E. 1980. Immature Yellow-crowned Night Herons. NBR 48: 87-88.
Gill, F., and D. Donsker (Eds). 2017. IOC World Bird List (v 7.3), accessed 30 January 2018.
Jorgensen, J.G. 2002. 2002 (sic; =2000). (12th) Report of the NOU Records Committee. NBR 70: 84-90.
Jorgensen, J.G. 2012. Birds of the Rainwater Basin, Nebraska. Nebraska Game and Parks Commission, Lincoln, Nebraska, USA.
Mollhoff, W.J. 2022. Nest records of Nebraska birds. Nebraska Ornithologists' Union Occasional Paper Number 9./p
Rosche, R.C. 1982. Birds of northwestern Nebraska and southwestern South Dakota, an annotated checklist. Cottonwood Press, Crawford, Nebraska, USA.
Sharpe, R.S. 1964. Yellow-crowned Night Heron nesting in Nebraska. NBR 32: 9-11.
Silcock, W.R. 2001. Summer Field Report, June and July 2001. NBR 69: 106-132.
Williams, F. 1980. Southern Great Plains Region. American Birds 34: 176-179.
Recommended Citation
Silcock, W.R., and J.G. Jorgensen. 2022. Yellow-crowned Night-Heron (Nyctanassa violacea violacea). In Birds of Nebraska — Online. www.BirdsofNebraska.org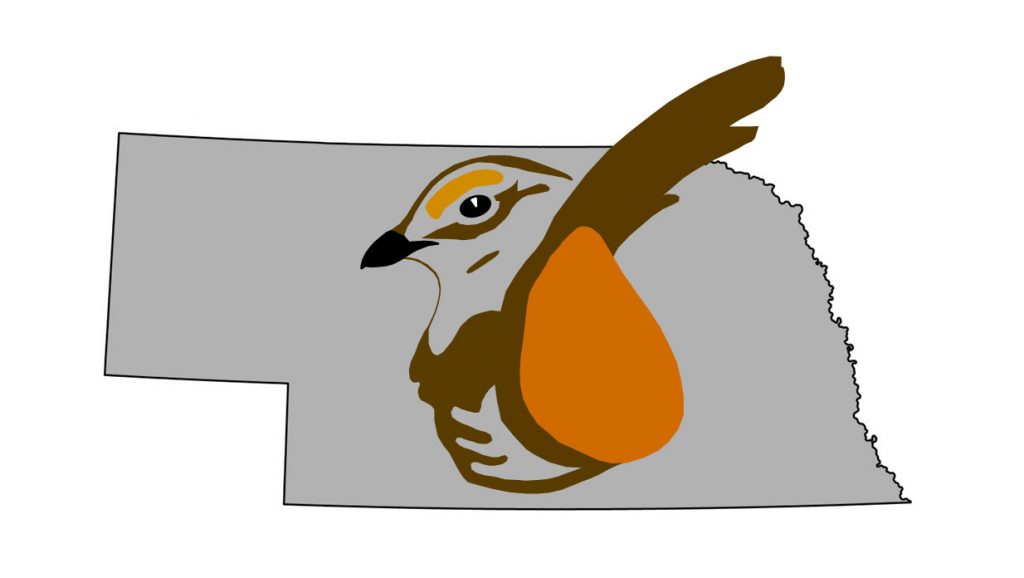 Birds of Nebraska – Online
Updated 20 Dec 2022