Vireo flavifrons
Status: Fairly common regular spring migrant east, rare east-central, rare casual west-central and west. Fairly common regular breeder east. Fairly common regular fall migrant east, rare casual elsewhere.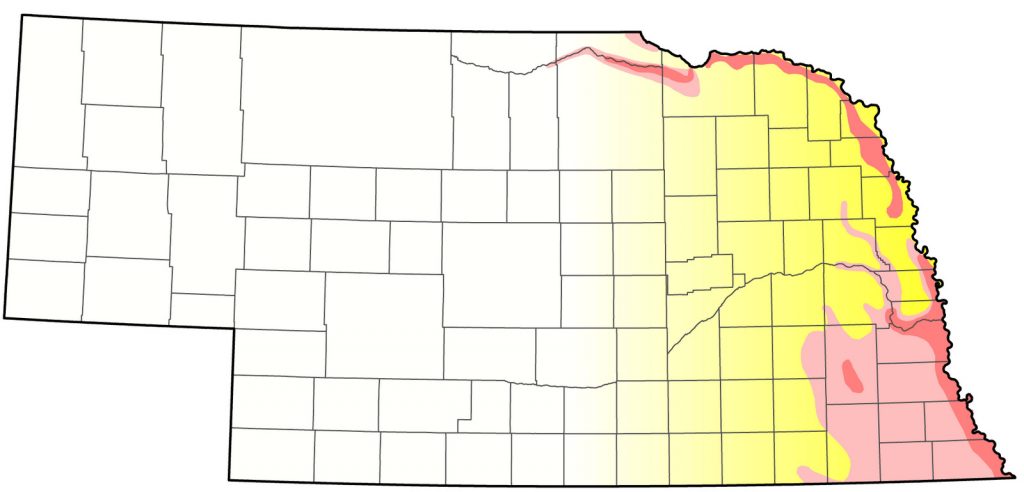 Documentation: Specimen: UNSM ZM10537, 28 Apr 1888 (two birds) Peru, Nemaha Co.
Taxonomy: No subspecies are currently recognized (Pyle 1997).
Spring: Apr 23, 24, 24 <<<>>> summer
Arrival is in mid-late Apr.
Most of the few reports away from the breeding range, other than breeding season reports discussed under Summer, are of spring migrants, including these from the Panhandle: 18 May 2018 Oshkosh, Garden Co, 21 May 2022 Kimball Co, 25 May 1980 Dawes Co (Rosche 1982), 29 May 1949 Dawes Co, and 6 Jun 2017 Smith Lake WMA, Sheridan Co. Two reports from Crescent Lake NWR, Garden Co, probably of the same bird, were 18 May and 12 Jun 2010. Close to the Panhandle was one at Lake McConaughy, Keith Co 5 May 2002.
High counts: 17 in Sarpy Co 13 May 1995, 14 at Wilderness Park, Lancaster Co 11 May 2019, and 11 at Ponca SP, Dixon Co 15 May 2021.
Summer: The BBS Trend Analysis shows an average annual increase of 7.27 (95% C.I.; 1.11, 14.24) in Nebraska; increases may be leading to gradual range expansion westward.
Yellow-throated Vireo is most numerous in the southeast and in the Missouri River Valley. It summers regularly north to the Gavin's Point Dam area in Cedar Co. There are scattered records in Knox Co, especially in the Verdigre area, where singles were near Niobrara 8 Jun 2002, 9 Jul 2008, and along Schindler Creek 30 May and 22 Jul 2009 and 21 May 2011. and in Boyd Co 9 Jun 2008, 20 May 2013, and 12 Jul 2022.
Along the Niobrara River Valley, it is essentially absent west of Holt and Boyd Cos. Brogie and Mossman (1983) found no Yellow-throated Vireos in the area in 1982 and suggested that "breeding populations are unstable this far west." Farther west there are several reports from Brown Co, where Short (1965) found three scattered singing males and a female during late May and Jun 1964 along Plum Creek northwest of Ainsworth and collected a male with enlarged testes 17 Jun in open second growth woods. There are subsequent summer records from Brown Co 3 Jun 2018 Niobrara Valley Preserve, likely a migrant, 23 Jun 2022, 30 Jun-1 Jul 1969, 30 Jun 1972, 30 Jun 1973, and 10 Jul 2016. One was in Keya Paha Co 17 Jun 2020, and in Cherry Co there are reports 4 Jun 2018, likely a migrant, 5 Jun 2017 Sharp's Campground, also likely a migrant, and 13 Jul 2001 at Valentine,
There are a few reports in the Elkhorn River Valley, where it summers occasionally north to Cuming Co, with only two reports further west, in Antelope Co 12 Jun 2011 and 6 Jul 2008.
In the Loup River drainage, most of the few reports are of spring strays, although it was reported in Custer Co 1 Jul 1972, and at NNF Bessey, Thomas Co 22-24 May 1990, when two birds thought to be a territorial pair foraged for three days in a cottonwood along the Middle Loup River; no evidence of nesting was noted (Cortelyou 1990) and the report was listed as "hypothetical" by Bray (1994). It was reported there, however, 15 May 2015, and there are three additional Loup River drainage reports from Custer Co: 11 May 2010, 28 May 1968, and 3 Jun 1978.
Breeding in the Platte River Valley extends regularly west only to Dodge and Saunders Cos, although there are breeding season reports in Platte Co 14 Jul 2011, Colfax Co 24 Jun 2011, and westerly in Buffalo Co 11 Jun, possibly a late migrant.
There are several reports in the Salt Creek drainage in Lancaster Co, where the species has recently become established in low numbers in the Wilderness Park area. Mollhoff (2016) shows confirmed breeding in Lancaster Co.
The Big and Little Blue River drainages host low numbers; the species appears to be establishing there. As far north as Seward Co, there are reports 18 Jun 2013 and 13 Jul 2013, possibly the same bird, and in Jefferson Co, 1-2 from 3-16 Jun at Rose Creek WMA, two on 16 Jun 2011, one on 28 Jun 2011, and two in Fairbury 2 Jul 2022. Despite these reports, breeding has not yet been documented in the area.
The only reports from the Big Blue River drainage are at Homestead NM, Gage Co; these are 11 May 2013, 11 May 2015, and 3 Aug 2015, all of which may be migrants rather than breeding birds.
There are a few scattered reports in the widespread drainage of the Big Nemaha River, again most likely migrants: 9 May 2015 Hickory Ridge WMA, Johnson Co, 2 Jun 2008 Burchard Lake WMA, Pawnee Co, 5 May 2014 Verdon Lake SRA, Richardson Co, 14 Jun 2013 Verdon Lake SRA, and 11 Jun 2014 at Four Mile Creek, Richardson Co.
Breeding Phenology:
Nest building: 8-21 May
Eggs: 24 May-11 Jun (Mollhoff 2022)
Nestlings: 9 May (very early; Callaway and Callaway 1939, Mollhoff 2022)
Fledglings: 16 Jun-3 Jul
Fall: summer <<<>>> Sep 28, 29, 29
A later date is 26 Oct 2004 Dundy Co.
Departure is completed by late Sep.
Fall reports away from the breeding range are few; apart from the Dundy Co late date above, the only other westerly reports are 12 Jul 2019 Buffalo Co, 18 Jul 2016 Sioux Co, 4 Sep 2002 Kimball Co, 15 Sep 1982 Boone Co.
High counts: 6 at Fontenelle Forest 10 Aug 2011, 6 at Wilderness Park, Lancaster Co 1 Sep 2019, and 6 there 12 Sep 2020.
Images
Abbreviations
BBS: Breeding Bird Survey
NNF: Nebraska National Forest
NM: National Monument
SP: State Park
SRA: State Recreation Area
UNSM: University of Nebraska State Museum
WMA: Wildlife Management Area (State)
Literature Cited
Bray, T.E. 1994. Habitat utilization by birds in a man-made forest in the Nebraska Sandhills. Master's thesis, University of Nebraska-Omaha, Omaha, Nebraska, USA.
Brogie, M.A., and M.J. Mossman. 1983. Spring and summer birds of the Niobrara Valley Preserve, Nebraska: An annotated checklist. NBR 51: 44-51.
Cortelyou, R.G. 1990. 1990 (Sixty-fifth) Spring Occurrence Report. NBR 58: 58-83.
Mollhoff, W.J. 2016. The Second Nebraska Breeding Bird Atlas. Bull. Univ. Nebraska State Museum Vol 29. University of Nebraska State Museum, Lincoln, Nebraska, USA.
Mollhoff, W.J. 2022. Nest records of Nebraska birds. Nebraska Ornithologists' Union Occasional Paper Number 9.
Pyle, P. 1997. Identification Guide to North American Birds. Part I, Columbidae to Ploceidae. Slate Creek Press, Bolinas, California, USA.
Rosche, R.C. 1982. Birds of northwestern Nebraska and southwestern South Dakota, an annotated checklist. Cottonwood Press, Crawford, Nebraska, USA.
Short, L.L., Jr. 1965. Bird records from northern Nebraska during the breeding season. NBR 33: 2-5.
Recommended Citation
Silcock, W.R., and J.G. Jorgensen. 2022. Yellow-throated Vireo (Vireo flavifrons). In Birds of Nebraska — Online. www.BirdsofNebraska.org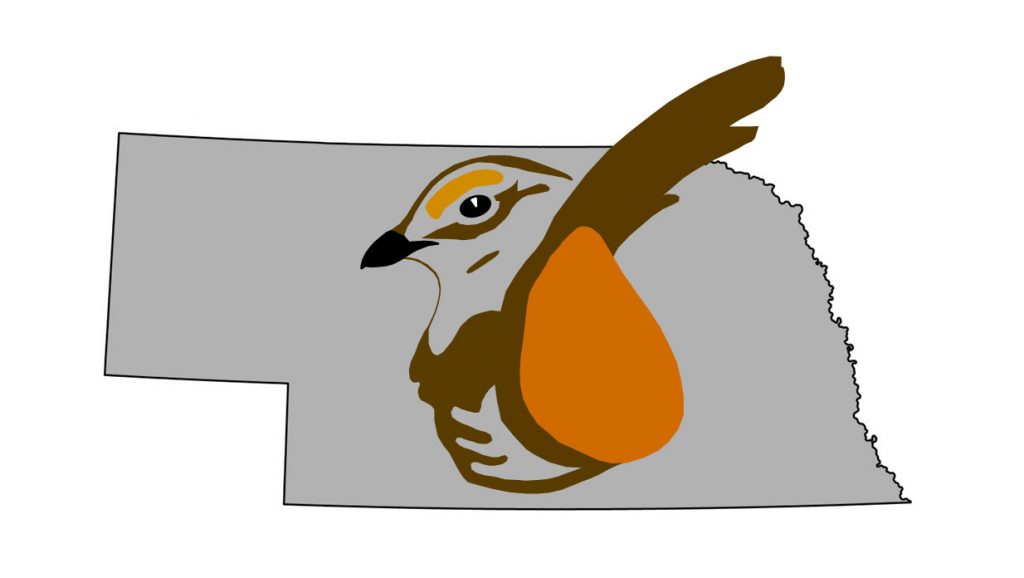 Birds of Nebraska – Online
Updated 24 Dec 2022