Setophaga dominica albilora
Status: Rare regular spring migrant east, rare casual elsewhere. Locally rare regular breeder east. Rare casual fall migrant east and central.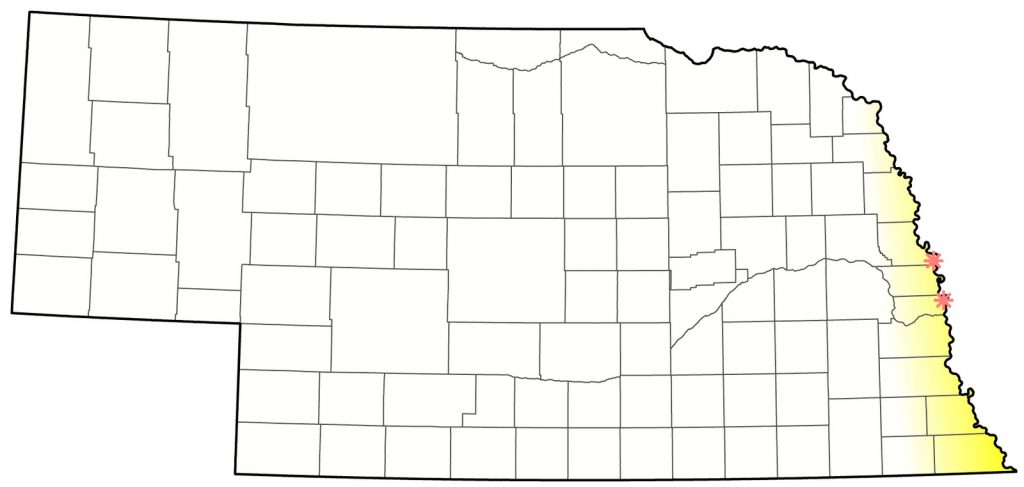 Documentation: Photograph: 28 Nov-24 Dec 1980 Omaha, Douglas Co (Cortelyou 1981).
Taxonomy: Three subspecies are recognized by some authors (Pyle 1997, Clements et al 2016): albilora, breeding in the east-central and southeast USA, dominica, breeding from New Jersey to central Florida, and stoddardi, breeding in extreme southern Alabama and northwest Florida. McKay and Hall (2020) synonymized the subspecies as differing only clinally. Nebraska breeders are albilora if subspecies are recognized.
Spring: Apr 7, 8, 9 <<<>>> summer
An earlier date is 5 Apr 2012 Neale Woods, Douglas Co.
This species arrives early, in early to mid-Apr. Northerly migrants were in Cuming Co 25 May 1997 and at Ponca SP, Dixon Co 16 May 2013, and westerly were singles in Buffalo Co 18 May 2013 and Lancaster Co 30 Apr 2006.
There are at least 38 reports from the central and four from the Panhandle. The only documented Panhandle records are of one photographed at Crescent Lake NWR 26 May 2009, one "well described" at Antioch, Sheridan Co 6 May 1931 (Rosche 1982), and a specimen taken at Oshkosh, Garden Co 20 May 1917 and identified as the expected subspecies albilora by Oberholser; it was #2892 in the Brooking Collection (Swenk, Notes Before 1925), but it cannot now be located.
High counts: 11 at Fontenelle Forest, Sarpy Co 14 May 2016, 10 there 23 Apr 2009, and 7 there 13 Apr 2002.
Summer: Neither Johnsgard (1979, 1980) nor Ducey (1988) listed this species as breeding in Nebraska. Since 1981, however, it has been reported in summer from sycamore (Platanus occidentalis) stands at Fontenelle Forest and since 1997 at Krimlofski Tract, Neale Woods, Washington Co. At Fontenelle Forest, singing territorial males are now regular. Confirmation of breeding at this location was obtained in 1989 when birds were observed gathering nesting material on 4 May (Toll; Grzybowski 1989), establishing the northwest limit of the breeding range for the species. Adults were feeding young at Fontenelle Forest 6-9 Sep 1999 (Padelford and Padelford; Mollhoff 2022), and two birds were carrying nest material there 1 May 2004 (Padelford and Padelford; Mollhoff 2022). At Krimlofski Tract, one was singing and carrying insects 26 Jul 2003, indicative of the presence of a fledgling.
Mollhoff (2016), in addition to the sites mentioned above in Washington and Sarpy Cos, showed breeding season reports during 2006-2011 in southeastern Thurston Co at Ashford Scout Camp, eastern Seward Co at Bur Oak and Twin Lakes WMAs, central Jefferson Co, and northern Buffalo Co near Ravenna along the South Loup River. Oddly, there are only three breeding season reports from Indian Cave SP, Nemaha and Richardson Cos 25 May 1985, 13 Jun 2020, and 17 Jun 2006, despite the presence of apparently suitable habitat including stands of sycamores. One was at Falls City, Richardson Co 2 Jul 2017 (eBird.org). None were detected at Indian Cave SP during surveys conducted in early Jun in the years 2012, 2013, and 2014 (Jorgensen et al 2014). The slowly increasing number of summer reports may be associated with increasing numbers in the northwestern portion of the species' normal range in central Missouri (Sauer et al 2017).
Breeding phenology:
Nest building: 4-5 May
Fledglings: 26 Jul-9 Sep
Fall: Yellow-throated Warblers become inconspicuous by Jul, after which there are few reports, although there more reports Nov-Jan than for Aug-Oct. Dates for Aug-Oct are 7 Aug 2019 Schramm SP, Sarpy Co, 13 Aug 2022 Fontenelle Forest, Sarpy Co, 24 Aug 2012 Mercer Woods, Douglas Co, 15 Sep 2012 Schramm SP, Sarpy Co, 27 Sep 2008 Bellevue, Sarpy Co, and 28 Sep 1989 Douglas-Sarpy Cos.
Reports Nov-Jan are 1 Nov 2018 North Platte, Lincoln Co, 11 Nov 2011 Hall Co, and five extraordinary late records of birds photographed at feeders: 30 Nov 2013 Omaha, 4-5 Dec 2009 Lancaster Co (Brogie 2009), 11 Dec 2007 Lincoln, Lancaster Co 11 Dec 2007 (Brogie 2008), 28 Nov-24 Dec 1980 Omaha, Douglas Co (cited above; Williams 1981), and the only Jan record, one in Lincoln, Lancaster Co 7-27 Jan 2021.
This species winters in the southern USA, unlike most species in its genus.
Images
Abbreviations
NWR: National Wildlife Refuge
SP: State Park
Literature Cited
Brogie, M.A. 2008. 2007 (19th) Report of the NOU Records Committee. NBR 76: 111-119.
Brogie, M.A. 2009. 2009 (21st) Report of the NOU Records Committee. NBR 77: 160-168.
Clements, J. F., T. S. Schulenberg, M. J. Iliff, D. Roberson, T. A. Fredericks, B. L. Sullivan, and C. L. Wood. 2016. The eBird/Clements checklist of birds of the world: v2016, accessed 30 January 2018.
Cortelyou, R.G. 1981. B.J. Rose photo of Yellow-throated Warbler. NBR 49: 33.
Ducey, J.E. 1988. Nebraska birds, breeding status and distribution. Simmons-Boardman Books, Omaha, Nebraska, USA.
Grzybowski, J.A. 1989. Southern Great Plains Region. American Birds 43: 499-501.
Johnsgard, P.A. 1979. Birds of the Great Plains: breeding species and their distribution. University of Nebraska Press, Lincoln, Nebraska, USA.
Johnsgard, P. A. 1980. A preliminary list of the birds of Nebraska and adjacent Great Plains states. Published by the author, University of Nebraska, Lincoln, USA.
Jorgensen, J.G. 2012. Birds of the Rainwater Basin, Nebraska. Nebraska Game and Parks Commission, Lincoln, Nebraska, USA.
Jorgensen, J.G., L.R. Dinan, M.A. Brogie, W.R. Silcock, J. Rink, C. Klaphake, and G. Steinauer. 2014. Breeding Bird Diversity, Abundance and Density at Indian Cave and Ponca State Parks, Nebraska, 2012-2014. Nongame Bird Program of the Nebraska Game and Parks Commission, Lincoln, Nebraska, USA.
McKay, B. and G.A. Hall. 2020. Yellow-throated Warbler (Setophaga dominica), version 1.0. In Birds of the World (A. F. Poole, Editor). Cornell Lab of Ornithology, Ithaca, NY, USA. https://doi.org/10.2173/bow.yetwar.01
Mollhoff, W.J. 2016. The Second Nebraska Breeding Bird Atlas. Bull. Univ. Nebraska State Museum Vol 29. University of Nebraska State Museum, Lincoln, Nebraska, USA.
Mollhoff, W.J. 2022. Nest records of Nebraska birds. Nebraska Ornithologists' Union Occasional Paper Number 9.
Pyle, P. 1997. Identification Guide to North American Birds. Part I, Columbidae to Ploceidae. Slate Creek Press, Bolinas, California, USA.
Rosche, R.C. 1982. Birds of northwestern Nebraska and southwestern South Dakota, an annotated checklist. Cottonwood Press, Crawford, Nebraska, USA.
Sauer, J.R., D.K. Niven, J.E. Hines, D.J. Ziolkowski, Jr, K.L. Pardieck, J.E. Fallon, and W.A. Link. 2017. The North American Breeding Bird Survey, Results and Analysis 1966 – 2015 (Nebraska). Version 2.07. USGS Patuxent Wildlife Research Center, Laurel, Maryland, USA.
Swenk, M.H. Notes before 1925. Bird notes from A.M. Brooking of Hastings, C.A. Black of Kearney, and B.J. Olson of Kearney, based chiefly on their collections, up to January 1, 1925. Typed manuscript in the Nebraska Ornithologists' Union Archives, University of Nebraska State Museum, Lincoln, Nebraska, USA.
Williams, F. 1981. Southern Great Plains Region. American Birds 35: 313-315.
Recommended Citation
Silcock, W.R., and J.G. Jorgensen. 2023. Yellow-throated Warbler (Setophaga tigrina). In Birds of Nebraska — Online. www.BirdsofNebraska.org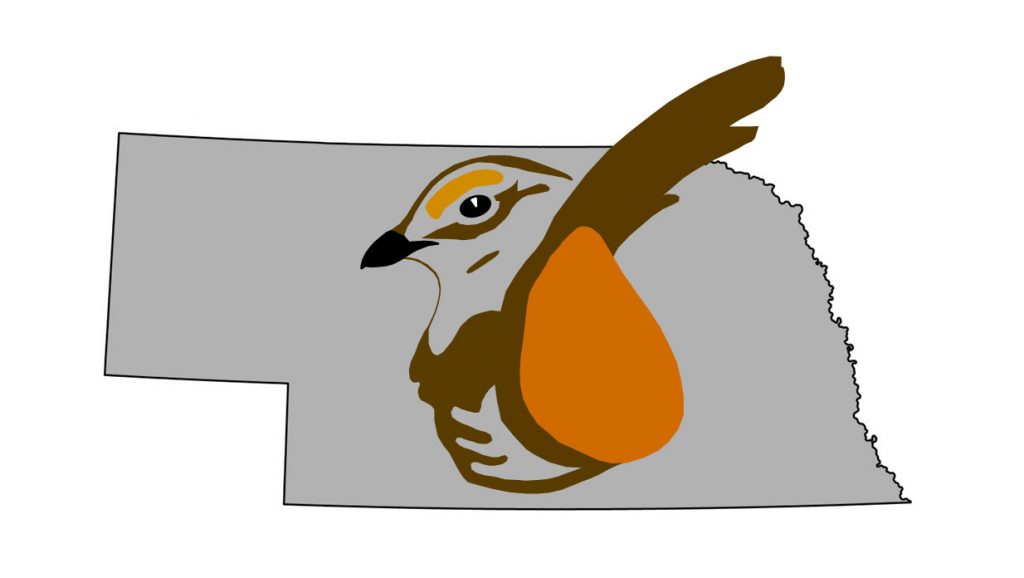 Birds of Nebraska – Online
Updated 1 Jan 2023