Anhinga anhinga leucogaster
Status: Rare casual spring visitor southeast.
Documentation: Description: 27-30 Apr 1975 near Wolbach, Greeley and Howard Cos (Faeh 1975).
Taxonomy: Anhinga has traditionally consisted of four subspecies worldwide that current authors generally consider separate species (Gill et al 2021). Two subspecies are recognized within newly-constituted American species Anhinga, A. anhinga (Gill et al 2021): leucogaster of southeastern United States and northern Caribbean, and anhinga of South America and southern Caribbean.
Nebraska reports are presumed leucogaster.
Spring: Three of the five reports are accepted:
30 Apr 2005 single flyover Indian Cave SP, Richardson Co (Brogie 2006)
2-5 May 1987 Fontenelle Forest, Sarpy Co (Cortelyou 1987, Williams 1987, Korpi 2018)
18 May 2017 Swan Creek WMA, Saline Co (Brogie 2018).
Two additional reports without details may be correct; they fit the above pattern of occurrence: 8 Apr 1978 Fontenelle Forest (Cortelyou 1978), and 4 May 1955 Hamilton Co.
Comments: There is a specimen, HMM 21719, taken at Wood River, Buffalo Co 20 Sep 1913 (Bray et al 1986, Swenk 1934) whose provenance we consider questionable, based on considerations discussed in Sharpe et al (2001); see also Silcock and Jorgensen (2018).
There are four additional reports which we consider not accepted; one was reported without details 30 Aug 2001 at Walnut Creek Lake, Sarpy Co, one purported to have been shot in the 1890s in the Omaha area may have been shot in Iowa or even Missouri (Swenk 1934), no details were provided for one present for three days in late Oct 1976 at the Hamilton-Merrick Cos bridge (Swanson 1977), and a report of one at Zorinsky Lake, Douglas Co 11 Oct 2019 "lacked conclusive details" for NOURC acceptance (Brogie 2021).
Scattered records exist for Kansas (Thompson et al 2011), where it is considered a vagrant; it occurs casually during the spring and summer in southeastern Missouri but is accidental in northern and western Missouri (Robbins 2018). The nearest breeding areas are in southeast Oklahoma and central Arkansas (AOU 1998). eBird.org (accessed April 2018) shows a pattern of rare occurrence northward in eastern Kansas and the Missouri River Valley.
Images
Abbreviations
HMM: Hastings Municipal Museum
SP: State Park
WMA: Wildlife Management Area (State)
Literature cited
American Ornithologists' Union [AOU]. 1983. The AOU Check-list of North American birds, 6th ed. Allen Press, Lawrence, Kansas, USA.
Bray, T.E., B.K. Padelford, and W.R. Silcock. 1986. The birds of Nebraska: A critically evaluated list. Published by the authors, Bellevue, Nebraska, USA.
Brogie, M.A. 2006. 2005 (17th) Report of the NOU Records Committee. NBR 74: 69-74.
Brogie, M.A. 2018. 2017 (29th) Report of the NOU Records Committee. NBR 86: 131-142.
Brogie, M.A. 2021. 2020 (32nd) Report of the NOU Records Committee. NBR 89: 139-145.
Cortelyou, R.G. 1978. 1978 (Fifty-third) Spring migration and Occurrence Report. NBR 46: 66-85.
Cortelyou, R.G. 1987. 1987 (Sixty-second) Spring Occurrence Report. NBR 55: 50-67.
Faeh, J. 1975. Anhinga seen in Nebraska again. NBR 43: 41-42.
Gill, F., D. Donsker, and P. Rasmussen (Eds). 2021. IOC World Bird List (v 11.2). Doi 10.14344/IOC.ML.11.2. http://www.worldbirdnames.org/.
Korpi, R. 2018. Checklist S34212356: Fontenelle Forest, Sarpy County, Nebraska, US, 5 May 1987, eBird.org, accessed 1 May 2018.
Robbins, M.B. 2018. The Status and Distribution of Birds in Missouri. University of Kansas Biodiversity Institute, Lawrence, Kansas, USA.
Silcock, W.R., and J.G. Jorgensen. 2018. Lesser Prairie-Chicken (Tympanuchus pallidicinctus), Version 1.0. In Birds of Nebraska — Online. www.BirdsofNebraska.org.
Swanson, K.S. 1977. Anhinga. NBR 45: 52.
Swenk, M.H. 1934. A Brief Synopsis of the Birds of Nebraska. III. Totipalmate Swimmers-Pelicans. NBR 2:128-136.
Williams, F. 1987. Southern Great Plains Region. American Birds 41: 454-458.
Recommended Citation
Silcock, W.R., and J.G. Jorgensen. 2022. Anhinga (Anhinga anhinga leucogaster). In Birds of Nebraska — Online. www.BirdsofNebraska.org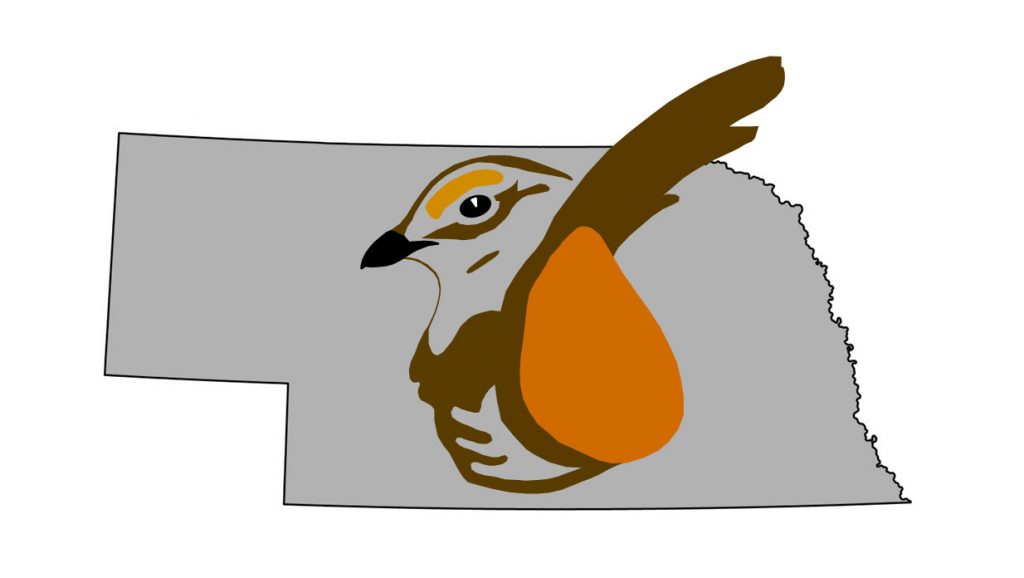 Birds of Nebraska – Online
Updated 22 Apr 2022