Setophaga auduboni auduboni
Status: Fairly common regular spring and fall migrant west, uncommon central, rare casual east. Uncommon regular breeder northwest. Rare casual winter visitor west-central.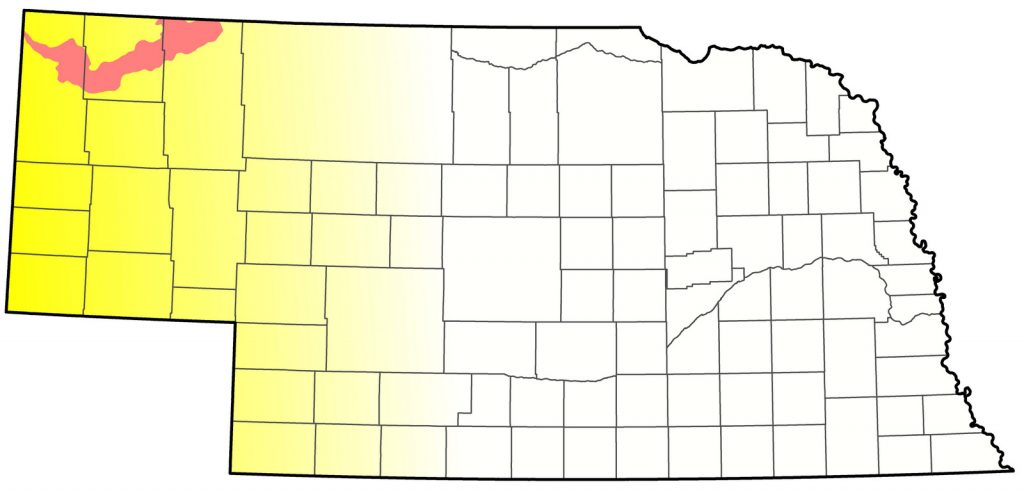 Documentation: Specimen: UNSM ZM6847, 21 May 1900 Sioux Co.
Taxonomy: Gill et al (2021) included Mexican taxon nigrifrons with auduboni as subspecies based on genetic data (Brelsford et al 2011).
Birds breeding in Nebraska were assigned to subspecies memorabilis by AOU (1957); this poorly-differentiated eastern race is now considered synonymous with auduboni within the Audubon's Warbler group (Pyle 1997).
See "Comments" under Myrtle Warbler.
Spring: Apr 27, 28, 28 <<<>>> summer (Pine Ridge); Apr 16, 17, 18 <<<>>> Jun 5, 5, 6 (elsewhere)
An earlier date on the Pine Ridge is 21 Apr 2021 (2) Gilbert-Baker WMA, Sioux Co.
Earlier dates elsewhere are 9 Apr 2022 Dundy Co, and 13 Apr 2019 Scotts Bluff Co. For Mar dates, see Winter.
Later dates elsewhere are all from the Wildcat Hills, Scotts Bluff Co (see Summer), except for 10 Jun 2010 western Cherry Co.
Migration occurs mostly in May, and stragglers occur in the east. Extreme dates for migrants at Barr Lake, Colorado are 7 Apr and 6 Jun (Andrews et al 2002).
There are 18 reports for the east 16 Apr-16 May; the 11 documented records are 18 Apr 2011 South Bend, Cass Co, 18 Apr 2011 Platte River SP, Cass Co, 21 Apr 2019 photo Lancaster Co, 28 Apr 2019 Howard Co, 25 Apr 2013 Lancaster Co, 27 Apr 2015 photo Omaha, Douglas Co, 3 May 2017 Dodge Co, 4 May 2011 Knox Co, 6 May 2022 Douglas Co, 7 May 2021 Fontenelle Forest, Sarpy Co, and 16 May 2015 Madison Co.
In the eastern Rainwater Basin there are three reports 15 Apr-13 May (Jorgensen 2012), and, in Lincoln Co, Tout (1947) cited occurrence 23 Apr-10 May. At NNF Bessey, Thomas Co, it occurs regularly in spring and fall (Bray 1994). We believe Ludlow's (1935) description of this taxon as a "common migrant" in Webster County with reports 18 Apr-21 May unsubstantiated that far east.
High counts: 14 at Oliver Reservoir, Kimball Co 22 May 2021, 14 there 21 May 2022, 14 at Buffalo Creek WMA, Scotts Bluff Co 10 May 2022, and 13 at Oliver Reservoir 17 May 1999.
Summer: Audubon's Warbler breeds in open ponderosa pine woods, with a preference for areas near deciduous trees (Johnsgard 1979), on the Pine Ridge in Sioux, Dawes, and Sheridan Cos. During the first breeding bird atlas for the period 1984-1989 (Mollhoff 2001a), reports were from Sioux and Dawes Cos, but breeding was not confirmed in Sheridan Co until the second atlas period 2006-2011 (Mollhoff 2016). It was present in summer in Sheridan Co in 1992 and 1993. Reports of breeding apart from the BBAs include a nest with eggs near Warbonnet Canyon, Sioux Co 27 Jun 1901 (Cary; UNSM ZM9092; Mollhoff 2022), one of a pair along Pants Butte Road, Sioux Co carrying food 6 Jul 2002, and a nest with half-grown young was found 12 Jun 1999 in West Ash Canyon, Dawes Co (Mollhoff 2001b).
Both the first and second BBAs showed a total of six reports in the Wildcat Hills of Scotts Bluff, Banner, and Morrill Cos, (Mollhoff 2001a, 2016), although nesting there has not been confirmed. There are 18 reports Jun-Jul, apart from those in the BBAs, in Scotts Bluff Co beginning 4 Jul 1992, 13 of these 2017 through 2021. One was in the Banner Co section 7 Jul 2001.
There are a few older undocumented reports Jun-Aug away from the breeding range.
Breeding phenology:
Nest building: 20 May
Nestlings: 7-12 Jun
Eggs: 27 Jun
Fledglings: 28-30 Jun
Fall: Aug 21, 21, 22 <<<>>> Oct 26, 26, 26
Later dates are two at a feeder near Mitchell, Scotts Bluff Co 31 Oct 2004, and one in Wayne Co 3 Nov 2014. The latest specimen date for Audubon's Warbler is 27 Sep 1920 Sioux Co (UNSM ZM6844).
Individuals appear in the Panhandle away from breeding areas in late Aug; the early dates above are away from the breeding range. Tout (1947) cited occurrence 24 Sep-Oct 9 in Lincoln Co. Extreme dates at Barr Lake, Colorado, are 6 Sep and 23 Nov (Andrews et al 2002).
Rosche (1994) stated that Audubon's is "much scarcer" than Myrtle in the Keith Co area in fall and departs earlier than Myrtle.
The only reports from the east are 18 Sep 2021 Douglas Co, 2 Oct 2020 Lancaster Co, two on 11 Oct 1934 Webster Co (Ludlow 1935), 17 Oct 2018 Knox Co, and 3 Nov 2014 Wayne Co.
High counts: 32 at Oliver Reservoir, Kimball Co 20 Sep 2003, 24 at Rock Creek SRA, Dundy Co 27 Sep 2020, and 20 at Lake Minatare, Scotts Bluff Co 24 Sep 2022.
Winter: There are seven records Dec-Jan, including five from the Lake McConaughy area, Keith Co: one was found on the Lake McConaughy CBC 28 Dec 2013, another was there for the 2 Jan 2016 CBC, one was there 27 Dec 2021, one was at Cedar Vue Campground 5 Jan 2019, one was photographed at Keystone Dam 21 Feb 2020, and one was photographed at Lake Ogallala 23 Feb 2013. Two were at Sutherland Reservoir, Lincoln Co 16 Dec 2021 and one on 3 Jan 2022. One was reported without details on the Scottsbluff CBC 15 Dec 1979. The only easterly winter record is of one at Branched Oak Lake, Lancaster Co 12 Dec 2015. Along with records for Lincoln Co of two males 1 Mar 2012, and singles 18-25 Mar 2013 and 8 Apr 2016, these records suggest wintering may occur in the cedar canyons in Lincoln Co and in Keith Co. Maps in eBird show numerous winter records in northeastern Colorado (eBird.org, accessed Apr 2021).
Images
Abbreviations
BBA: Breeding Bird Atlas
CBC: Christmas Bird Count
NNF: Nebraska National Forest
NWR: National Wildlife Refuge
RA: Recreation Area
SP: State Park
UNSM: University of Nebraska State Museum
Literature Cited
Andrews, R., R. Righter, M. Carter, T. Leukering, and A. Banks. 2002. Birds of Barr Lake and Surrounding Areas 1888 through 1999. Ornithological Monograph No. 1, Rocky Mountain Bird Observatory, Brighton, Colorado, USA.
American Ornithologists' Union [AOU]. 1957. The AOU Check-list of North American birds, 5th ed. Port City Press, Baltimore, Maryland, USA.
American Ornithologists' Union [AOU]. 1983. The AOU Check-list of North American birds, 6th ed. Allen Press, Lawrence, Kansas, USA.
Bray, T.E., B.K. Padelford, and W.R. Silcock. 1986. The birds of Nebraska: A critically evaluated list. Published by the authors, Bellevue, Nebraska, USA.
Cortelyou, R.G. 1989. 1988 Christmas Count. NBR 57: 3-9.
Gill, F., D. Donsker, and P. Rasmussen (Eds). 2021. IOC World Bird List (v 11.2). Doi 10.14344/IOC.ML.11.2. http://www.worldbirdnames.org/.
Johnsgard, P.A. 1979. Birds of the Great Plains: breeding species and their distribution. University of Nebraska Press, Lincoln, Nebraska, USA.
Jorgensen, J.G. 2012. Birds of the Rainwater Basin, Nebraska. Nebraska Game and Parks Commission, Lincoln, Nebraska, USA.
Ludlow, C.S. 1935. A quarter-century of bird migration records at Red Cloud, Nebraska. NBR 3: 3-25.
Mollhoff, W.J. 2001a. The Nebraska Breeding Bird Atlas 1984-1989. Nebraska Ornithologists' Union Occasional Papers No. 7. Nebraska Game and Parks Commission, Lincoln, Nebraska, USA.
Mollhoff, W.J. 2001b. 1999-2000 Nebraska nesting report. NBR 69: 92-101.
Mollhoff, W.J. 2016. The Second Nebraska Breeding Bird Atlas. Bull. Univ. Nebraska State Museum Vol 29. University of Nebraska State Museum, Lincoln, Nebraska, USA.
Mollhoff, W.J. 2022. Nest records of Nebraska birds. Nebraska Ornithologists' Union Occasional Paper Number 9.
Pyle, P. 1997. Identification Guide to North American Birds. Part I, Columbidae to Ploceidae. Slate Creek Press, Bolinas, California, USA.
Rapp, W.F. Jr., J.L.C. Rapp, H.E. Baumgarten, and R.A. Moser. 1958. Revised checklist of Nebraska birds. Occasional Papers 5, Nebraska Ornithologists' Union, Crete, Nebraska, USA.
Rosche, R.C. 1994. Birds of the Lake McConaughy area and the North Platte River valley, Nebraska. Published by the author, Chadron, Nebraska, USA.
Tout, W. 1947. Lincoln County birds. Published by the author, North Platte, Nebraska, USA.
Recommended Citation
Silcock, W.R., and J.G. Jorgensen. 2023. Audubon's Warbler (Setophaga auduboni). In Birds of Nebraska — Online. www.BirdsofNebraska.org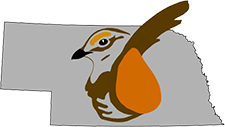 Birds of Nebraska – Online
Updated 1 Jan 2023