Anser leucopsis
Status: No accepted records.
Taxonomy: No subspecies recognized.
Comments: Barnacle Goose, like Pink-footed Goose, is experiencing a dramatic population increase and its status in North America reflects this; unlike Pink-footed Goose however, Barnacle Goose is popular in collections, which presents a challenge to Records Committees attempting to determine provenance (Howell et al 2014). A case for occurrence of wild birds reaching the interior United States was made by Mlodinow and O'Brien (1996). Barnacle Goose is casual Oct-Apr in the northeastern United States, with reports south to Colorado, Texas, and the Gulf Coast, and, while many may be escaped birds, there are banding recoveries of European birds, including one banded in Islay, Scotland, Nov 2004 as a juvenile that was shot by a hunter in eastern Ontario, Canada in fall 2005 (Ron Pittaway, Jean Iron, Post to ID-Frontiers). A genetic study on about 1000 white-cheeked goose tail fans conducted in Canada to determine if DNA analysis could be used to track these species for hunting control purposes found that two Cackling Goose tails had Barnacle Goose mitochondrial DNA (Jim Leafloor, Steve Mlodinow, pers. comm.). Dr. Leafloor noted that this may have resulted from an escaped Barnacle Goose, but also a wild bird living with Cackling Geese in the high arctic.
There are numerous records westward through the Great Lakes, including several in Wisconsin and Illinois; The Arkansas Rare Birds Committee recently accepted that state's first record, a bird in central Arkansas 27 Dec 2010 (eBird.org, accessed November 2017).
There are five reports for Nebraska, all during 2 Nov-4 Apr, a period when wild birds may occur. Two of these were not accepted by NOURC based on unknown provenance: one at a sandpit pond south of the Odessa bridge in Phelps Co 9 Mar 1995 (Gubanyi 1996), and the other with small Canada Geese at Massie WPA, Clay Co 28 Mar-4 Apr 1998 (Brogie 1999), possibly the same bird that was at Harvard WPA, Clay Co 9 May 1998 (Jorgensen 2012). The other three reports are of a mounted specimen shot from a flock of "Hutch" Canada Geese (now known as Cackling Goose, Branta hutchinsii) 2 Nov 1968 in Otoe Co, six Barnacle Geese in a flock of 40 Cackling Geese (Cortelyou 1969), and a group of three distantly photographed in Colfax Co Apr 2014 (Brogie 2015).
Abbreviations
NOURC: Nebraska Ornithologists' Union Records Committee
WPA: Waterfowl Production Area (Federal)
Acknowledgement
Photograph (top) of a Barnacle Goose specimen taken in Otoe Co 2 Nov 1968 by Joel G. Jorgensen. A photograph of this mount was originally published in Cortelyou (1969). The mount is now housed at the Nebraska Game and Parks Commission headquarters in Lincoln, Nebraska.
Literature Cited
Brogie, M.A. 1999. 1998 (Tenth) Report of the NOU Records Committee. NBR 67: 141-152.
Cortelyou, R.G. 1969. Barnacle Goose taken in Nebraska. NBR 37: 2-3.
Gubanyi, J.G. 1996. 1995 (Seventh) Report of the NOU Records Committee. NBR 64: 132-138.
Howell, S.N.G., I. Lewington, and W. Russell. 2014. Rare birds of North America. Princeton University Press, Princeton, New Jersey, USA.
Jorgensen, J.G. 2012. Birds of the Rainwater Basin, Nebraska. Nebraska Game and Parks Commission, Lincoln, Nebraska, USA.
Mlodinow, S.G., and M. O'Brien. 1996. America's 100 most wanted birds. Falcon Press, Helena, Montana, USA.
Recommended Citation
Silcock, W.R., and J.G. Jorgensen.  2020.  Barnacle Goose (Anser leucopsis), Version 1.0.  In Birds of Nebraska — Online. www.BirdsofNebraska.org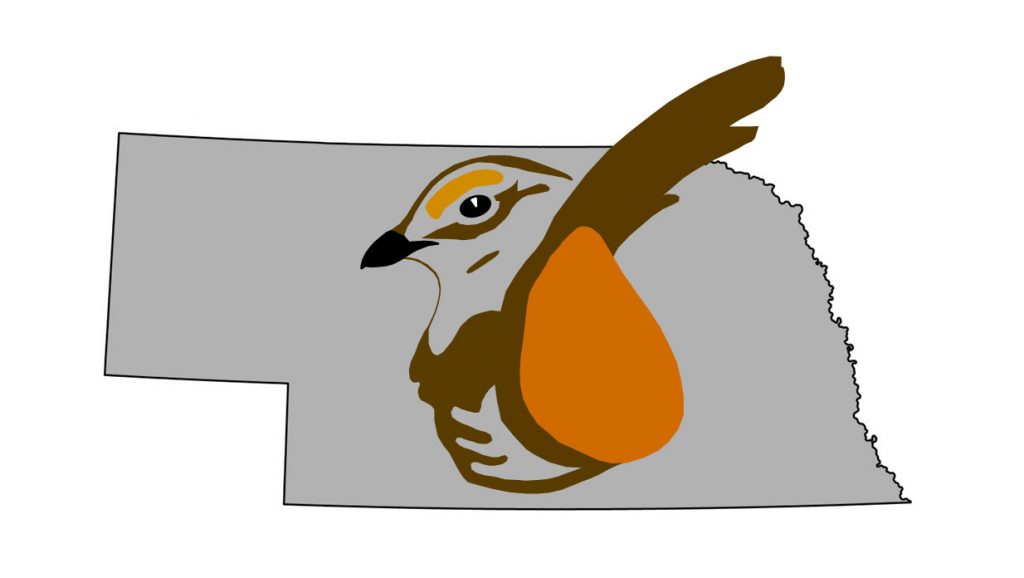 Birds of Nebraska – Online