Bucephala albeola
Status: Common, locally abundant, regular spring and fall migrant statewide. Rare casual summer visitor statewide. Accidental breeder Brown Co. Rare, locally uncommon, regular winter visitor west, south, east.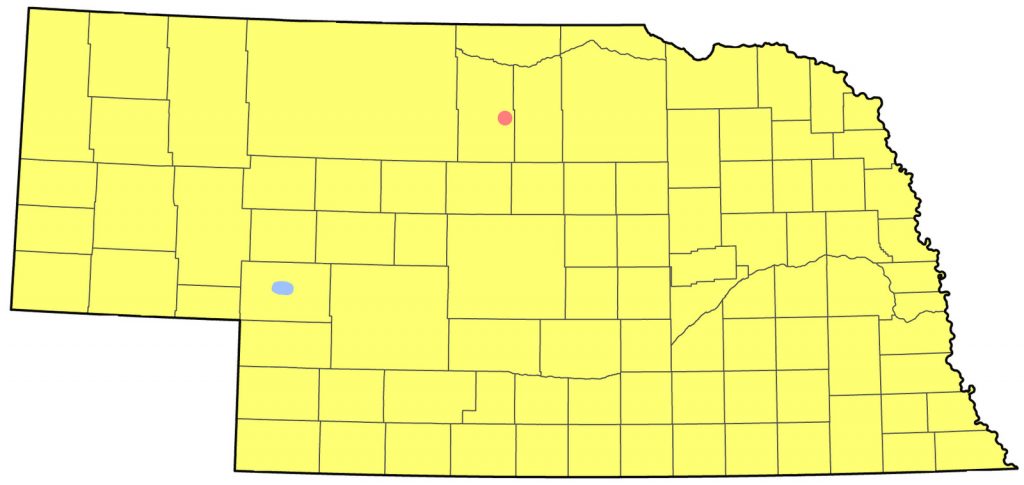 Documentation: Specimen: WSC 544, 4 Nov 1979 Gavin's Point Dam, Cedar Co.
Taxonomy: No subspecies are recognized (Gill et al 2022).
For Nebraska records of hybrids with Common Goldeneye, see Bufflehead x Common Goldeneye. 
Spring: Jan 25, 25, 26 <<<>>> May 25, 26, 26
Arrival occurs as water opens; early dates above are away from Keith Co. Peak numbers occur in late Mar and decline substantially into late May.
High counts: 1440 at Crescent Lake NWR, Garden Co 25 Apr 1995, 418 at Lake Ogallala, Keith Co 14 Mar 2001, 350 at Lake Ogallala 10 Mar 2022, 300 at Lake Wanahoo, Saunders Co 14 Apr 2013, and 290 at Goose Lake, Crescent Lake NWR 10 Apr 2021.
Summer: There is a single breeding record: an adult female and four downy young about two weeks old were found on Hagan Lake, Brown Co, 24 Jun 2000 by NGPC waterfowl biologist Nick Lyman (Mollhoff 2001, 2022). Mollhoff (2022) mentions a report of young at Crescent Lake NWR in 1974, but "no corroborating details" were provided.
Since first breeding is at two years of age (Gauthier 2020), most summer (27 May-3 Oct) reports are probably of immature non-breeders, mostly in the Panhandle and western Sandhills and especially at Crescent Lake NWR, Garden Co, although overlooked breeding is possible. Best summer tallies among the few summer records overall at Crescent Lake NWR are 14 on 5 Aug 2021 and 12 on 7 Aug 1998.
Away from the western Sandhills, summer reports (27 May-3 Oct) are few: 31 May 2008 Lincoln Co, 6 Jun 1999 Youngson WPA, Adams Co, 10 Jun 1995 Dakota Co, 12 Jun 2003 Scotts Bluff Co, 13-14 Jun 2020 Hall Co, 14 Jun 2002 Cherry Co, 21 Jun 2008 Hamilton Co, 26 Jun-30 Jul Sarpy Co, 30 Jun 1984 Adams Co, 1 Jul 1986 Pierce Co, 10 Jul 1916 Inland, Clay Co (Brooking, Notes), 20 Jul 2012 Dawes Co, 30 Jul 2022 "female type" Sarpy Co, and 10 Sep 1994 Gordon SL, Sheridan Co.
Fall: Oct 4, 4, 5 <<<>>> Jan 4, 5, 6
Fall migrants arrive in early Oct. Earlier dates are 14 and 21 Sep 2021 Scottsbluff WTP, Scotts Bluff Co, 27 Sep 2020 Crescent Lake NWR, and a pair at Smith Lake WMA, Sheridan Co 28 Sep 2020. Numbers peak in early Nov, although a good count for the late date was the 385 at Lake Ogallala 30-31 Dec 2011. Late dates above are away from Keith Co. See Winter.
High counts: 1394 at Lake Ogallala 14 Nov 2000, 1266 at Lake McConaughy 31 Oct 2006, and 1200 at Keystone Lake, Keith Co 9 Nov 1990 (Rosche 1994).
Winter: Regular overwintering probably occurs only at Lake Ogallala, Keith Co. Rosche (1994) stated that about 100 winter there most years; at least 184 wintered 1999-2000 and 90 were there 8 Jan 2018.
There are a few mid-winter (7-24 Jan) reports away from Lake Ogallala, scattered statewide: 1-3 from 7-15 Jan Alma SL, Harlan Co, 9 Jan 1980 Dawson Co, 14 Jan 2019 Fort Niobrara NWR, Cherry Co, 14 Jan 2020 two at Sutherland Reservoir, Lincoln Co, 15 Jan 2023 (12) Sarpy Co, 16 Jan 2012 Frontier Co, 16 Jan 2015 Sutherland Reservoir, 19 Jan 2014 Antelope Co, 20 Jan 1962 Adams Co, 22 Jan 2000 Harlan County Reservoir, Harlan Co, and 22 Jan 2009 Sarpy Co.
Abbreviations
NGPC: Nebraska Game and Parks Commission
NWR: National Wildlife Refuge
SL: Sewage Lagoons
WMA: Wildlife Management Area (State)
WPA: Waterfowl Production Area (Federal)
WSC: Wayne State College
WTP: Water Treatment Plant
Literature Cited
Brooking, A.M. Notes. Bird specimen records. Manuscript in NOU Archives.
Gauthier, G. 2020. Bufflehead (Bucephala albeola), version 1.0. In Birds of the World (A. F. Poole, Editor). Cornell Lab of Ornithology, Ithaca, NY, USA. https://doi.org/10.2173/bow.buffle.01.
Gill, F., D. Donsker, and P. Rasmussen (Eds). 2022. IOC World Bird List (v 12.2). Doi 10.14344/IOC.ML.12.2. http://www.worldbirdnames.org/.
Mollhoff, W.J. 2001. 1999-2000 Nebraska nesting report. NBR 69: 92-101.
Mollhoff, W.J. 2022. Nest records of Nebraska birds. Nebraska Ornithologists' Union Occasional Paper Number 9.
Rosche, R.C. 1994. Birds of the Lake McConaughy area and the North Platte River valley, Nebraska. Published by the author, Chadron, Nebraska, USA.
Recommended Citation
Silcock, W.R., and J.G. Jorgensen. 2023. Bufflehead (Bucephala albeola). In Birds of Nebraska — Online. www.BirdsofNebraska.org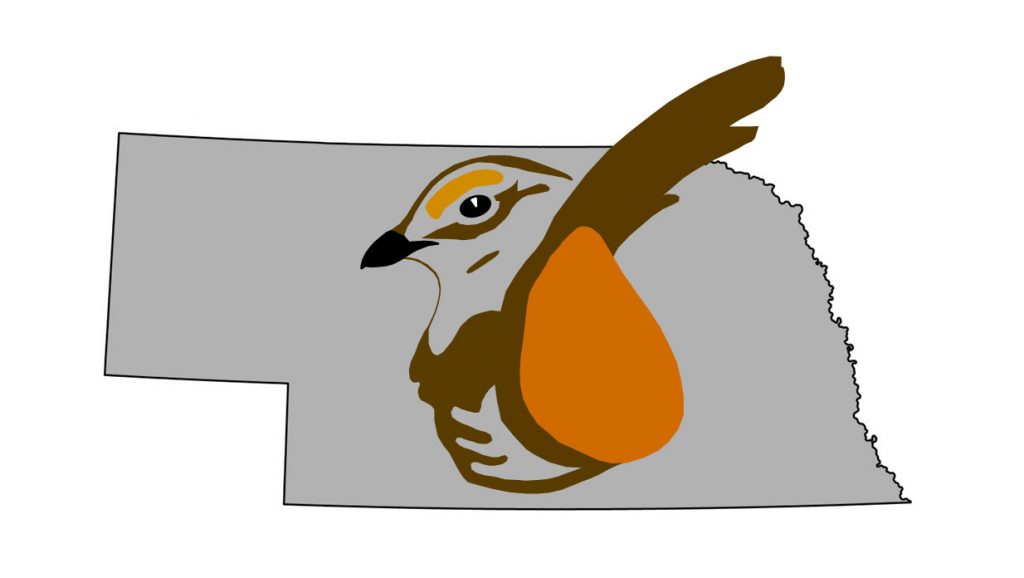 Birds of Nebraska – Online
Updated 15 Apr 2023