Icterus bullockii
Status: Fairly common regular spring and fall migrant west and west-central, rare casual elsewhere. Fairly common regular breeder west and extreme southwest.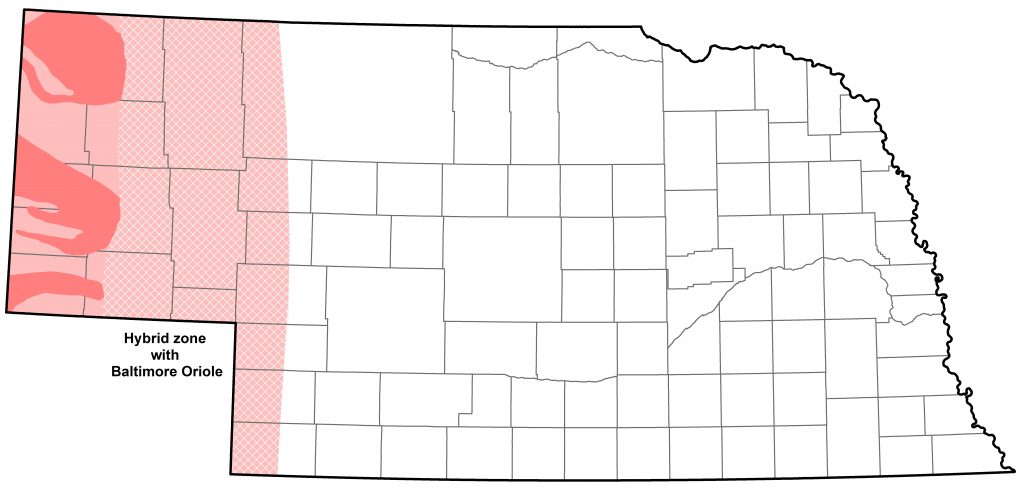 Documentation: Specimen: UNSM ZM7010, 19 Jun 1901 Indian Creek, Sioux Co.
Taxonomy: Two subspecies recognized earlier (Pyle 1997) but are currently synonymized (Flood et al 2020, Gill and Donsker 2017), as followed herein.
It has recently been suggested (Gill et al 2021) that because the species was described using material collected by father-and-son naturalists William and William Bullock, the English and Latin names be changed to reflect plurals, as Bullocks's (Chesser 2013) and bullockiorum (Chesser 2015).
For a discussion on hybridization between this species and Baltimore Oriole, see the Bullock's x Baltimore Oriole (hybrid) species account.
Spring: Apr 30, May 1, 1 <<<>>> summer
Arrival is in early May.
Bullock's Oriole is found east of the Panhandle during spring migration, but only to a limited extent. Of several reports in the period 30 Apr-25 May, all are since 2003 and most from the North Platte River Valley: eleven in Keith Co 2-24 May, and six in Lincoln Co 5-30 May. Elsewhere, there are only three reports: a single was at Venango, Perkins Co 8 May 2016. one was in Hitchcock Co 14 May 2010, a singing male was in Arthur Co 20 May 2007, and a male was photographed in Boyd Co 28 May 2022.
The only accepted records further east are of single adult males in Sarpy Co 9 May 2020 (Colin Daro, eBird.org), and Harlan Co 16 May 2019 (eBird.org), although Swenk (Notes Before 1925) reported a specimen in the Olson Collection purportedly taken at Kearney, Buffalo Co Jun 1915, but provided no details. Additional undocumented reports of adult males in the east-central and east are 5 Jun 2005 Buffalo Co, 3-18 Jun 2006 Seward Co, 15 Jun 2001 Douglas Co, and 17 May 2006 Fontenelle Forest, Sarpy Co. There are two spring records of Bullock's Oriole in Iowa, both in May (Iowa Ornithologists' Union 2017, Kent and Dinsmore 1996).
High counts: 18 in the Panhandle 28 May 2001, 12 in one bush in Kimball Co 28 May 2011, 12 near Potter, Cheyenne Co 21 May 2022, 11 on Hackberry Road, Banner Co 22 May 2020, and 10 at Smith Lake WMA, Sheridan Co 31 May 2005.
Summer: Short (1961) found pure Bullock's Orioles eastward only as far as Dawes and Deuel Cos; a nest was found in a ponderosa pine on the Bighorn Escarpment nine miles southwest of Redington in Morrill Co 10 Jun 2000 (Mollhoff 2001). Mollhoff (2016) showed little change in distribution between the first and second breeding bird atlas periods (1984-1989 and 2006-2011); breeding was confirmed throughout the Panhandle, east to Sheridan, Deuel, Chase, and Dundy Cos.
There are nesting season reports without evidence of nesting east to Cherry, Garden, and Keith Cos. One was in extreme southwest Cherry Co (Mollhoff 2016), two were at Merritt Dam, Cherry Co 13 Jun 2021, and perhaps the easternmost summer report in the state is of one seen near Eli, Cherry Co, 23 Jun 2006. Keith Co reports include a "pure male" at Lake McConaughy, Keith Co 13 Jun 2002, another there 21 Jun 2005, a female photographed near Lake McConaughy 26 Jul 2014 along with three apparent hybrids, and a female in an Ogallala, Keith Co yard during summer 2013. There are no records of phenotypic Bullock's Orioles nesting in the Keith Co area (Brown et al 2012). A singing male was near North Platte, Lincoln Co 14 Jun 2011. In the southwest, one was in Perkins Co 30 Jun 1972, and in 2011 three were reported: singles were in Frontier Co 13 Jun, at Wellfleet, southeast Lincoln Co 1 Jul, and in Chase Co 2 Jul.
Since the 1960s the range may have contracted somewhat as Baltimore Oriole has extended its range westward into northeast Colorado (Andrews and Righter 1992; Corbin and Sibley 1977). Near Crook, Colorado, between the 1950s and 1970s, the percentage of Baltimore Orioles increased while the percentage of intergrades and Bullock's Orioles decreased (Corbin et al 1979). Bray (1994) made no mention of recent reports of Bullock's Oriole in the Thomas Co area, although Bullock's were said to have occurred there some 50 years prior. According to Bates (1900), Bullock's Oriole was "very common at Long Pine" in Brown Co; he did not list Baltimore Oriole for that area.
BBS trend analysis shows an annual statewide increase of 1.03% (95 C.I. -2.98, 5.50) 1966-2001, but suggests a more recent decline of -2.70% (95% C.I.; -14.30, 6.42) 2005-2015 (Sauer et al 2017).
Reports of this species east of the Panhandle are few, and most occurrences probably represent hybrids exhibiting Bullock's Oriole characters. A nest with eggs was reported at Long Pine, Brown Co 17 Jul 1898; it is #29 at Sellors-Barton Museum, Ainsworth, Nebraska (Mollhoff 2022). It seems likely that this Brown Co nest was either by hybrid parents or the parents misidentified; Brogie and Mossman (1983) found only hybrids and Baltimore Orioles in the Niobrara Valley Preserve, as did Rosche (1994) and Brown et al (1996) in the Keith Co area, where Bullock's Oriole was thought to have decreased as a breeding bird in recent years (Brown et al 1996). An easterly hybrid was one in southwest Custer Co 5 Jun that "came in very nicely to a Bullock's Oriole song played on my phone – was a lighter orange than most male Baltimores but had full black hood" (TJ Walker, pers. comm.).
Breeding phenology:
Nest building: 25 May-1 Jul
Eggs: 10 Jun-17 Jul (Mollhoff 2022)
Nestlings: 3 Jun-1 Jul
Fledglings: 7 Jul
Fall: summer <<<>>> Sep 11 (Rosche 1994), 11, 12 (Rosche 1982)
Later dates are 18 Sep 2010 adult male near Mitchell, Scotts Bluff Co, and 25 Sep 2008 immature photographed near Mitchell, Scotts Bluff Co.
Departure begins in Jul, and is completed in early Sep. There are two easterly fall reports from Lincoln Co, 9 Aug 2011 and 11 Sep 2008.
This species undergoes a molt migration in fall (Pillar et al 2016), with adults usually departing early; the last male at a Mitchell feeder in 2008 was seen 13 Jul and on the same date in 2018. At this same feeding station near Mitchell in 2009, four families with young were in attendance. The males were absent and apparently departed when the juveniles were able to feed themselves; the females and juveniles were absent and had apparently departed together a month later, around mid-Aug (Kathy DeLara, pers. comm.). In 2010 at the same feeder, only females and an immature were present 31 Jul, and in 2012 a young male (possibly a hybrid) was last seen 1 Sep.
There are five reports of Bullock's Oriole in the eastern half of the state. A group of five, including an adult male Bullock's and four immature or female birds, possibly hybrids, was at Alma, Harlan Co 11 Aug 1999, a female was at Lake North, Platte Co 21 Aug 2006, an adult male was carefully studied at Fontenelle Forest, Sarpy Co 4 Sep 2004, and a first fall male was photographed in Lancaster Co 11 Sep 2020. There are seven fall reports of Bullock's Oriole in Iowa, two in Sep, two in Nov (one of which wintered through Mar), and three in Dec (Iowa Ornithologists' Union 2017).
Images
Abbreviations
BBS: Breeding Bird Survey
NNF: Nebraska National Forest
UNSM: University of Nebraska State Museum
Literature Cited
Andrews, R., and R. Righter. 1992. Colorado birds. Denver Museum of Natural History, Denver, Colorado, USA.
American Ornithologists' Union [AOU]. 1983. The AOU Check-list of North American birds, 6th ed. Allen Press, Lawrence, Kansas, USA.
American Ornithologists' Union [AOU]. 1998. The AOU Check-list of North American birds, 7th ed. Allen Press, Lawrence, Kansas, USA.
Bates, J.M. 1900. Additional notes and observations on the birds of northern Nebraska. Proceedings of Nebraska Ornithologists' Union 1: 15-18.
Bray, T.E., B.K. Padelford, and W.R. Silcock. 1986. The birds of Nebraska: A critically evaluated list. Published by the authors, Bellevue, Nebraska, USA.
Brogie, M.A., and M.J. Mossman. 1983. Spring and summer birds of the Niobrara Valley Preserve, Nebraska: An annotated checklist. NBR 51: 44-51.
Brown, C.R., M.B. Brown, P.A. Johnsgard, J. Kren, and W.C. Scharf. 1996. Birds of the Cedar Point Biological Station area, Keith and Garden Counties, Nebraska: Seasonal occurrence and breeding data. Transactions of the Nebraska Academy of Sciences 23: 91-108.
Brown, M.B., S.J. Dinsmore, and C.R. Brown. 2012. Birds of Southwestern Nebraska. Conservation and Survey Division, Institute of Agriculture and Natural Resources, University of Nebraska—Lincoln, Lincoln, Nebraska, USA.
Carling, M.D., L.G. Serene, and I J. Lovette. 2011. Using historical DNA to characterize hybridization between Baltimore Orioles (Icterus galbula) and Bullock's Orioles (I. bullockii). Auk 128: 61-68.
Chesser, R.T. 2013. On the correct name of Icterus bullockii (Passeriformes: Icteridae). Zootaxa 3718.
Chesser, R.T. 2015. A further note on the scientific name of Bullocks' Oriole. Zootaxa 3956: 444.
Clements, J. F., T. S. Schulenberg, M. J. Iliff, D. Roberson, T. A. Fredericks, B. L. Sullivan, and C. L. Wood. 2016. The eBird/Clements checklist of birds of the world: v2016, accessed 30 January 2018.
Corbin, K. W. and C. G. Sibley. 1977. Rapid evolution in orioles of the genus Icterus. Condor 79: 335-342.
Corbin, K.W., C.G. Sibley, and A. Ferguson. 1979. Genetic changes associated with the establishment of sympatry in orioles of the genus Icterus. Evolution 33: 624-633.
DeBenedictis, P.A. 1996. Fortieth supplement to the AOU check-list. Birding 28: 228-231.
Ducey, J.E. 1988. Nebraska birds, breeding status and distribution. Simmons-Boardman Books, Omaha, Nebraska, USA.
Faulkner, D.W. 2010. Birds of Wyoming. Roberts and Company, Greenwood Village, Colorado, USA.
Flood, N.J., C.L. Schlueter, M.W. Reudink, P. Pyle, M.A. Patten, J.D. Rising, and P.L. Williams. 2020. Bullock's Oriole (Icterus bullockii), version 1.0. In Birds of the World (P. G. Rodewald, Editor). Cornell Lab of Ornithology, Ithaca, NY, USA. https://doi.org/10.2173/bow.bulori.01.
Gill, F., and D. Donsker (Eds). 2017. IOC World Bird List (v 7.3), accessed 30 January 2018.
Gill, F., D. Donsker, and P. Rasmussen (Eds). 2021. IOC World Bird List (v 11.2). Doi 10.14344/IOC.ML.11.2. http://www.worldbirdnames.org/.
Iowa Ornithologists' Union. 2017. Iowa Records Committee reports of Iowa rare bird records, accessed February 2018.
Jaramillo, A., and P. Burke. 1999. New World Blackbirds- The Icterids. Princeton University Press, Princeton, New Jersey, USA.
Mollhoff, W.J. 2022. Nest records of Nebraska birds. Nebraska Ornithologists' Union Occasional Paper Number 9.
Mossman, M.J., and M.A. Brogie. 1983. Breeding status of selected bird species on the Niobrara Valley Preserve, Nebraska. NBR 51: 52-62.
Pillar, A G., P.P. Marra, N.J. Flood, and M.W. Reudink. 2016. Moult migration in Bullock's Orioles (Icterus bullockii) confirmed by geolocators and stable isotope analysis. Journal of Ornithology 157: 265-275.
Pyle, P. 1997. Identification Guide to North American Birds. Part I, Columbidae to Ploceidae. Slate Creek Press, Bolinas, California, USA.
Rapp, W.F. Jr., J.L.C. Rapp, H.E. Baumgarten, and R.A. Moser. 1958. Revised checklist of Nebraska birds. Occasional Papers 5, Nebraska Ornithologists' Union, Crete, Nebraska, USA.
Rising, J.D. 1970. Morphological variation and evolution in some North American orioles. Systematic Zoology 19: 315-351.
Rising, J.D. 1996. The stability of the oriole hybrid zone in western Kansas. Condor 98: 658-663.
Rohwer, S., and M.S. Johnson. 1992. Scheduling differences of molt and migration for Baltimore and Bullock's orioles persist in a common environment. Condor 94: 992-994.
Rosche, R.C. 1982. Birds of northwestern Nebraska and southwestern South Dakota, an annotated checklist. Cottonwood Press, Crawford, Nebraska, USA.
Rosche, R.C. 1994. Birds of the Lake McConaughy area and the North Platte River valley, Nebraska. Published by the author, Chadron, Nebraska, USA.
Sauer, J.R., D.K. Niven, J.E. Hines, D.J. Ziolkowski, Jr, K.L. Pardieck, J.E. Fallon, and W.A. Link. 2017. The North American Breeding Bird Survey, Results and Analysis 1966 – 2015 (Nebraska). Version 2.07. USGS Patuxent Wildlife Research Center, Laurel, Maryland, USA.
Short, L.L., Jr. 1961. Notes on bird distribution in the central Plains. NBR 29: 2-22.
Swenk, M.H. Notes before 1925. Bird notes from A.M. Brooking of Hastings, C.A. Black of Kearney, and B.J. Olson of Kearney, based chiefly on their collections, up to January 1, 1925. Typed manuscript in the Nebraska Ornithologists' Union Archives, University of Nebraska State Museum, Lincoln, Nebraska, USA.
Walsh, J., S.M. Billerman, V.G. Rohwer, B.G. Butcher, and I.J. Lovette. 2020. Genomic and plumage variation across the controversial Baltimore and
Bullock's oriole hybrid zone. Auk 137: 1–15. DOI: 10.1093/auk/ukaa044.
Youngworth, W. 1955. Some birds of the Quicourt Valley. NBR 23: 29-34.
Recommended Citation
Silcock, W.R., and J.G. Jorgensen. 2022. Bullock's Oriole (Icterus bullockii). In Birds of Nebraska — Online. www.BirdsofNebraska.org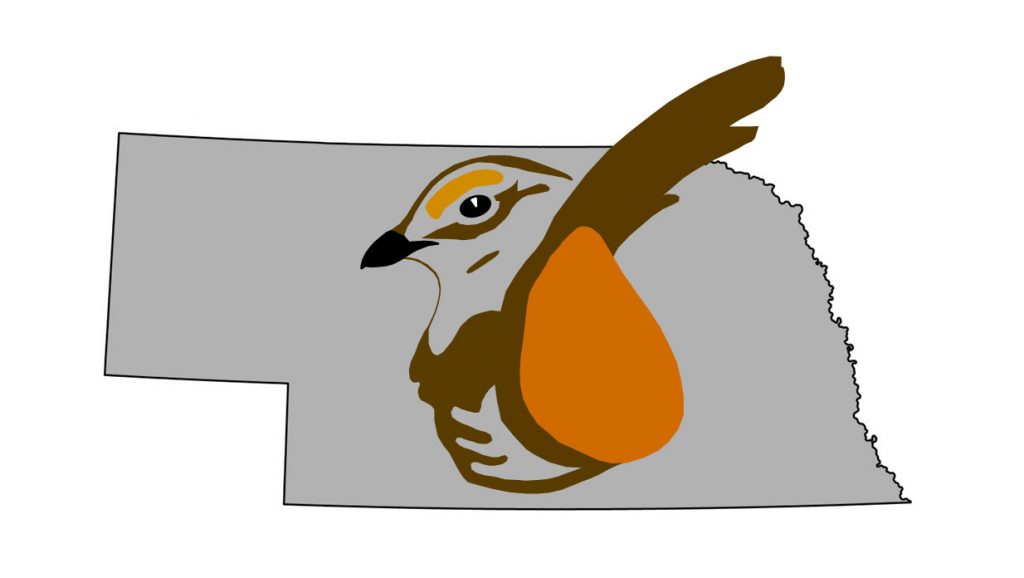 Birds of Nebraska – Online
Updated 1 Sep 2022