Aythya valisineria
Status:  Common, locally abundant, regular spring and fall migrant statewide. Rare, locally uncommon, regular breeder western Sandhills. Rare casual summer visitor statewide. Uncommon casual winter visitor statewide.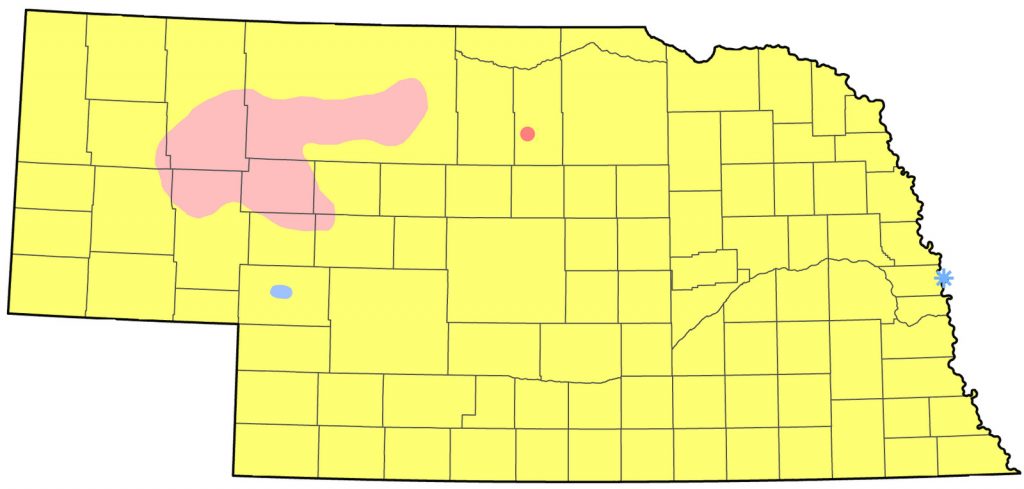 Documentation: Specimen: UNSM ZM12458, 3 Apr 1932 Red Willow Co.
Taxonomy: No subspecies are recognized.
Spring: Jan 29, 29, 30 <<<>>> May 21, 22, 23
Migrants may arrive as water opens; 11 were at Harlan Co Reservoir, Harlan Co 25 Jan 2002, and two in Cass Co 27 Jan 2002. The spring movement typically peaks in late Mar, with migrants continuing to pass through into early May. Late dates above are from locations where summering birds were absent; there are later dates 28 May 2001 Rainwater Basin (Jorgensen 2012), 28 May 1983 Lancaster Co, 29 May 2009 Jack Sinn WMA, Lancaster Co, two in Dundy Co 30 May 2018, 1 Jun 2015 Seward Co, and three on 2 Jun at Alma, Harlan Co. Late May migrants may be non-breeding sub-adults.
Rosche (1982) considered this species to be an abundant spring migrant in the Panhandle, and peak numbers at Crescent Lake NWR, Garden Co support that assessment; 1900 were there 15 Apr 1980, exceeded only by 2600 Gadwall and 2775 Lesser Scaup (Fred Zeillemaker, personal communication.
High counts: 5000 at Lake McConaughy, Keith Co on 21 Mar 1993 (Rosche 1994), 1900 at Crescent Lake NWR on 15 Apr 1980, and 1514 in the eastern Rainwater Basin 24 Mar 2001.
Summer:  Small numbers of Canvasback breed locally in the western Sandhills. In the 1980s, 10-20 breeding pairs were reported at Crescent Lake NWR (Fred Zeillemaker, personal communication), and, more recently, 25 were counted there 12 Jul 1995, and 18 on 7 Aug 2012. A count of 29 was made at Swede Lake, Grant Co 8 Aug 2012, and a female on a nest with one egg was at Avocet WMA, Grant Co 21 May 2018. Breeding apparently still occurs in this area but numbers may have declined. A brood seen in Sheridan Co 21 May 2015 was the first reported since 1958, when numbers were "decreasing steadily" (Harvey Miller, NGPC, letter to William Lemburg 15 Dec 1958). Mollhoff (2016) showed an extralimital breeding record in Rock Co and one was there 13 Jun 2019. A brood was photographed near Merritt Reservoir, Cherry Co 30 Jul 2019 (Gregory Wright, pers. comm.). At Valentine NWR, Cherry Co there are no recent breeding records (Mollhoff 2016), although five were there 16 Jun 2019. Johnsgard (1997) described it as a "local and rare summer resident in the Sandhills (Valentine NWR)".
Most reports away from the breeding range are in adjacent counties; in the northwest, Scotts Bluff, Box Butte, and Dawes, to the south McPherson, Lincoln, Custer, and Keith.  Elsewhere there are few recent reports, most from the Rainwater Basin: two on 9 Jun 2015 Clay Co, 14 Jun 1929 Harvard WPA, Clay Co (Jorgensen 2012), 21-22 Jun 2014 York Co, 28 Jun 2019 (4) Brown Co, 30 Jun 1993 Hamilton Co, 6 Jul 1997 Funk WPA, Phelps Co, and 10 Aug 1975 in Adams Co. A male was in Richardson Co 1 Jul 2013, and there is a report from Lancaster Co 16 Jul 1971 and four older reports in Brown Co: 20 May-Aug 1971, 19 Jun 1967, 30 Jun 1964, and 4 Jul-2 Sep 1973.
Numbers reported away from the breeding range or adjacent counties were "unprecedented" in 2019; five pairs were in Clay Co 19 Jun (JGJ) with singles there 21 Jun and 11 Jul, 1-2 were at a Butler Co wetland 2 and 19 Jun, four males and a female were in Fillmore Co 13 Jun, and one was in Buffalo Co 4 Jun. Such birds are likely one-year-old immature non-breeders resulting from late broods in 2018 and delayed maturity.
Breeding phenology:
Eggs: 21 May
Dependent fledglings: 21 May- 30 Jul.
Fall:  Sep 23, 23, 24<<<>>>Jan 12, 12, 13
The fall migration begins in early Oct and continues until mid-Dec or later if open water is available.  The status of the few late Jul through mid-Sep reports from areas where regular breeding does not occur is uncertain; molt migration in this species is generally northward from breeding areas (Baldassarre 2014). Such late summer-early fall records include: 16 Jul 1971 Lancaster Co, 2-3 on 4 Aug 2008 North Platte SL, Lincoln Co, 21 Aug 1973 Lancaster Co, 22 Aug 2017 Imperial SL, Chase Co, two on 24 Aug 2013 Lake Ogallala, Keith Co, 29 Aug 1997 Johnson WPA, Phelps Co, two on 2 Sep 2017 Lake Ogallala, a male at Capitol Beach Lake, Lancaster Co 7-16 Sep 2017, 8 Sep 2000 Lake Ogallala, and 11 Sep 1982 Douglas-Sarpy Cos.
Peak numbers occur in late Oct. The 316 at Lake Ogallala 30-31 Dec 2011 was a large number for the late date.
High counts: 3000 at Crescent Lake NWR on 5 Nov 1994, 1388 at Lake McConaughy 31 Oct 2006, and 1200 at Crescent Lake NWR 23 Oct 1995.
Winter:  Small numbers overwinter at favored locations given suitable water conditions, notably the Lake McConaughy area; at Lake Ogallala, as many as 87 wintered 1999-2000, and lesser numbers occur most winters. Carter Lake, Omaha has recently become a regular site; wintering began with 1-2 birds 2011-2012, 38 were present as late as 13 Jan 2013, 1-2 wintered 2014-2015, and one was there 13 Jan 2016.
Elsewhere there are these reports of wintering birds: up to five wintered at Harlan Co Reservoir, Harlan Co 1999-2000, a female wintered at Alma South SL, Harlan Co 2002-2003, Lancaster Co hosted "small numbers" during winter 2014-2015, and two wintered at Skyview Lake, Madison Co 2019-2020.
Additional mid-winter reports suggestive of attempted wintering are 15 Jan 2015 Burchard Lake SRA, Pawnee Co, 17 Jan 2014 Lincoln Co, 21 Jan 2006 Lancaster Co, and 23 Jan 2015 Scottsbluff SL, Scotts Bluff Co.
High counts: 87 wintering at Lake McConaughy 1999-2000, 60 there 11 Jan 1987 (Rosche 1994), 38 at Carter Lake, Omaha 13 Jan 2013, and 29 wintering at Lake McConaughy 1998-99.
Abbreviations
NGPC: Nebraska Game and Parks Commission
NWR: National Wildlife Refuge
SL: Sewage Lagoons
SRA: State Recreation Area
UNSM: University of Nebraska State Museum
WMA: Waterfowl Management Area (State)
WPA: Waterfowl Production Area (Federal)
Acknowledgement
Photograph (top) of a Canvasback at Pier Park, Grand Island, Hall Co, on 1 Feb 2013 by Phil Swanson.
Literature Cited
Baldassarre, G. 2014. Ducks, geese, and swans of North America. Johns Hopkins University Press, Baltimore, Maryland, USA.
Johnsgard, P.A. 1997. The birds of Nebraska and adjacent plains states. Occasional Papers No. 6, Nebraska Ornithologists' Union. Lincoln, Nebraska, USA.
Jorgensen, J.G. 2012.  Birds of the Rainwater Basin, Nebraska.  Nebraska Game and Parks Commission, Lincoln, Nebraska, USA.
Mollhoff, W.J. 2016. The Second Nebraska Breeding Bird Atlas. Bull. Univ. Nebraska State Museum Vol 29. University of Nebraska State Museum, Lincoln, Nebraska, USA.
Rosche, R.C. 1982. Birds of northwestern Nebraska and southwestern South Dakota, an annotated checklist. Cottonwood Press, Crawford, Nebraska, USA.
Rosche, R.C. 1994. Birds of the Lake McConaughy area and the North Platte River valley, Nebraska.  Published by the author, Chadron, Nebraska, USA.
Recommended Citation
Silcock, W.R., and J.G. Jorgensen.  2020.  Canvasback (Aythya valisineria). In Birds of Nebraska — Online. www.BirdsofNebraska.org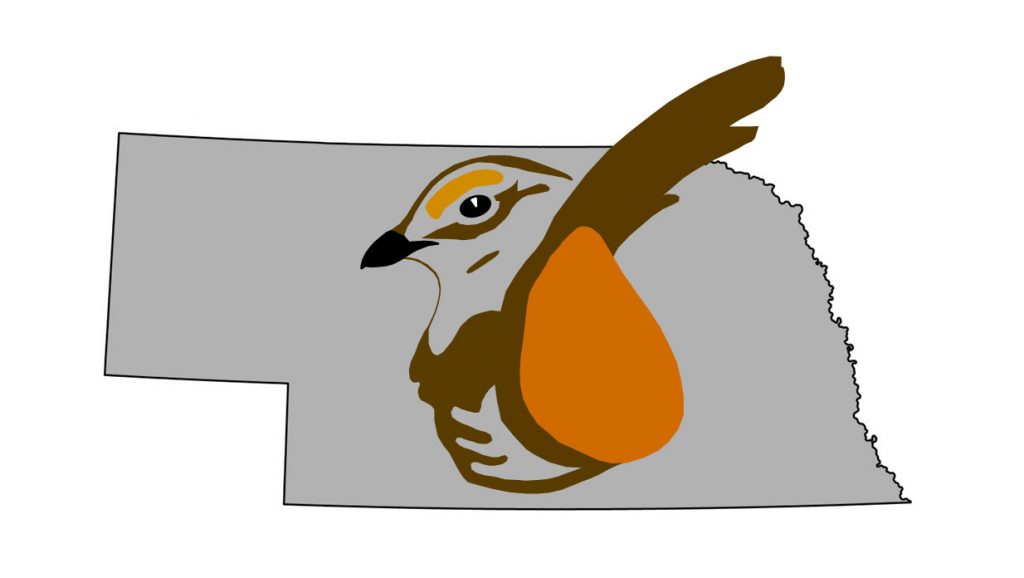 Birds of Nebraska – Online
Updated 27 Mar 2020