Spatula cyanoptera septentrionalium
Status:  Uncommon regular spring migrant west and central, rare east. Locally uncommon regular breeder west, rare casual elsewhere. Rare regular summer visitor east. Rare regular fall migrant west, rare casual elsewhere.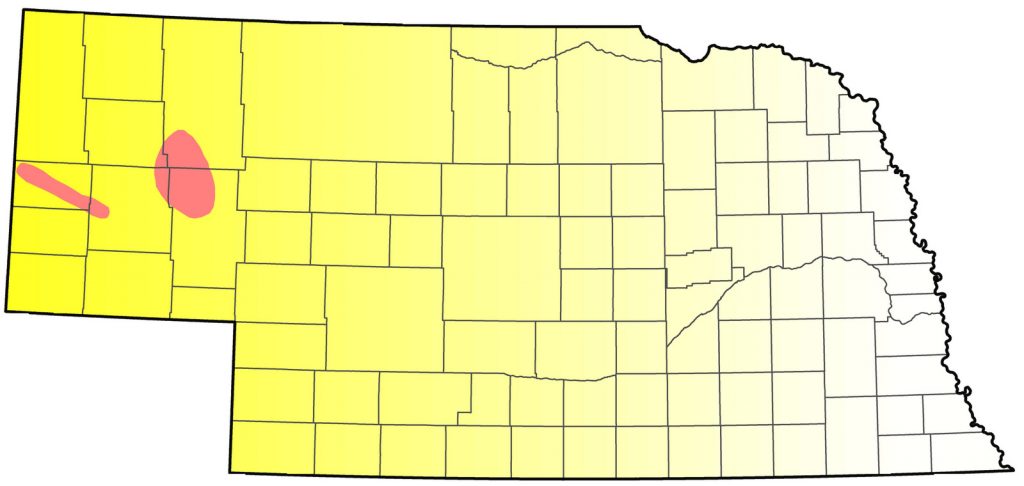 Documentation: Specimen: UNSM ZM7673, 4 Apr 1909 Fillmore Co.
Taxonomy: There are five subspecies (Gill and Donsker 2017), four in South America and one, septentrionalium, in North America.  This species was recently moved to genus Spatula from Anas, based on genetic studies (Chesser et al 2017).  Nebraska birds are presumed septentrionalium.  Hybrids with Blue-winged Teal are regularly observed; see that species.
Spring:  Mar 4,5,6 <<<>>> Jun 1, 1, 2
There are earlier reports 22 Feb 2020 Keith Co, 24 Feb 1956 Adams Co, 1 Mar 1995 Clay Co, and 1 Mar 2016 Webster Co. Usual arrival is in late Mar, and numbers peak in late Apr and early May. Late dates above are from locations where breeding is unknown. Later dates are of a male at Harlan Co Reservoir, Harlan Co 11 Jun 2004, one at Kissinger WPA, Clay Co 13-17 Jun 2011, and a drake at Hultine WPA, Clay Co 15 Jun 2001. It appears to be a regular migrant as far east as the Rainwater Basin (Jorgensen 2012). It is rare but apparently increasing or increasingly reported as a spring migrant east of the Rainwater Basin due to increased observer scrutiny of migrant duck flocks; there are at least 62 reports, mostly of males which are easier to identify than females, in the period 8 Mar-2 Jun, including totals of eight in 2019 and six in spring 2013. All but six of the eastern reports are in the period 24 Mar-13 May; the exceptions are 8 Mar 1981 Douglas-Sarpy Cos, 19 Mar 2017 Butler Co, 15 May 2006 Seward Co, 24 May 1952 Lancaster Co, 29-30 May 2004 Douglas Co, and 2 Jun 1985 Lancaster Co.
High counts: 50 at Kiowa WMA, Scotts Bluff Co 22 Apr 2007, 20 there 6 May 2000, 15-20 there 9 Apr 2005, and 16 there 9 Apr 1999.
Summer:  Rosche (1994) noted that Chet and Jane Fleisbach WMA, Morrill Co, and Kiowa WMA, Scotts Bluff Co are regular breeding locations for this species; 19 were at Kiowa WMA 14 Jun 2000. It also occurs regularly at Crescent Lake NWR, Garden Co during the summer months, although the population may be fewer than one dozen individuals (Fred Zeillemaker, personal communication). Evidence for breeding at Crescent Lake NWR includes a nest containing eight eggs in a grass-sedge meadow 10 Jun 1937, several records of downy young including in 1974 (Bennett 1975), and a nest with eggs found 24 May 1984 but which was predated on 11 Jun (Helsinger 1985).
Elsewhere, breeding has not been confirmed, although there are multiple breeding season reports from suitable locations in Sheridan, Dawes, and Sioux Cos as well as the Rainwater Basin (Jorgensen 2012). Away from these two areas, summer reports are few, the more westerly at potential breeding locations: 12 Jun 2003 Lake Ogallala, Keith Co, 14 Jun 1995 Whitman, Grant Co, six, including two pairs, on 20 Jun 2004 Lake McConaughy, Keith Co, 23 Jun (year not given) Keith Co area (Brown and Brown 2001), 12-16 Jul 1984 Douglas-Sarpy Cos, 28 Jul 2018 molting male Polk Co, and 2 Aug 1987 Howard-Hall Cos. A group of six (five males and one female) were at a flooded field in Box Butte Co 13 Jul 2015.
Fall: summer <<<>>> Sep 19, 20, 22
This species does not undergo a molt migration (Baldassarre 2014). There are only 23 reports for Sep and later, possibly because males in eclipse plumage are inconspicuous and leave the state soon after regaining flight. Last dates for summer residents at Crescent Lake NWR were 12, 17, and 27 Jul.
Later reports are 29 Sep 1990 Scotts Bluff Co, 10 Oct 1968 Brown Co, 10 Oct 1988 Cherry Co, 14 Oct 1995 Crescent Lake NWR, 4-8 Nov 1986 Pierce Co, 14 Nov 1976 Cass Co (Williams 1977), 8-27 Nov 1987 Pierce Co, a male 9 Dec 2001 Medicine Creek Reservoir, Frontier Co, 20 Dec 1980 Scotts Bluff Co (CBC; no details), and one shot along the Platte River in Cass Co in Dec 1975 (Cortelyou 1976).
Easterly reports in fall are less than annual, likely due to this species appearing very similar to Blue-winged Teal while and after the pre-alternate molt into "eclipse" plumage (Howell 2010). An apparent pair was at Branched Oak Lake, Lancaster Co 11 Aug 2015; the male was in transitional plumage. An eclipse male was identified by red eye and patches of remaining brown feathers in Butler Co 25 Jul 2020.
High count:  14 at Lake Ogallala 16 Sep 2017.
Abbreviations
CBC: Christmas Bird Count
NWR: National Wildlife Refuge
SL: Sewage Lagoon(s)
WMA: Waterfowl Management Area (State)
WPA: Waterfowl Production Area (Federal)
Acknowledgement
Photograph (top) of a Cinnamon Teal near North Platte, Lincoln Co 19 Apr 2018 by Boni Edwards.
Literature Cited
Baldassarre, G. 2014. Ducks, geese, and swans of North America. Johns Hopkins University Press, Baltimore, Maryland, USA.
Bennett, E.V. 1975. 1974 Nebraska nesting survey. NBR 43: 13-19.
Brown, C.R., and M.B. Brown. 2001. Birds of the Cedar Point Biological Station. Occasional Papers of the Cedar Point Biological Station, No. 1.
Chesser, R.T., K.J. Burns, C. Cicero, J.L. Dunn, A.W. Kratter, I.J. Lovette, P.C. Rasmussen, J. V. Remsen, Jr., J.D. Rising, D.F. Stotz, and K. Winker. 2017. Fifty-eighth supplement to the American Ornithological Society's Check-list of North American Birds. Auk 134: 751-773.
Cortelyou, R.G. 1976. 1975 (Eighteenth) Fall Occurrence Report. NBR 44: 19-30.
Gill, F., and D. Donsker (Eds). 2017. IOC World Bird List (v 7.3), accessed 30 January 2018.
Helsinger, M.J. 1985. Cinnamon Teal nest at Crescent Lake NWR. NBR 53: 80.
Howell, S.N.G. 2010. Molt in North American Birds. Houghton Mifflin Harcourt, Boston, Massachusetts, USA.
Jorgensen, J.G. 2012.  Birds of the Rainwater Basin, Nebraska.  Nebraska Game and Parks Commission, Lincoln, Nebraska, USA.
Rosche, R.C. 1994. Birds of the Lake McConaughy area and the North Platte River valley, Nebraska.  Published by the author, Chadron, Nebraska, USA.
Williams, F. 1977. Southern Great Plains Region. American Birds 31: 194-197.
Recommended Citation
Silcock, W.R., and J.G. Jorgensen.  2020.  Cinnamon Teal (Spatula cyanoptera). In Birds of Nebraska — Online. www.BirdsofNebraska.org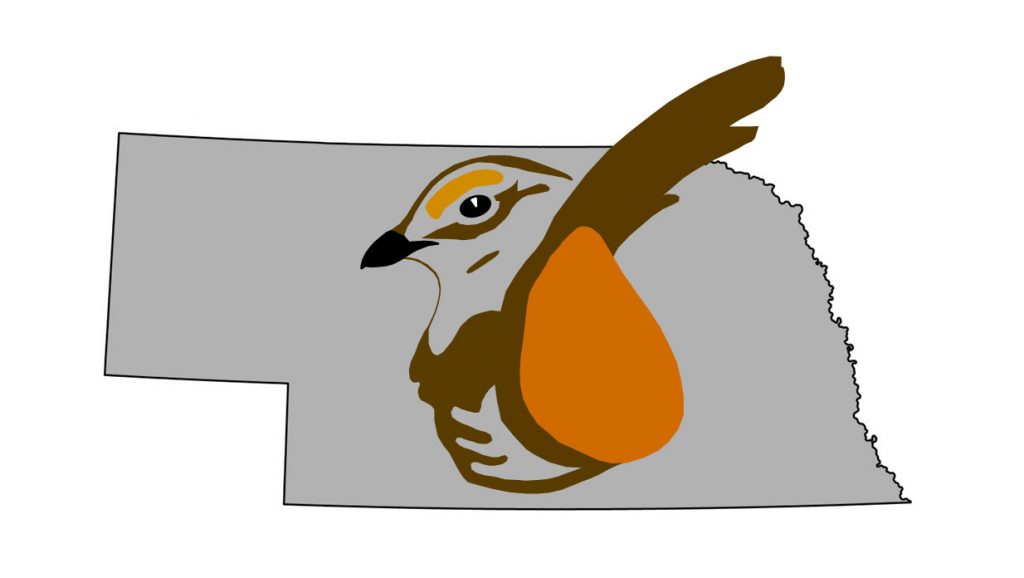 Birds of Nebraska – Online
Updated 4 Aug 2020