Aechmophorus clarkii transitionalis
Status: Uncommon regular spring and fall migrant west and west-central, rare casual east-central and east. Rare regular breeder west and west-central. Rare regular local summer visitor west. Rare casual winter visitor west-central.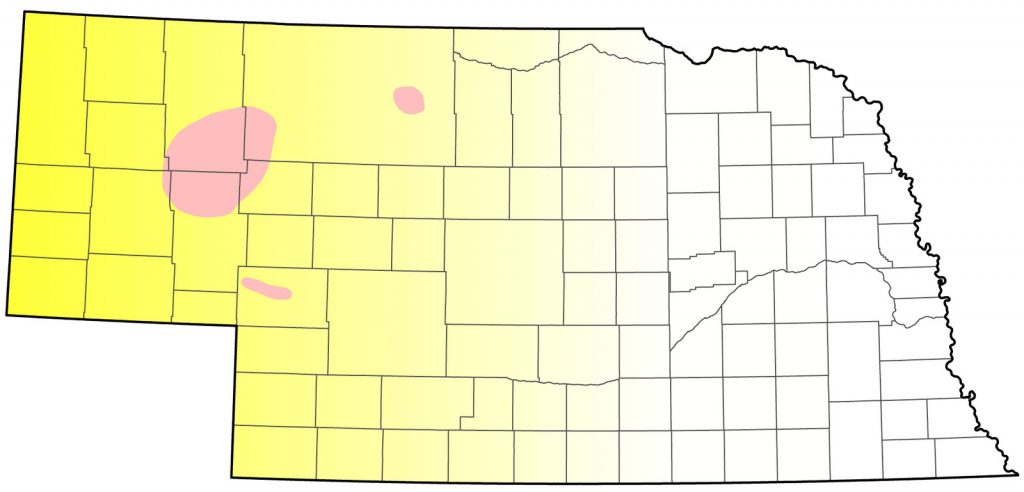 Documentation: Specimen: UNSM ZM15749, 11 Jun 1986 Lake Ogallala (Labedz 1987).
Taxonomy: Two subspecies are recognized: transitionalis in western North America and clarkii in western Mexico (Clements et al 2016).
Nebraska birds are transitionalis.
This species hybridizes with Western Grebe; see Discussion in the Hybrids section.
Changes Since 2000: Most records of this species are since 2000 and have continued to increase, most noticeably at Lake McConaughy, Keith Co.
Spring: Apr 14, 14, 15 <<<>>> summer
There are earlier reports 1 Mar 2001 Lake Ogallala, Keith Co, 9 Mar 2001 two at Lake McConaughy, 27 Mar 1998 at Branched Oak Lake, Lancaster Co, 28 Mar 1999 at Lake McConaughy, 3 Apr 2016 (4) Lake Ogallala, 3 Apr 2021 Lake McConaughy, 10 Apr 2021 Crescent Lake NWR, Garden Co , and 11 Apr 2021 Enders Reservoir, Chase Co.
Spring migrants away from the breeding range are notable in May; later reports are 2 Jun 2014 Hayes Co, 12 Jun 2017 Harlan Co Reservoir, Harlan Co, 19 Jun 1991 Chase Co, and 8-10 Jun 2001 Chase Co.
Easternmost reports are 27 Mar 1998 at Branched Oak Lake, 14-16 Mar 2001 at Niobrara Marshes, Knox Co, 29-30 Apr 2000 near Fremont, Dodge Co, 23 May 2004 Lake North, Platte Co, and 4 Jun 2005 Waco WPA, York Co.
This species was unreported in spring in Nebraska until 1987, when one was in Cherry Co 1 May (Williams 1987).
High counts: 48 at Lake McConaughy 14 May 2004, 39 there 15 May 1998, and 23 there 26 Apr 1997.
Summer: Breeding was first noted at Lake McConaughy in 1993, when two adults were observed feeding a newly hatched downy brood on 31 Jul (Rosche 1994). In 1994, several adults with young were present Jun-early Aug. A count of 36 at Lake McConaughy 29 Jun 2001 likely included several breeding birds. The only other known breeding locations are Willy Lake, near Bingham, southeast Sheridan Co, and Valentine NWR, Cherry Co. At Willy Lake, three adults with young on their backs were noted 12 Jun 1998, a nest with eggs was found in a six-nest colony of Western Grebes 23 Jun 2002, and a pair of adults with two begging young were present 19 Jul 2002 (Mollhoff 2004, 2022). A pair with young was at North Marsh Lake, Valentine NWR 20 June 2006. One was southeast of NNF McKelvie, Cherry Co 12 Jun 2019.
Elsewhere, summer reports are widely scattered throughout the west, without breeding noted; there are about 24 such records since 1988. The only easterly reports are of singles at Harlan Co Reservoir, Harlan Co 15-30 Jun 2000, Funk WPA, Phelps Co 14-21 Jun 1998 (Brogie 1999), and Branched Oak Lake 29 Jul 1997.
Fall: summer <<<>>> Nov 8, 8, 9
Southward movement begins in mid-Jul, sometimes in numbers suggestive of failed breeding in the Sandhills; 44 were at Lake McConaughy 30 Jul 2006, a dry year in the Sandhills.
Fall migrants away from the breeding range are most conspicuous, though rare, in Sep-early Oct. In Fall 2021, there were five reports in Scotts Bluff Co of 1-2 individuals 21 Sep-14 Oct and one was at Sutherland Reservoir, Lincoln Co 29 Oct, indicative of migratory passage timing. As with Western Grebe, lingering birds are found each fall at Lake McConaughy; there are about 17 records there (including two for CBC Count Week) 10 Nov-2 Jan 1997-2020 (Brogie 1998).
There are later records away from Lake McConaughy: 12-13 Nov Merritt Reservoir, Cherry Co, 19 Nov 2013 Hitchcock Co, 2 Dec 1999 Lake Minatare, Scotts Bluff Co, 7 Dec 1986 Gavin's Point Dam, Cedar Co (Mollhoff 1989), and 14 Dec Gering SL, Scotts Bluff Co.
There are seven eastern reports: 11-19 Oct 1997 Pawnee Lake, Lancaster Co, 20 Oct 2012 Gavin's Point Dam, 23 Oct 2006 Lake North, Platte Co, 26 Oct 2009 Hall Co, 27-29 Oct 2006 Willow Creek Res, Pierce Co, 1 Nov 2002 Missouri River near Niobrara (Brogie 2003), 28 Nov 2016 Branched Oak Lake, and 7 Dec 1986 Gavin's Point Dam (Mollhoff 1989).
An easterly intermediate-plumaged bird was in Dodge Co 27 Nov 2014, and a similar bird was at Branched Oak Lake, Lancaster Co 28 Nov 2016; both may have been Western Grebes in fall molt.
High counts: 22 at Lake McConaughy 18 Oct 1998, 21 there 15 Sep 2006, and 20 there 28 Sep 1996.
Winter: The first record of overwintering was of 1-3 present at Lake McConaughy 1997-98 (Brogie 1999). Three were at Lake McConaughy 1 Jan 1999, declining to one on 9-10 Jan. As many as 11 were still at Lake McConaughy 2 Jan 2000, declining to seven on 29 Jan and only one on 26 Feb. Three were at Lake McConaughy 2 Jan 2011, one on 5 Jan 2019, and one on the CBC 2 Jan 2021.
Abbreviations
CBC: Christmas Bird Count
NNF: Nebraska National Forest
NWR: National Wildlife Refuge
UNSM: University of Nebraska State Museum
WPA: Waterfowl Production Area (Federal)
Literature Cited
Brogie, M.A. 1998. 1997 (Ninth) Report of the NOU Records Committee. NBR 66: 147-159.
Brogie, M.A. 1999. 1998 (Tenth) Report of the NOU Records Committee. NBR 67: 141-152.
Brogie, M.A. 2004. 2003 (15th) Report of the NOU Records Committee. NBR 72: 59-65.
Clements, J. F., T. S. Schulenberg, M. J. Iliff, D. Roberson, T. A. Fredericks, B. L. Sullivan, and C. L. Wood. 2016. The eBird/Clements checklist of birds of the world: v2016, accessed 30 January 2018.
Labedz, T.E. 1987. A Nebraska specimen record of Clark's Grebe Aechmophorus clarkii (Lawrence). NBR 55: 68-72.
Mollhoff, W.J. 1989. Second report of the NOU Records Committee. NBR 57: 42-47.
Mollhoff, W.J. 2004. The 2002 Nebraska Nesting Report. NBR 72: 153-158.
Mollhoff, W.J. 2022. Nest records of Nebraska birds. Nebraska Ornithologists' Union Occasional Paper Number 9.
Rosche, R.C. 1994. Birds of the Lake McConaughy area and the North Platte River valley, Nebraska. Published by the author, Chadron, Nebraska, USA.
Williams, F. 1987. Southern Great Plains Region. American Birds 41: 297-300.
Recommended Citation
Silcock, W.R., and J.G. Jorgensen. 2022. Clark's Grebe (Aechmophorus clarkii). In Birds of Nebraska — Online. www.BirdsofNebraska.org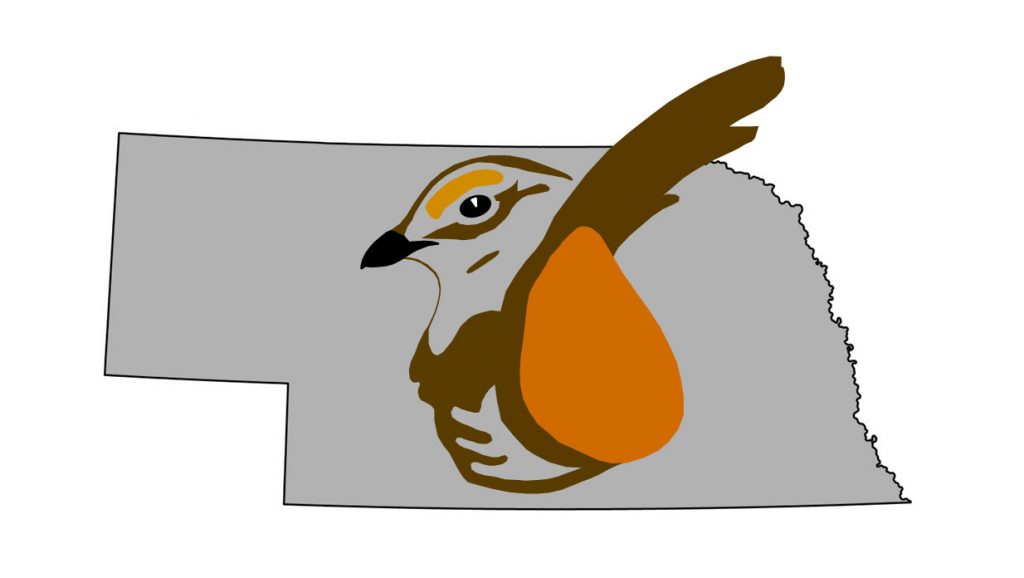 Birds of Nebraska – Online
Updated 30 Mar 2022