Pipilo erythrophthalmus erythrophthalmus
Status:  Common regular breeder extreme southeast, rare casual elsewhere. Common regular spring and fall migrant within and near breeding range, rare elsewhere. Rare casual winter visitor southeast.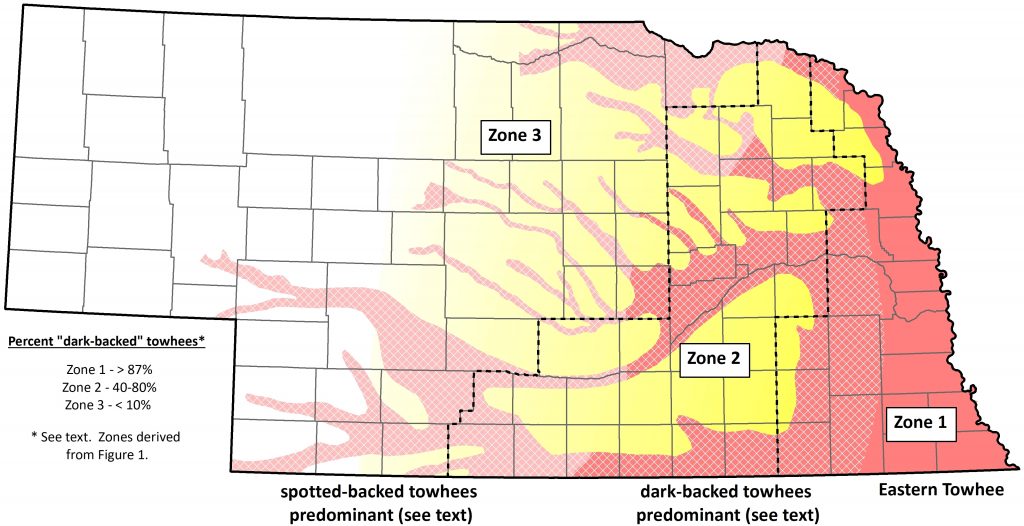 Documentation:  Specimen: UNSM ZM7238, 19 Jan 1900 Saltillo, Lancaster Co.
Taxonomy:  Four subspecies are recognized (Pyle 1997): erythrophthalmus, breeding from Manitoba to Maine and south to Oklahoma and Virginia, wintering to south Texas and Florida, canaster, breeding from Louisiana to Tennessee south to South Carolina and Florida, wintering in South Carolina and Florida, rileyi, resident from Alabama and southeast Virginia to northern Florida, and alleni, resident in peninsular Florida. Nebraska birds belong to the widespread subspecies erythrophthalmus.
See https://birds.outdoornebraska.gov/spotted-x-eastern-towhee-hybrid/ for discussion of relationships in Nebraska with that species.
Spring:  Mar 23, 23, 24 <<<>>> summer
There are earlier dates, some of which may have wintered, 4 Mar 2014 Lancaster Co, 5 Mar 2020 Dixon Co, 9 Mar 2005 Stanton Co, 13 Mar 2016 Buffalo Co, 16 Mar 2012 Omaha, two on 19 Mar 2000 Kearney, Buffalo Co, and 20 Mar 2016 Douglas Co.
Migration peaks in late Apr-early May. Ludlow (1935) listed it as a common migrant in Webster Co, occurring in the period 5 Apr-9 May, and a specimen, HMM 2022, was taken at Inland, Clay Co 3 May 1915.
Migrants, including occasional birds that resemble phenotypically pure Easterns, are reported regularly westward to Keith Co in the Platte River Valley and northeastward through the Sandhills to northeast Nebraska near Yankton, South Dakota. A phenotypically pure silent male was at Lake McConaughy, Keith Co 21 Apr 2007, and one was in Custer Co 29 Mar 2010.
High counts:  24+ at Ponca SP, Dixon Co 2 May 2009, 18 at Wilderness Park, Lancaster Co 8 May 2020, 17 at Fontenelle Forest, Sarpy Co 16 Apr 2016, and 16 at Pawnee Lake, Lancaster Co 18 Apr 2017.
Summer: Greenlaw (Figure 2; 2020) summarized relative distributions of Eastern and Spotted Towhees; Eastern Towhee occurs predominantly in the southeast. However, as shown in figure 1, and discussed in more detail in the Spotted Towhee species account at https://birds.outdoornebraska.gov/spotted-towhee, there is considerable overlap with "spotted-backed" towhees.
Reports of birds that resemble phenotypically pure Easterns near the western and northern edges of their "genetic range" (Greenlaw 2020; Zone 3 in Figure 1), include 9 Jun 2001 at Enders Reservoir, Chase Co, one that "looked and sounded" like this species at Scotts Bluff NM, Scotts Bluff Co 17 Jul 2013, a pair in Dawson Co 6 Jul 2015 and another there 13 May 2004, Thomas Co 25 Jun 2015, two singing "drink your tea" at NNF Bessey, Thomas Co 30 Jun 2019, two singing typical Eastern song there 5 Jul 2020 (eBird.org recording), 26 Jun 2015 near NNF McKelvie, Cherry Co 26 Jun, two on 14 Jun 2016 Fort Niobrara NWR, Cherry Co, and a male paired with a Spotted Towhee in Keya Paha Co 2 Aug 2009.
Breeding phenology:
Nest building: 25 Jun
Eggs: 20 May
Nestlings: 4 Sep
Fledglings: 24 Jun-12 Sep
Fall:  summer <<<>>> Oct 30, 30, 30
There are later reports 1-3 Nov 2001 Ponca SP, Dixon Co, 2-6 Nov 2018 Omaha, Douglas Co,  and 16 Nov 2010 Lancaster Co; most depart by the end of Oct. The 26 at Two Rivers SP, Douglas Co 5 Oct was indicative of peak fall movement.
Winter: There are no records of overwintering, although there are scattered reports Dec-Feb in the southeast, most from CBCs, that may be of birds making the attempt. During the 24 years of CBCs 1991-1992 through 2015-2016, Eastern Towhees have been reported 13 different years with a total of 20 individuals.  Only the second report for the Branched Oak Lake-Seward CBC was one on 14 Dec 2002. There are several reports from the DeSoto NWR CBC:  two on 31 Dec 2005, four on 27 Dec 2008, 29 Dec 2013, and two on 31 Dec 2015.  Additional Dec-Feb reports are 14 Dec 2001 Lancaster Co, 2 Jan 1999 Washington Co, 11 Jan 2011 Fontenelle Forest, Sarpy Co, 17 Jan 2019 Sarpy Co, 19 Jan 1900 Lancaster Co (specimen cited above), 14 Feb 2014 Lancaster Co, 23 Feb 2016 southeast Washington Co, and 25 Feb 2018 at Fontenelle Forest.
Late dates for northerly locations are of one on the Norfolk CBC 17 Dec 1994, and a male at Ponca SP, Dixon Co 11 Jan 2009.
Winter 2019-2020 had a number of reports, including as many as seven on the Indian Cave SP CBC 14 Dec. Further north than usual were one in Dakota Co 25 Jan and two at Ponca SP 15 Feb, as well as one on the Ames CBC, Dodge Co 17 Dec. At least two were at Fontenelle Forest; females, possibly the same bird, were reported 27 Dec and 4 Jan, and a male 22 Feb.
Abbreviations
CBC: Christmas Bird Count
HMM: Hastings Municipal Museum
NNF: Nebraska National Forest
NM: National Monument
NWR: National Wildlife Refuge
SP: State Park
UNSM: University of Nebraska State Museum
Acknowledgement
Photograph (top) of a Eastern Towhee at Fontenelle Forest, Sarpy Co 5 May 2011 by Phil Swanson.
Literature Cited
Greenlaw, J.S. 2020. Eastern Towhee (Pipilo erythrophthalmus), version 1.0. In Birds of the World (P. G. Rodewald, Editor). Cornell Lab of Ornithology, Ithaca, NY, USA. https://doi.org/10.2173/bow.eastow.01.
Ludlow, C.S. 1935. A quarter-century of bird migration records at Red Cloud, Nebraska. NBR 3: 3-25.
Pyle, P. 1997. Identification Guide to North American Birds. Part I, Columbidae to Ploceidae. Slate Creek Press, Bolinas, California, USA.
Recommended Citation
Silcock, W.R., and J.G. Jorgensen.  2021.  Eastern Towhee (Pipilo erythrophthalmus). In Birds of Nebraska — Online. www.BirdsofNebraska.org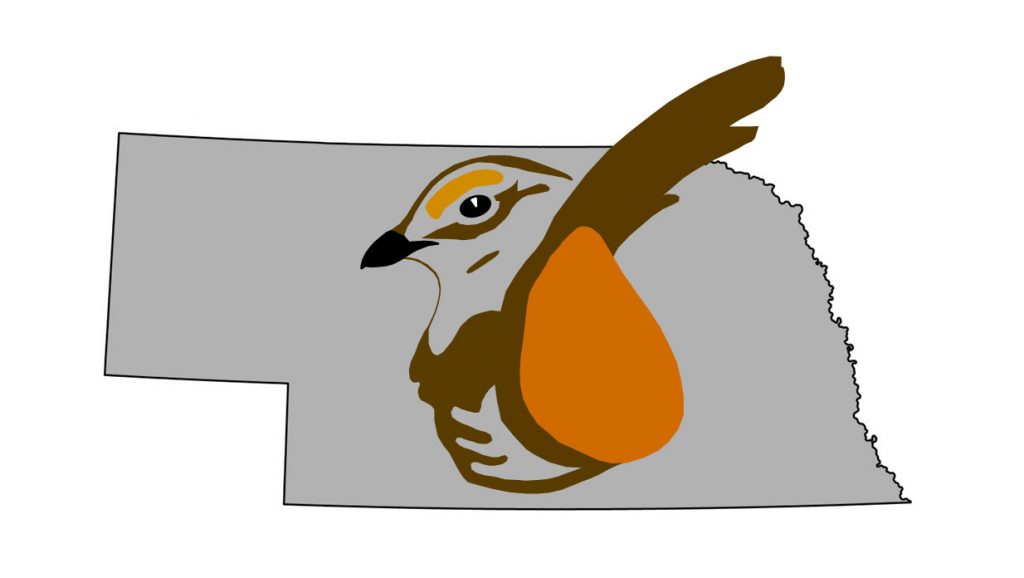 Birds of Nebraska – Online
Updated 25 Feb 2021