Vermivora chrysoptera
Status: Uncommon regular spring migrant east, rare casual central and west. Rare regular fall migrant east, accidental central and west.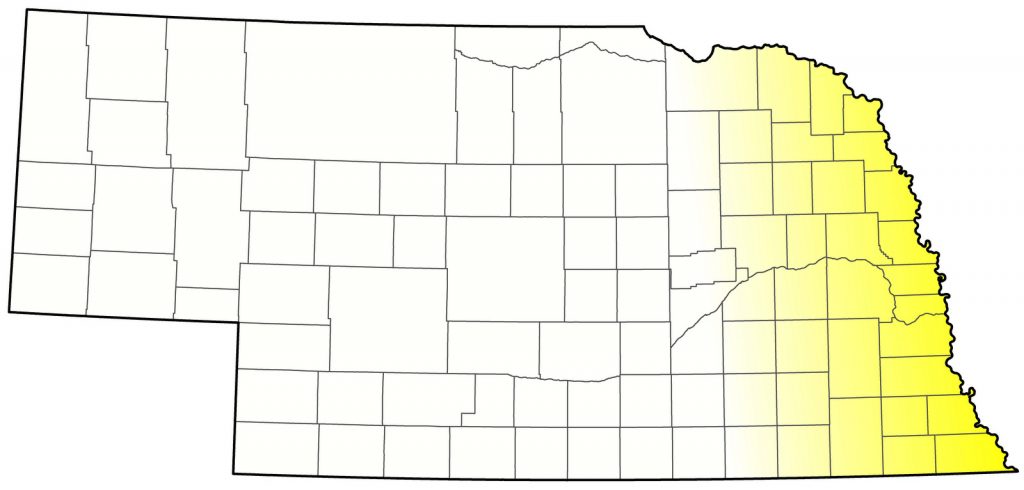 Documentation: Specimen: UNSM ZM16966, 15 May 1993 Lincoln, Lancaster Co (Brogie 1997).
Taxonomy: No subspecies are recognized (Pyle 1997).
This species hybridizes frequently with Blue-winged Warbler V. cyanoptera. For discussion, see the Golden-winged x Blue-winged Warbler (hybrid) species account.
Changes since 2000: There has been a noticeable increase in numbers of spring migrants coincident with increases in populations in the western portions of the species breeding range (Sauer et al 2017), especially Manitoba (Confer et al 2020).
Spring: May 3, 4, 4 <<<>>> May 22, 23, 23
Later dates are 28 May 1997 Lancaster Co, and 6 Jun 1992 Keith Co (Brown et al 1996).
There are few reports away from the east, the two Panhandle records a singing male in Dawes Co 23 May 1997, and one at Gilbert-Baker WMA, Sioux Co 17 May 2023. West central reports are 11 May 1991 Keith Co (Rosche 1994), 15 May 1998 Clear Creek WMA, Garden Co, 17 May 1955 Keith Co, one photographed 17 May 2008 Lake Ogallala, Keith Co, and 6 Jun 1992 Keith Co (Brown et al 1996). East central reports are 8 May 1993 Buffalo Co, 10 May 2023 Hall Co, 15 May 1993 Buffalo Co, 15 May 2018 Antelope Co, and 17 May 2017 Buffalo Co.
Most reports of this species are relatively recent; there were no reports until one was reported in Adams Co 17 May 1954, and there were only about 30 reports through 1992. There has been a marked increase in numbers in recent years, beginning with a historically major incursion in 1993 when there were 14 reports involving 15 birds, most at Fontenelle Forest (Grzybowski 1993). Most years since, 5-15 were reported through 2015; 25-32 were reported 2016 through 2023, although these numbers were dwarfed by the 45 reported in spring 2020. These recent increases in numbers reflect a continuing increase in the breeding population in Manitoba, where it was "very rare" as a breeder in the 1950s (Confer et al 2020).
High counts: 5 at Fontenelle Forest 14 May 2016, 5 there 12 May 2018, and 5 there 12 May 2019.
Fall: Sep 1, 3, 3 <<<>>> Sep 12, 14, 14
An earlier date is 27 Aug 2022 Sarpy Co.
Later dates are 26 Sep 2017 Sarpy Co, and 2 Oct 2010 Chase Co.
There are only about 44 fall reports; documented records among these are 1 Sep-2 Oct. Of the fall records, four were in 2016, two in 2018, three in each of 2019, 2020, and 2021, and two in 2022. There is a tendency for fall migration routes to be further east than in spring (Confer et al 2020).
The only reports away from the Missouri River Valley are the single Panhandle record, 14 Sep 1997 in Sowbelly Canyon, Sioux Co, 2-3 Oct 2010 Enders Reservoir, Chase Co, and 7 Sep 1973 Thomas Co (Williams 1974). Northernmost in the Missouri River Valley are 6 Sep 2016, singles in both Knox and Cedar Cos, and 11 Sep 1995 Washington Co (Grzybowski 1996).
Images
Abbreviations
UNSM: University of Nebraska State Museum
WMA: Wildlife Management Area (State)
Literature Cited
Brogie, M.A. 1997. 1996 (Eighth) Report of the NOU Records Committee. NBR 65: 115-126.
Brogie, M.A., and M.J. Mossman. 1983. Spring and summer birds of the Niobrara Valley Preserve, Nebraska: An annotated checklist. NBR 51: 44-51.
Brown, C.R., M.B. Brown, P.A. Johnsgard, J. Kren, and W.C. Scharf. 1996. Birds of the Cedar Point Biological Station area, Keith and Garden Counties, Nebraska: Seasonal occurrence and breeding data. Transactions of the Nebraska Academy of Sciences 23: 91-108.
Confer, J.L., P. Hartman, and A. Roth. 2020. Golden-winged Warbler (Vermivora chrysoptera), version 1.0. In Birds of the World (A. F. Poole, Editor). Cornell Lab of Ornithology, Ithaca, NY, USA. https://doi.org/10.2173/bow.gowwar.01.
Falk, L. 2002. Birds in Otoe County. Published by the author, Nebraska City, Nebraska, USA.
Grove, D.S. 2019. The Identification of the Burket Triple Hybrid- a Brewster's/Chestnut-sided Warbler. Pennsylvania Birds 33: 223-225.
Grzybowski, J.A. 1993. Southern Great Plains Region. American Birds 47: 426-429.
Grzybowski, J.A. 1996. Southern Great Plains Region. Field Notes 50: 74-77.
Pyle, P. 1997. Identification Guide to North American Birds. Part I, Columbidae to Ploceidae. Slate Creek Press, Bolinas, California, USA.
Rosche, R.C. 1994. Birds of the Lake McConaughy area and the North Platte River valley, Nebraska. Published by the author, Chadron, Nebraska, USA.
Sauer, J.R., D.K. Niven, J.E. Hines, D.J. Ziolkowski, Jr, K.L. Pardieck, J.E. Fallon, and W.A. Link. 2017. The North American Breeding Bird Survey, Results and Analysis 1966 – 2015 (Nebraska). Version 2.07. USGS Patuxent Wildlife Research Center, Laurel, Maryland, USA.
Toews, D.P.L., S.A. Taylor, R. Vallender, A. Brelsford, B.G. Butcher, P.W. Messer, and I.J. Lovette. 2016. Plumage Genes and Little Else Distinguish the Genomes of Hybridizing Warblers. Current Biology 26: 2313-2318.
Williams, F. 1974. Southern Great Plains Region. American Birds 28: 70-76.
Recommended Citation
Silcock, W.R., and J.G. Jorgensen. 2023. Golden-winged Warbler (Vermivora chrysoptera). In Birds of Nebraska — Online. www.BirdsofNebraska.org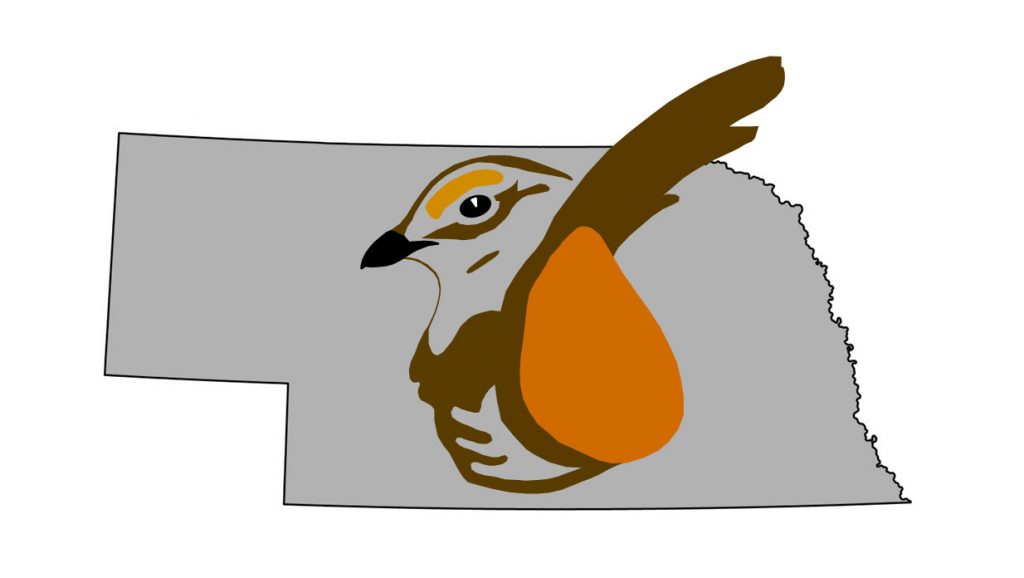 Birds of Nebraska – Online
Updated 27 Jun 2023